Win Your EPT Barcelona Seats at PokerStars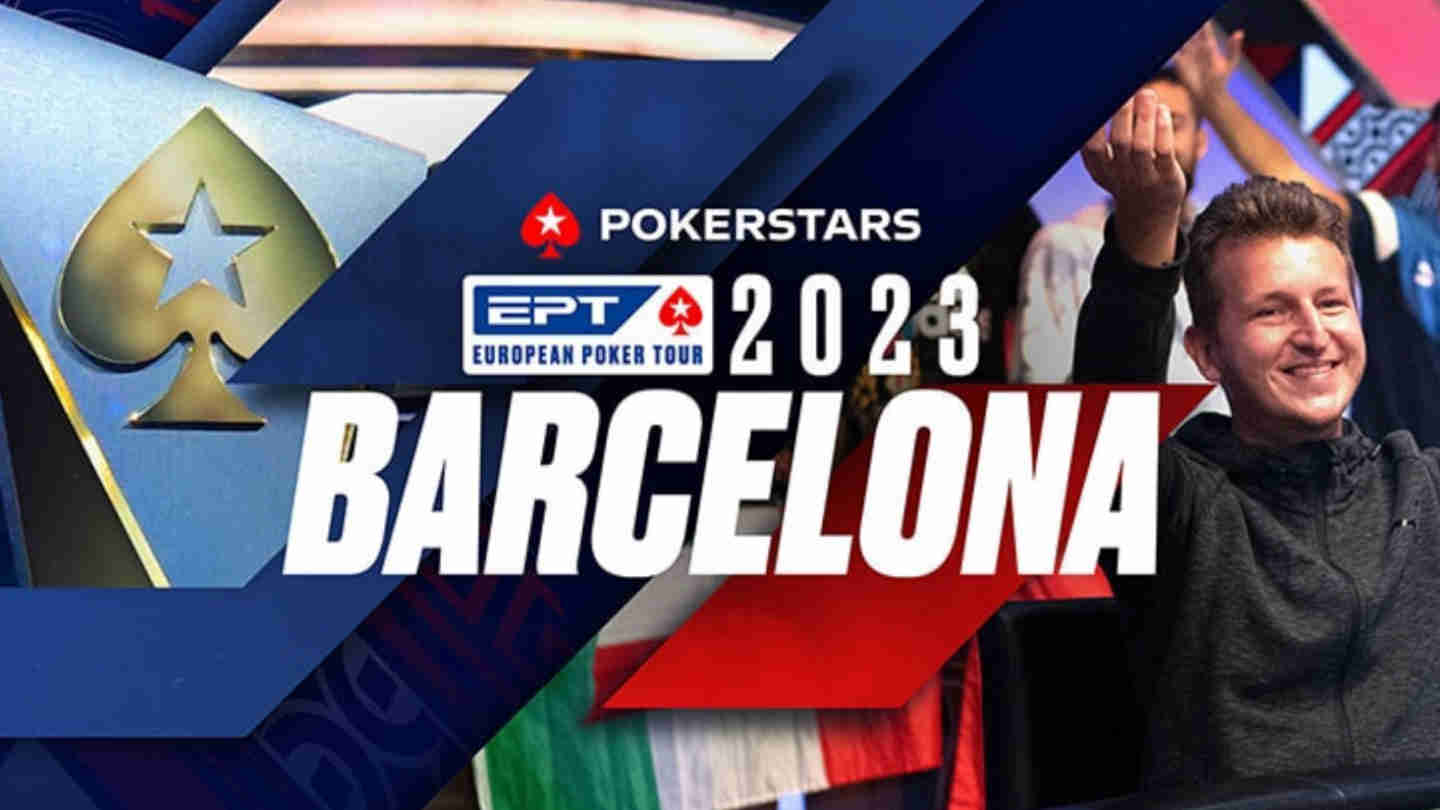 One of the most popular live poker tournaments of the year, PokerStars EPT Barcelona, is quickly approaching, and it is high time to think about the best way to get into the mix.
On the schedule between August 21 and September 3, the festival will feature a number of exciting events, including the €5,300 EPT Main Event, which is expected to be one of the largest poker tournaments in Europe this year.
The allure of EPT is massive, but the buy-in for the Main Event is also quite steep, which is why PokerStars is offering plenty of opportunities to win your way into the event without paying the full price.
In this guide, we will check out all the ways you can qualify your way to the EPT Barcelona Main Event, so keep reading to find out more.
Win Your €6,500 EPT Barcelona Package
As is usually the case with all its big live events, PokerStars is running a series of Mega Satellites for EPT Barcelona, with plenty of players having already won their seats for the big event through the platform.
PokerStars EPT Barcelona Mega Satellites are offered with a buy-in of €530, and one EPT Barcelona package guaranteed in each satellite.
Each package is worth €6,500 and includes:
€5,300 Entry into EPT Barcelona Main Event
€1,200 in PokerStars Credits for Expenses
Keep in mind that unregistering from the event is impossible, so make sure to only play the satellites if you will be able to play the EPT Barcelona Main Event between August 27 and September 3, 2023.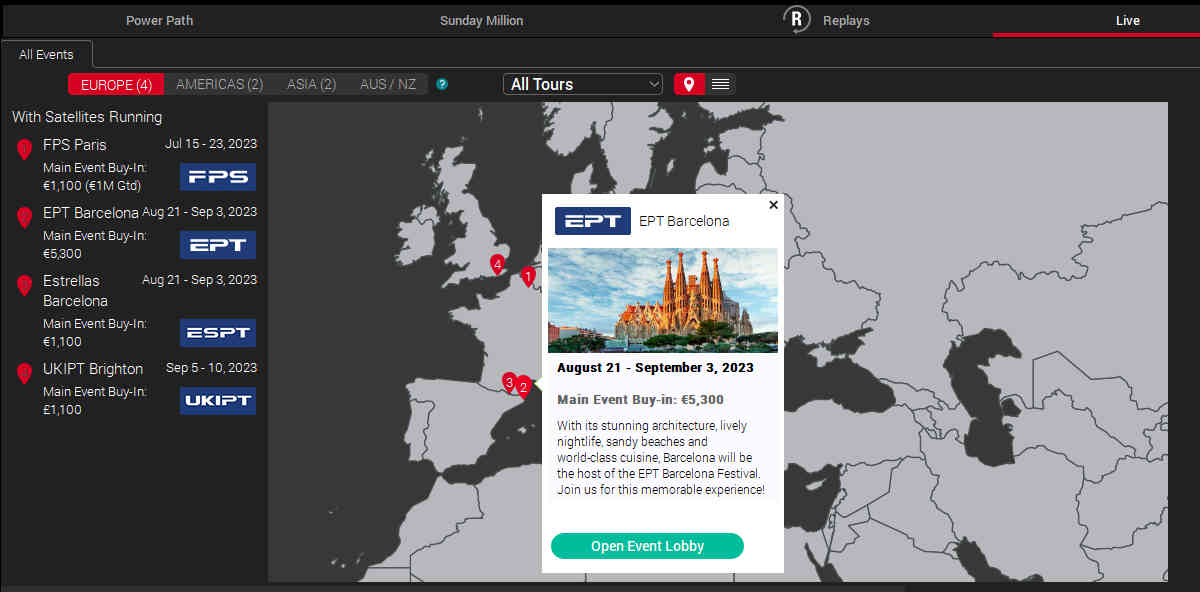 The extra €1,200 that package winners get is credited into the player's PokerStars account, and can be spent in any way the winner chooses, whether it be for flights, accommodations, or any other purposes.
The Mega Satellites are the only way to win an EPT Barcelona package directly, but there are plenty of ways to get there for even less than €530.
Make Your Way Up to the Mega Satellites
The €530 Mega Satellites offer an opportunity to win the valuable EPT Barcelona packages, but also come at quite a high price themselves.
Thankfully, there are plenty of ways to win the €530 seats as well, which means players with lesser bankrolls also have a fair shot of playing in this year's EPT Barcelona Main Event.
There are three versions of satellites that offer entry into the €530 Mega Satellites available at PokerStars at this time, and they are:
€22 + R (1 Rebuy, 1 Addon) – 1 Ticket Guaranteed
€27 Freezeout (2 Re-Entries) – 1 Ticket Guaranteed
€55 Freezeout (1 Re-Entry) – 1 Ticket Guaranteed
Each of these satellites runs multiple times each day, and ticket winners can register into the €530 Mega Satellite of their choosing.
However, that's not all either, as there are even more steps you can take to win your EPT Barcelona seat for even less money.
If you can't quite afford to grind the €22, €27, or €55 satellites, you can win your way into those as well by playing in the following satellites each day:
€1.10 Regular/Hyper – 1 Seat to the €27 Satellite
€2.20 (1 Rebuy, 1 Addon) Hyper – 1 Seat to the €55 Satellite
€5.50 Turbo – 1 Seat to the €55 Satellite
With all these steps on offer, opportunities to play in the EPT Barcelona Main Event are ample, and all it takes is a little luck and a lot of skill.
You can head on over to PokerStars to check out the full list of EPT Barcelona satellites and find your ideal entry point to start grinding and building your way towards one of Europe's most attractive poker tournaments.
Win Your Way to Barcelona for Free
PokerStars would not be what it is today without regularly offering the incredible chance to make something out of nothing through a series of freeroll tournaments.
Throughout July and August, PokerStars offers multiple daily freeroll qualifiers for EPT Barcelona, which award direct seats in the €22 1R1A satellites.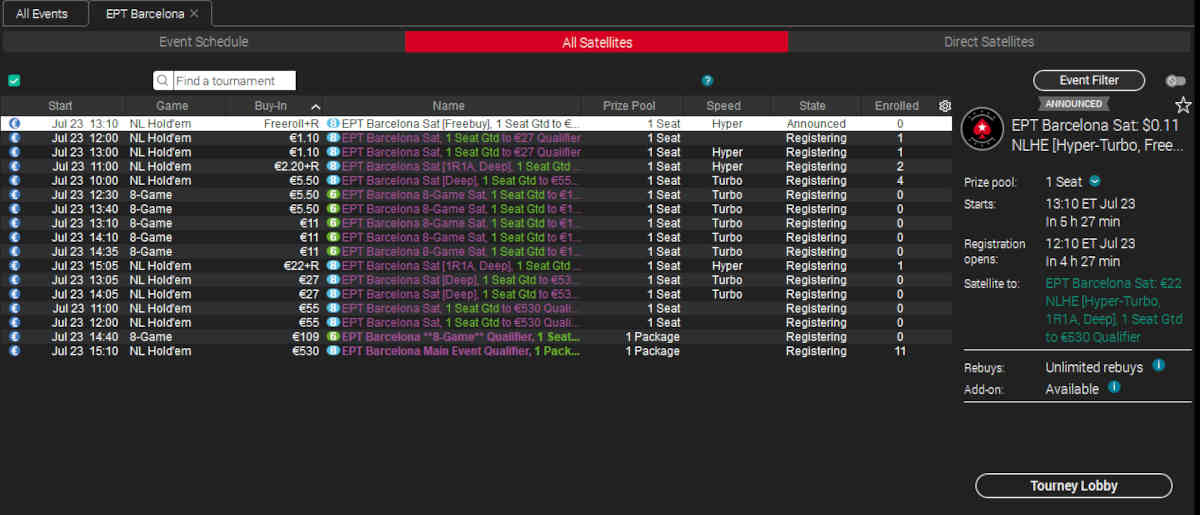 Each freeroll offers one seat in the €22 1R1A satellite guaranteed, and allows rebuys for a miniscule price of just $0.11 for players who bust out early.
This is easily the best value for all players chasing the EPT Barcelona seat, so don't miss out on taking your seat in the daily freeroll satellites and having a real chance to play in Barcelona without investing a dime.
Grab Your EPT Barcelona Seat Today
One of Europe's biggest poker festivals is quickly approaching, and there are fewer and fewer days left to win your seat and book your flight for Catalonia.
Satellite tournaments for EPT Barcelona are running at PokerStars on a daily basis, and you can start playing for free or as little as €1.10, with many qualifiers available each day.
Don't miss out on your opportunity to play in one of the most lucrative live events of 2023, head on over to PokerStars and find the ideal satellite to play and try to claim the package that could change your life forever.