Vanessa Selbst Poker Story – She Is Back!
10 minutes
Last Updated: November 6, 2021
Vanessa Selbst Poker Story – She Is Back!
Vanessa Selbst is the best female poker player in the world. With live tournament earnings just shy of $12 million, three World Series of Poker bracelets, and numerous top finishes in high-end tournaments, Selbst's career is nothing short of impressive.
That's why the news about her retiring from professional poker back in 2017 came as a huge surprise.
Born in 1984 in New York, Selbst certainly has much more play in her, and her resume shows that she knows a thing or two about poker.
To see her throw in the proverbial towel and turn to things other than Texas Hold'em was one of those strange and unexpected moments.
Luckily for her fans and the poker world at large, it seems like Vanessa's "retirement" didn't last for too long. After taking a few years' hiatus, Selbst is back, having exchanged her PokerStars sponsorship with WPT colors.
But what led the New Yorker to decide on quitting poker in the first place? How does one go from crushing the game moving on? We will try to answer all of this and even more in this article.
Vanessa Selbst Poker Career Highlights
Best female poker player with career tournament earnings of $11.9 million
3 World Series of Poker Bracelets (2008, 2012, 2014)
During 2013, Selbst won over $3.6 million
Worked as a coach for DeucesCracked, a popular coaching site
Won back to back NAPT Main Event in 2010 and 2011
Selbst's biggest cash to date was north of $1.8 million for win in the Partouche Poker Tour Main Event in Cannes in 2010
Vanessa Selbst Takes on the Poker World
Vanessa Selbst was born on February 8, 1984, in Brooklyn, New York. After graduating high school Selbst went on to Yale, where she first discovered poker while studying political sciences. Although she took a liking to the game and would go on to build an impressive career on the felt, Vanessa never allowed her education to suffer because of it.
She didn't just complete her degree in political sciences but also went on to study law at Yale, receiving her J.D. degree in 2012.
Among successful poker players, Selbst has had one of the more versatile careers outside of playing cards, actively pursuing her other passions, which inspired her to become a lawyer in the first place.
As for Vanessa's poker successes, it all started back in 2006.
That year, the New Yorker had her first big score in live tournaments after finishing 7th in one of WSOP side events. That result was good for $107,000, boosting Selbst's bankroll and, more importantly, her confidence.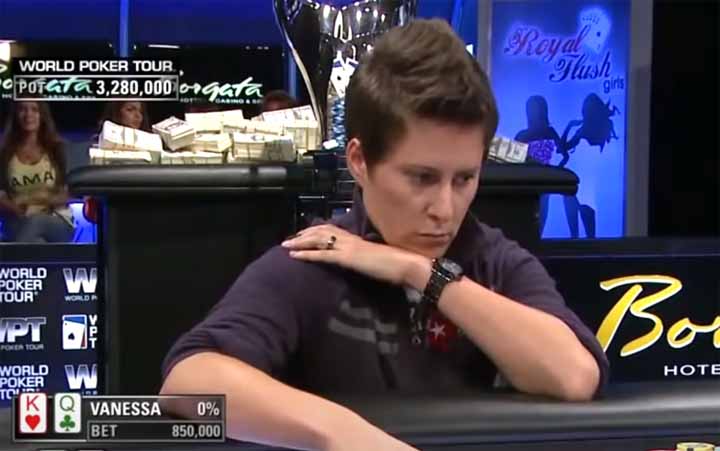 During the World Series the next year, Vanessa achieved another impressive result, finishing in 3rd place in the prestigious $5,000 Heads Up Championship. This deep run brought her another $129,000, but she was still looking for her first WSOP bracelet.
It finally came in 2008, when Selbst outlasted the field of 759 entrants in a $1,500 Pot-Limit Omaha event. When it was all said and done, Vanessa had accumulated all chips in play, earning her first World Series trinket and $228,000 – her biggest score up to that point.
The same year she once again finished 3rd in the Heads Up Championship, winning over a hundred grand for the effort.
2010: The Year of Vanessa Selbst
Over the next few years, Selbst had a few more decent results, building up to what was about to come. Then, in 2010, she had a major breakthrough, winning over $2.5 million in the span of eight months.
First, she went on to win the North American Poker Tour Main Event in April, outlasting the likes of Scott Seiver, Vanessa Rousso, and Cliff Josephy and banking $750,000.
A few months later, in September of 2010, Selbst took down the Partouche Poker Tour Main Event in Cannes to the tune of $1.8 million.
She wrapped the year with another solid score in an EPT High Roller event, good for another quarter of a million.
Selbst then started 2011 in much the same manner, taking down the NAPT Main Event again, this time around picking up $450,000 for her efforts.
The list of Vanessa's poker achievement goes on and on, so instead of going through all of them, here are a few more career highlights:
Two more WSOP bracelets in 2012 and 2014 (for a total of three)
The 2014 bracelet boosted her bankroll by another $870,000
A win in the 2013 Caribbean Adventure High Roller tournament for $1.4 million
A win in the 2015 Celebrity Shootout event good for a cool million
As of the time of writing this, Selbst's career tournament earnings stand at $11.9 million, and with her back on the grind, this number will likely continue to increase. It's worth mentioning that Vanessa was also a member of Team PokerStars from 2010 to 2017.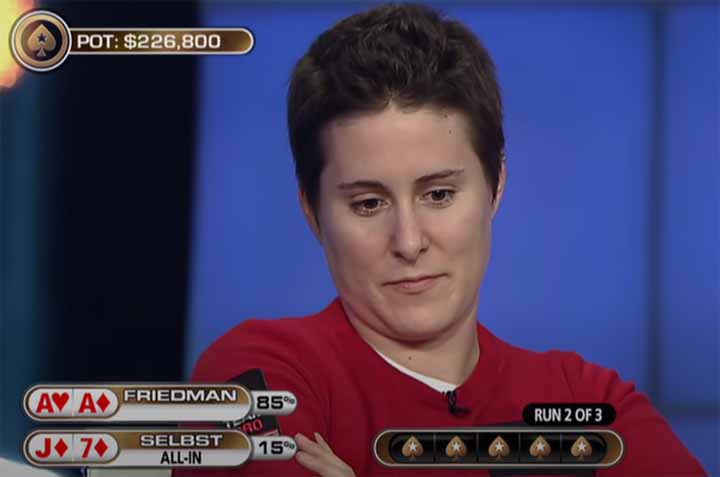 Selbst's Private Life & Non-poker Endeavors
Despite her great results on the felt, poker has never been the only thing Selbst was passionate about. Even during her college days, Vanessa was the head of the "Queer-Straight Alliance" at Yale.
Driven by the desire to change things for those whose voices weren't heard enough, Selbst completed her law degree and then went on to pass the bar exam in 2015.
Bringing her two passions together, Vanessa hosted several charity poker events under the name "Justice is Blind," with proceeds going to the Urban Justice Center. The UJC offers legal help to those who can't afford expensive lawyer fees and has provided assistance for thousands of disparaged individuals over the years.
Selbst also founded her own organization, Venture Justice, using her winnings to fund various nonprofit organizations.
On a personal level, Selbst married her wife Miranda back in 2013, and the couple has been together ever since. In April 2018, they announced they were having a baby, which was one of the reasons that led Selbst to take a step back from the life of a professional poker player.
But, there was more to the decision than just focusing on her family.
If Vanessa were as passionate about poker, she'd work hard to find the balance between the two. Instead, she mucked her hand and announced the retirement?
Selbst Calls It a Day
Late in 2017, Vanessa Selbst announced on her social media pages that she decided to leave poker. It was clear that she wasn't joking about it, either, as she previously ended her contract with PokerStars.
In her long Facebook post, the pro tried to explain some of the reasons that led to this decision, and focusing on her private life was just a part of it.
In later interviews, Vanessa explained that the life of a poker pro wasn't really doing it for her anymore. With the number of good players increasing, it was harder to make a consistent profit from the game.
The harder the games get, the bigger the variance will be.
All of this did put a strain on her relationship with Miranda. The life of constant traveling with no health insurance and no job security wasn't the ideal one for a young couple about to have a baby.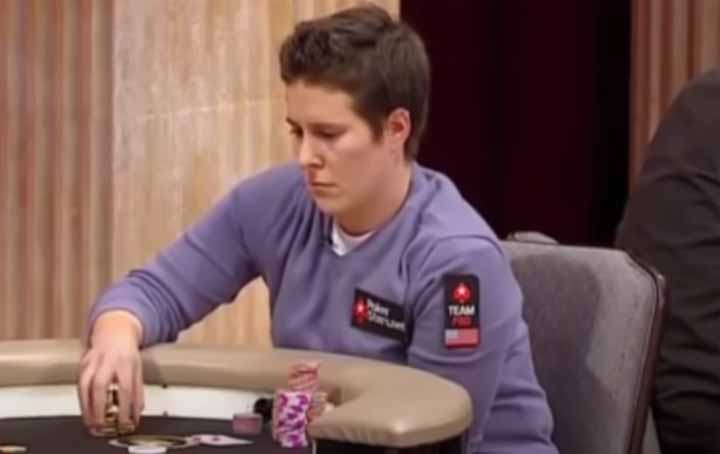 Plus, Selbst started to question her role as a PokerStars ambassador as well. One of her duties was to paint the game positively and get new players to join the site, play, and win.
In the growingly competitive online poker environment, it is very hard (if not impossible) for the players new to the game to just jump in and start winning. So, the old way of marketing online poker just didn't sit right with Vanessa anymore.
Dealing With the Pressure of a Poker Celebrity Lifestyle
Besides these general aspects, Selbst was having problems with her overall role in the poker community. As the most successful female player in the game's history, she got a lot of attention, which was hardly a surprise.
At first, it was probably flattering, but over the years, being under the constant scrutiny of the poker media and fans started to take its toll.
Selbst started to feel like her every action was being watched and judged, and whenever she did something "wrong" (which is a really broad term in this context), she'd be accused of making poker and poker players look "bad."
As an emotional person and someone who often wore her heart on her sleeve, Vanessa was no stranger to going on tilt, and many poker hands involving Selbst's outburst have become quite famous.
A problem with being a high-profile player is that everyone will feel entitled to share their two cents and often not in a nice way.
This led to many heated discussions on Twitter that included fellow pros and random followers, all chiming in to explain things.
Eventually, it clearly became too much for Selbst.
As if the growing pressure of poker getting tougher weren't enough, she had to deal with negative comments and criticism all the time. Someone else would perhaps ignore it all, but Selbst just isn't wired that way.
Her drive and passion got her to where she is, and it was that same passion and emotion that wouldn't let her stay silent and ignore the trolls.
When the struggle became too much, she decided it was the time to retire from poker and seek other opportunities. With her education and tremendous success in poker, she didn't have to worry about what comes next. Opportunities were out there for the taking.
Vanessa Selbst Tries Her Hand in the Financial Game
Soon after quitting poker, Selbst joined a hedge fund, pursuing a career where her poker skills could be put to good use. Assessing risks, dealing with ups and downs, and keeping a cool head through all of them is essential in both professions.
It was a major shift, going from the freestyle life of a poker player to working 9 to 5 like the rest of the "mortals."
But, learning new things and acquiring new skills was challenging enough for Selbst to keep her mind active and sharp. At the same time, her new job offered the kind of financial security and certainty that she could never have playing poker, regardless of her skills.
Selbst didn't quit the game completely, though. Over the span of few years, she played in a few select freezeout tournaments, including the 2018 WSOP Main Event.
For a while, it seemed like the New Yorker was done with the life of a poker pro, as she was focusing on other things. She and Miranda had a baby in October of 2018, and it felt like Selbst wasn't coming back from her retirement anytime soon.
But, the calling of the green felt was apparently too strong!
Vanessa Selbst Picks Up Poker Again
Unlike her retirement, there wasn't much fuss about Vanessa's return to the felt. The pro decided to pick up poker again in 2019, and her status and accomplishments made it easy to jump straight back into the game.
Selbst joined the World Poker Tour and became one of the featured coaches at LearnWPT in 2019, which is one of the poker training sites you can join online.
She's only posted a couple of in-the-money finishes since then, but Selbst is definitely back and looking to claim her rightful spot in the poker world once again.

She is still just as active on other issues, so if you're following Selbst's Twitter, you'll find much more than just poker-related threads.
The year ahead should be an interesting one for live poker in general, as many players are eager to get back and mix things up, holding real cards and raffling actual poker chips.
This will give Selbst ample opportunities to get back in the mix and do what she does best: compete for big prize pools and outplay her opponents along the way, adding some more digits to her lifetime career earnings.
But, the poker world hasn't changed much since Vanessa left it a few years ago.
The real question is, what will happen once the same challenges that made her retire surface again. Is she now in a better place to deal with them and take them head-on? Has she made peace with some of the issues that she's been struggling with?
Only the time will tell, but Vanessa Selbst is back and ready to make some noise at the tables as things stand right now!