Video Poker Strategy – How to Win at These Machines?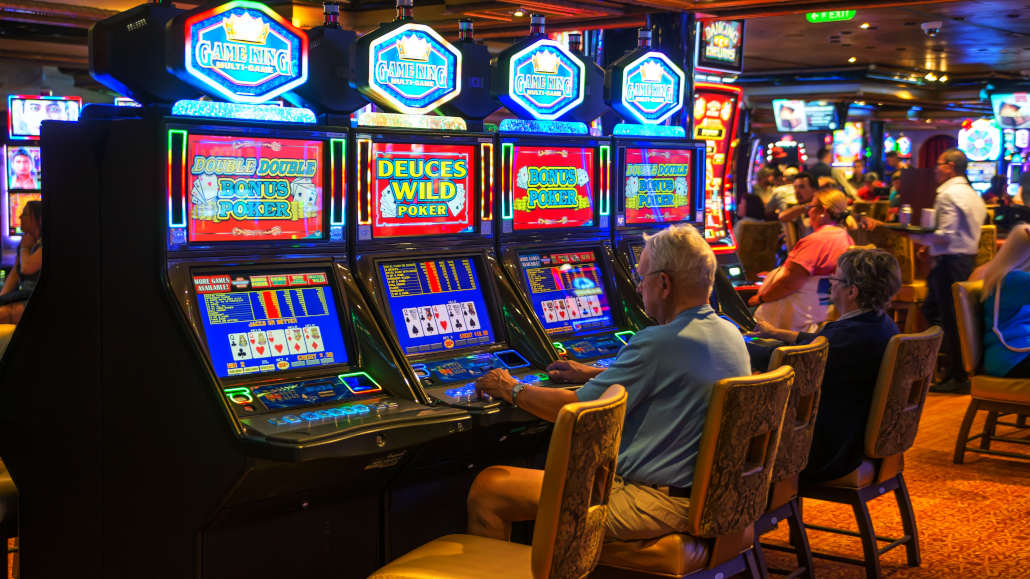 1 minute
Last Updated: February 27, 2022
Images from shutterstock.com
If you have ever gambled in your life, it's likely that you have a favorite gambling game that you personally enjoy.
However, have you ever really stopped and thought about what game is the best to play from a perspective of odds and math?
Most people don't really know the odds of winning in various games and often think that casinos are cheating when they lose when there is no need for them to cheat whatsoever.
The harsh truth is that every casino game gives the house an edge, and in most cases, that edge is fairly small. If you are a roulette player, you can expect to lose about 2.7% of all the bets you make a lifetime, while slots players will usually lose at least twice that.
If there is one game that stands out from the rest, it is video poker. Video poker machines were some of the first electronic games to appear on casino floors, and the edge casinos keep in them is extremely small.
If you play the popular Jacks or Better variation of casino video poker, you stand to get 99.54% of all your bets back, provided you play the optimal strategy.
In this guide, I will teach you how to play video poker, what mistakes to avoid, and what to expect while playing these machines, which are losing in popularity by the day.
What Is Video Poker and How Does It Work?
If you have ever been inside a live casino, you have certainly seen video poker machines. They are the old-looking ones with cards on the screen and a button under each virtual card.
Video poker mimics the game of Five Card Draw and is a very simple variation of the poker game. Over the years, various types of video poker games have emerged.
Jacks or Better is the most popular and classic video poker game. You are dealt five cards and get to discard as many of them as you want, replacing them with new ones.
Once your draw is done, you are paid according to a preset paytable, which may differ between different Jacks or Better versions, and certainly differs between this and other video poker games such as Deuces Wild or Joker Poker.
While I am going to discuss mainly the strategy of how to beat the Jacks or Better machines, let's briefly mention the other types of video poker games as well.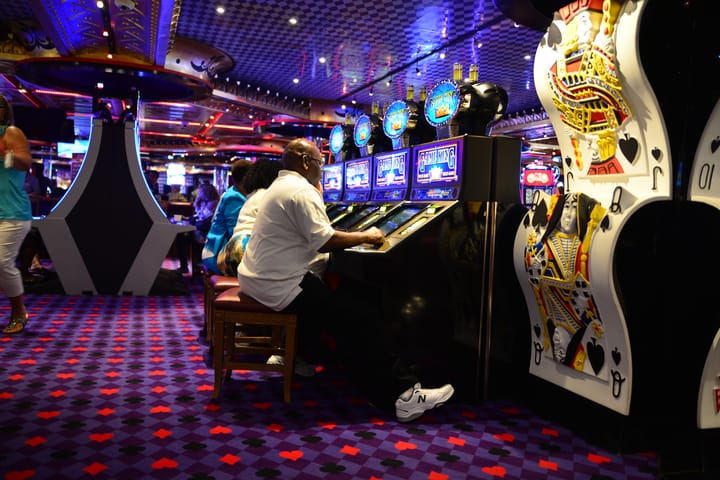 Types of Video Poker
Originally, video poker was a single game, and today's Jacks or Better comes the closest to the old-fashioned poker machines.
Many other versions of the game have been developed over the years and can be found in casinos around the world. Some of these include:
Tens or Better: Similar to Jacks or Better, with the main difference being the fact that a pair of tens also pays out a win.
Deuces Wild: In Deuces Wild, any deuce dealt to you is wild, which means it replaces all other cards in the card deck.
Joker Poker: A single joker card is introduced into the standard deck of playing cards. Joker substitutes for all other cards. You need at least a pair of kings to win anything.
Aces and Faces: In this version of video poker, additional payouts are available for making four-of-a-kind Jacks, Queens, Kings, and Aces. Four aces pay more than a straight flush.
Bonus Poker: Similar to Aces and Faces, Bonus Poker offers additional payouts for making four of a kind of a certain hand. Lower overall payouts decrease the RTP rate of the game.
As you can see, many different games fall into the category of video poker. However, don't be fooled by all the jokers and special payouts. All these games have a lower payout rate than Jacks or Better.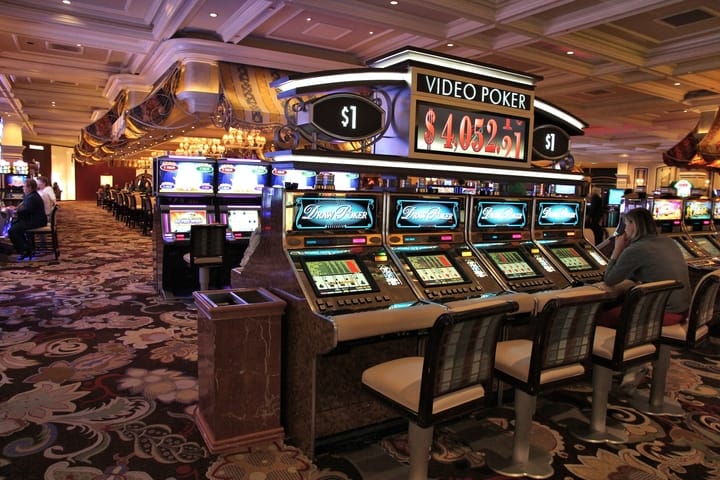 Some casinos have been known to offer a version of Deuces Wild, which actually gives the player an advantage over the casinos, but these games are very hard to come by.
If you can find such a machine, good for you! For the rest of us mortals, let's get straight into the best video poker strategy for Jacks or Better.
Jacks or Better Video Poker Strategy
When thinking about how to win at video poker, you need to first understand the way it actually works. Video poker, like any other gambling game, is all about odds and math.
The casinos know they are going to win in the long run exactly because the games are based on probability. If they were not, the casinos would be gambling and would not know who would win in the end.
The first thing you will want to do when you approach a video poker machine is look up its paytable.
When playing Jacks or Better, you will want a game with a 9/6 paytable. This means the game pays 9 coins for a full house and 6 coins for a flush.
Keep in mind that there are Jacks or Better machines that pay only 8 coins for a full house. You should steer clear of such machines, as this will significantly increase your losses.
Once you know the paytable, you will want to start playing your first hand. Press the deal button, and you will get dealt five cards. From this point on, you will want to decide which cards to keep and which ones to replace.
Players like to experiment and make on-the-spot decisions about this, but that's the worst thing you can do. If you want to actually get the best possible results, simply follow the table below.
In this table, I have listed, in the order in which you should keep them, all the possible poker hands you could be dealt. Stick to this table when deciding what to keep, and you won't go wrong:
1. Royal Flush, Straight Flush, or Four of a Kind
2. Four cards to a Royal Flush
3. Full House, Flush, Straight, or Three of a Kind
4. 4 cards to a Straight Flush
5. Two Pairs
6. One Pair (jacks or better)
7. Three cards to a Royal Flush
8. Four cards to a Flush
9. One Pair (tens or lower)
10. Four cards to an open-ended straight
11. Three cards to a straight flush (no gaps)
12. JQKA in a single suite
13. Any two cards in a single suite
14. Four cards to a gutshot straight (with three high cards)
15. Three cards to a straight flush (single gap)
16. JQK in a single suite
17. JQ in a single suite
18. TJ in a single suite
19. JK or QK in different suites
20. TQ in a single suite
21. AJ, AQ, or AK in different suites
22. TK in a single suite
23. A single high card
24. Three cards to a straight flush (2 gaps)
25. Discard all cards
When playing the game, you may be tempted to take a different approach and try to chase some long shots. However, if you want to come as close as possible to optimal results, you should stick to this strategy for video poker.
The fixed video poker odds never change, and in the long run, you will do best by making these optimal mathematical choices.
Of course, you can always gamble it up and deviate from this video poker strategy, but I highly advise you never to do that. If you don't, you have a very good chance of coming out a winner on many nights.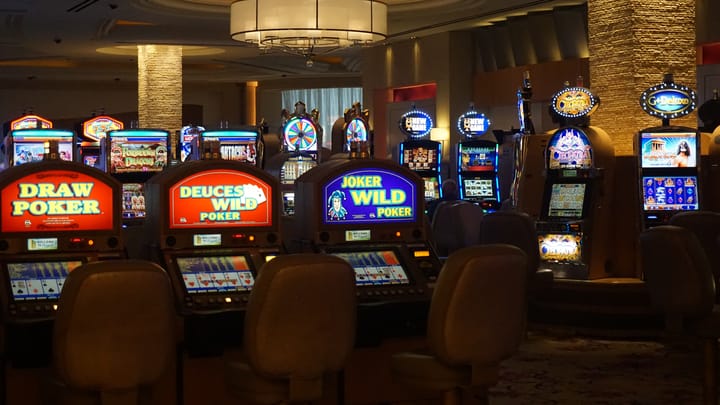 Video Poker Tips & Tricks
Now you know the basic strategy for how to win at video poker. However, just knowing which cards to keep isn't the only thing you need.
If you want to make the absolute maximum out of your video poker sessions, there are other things you should look out for that can add up over time and improve your chances.
Some of these may even apply to other gambling games. So, even if you don't enjoy video poker too much, you will still want to keep these tips in mind for the next time you play video slots, blackjack, or whatever else it is that you prefer.
Use Bonuses and Promotions: Whether you are playing in a live casino or an online one, the promotions that casinos provide will give you a much better fighting chance. I already explained that video poker is a game with a very low house edge. Now, imagine what some extra cash can do in it. It is true that many promotions don't apply to video poker players, but live casinos often don't discriminate with their promos. You may be able to find some amazing value with playthrough vouchers and other similar promotions.
Keep a Healthy Bankroll: Playing any gambling game requires you to keep a good bankroll for the stake you intend to play. Video poker is a low-edge game but can include quite a bit of variance. Keep at least a few hundred bets for your session if you don't want it cut short due to bad luck.
Try the Progressive Bonus Machines: Many video poker machines have a progressive jackpot of some sort attached to them. If you can find a machine with full pay that also offers a chance to win a progressive jackpot, it's an absolute no-brainer.
Look for the Best Machines: As I've already mentioned, some video poker games offer a payout of over 100% when played optimally, but they are rare. If you can find a game like Deuces Wild with full pay, absolutely play that game and learn the specific video poker strategy that will let you realize that payout.
Join the VIP Club: Most live casinos offer some kind of a loyalty program, which lets you accumulate points as you play. If you can pay high payout machines and accumulate points on them, this will significantly improve your overall performance and add to your overall bankroll.
Play at Your Pace: There is no reason to rush things. While you are learning the optimal strategy, make sure not to play too fast and miss things. You want to have the strategy down to a science so you can play faster in the future.
Avoid Low Pay Machines: There are video poker machines that offer a lower payout percentage. For instance, a Jacks or Better machine that pays 8 coins for a full house is not a good machine, and you should stay clear of it.
Keep all these tips in mind when you next play video poker, and you will significantly improve your odds. Remember, practice makes perfect, so don't rush into anything and learn at a pace you feel comfortable with.
Video Poker Strategy FAQ
Can I win money at video poker?
Video poker machines offer some of the best payout rates in all of gambling. Keep in mind that the casino still has an edge on most video poker machines, but this may be possible to negate with special strategies, bonuses, loyalty cards, and other tips that I covered in this guide.
What is the best strategy for video poker?
I have described the optimal basic strategy that you should use when playing Jacks or Better video poker in this guide. This is the best strategy for video poker, but if you are playing a different variation, you will have to learn a different strategy as well, so keep that in mind.
Can I use the bonus money to play video poker?
In most cases, yes! Online casino bonuses may get cleared at a slower rate when you are playing video poker games, and in some casinos, they won't count at all. However, there are plenty of casinos where you can use the bonus money to play video poker, so keep that in mind.
What video poker machine is the best?
While Jacks or Better is the most popular version of video poker you will find in casinos, it is not the most profitable one. If you can find full pay machines with games such as Deuces Wild or Loose Deuces, you will have a chance to make a profit by just playing the game, without any bonuses or special perks.
Why should I play video poker before other gambling games?
Video poker games have the best winning odds out of all gambling games. While most other games (such as Ultimate Texas Hold'em) have a casino edge of well over 1% and sometimes as high as 10%, video poker machines can actually give the player a positive expectation of close to 1% in some cases.
Final Words on Video Poker Strategy
You now hold the full guide to start your video poker career and start printing money by playing a casino game. How you choose to use it is completely up to you!
Remember that you will only come close to making a profit if you keep a cool head at all times, apply the optimal video poker strategy, and make use of any promotions and bonuses you can get your hands on.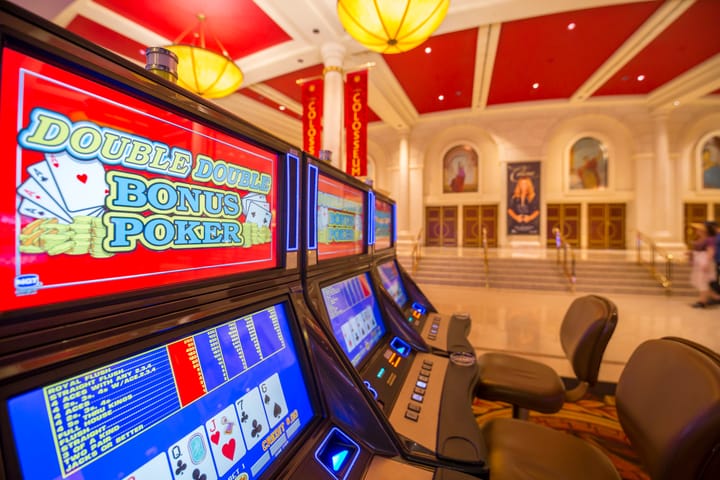 Compare this to most other gambling games in which you are almost guaranteed to lose regardless of what you do, and video poker quickly becomes the best candidate for your game of choice.
You may not know how to win at video poker the first time you sit down at a machine, but keep practicing with small chips, and you will quickly become a master of the game. After a little while, you should be able to start making money doing something you enjoy, which is a complete win-win.
Many successful Texas Hold'em players also play video poker on the side to make a bit of extra money. It can be a game of skill if you do it right and really put your mind to it. Of course, it's not easy, or everyone would be doing it, but it can definitely be done!