ChampionChip Series by 888poker Kicks Off with $500,000 in Guaranteed Prizes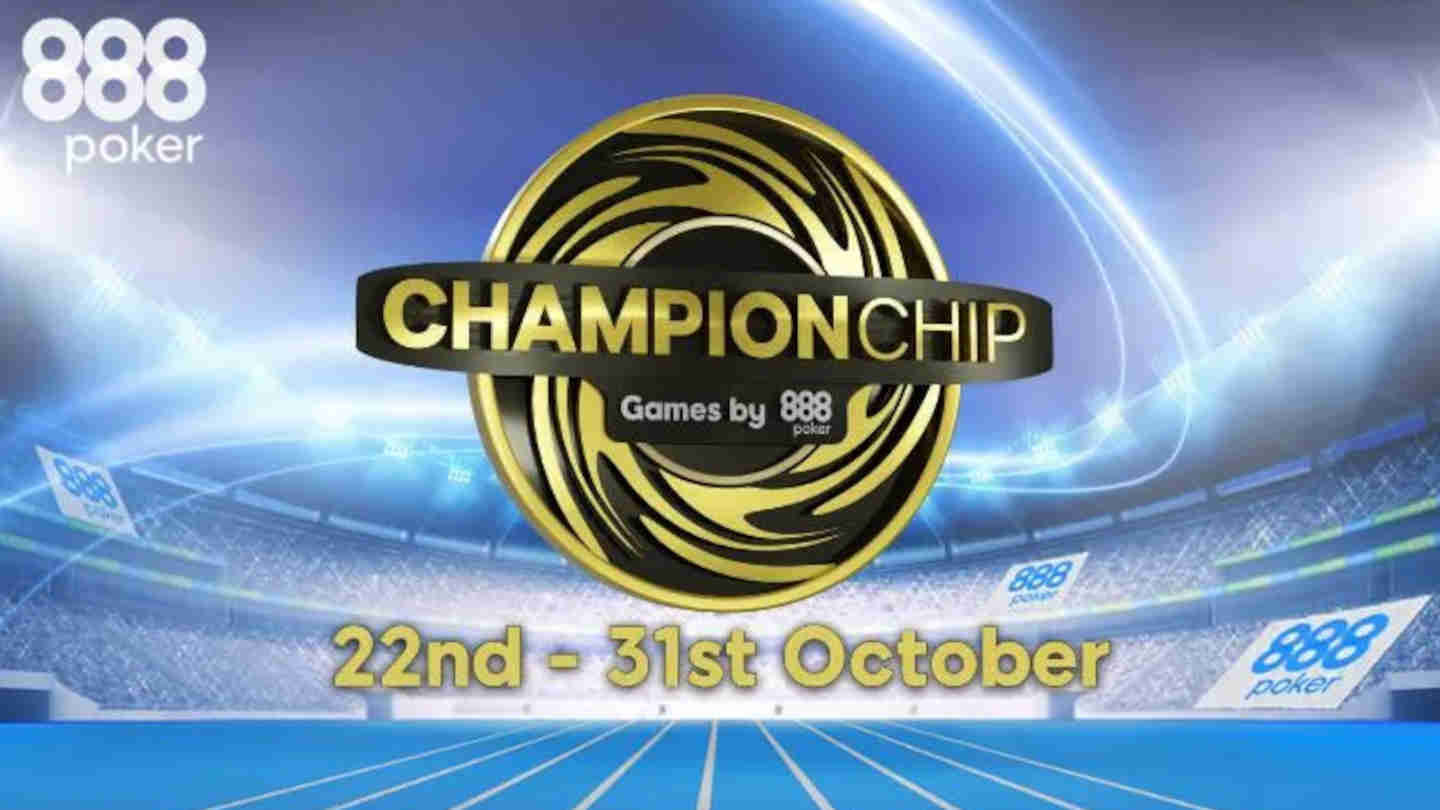 2 minutes
Last Updated: October 22, 2023
The latest ChampionChip Series from 888poker kicks off today, October 22, and will run through the rest of the month.
888poker ends October on a strong note with this $500,000 series, which includes a massive guaranteed $200,000 Main Event. The event also features a $20,000 mystery bounty envelope players can win by knocking out their opponents.
With daily freerolls and buy-ins that start at $3.30, you can get in on the action at a bargain. Here's everything you should know about the latest ChampionChip Series on 888poker!
Action for Every Bankroll
With 30 tournaments running from October 22 to October 31, there's plenty of action, with most options offering very low buy-ins.
A handful of tournaments come with a very affordable $5.50 buy-in, with the two most rewarding ones offering guaranteed prizes in the amount of $8,000.
Moreover, three tournaments have a buy-in of just $3.30. The guaranteed prizes for these three low buy-in games are nothing to scoff at. Two of them have a $1,500 guaranteed prize, while the third comes with a $1,000 promise.
On the other side of the spectrum, the highest-listed buy-in is for the Main Event, at $60. This is the only tournament in the series with such an entry fee.
Besides this flagship attraction, another interesting option is the Event #9, held on October 24. It features a $55 buy-in and offers a guaranteed prize pool of $15,000.
Still, most of the remaining tournaments will have much more affordable buy-ins. Apart from the $25,000 Opening Event, which has a $33 entry requirement, all other games cost $22 or under.
$200,000 ChampionChip Main Event
As with all online poker events, the Main Event is the most sought-after part of the series. In this case, players will be competing for their share of the $200,000 guaranteed prize. There's also a Mystery Bounty envelope with a $20,000 jackpot.
Staying true to its slogan of "micro buy-ins, massive cash wins", the Main Event will have a buy-in of just $60.
The final table of the Main Event will be held on October 31. This is the only event held on the last day of the ChampionChip Series. The nine-handed Main Event final table will be streamed on Twitch.
Sign Up to Become a ChampionChip Winner
Sticking to the tradition established by the previous ChampionChip Series, this event will have tournaments named after different sports disciplines and themes associated with the Olympics.
For instance, the first event is appropriately named the Opening Ceremony, followed by the Flags Parade, then sports like archery, judo, taekwondo, and so on.
This unique theme is a nice touch and makes the ChampionChip Series stand out among other online series.
🤔 Are you ready to compete?

📣 The ChampionChip Games schedule is here!

🤷‍♂️ What events will you be playing? #onlinepoker #poker pic.twitter.com/qsipRazPSx

— 888poker (@888poker) October 20, 2023
Of course, the generous prizes are also an important factor for many players. With $500,000 across 30 tournaments, every player can find a game that suits them.
Whether you're out for the big prizes or just want to participate in this entertaining poker series with a twist, make sure to check out 888poker to enjoy everything this ChampionChip edition has to offer, from its opening to the closing ceremony.
888poker provides many satellites you can utilize to get a ticket to the ChampionChip Series Main Event and other tournaments. Also, consider following the platform on social media, as it's known for often rewarding its followers with free tickets.
If you don't already have an account with 888poker, sign up today to claim your welcome bonus and compete in the latest ChampionChip Series edition.