Road to Paradise – Over 1,000 WSOP Paradise Packages Up for Grabs at GGPoker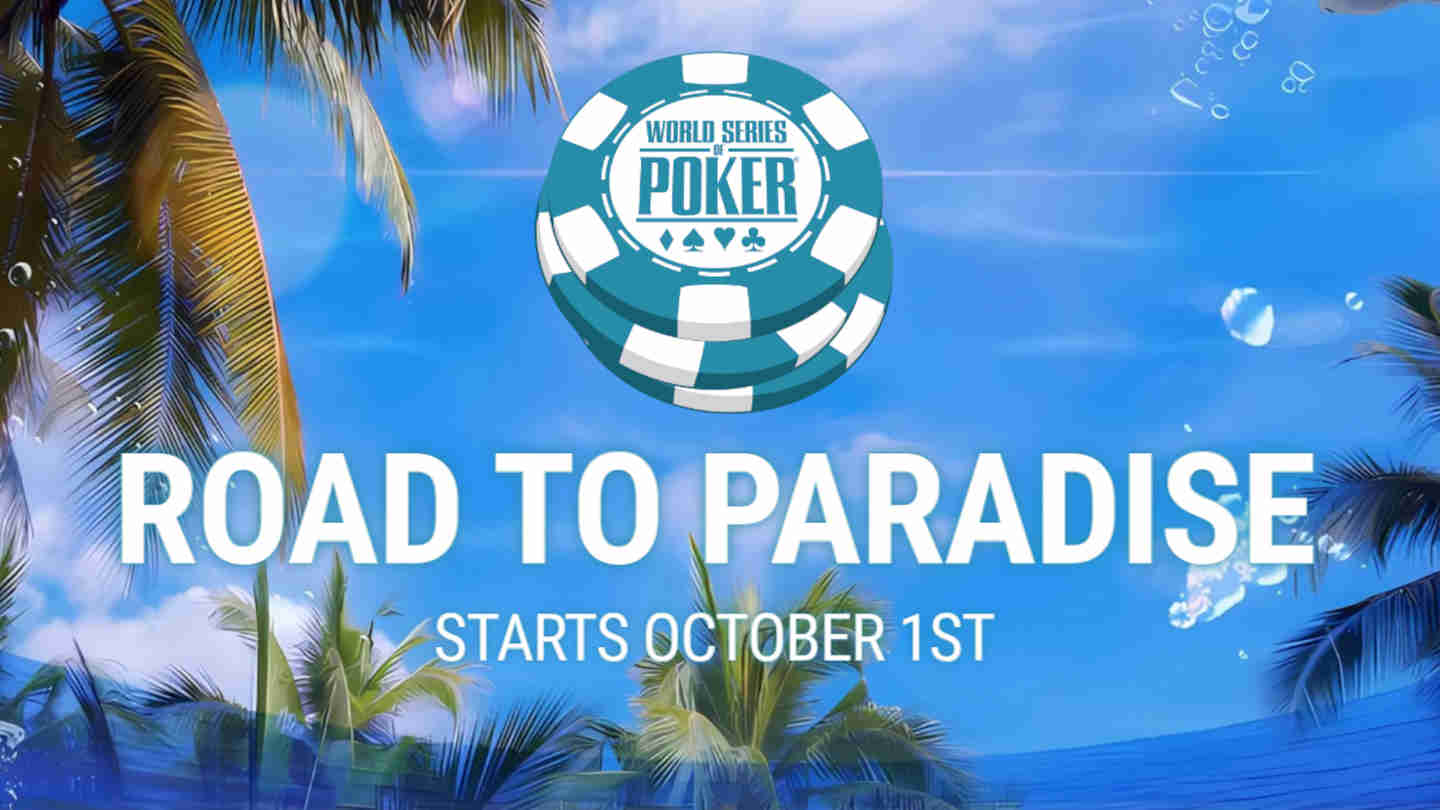 Just as the WSOP in Las Vegas grinded to a halt this summer, GGPoker put out a ground-breaking announcement of a brand new WSOP Paradise festival, scheduled for the month of December at the breathtaking Paradise Island in the Bahamas.
Now, GGPoker has come forth with some more details on ways you will be able to qualify for the inaugural WSOP Paradise, as they launch the Road to Paradise promotion.
Road to Paradise is a multi-faceted promotion which will be sending players to the Bahamas through several different venues, each offering a unique way to win your seat at the historic event.
With hundreds of seats up for grabs, and Day 1 flights available online, Road to Paradise will easily be one of the most comprehensive online poker promotions this year, making it one you don't want to miss.
What's Up for Grabs?
GGPoker has been doing some really big things in poker lately, and when they announced WSOP Paradise, we could assume that they would be sending quite a few online qualifiers to the event.
We now know that at least 1,000 players will be sent to the Bahamas with a full WSOP Paradise package, which includes:
$5,000 Main Event Buy-in
10 Nights at the Atlantis Resort
Free Daily Lunch Buffet
The value of these packages cannot be understated, as they not only offer entry into the $5k WSOP Paradise Main Event, but also a stay at the luxurious venue itself, worth thousands of dollars.
Atlantis Resort on Paradise Island has become synonymous with both luxury vacations and top-notch poker tournaments, and players who qualify through GGPoker will get to stay there as part of their packages.
So, whether you are looking to play cards or get away from the winter chills for a tropical vacation, winning a WSOP Paradise package will make your wishes come true.
Choose Your Road to Paradise
As already mentioned, Road to Paradise will offer more than one way for players to win their WSOP Paradise packages.
As part of the promotion, GGPoker will even throw special Freeroll tournaments, which will award WSOP Paradise packages to the lucky winners.
What's even more, special editions of all the most popular GGPoker tournaments will be available, awarding Road to Paradise packages. If you win one of these, you will be able to turn it in for tournament dollars instead, in case you can't go to the Bahamas.
As previously advertised, GGPoker is also offering the opportunity to play Day 1 of several key WSOP Paradise events online and join live action for Day 2, already in the money.
Events that will feature online Day 1 flights include:
Event #1: $1,650 Mystery Millions, $5 Mill Guaranteed
Event #3: $26,500 GGMillion$, $10 Mill Guaranteed
Event #10: $5,300 Main Event, $15 Mill Guaranteed
You will get to play Day 1 flights of these events without spending any money on travel and accommodations. If you make it into the money, you will need to travel out for the Day 2 action.
GGPoker will also be hosting a variety of promotions and giveaways, both within the platform and through its social media channels, so make sure to stay tuned for more information on those throughout October and November.
Finally, the operator has also announced the launch of the biggest satellite ever, a Phased Satellite that should be sending quite a few players to the Bahamas.
More information on the Phased Satellite and other promotions as part of the Road to Paradise will be released in the coming days and weeks.
WSOP Paradise Quickly Approaching
GGPoker decided to announce their first ever WSOP Paradise edition at a strategic point in time, at the very end of the Las Vegas leg of the WSOP.
While this certainly created a lot of hype for the event, it also didn't leave too much time for players to prepare for a voyage that may be a bit more complex than some other poker-related trips.
That said, the operator is doing everything in its power to help players get to the Bahamas, and the 1,000+ Road to Paradise packages that will be given away are a great step in the right direction.

If you were having second thoughts about traveling to Atlantis, make sure to give Road to Paradise a chance and try to win your package online to guarantee your journey won't cost you thousands of dollars out of your own pocket.
The promotion will offer many different opportunities to win your packages, so give them all a fair shot before you call it quits and give up on your dream to play the first-ever WSOP Paradise.
Sign Up with GGPoker Today
Your journey to the inaugural WSOP Paradise starts at GGPoker, the only place where you can win a WSOP Paradise package for cents on a dollar.
If you haven't already, head on over to GGPoker and get your bonus to explore different routes to play at the Atlantis this winter.
Whether you are looking to qualify for free through one of the Freeroll satellites or play Day 1 of bracelet events from the comfort of your home, GGPoker is the right place to start.
Sign up with GGPoker today to claim one of the most comprehensive welcome bonus packages around and get a fair shot at winning a seat at what could be the most epic poker festival of the entire year.