Horseshoe Hammond Poker Room Review: Play Poker in the Midwest
7 minutes
Last Updated: August 30, 2021
Horseshoe Hammond is home to one of the best and busiest poker rooms in Chicago. Featuring over 30 poker tables and a high-limit private section to boot, all poker players can find some action here, regardless of the size of their bankroll.
The poker room offers a variety of poker cash games and daily tournaments and is a regular destination on the World Series of Poker circuit.
Having recently undergone a $485 million renovation, new and improved Horseshoe Hammond looks superb and sharp while giving off an old midwestern saloon-type vibe.
The room is an homage to founders of the Horseshoe brand, Jack and Benny Binion, which will evoke pleasant feelings of nostalgia for those familiar with poker and gambling history.
This is further entrenched with massive posters of famous names from the poker world, with the likes of Stu Ungar and young Doyle Brunson watching over you whilst you run it up at the poker table.
Horseshoe Hammond Poker Room Review
The Horseshoe Hammond poker room can essentially be split into three sections, the first of which is the main poker floor. Those who play lower-stake games will find themselves here, and with 25 tables to play on, you're sure to find a game to jump into.
The second section, which sits on a mezzanine, is for those who play the higher stakes and the great game that is Pot Limit Omaha.
The final section is the closed-off VIP area, dubbed Benny's Back Room. It is frequently visited by the likes of Michael Jordan and other celebrities. This little bit of poker heaven has two tables and its own private lounge.
Horseshoe Hammond scores very high in terms of comfort. The room is spacious and airy, and features well-padded leather chairs that keep you from developing a numb bum.
Players also praise the size of the chairs, which is probably now more important than ever, being that many of us may have added a pound or two to our midriffs during various lockdowns.
Your pant size may have expanded, but you don't need to worry about fitting into one of these chairs.
Table felts have a bit of a worn look to them, but this complements the room's atmosphere, so it's not really a big deal.
Tables play 9-handed, which is good news. When there are ten players at the table, space and comfort can be compromised, so Horseshoe Hammond has made a good decision not trying to squeeze in as many players as possible.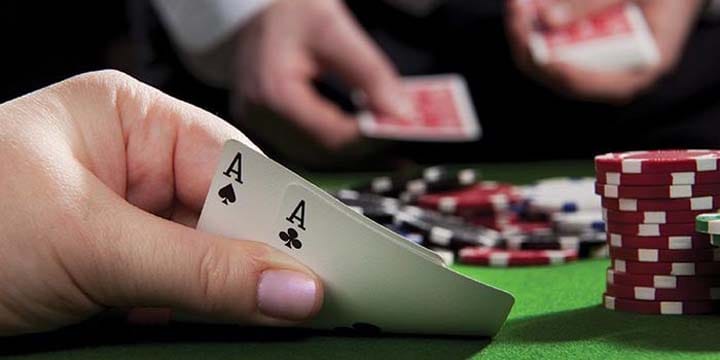 Another plus for the Horseshoe Hammond poker room is that you can find it on the Bravo poker app. This useful tool allows you to see what games are running, waitlists, tournament info, and everything else you need to know if you are planning an impromptu poker session.
Despite being a non-smoking poker room, one drawback is that the smell of stale cigarettes can sometimes linger due to smoking being allowed on the casino floor. However, with the room being away from the casino floor, it is largely inoffensive to most.
How to get to the Horseshoe Hammond Poker Room
The poker room location makes it easy to get to, just fifteen minutes southeast from downtown Chicago.
The most direct route to get there is to take the Chicago Skyway, which puts you on the Indiana toll road. You then take the Indianapolis Boulevard exit and will find yourself at your destination just a mile down the road.
The neighborhood that surrounds the Horseshoe Hammond poker room is well regarded, too. With a public beach and things to do in close proximity, if you ever need to stretch your legs after a poker session, there are definitely worse places you can find yourself in.
Horseshoe Hammond Poker Room Cash Games
Like with pretty much every poker room, Texas Hold'em is the most popular game offered here.
With stakes starting at $1/$2, even the newest of poker players can sit down at a table to play.
At the same time, as you'd expect from a Binion-inspired casino, high-stakes games are there for you as well, if this is more in your lane.
As well as offering No Limit Hold'em, poker players can also play Limit Hold'em with stakes starting at $3/$6.
For those who think two hole cards aren't enough, PLO games can play as high as $10/$20 with a minimum buy-in of $1,000. All limit Omaha 8 or better games are played with a kill with $5/$10 games on offer.
Of course, like with most poker rooms, if there is a demand for a specific game or specific stake, the casino will usually oblige.
Rake
When playing cash games at the Horseshoe Hammond Poker Room, you may have some surprises when it comes to the rake.
The room's poker rake is capped at $5 and is considered on the higher end, with 10% of every pot (that sees a flop) going to the house.
Furthermore, for every pot that hits $20, another $1 is taken out on top of the rake. This money goes towards World Series of Poker Circuit seats, to which there are regular draws for.
It should be noted that this only happens in the main poker room, so only those players who put the hours playing in the main room are eligible for the prize draws.
Horseshoe Hammond Poker Room Promotions
As part of the Caesars Rewards scheme, poker players can earn $1 per hour, which can be redeemed on items throughout the casino. Admittedly this is on the lower end of the comp rate, but it is still better than a kick in the teeth.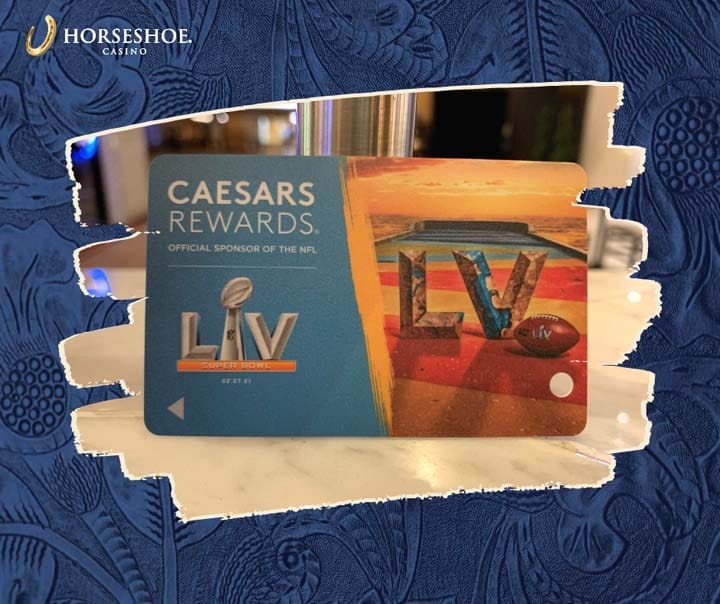 The Horseshoe Hammond poker room also runs special promotions on occasions, and the best way to stay up to date with what is being offered is to take a peek at their website before setting off.
Horseshoe Hammond Poker Room Tournaments
Poker players who prefer playing tournaments will be pleased to see that Horseshoe Hammond is a great place to get stuck into an MTT.
The buy-ins for their daily tournaments range from $60 to $220, offering something for everyone. A typical week of daily poker tournaments at the Horseshoe Hammond poker room looks something like this:
Monday (12:15 pm & 7:15 pm) – $60 buy-in, 10,000 starting stack, and $3k guaranteed
Tuesday & Thursday (12:15 pm & 7:15 pm) – $100 buy-in, 12,000 starting stack, and $4k guaranteed
Friday & Sunday (12:15 pm) – $220 buy-in, 20,000 starting stack, and no guarantee
Saturday (12:15 pm) – $130 buy-in, 15,000 stack and no guarantee
Saturday (3:15 pm) – $220 buy-in satellite tournaments for WSOP Circuit seats
As well as the plethora of tournaments above, Horseshoe Hammond hosts the Chicago WSOPC (Feb – March & October), which offers players in the area a chance to play in higher buy-in freezeout tournaments.
There are also smaller series such as the Chicago Poker Classic (March), Winter Warm Up (January) series, and the Horseshoe Hammond's own Summer Series (August) too.
Parking at Horseshoe Hammond Poker Room
Horseshoe Hammond Casino gives guests the option to either park themselves or use the valet service on offer.
The self-park garage is free to use and has plenty of space as well as ample accessible parking spots. Some casino parking can be off the beaten path, but thankfully, at Horseshoe Hammond, the self-park garage offers guests a quick route to the casino floor.
Valet parking to most guests will cost $10, which isn't too much to ask for. However, if you have Diamond or Seven Star status on the Caesars reward scheme, valet parking is free for you.
Those who have mobility issues can also access free valet parking Monday through to Thursday, and on weekends it will cost just $5.
Horseshoe Hammond Casino Games
The Horseshoe Hammond Casino is a fine place to retreat to after a poker session. Players can unwind and hope to be on the right side of lady luck with a vast choice of slots, video poker machines, and table games on offer.
The 350,000 square feet casino homes over 3,000 slots, over 250 video poker machines, and 100 tables, and there's also the high-limit room with 125 slot machines where you can play up to $1,000 a spin.
For those new to casinos, there are helpful team members who can explain the rules of the game you want to play.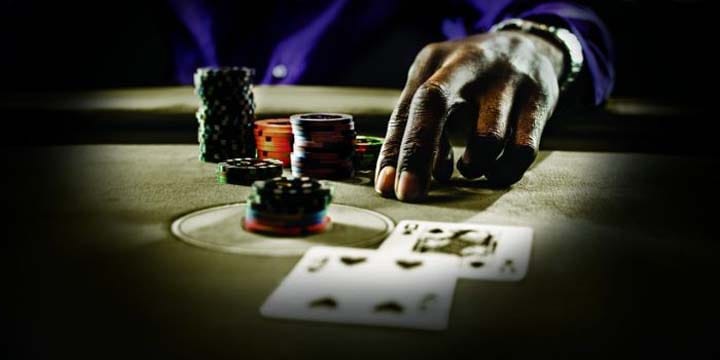 With all the slots and video poker machines you could dream of playing, you're bound to find the right game for you. If you are more into table games, though, Horseshoe Hammond also offers:
Mississippi Stud
Play Four Poker
Baccarat
Pai Gow Tiles
Texas Hold'em Bonus
High Card Flush
Caribbean Stud Poker
Sic Bo
Big 6
As you can see, there is hardly a table game that Horseshoe Hammond Casino doesn't spread, so your only job is to pick your favorite and get lucky!
Horseshoe Hammond – What to Expect and Things to Do
Stepping away from all the gambling thrills you can experience when at Horseshoe Hammond, you can enjoy good vibes and the best craft beer at the Sixth Street Bar at Horseshoes' latest watering hole.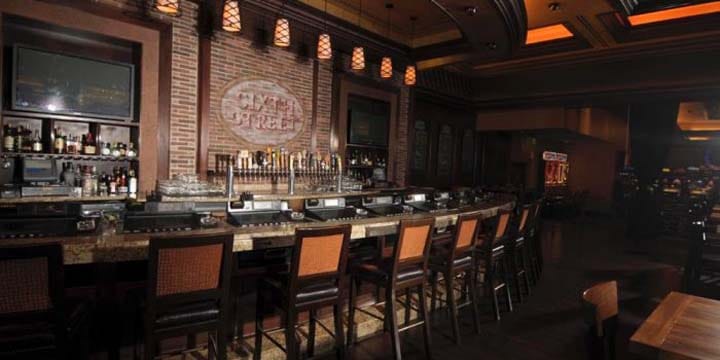 If you're seeking something a bit more up-tempo, then Push Lounge is the place for you. The bar is found in the center of the casino and creates a wicked buzz in Horseshoe Hammond's ultra-lounge. Just make sure you're in a stylish attire as you won't be permitted entry if you are wearing:
Tennis Shoes, Jerseys, baggy/ripped jeans or shorts
Tank tops
Baseball caps and bandanas
There are also several dining options at your disposal should you get peckish when playing poker.
You've got the Village Square Buffet, Foo Noodle Bar, and The Eatery for your more casual dining experiences.
If you feel like splashing around, you should visit 'Jack Binion's Steak.' Here you can enjoy the fine-dining experience with beautiful views of Lake Michigan and the Chicago skyline. The restaurant has won many awards and has been a dining favorite for those nearby.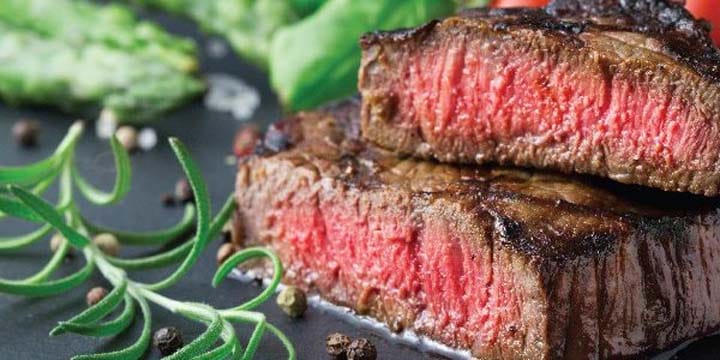 Unfortunately, there is no hotel at the venue, but there are plenty of options for accommodation in the vicinity.
Horseshoe Hammond – Keeping You Safe Against Covid-19
For those who want to take extra precautions with their casino trips, you'll be put at ease with the covid-safe protocols in place.
Caesars' team members are trained on proper cleaning, disinfecting, and wearing appropriate PPE. They'll also have to undergo temperature checks and follow social distancing guidelines.
For guests, the protocols look something like this:
No eating, drinking, or smoking on the casino floor (the casino permits smoking in usual circumstance)
Guests must wear masks properly at all times (except when eating and drinking)
Non-invasive temperature checks before entry
For a more thorough and extensive list of how Horseshoe Hammond Casino is keeping players safe throughout the pandemic, visit their website.
Final Thoughts on the Horseshoe Hammond Poker Room
Horseshoe Hammond often tops many lists when it comes to leading poker rooms in the Midwest. It benefits from being a short journey away from downtown Chicago as well as the fact it is the biggest poker room in the region.
The fact that it is the patron of WSOPC events in Chicago should tell you enough about the quality of the room.
Poker veterans and new players alike will be able to find a game that satisfies their poker cravings with varied buy-ins for both cash games and tournaments.
As well as all the poker action you could possibly ask for, there are plenty of things to do that do not revolve around the casino.
With Lake Michigan at your doorstep, you can step outside and enjoy your immediate surroundings and grab a drink or bite to eat at the picturesque marina as you muse over the latest GTO strategy.