Jonathan Little Hand of the Week – Insane Bluff by Fedor Holz, But Will It Work?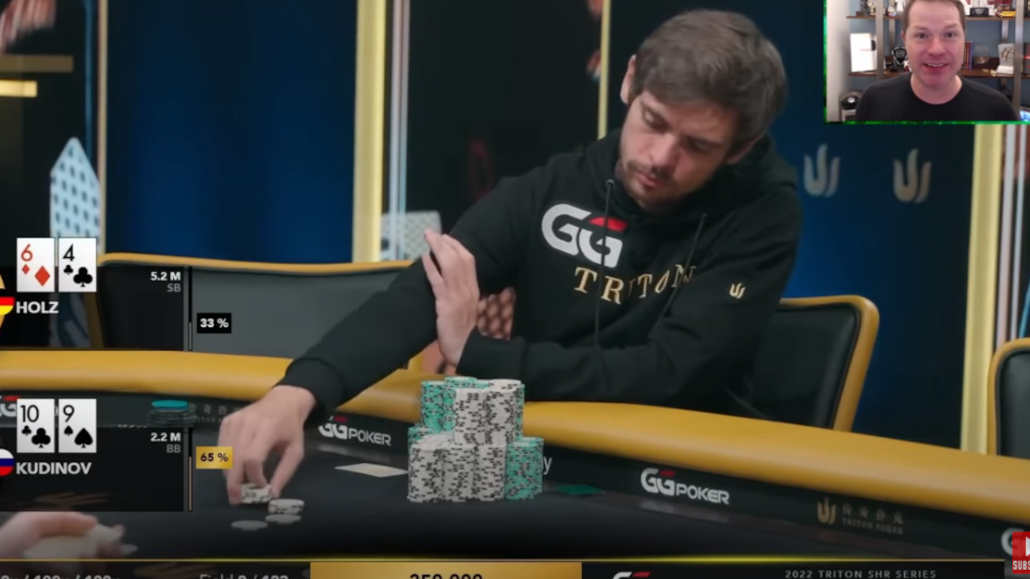 3 minutes
Last Updated: November 5, 2023
If you want to increase your edge at the tables, make sure to get your FREE 3-day pass and check Pokercoaching.com.
…
For today's article, we have a very interesting and exciting hand featuring two high-rollers battling it out at the Triton Super High Roller Series.
Our hero for the day is none other than Fedor Holz, one of the biggest tournament winners in poker history.
Fedor goes up against Viktor Kudinov in a blind vs. blind battle, and things get really crazy, real fast!
The action folds to Fedor in the small blind. With blinds at 50K/100K/100K, Holz decides to raise the price of poker and attacks Kudinov's big blind, making a fairly standard raise to 240,000 with a somewhat weak hand – 6♦4♣.
Fedor has Kudinov well covered, playing 5.2 million to Kudinov's 2.2. million. With just eight players remaining in the tournament, there are serious ICM implications at play here, as Kudinov has the incentive to play tighter and move up the payout ladder.
Given these dynamics, Holz should be raising with almost all of his hands, as he does here with 6♦4♣.
Kudinov looks down at 10♣9♠, a very decent hand facing a small raise and playing in position, so, despite all these factors, he unsurprisingly decides to call.
The Flop
The flop comes K♥Q♥2♣, not providing much help for either player but completely missing Fedor's hand. Interestingly, Holz decides not to continue with the aggression and checks.
This may come as a surprise, given everything I discussed above, but this is a rare situation where checking is the right play. Not only did the flop completely miss Fedor's hand, but Kudinov's perceived range in the big blind connects pretty well with this board.
Viktor decides to check back and see the free turn. While this may seem like a good spot to bet and try to win the pot with just a gutshot straight draw, Kudinov doesn't want to get check-raised off of his equity or even face a check-call, bloating the pot.
The Turn
The K♠ rolls off on the turn, pairing the board. Holz is done checking and comes out with a relatively small bet of 175,000, trying to win the pot.
After the action checks through on the flop, it makes sense for Fedor to start bluffing. Once Viktor checks, he can safely remove some of the high-equity hands from his range. Also, after checking the flop, Holz will have some kings and queens in his range, as he needs to balance these hands with his bluffs.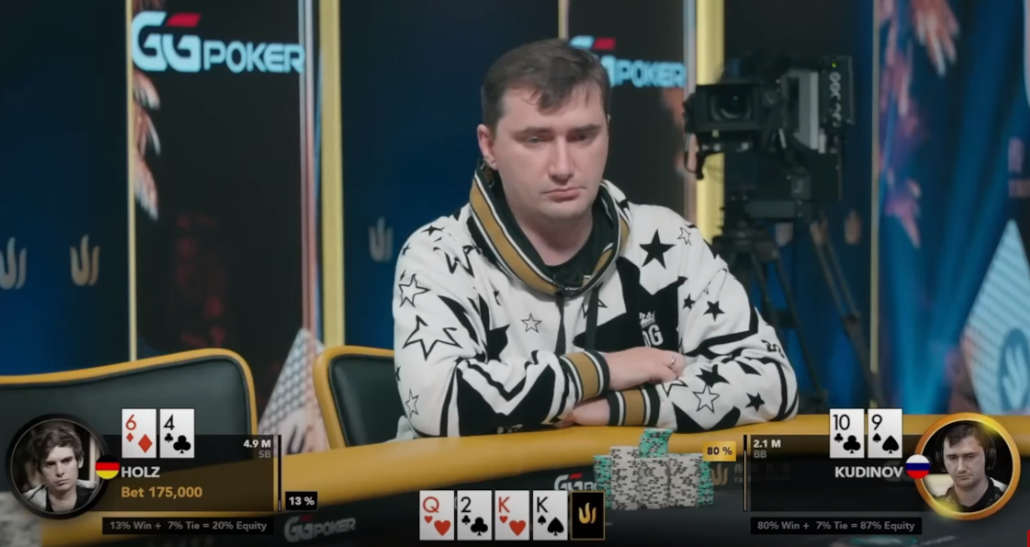 The type of hands he is targeting with this bluff is exactly what Kudinov has here – gutshot draws that are ahead of Fedor's actual holdings and that he would love to fold out right here.
From Viktor's perspective, Fedor has some hands that are beating him, but also a bunch of random undercards that he's actually ahead of. So, facing a fairly small bet, he decides to make the call and see the final card.
The River
The A♣ completes the board and, after a short think, Holz comes out betting for 390,000, slightly under half the pot.
I'm not sure about this bet and this sizing, as I don't see Fedor having a lot of aces on this river. He'd probably move all in before the flop with many of his A-X holdings, and he's likely not betting that many Ace-high hands on the turn.
Viktor doesn't have many aces in his range, either, so the question becomes, would Fedor also go for thin value with a queen?
Kudinov doesn't snap-fold his ten-high. He goes into a bit of tank, going over his options, as Fedor's hand does look a lot like a king or nothing. Can he find a hero call and win this important pot? Check out the video above to find out!