Last Chance to Win Your NAPT Las Vegas Packages – Here's How!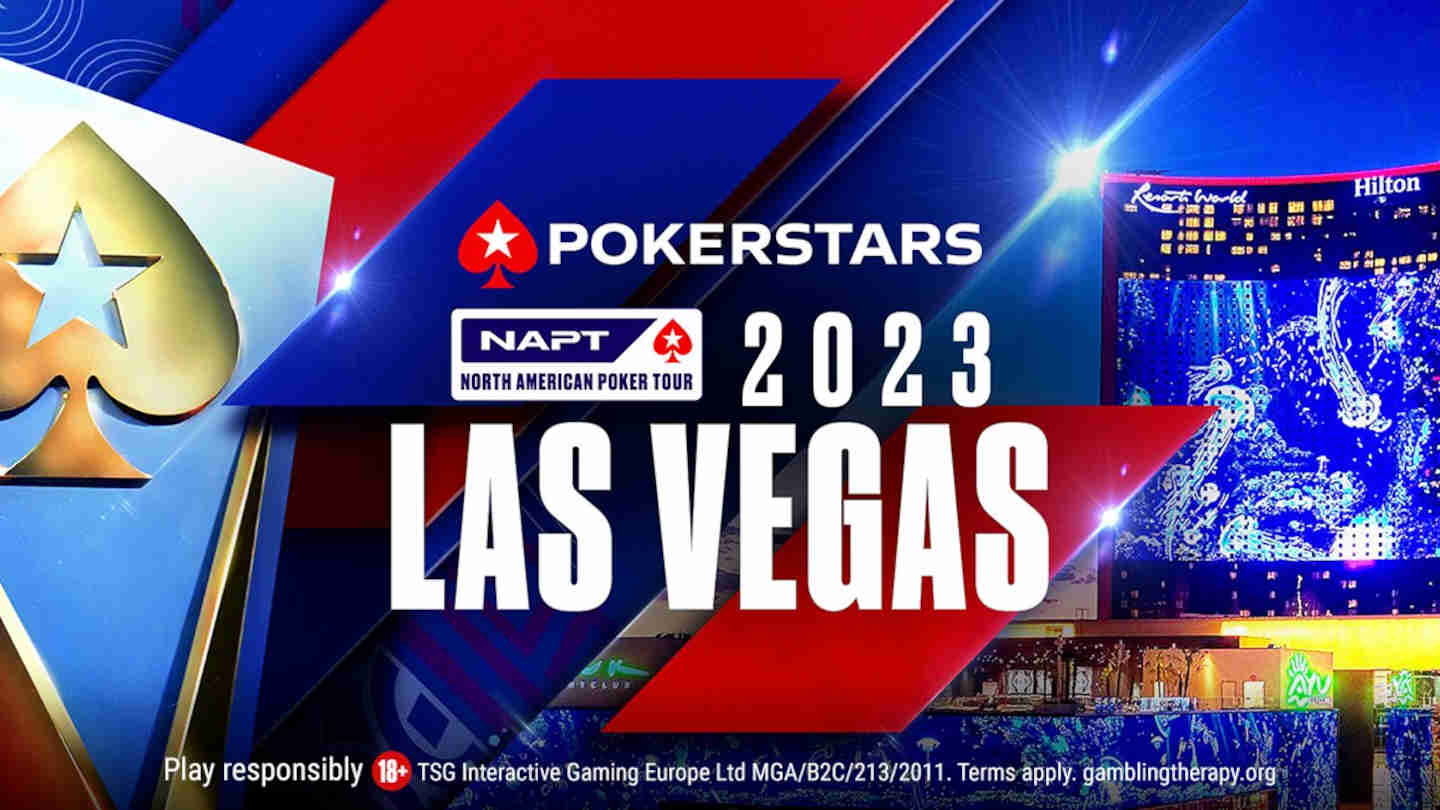 4 minutes
Last Updated: October 21, 2023
The first NAPT festival in 12 years is upon us as we are only weeks away from the kick-off of NAPT Las Vegas.
The festival officially starts on November 5, with the first non-satellite events scheduled for that day, while a couple of satellite events will go down at Resorts Las Vegas as early as November 4.
With so little time left, it is high time for all players looking to play this historic event to try and win their seats in order to avoid paying the full price of the admission fee.
So, we took a quick look at all the options you have to win your NAPT Las Vegas seat in the coming days and enjoy Sin City at a significantly reduced price.
Mega Satellites for International Players at PokerStars
Players from Europe, South America, and many other parts of the world, who have access to the global PokerStars client, will have plenty to look forward to in terms of NAPT Las Vegas satellites over the next week.
On October 22, PokerStars will be running the first of two remaining NAPT Mega Qualifiers, with 5 packages guaranteed, and more potentially up for grabs if enough players sign up.
The Mega Satellite will have a buy-in price of $220 and will award at least five packages worth $5,000 each, which includes:
$1,650 NAPT Main Event Buyin
7 Nights at Resorts World for Two
$720 in Cash to Your PokerStars Account
This means winners of the NAPT packages will get to play the Main Event, sleep at the venue for seven days for free, and even bring a spouse or a friend along for the journey.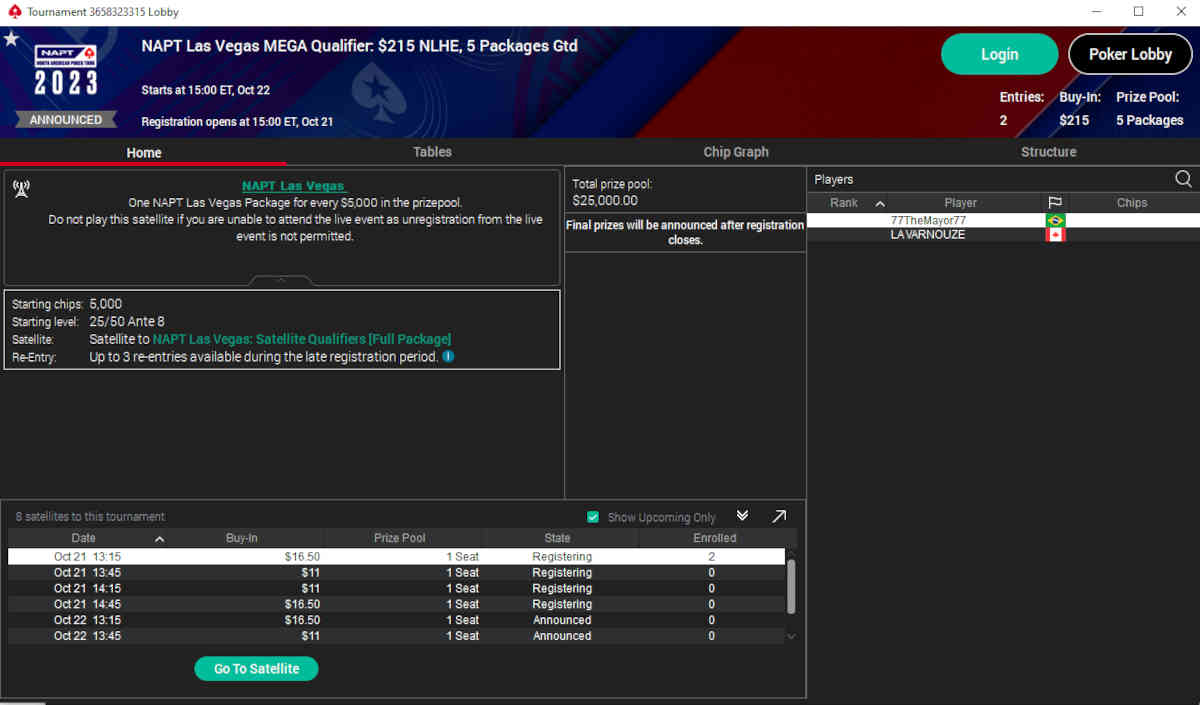 The very next day, on October 23, PokerStars will run a $109 satellite to the NAPT with one package worth $2,500 guaranteed. This package will only include the buy-in and $850 in cash for travel costs.
Another $215 NAPT satellite will run on October 26, with one full $5,000 package guaranteed, including accommodations and travel costs.
Finally, the last big Mega Qualifier will go down on Sunday, October 29, with another five packages up for grabs. Depending on interest, we could see quite a bit more on offer in each of the satellites mentioned here.
Keep in mind that a number of Step Satellites are also running, with buyi-ns as low as $5, which could help you win your seat at a price even lower than you ever expected.
So, here is a quick rundown of the satellites that remain for international players to play in NAPT Las Vegas:
| | | | |
| --- | --- | --- | --- |
| Date | Satellite | Buy-in | Guaranteed Packages |
| Oct 22 | Mega Qualifier | $215 | 5 ($5k Packages) |
| Oct 23 | Qualifier | $109 | 1 ($2.5k Package( |
| Oct 26 | Qualifier | $215 | 1 ($5k Package) |
| Oct 29 | Mega Qualifier | $215 | 5 ($5k Packages) |
Mega Satellites for American Players at PokerStars US
NAPT will be played on American soil, so it comes as no surprise that PokerStars went quite hard with trying to get as many qualifiers from within the US to the event.
For that reason, the operator launched the "Road to NAPT" promotion across all its American sites, which means players in New Jersey, Michigan, Pennsylvania, and Ontario will all have a fair shot at winning their packages.
Is @ArlieShaban excited to be on the Road To NAPT? 🤔

Find out in the video below ⬇️ pic.twitter.com/VOvJ4YLhP3

— PokerStarsUSA (@PokerStarsUSA) October 20, 2023
In fact, the first Mega Qualifiers for the NAPT have already been played out, with quite a few tickets handed out across all jurisdictions, and one final opportunity remains on October 22.
This Sunday, PokerStars will run its final $300 NAPT Qualifier in PA, NJ/MI, and ON, with ten full packages worth $5,000 up for grabs on each site.
The satellites will be played as part of the Road to NAPT series, which includes numerous other online poker events with actual prize pools, but the NAPT Qualifiers will certainly act as highlights of the entire series.
So, if you live in one of the states/provinces where PokerStars operates, make sure to log on this Sunday and play for your seat in the historic NAPT event in early November.
Win Your Seat in Las Vegas
If you don't get lucky in one of the online qualifiers but are planning to hit Las Vegas for the NAPT anyway, there will be plenty of opportunity to win a seat right there, at the venue.
Here is a full rundown of all the live NAPT Las Vegas satellites you can play at Resorts World during the festival:
| | | | |
| --- | --- | --- | --- |
| Date | Qualifier | Buy-in | Guaranteed Seats |
| Nov 4 (7 pm) | Win Your Seat @50k Chips | $390 | 10 |
| Nov 5 (4 pm) | Win Your Seat @50k Chips | $390 | 10 |
| Nov 5 (9 pm) | Win Your Seat @50k Chips | $390 | 10 |
| Nov 6 (11 am) | Win Your Seat @50k Chips | $390 | 10 |
| Nov 6 (9 pm) | Win Your Seat @50k Chips | $390 | 10 |
| Nov 7 (11 am) | Win Your Seat @50k Chips | $390 | 10 |
| Nov 7 (9 pm) | Win Your Seat @50k Chips | $390 | 10 |
| Nov 8 (11 am) | Win Your Seat @50k Chips | $390 | 10 |
That's at least 90 seats that will be available for the taking during the NAPT festival itself at Resorts World, giving you ample chance to play and try to win your seat at a significantly reduced price.
Keep in mind that all satellites are also "win your seat @50k chips," which means that as soon as your stack hits 50k in chips, you will be getting your ticket, while your chips will be taken out of play.
Social Giveaways Still Available
It has become typical for operators to give away some seats to their flagship events for free, but with NAPT Las Vegas we have been seeing a relatively new trend emerging, with a number of influential poker personalities giving away free packages via their social media profiles.
If you want to get in on the action, make sure to do so as soon as possible by following these poker players on X (formerly Twitter):
Faraz Jaka (@FarazJaka)
Kevin Mathers (@Kevmath)
Nadya Magnus (NadyaKGB)
Garry Gates (@GarryGates)
Each of them is giving away seats to the NAPT for free, with minimal requirements, so make sure to head on over and join their giveaways for your chance at a free NAPT package!