Win Your EPT Cyprus 2023 Seats at PokerStars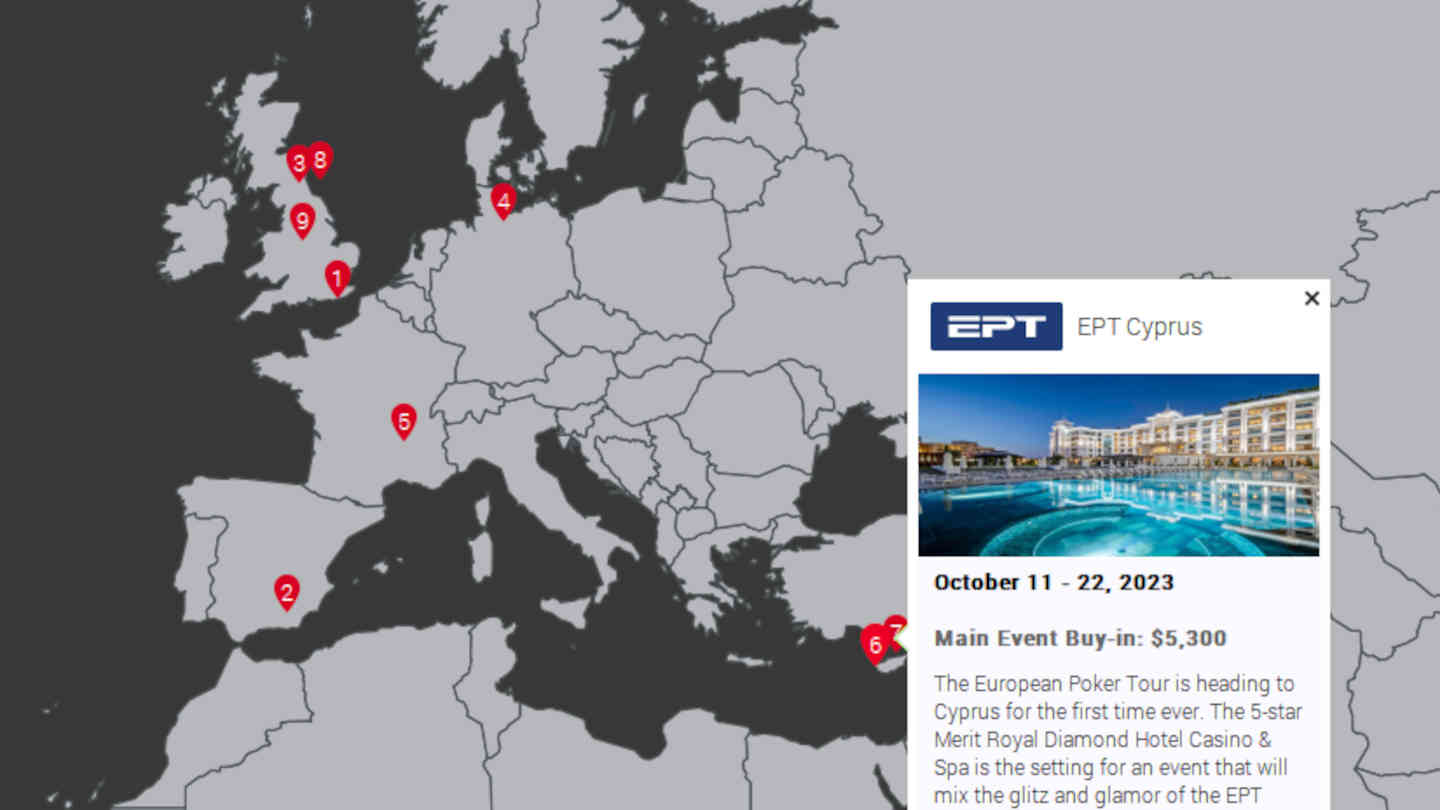 The inaugural EPT Cyprus event is coming up, with the festival starting on October 11, and the EPT Main Event kicking off just five days later, on October 16.
With a month to go before the key event of the series, PokerStars is still offering plenty of chances to qualify for the historic occasion.
EPT Cyprus Main Event will carry a $5,300 buy-in price, and PokerStars is offering packages that include the full buy-in price, as well as accommodations for the full duration at the venue.
With satellites now running from as low as $5.50, anyone planning to visit Cyprus this October should take at least one shot at winning the coveted EPT package.
Keep reading to find out more about your qualifying options, or head on over to PokerStars right now to get into the action and win your EPT Cyprus seat without further delays.
EPT Cyprus Packages Worth $9,000 Up for Grabs
The first-ever EPT Cyprus festival will be a high-end affair, played at the luxurious Merit Royal Diamond Hotel & Spa, a venue worthy of the class and prestige of the exclusive European Poker Tour.
With that in mind, PokerStars is running a series of $530 direct online poker qualifiers, which award either seats into the Main Event, or full packages that include stays at the Merit Royal Diamond Hotel & Spa for the duration of the tournament.
By playing the package qualifiers, you will have a chance to win:
$5,300 Main Event entry
8 Nights for two at the Merit Royal Diamond Hotel & Spa
$536 in cash for travel expenses
All package winners will receive Ultra All Inclusive stay at the Merit Royal Diamond Hotel & Spa, guaranteeing luxurious stay for you and your guest with very few limitations.
Your best upcoming opportunity to win an EPT Cyprus package will be on September 24, when PokerStars will be guaranteeing four packages via a $530 direct qualifier.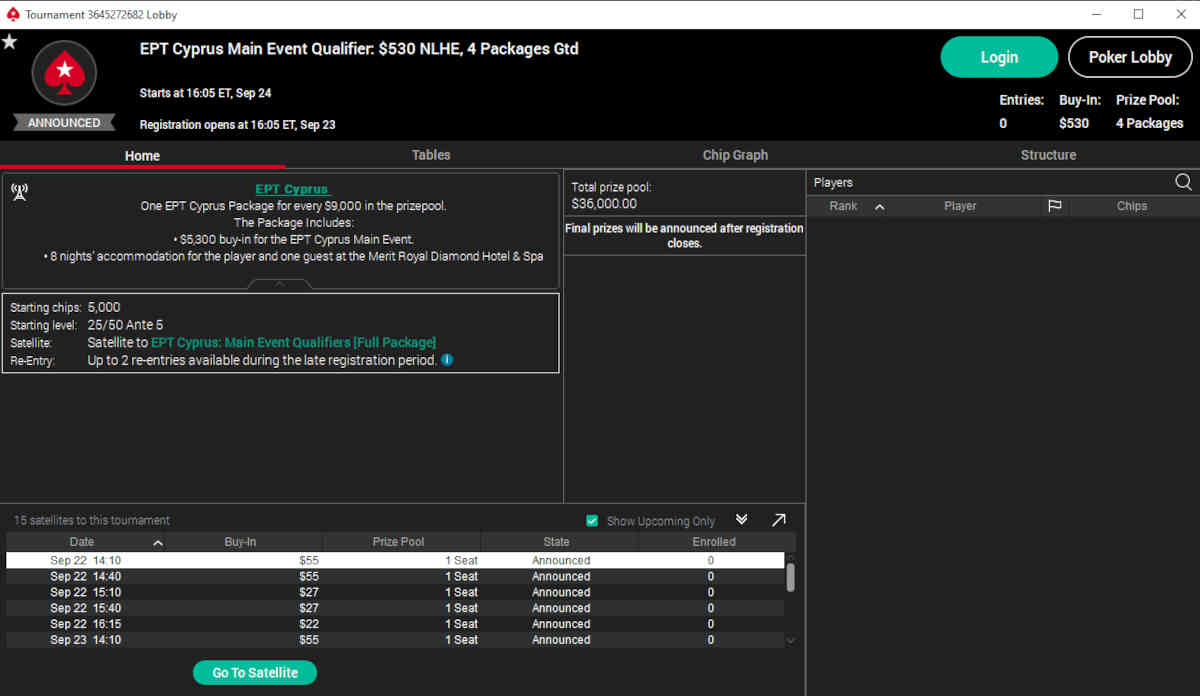 On top of that, a number of other $530 qualifiers, awarding seats and packages, will be on the schedule between now and the kickoff date, so make sure to keep an eye on the satellite lobby and pick the date that works best for you to compete for the lucrative package.
Qualify for EPT Cyprus from Just $5.50
The $530 price tag on the direct EPT Cyprus qualifiers is still quite steep for many upcoming poker players, which is why PokerStars offers plenty of opportunities to qualify for even less.
Satellites run from as low as $5.50 each day, giving you a chance to work your way up to the $530 qualifier and win your package at just a tiny fraction of the price.
The following satellites are currently available daily:
$5.50 Deep Turbo – 1x $55 Qualifier Ticket Gtd
$22 Rebuy Hyper Turbo – 1x $530 Qualifier Ticket Gtd
$27 Deep Turbo – 1x $530 Qualifier Ticket Gtd
$55 Freezeout – 1x $530 Qualifier Ticket Gtd
The variety of satellite tournaments allows players with all types of bankrolls to chase after their EPT Cyprus package, with several entry points allowing you to pick how much you wish to risk for your chance to play at the festival.
Win Your Way to Eureka Cyprus
Running just ahead of EPT Cyprus Main Event will be the Eureka Cyprus Main Event with a $1,100 buy-in fee and a massive expected player field.
PokerStars is offering opportunities to win your way to this preliminary tournament as well, with $162 direct qualifiers running on the platform over the coming weeks.
Packages worth $3,500, which include Eureka Main Event seats, six nights at the Merit Royal Diamond Hotel & Spa, and some spending money are available, as well as Seat + Expenses packages.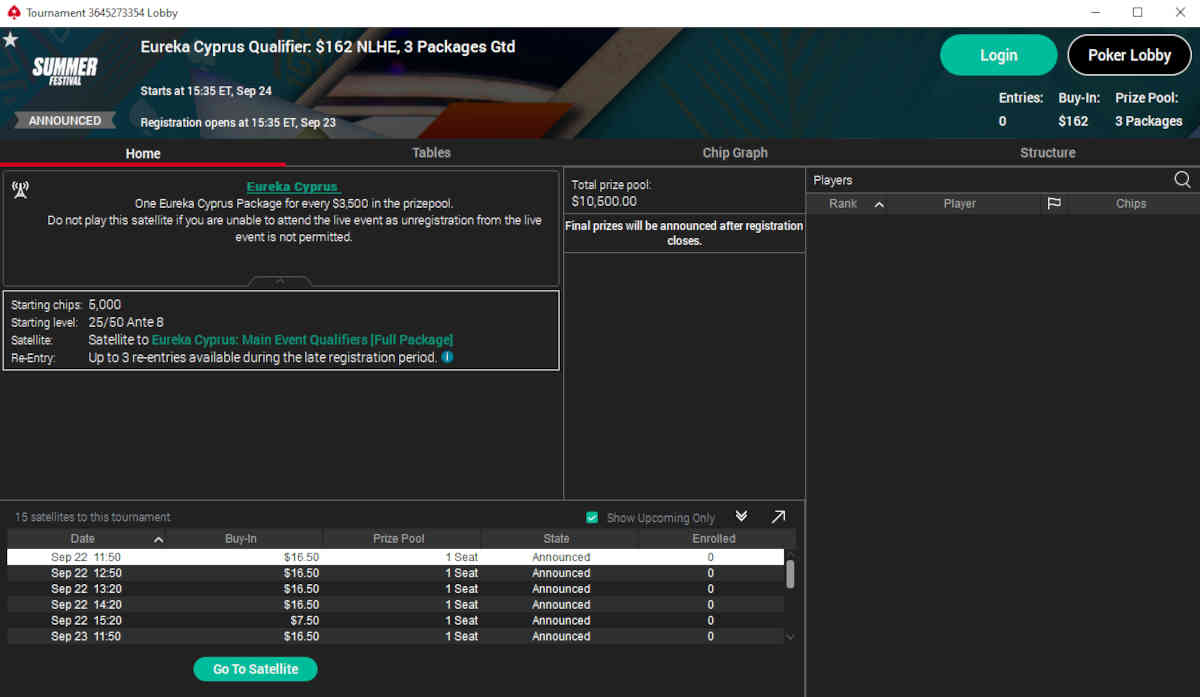 If $162 is still a bit out of your price range, $7.50+R and $16.50 feeder satellites are available each and every day, with $162 satellite tickets up for grabs.
You are allowed to compete for both the Eureka and EPT Main Event packages, and if you can win both you will have a guaranteed room at the Merit from October 11 to 22, along with seats in both key events of the festival.
Win Your Ticket to Cyprus Today
The upcoming EPT Cyprus festival will be the first of its kind played on the luxurious Mediterranean island, and it should be one to remember, if recent PokerStars live festivals are anything to go by.
The EPT Main Event is scheduled to start on October 16, and there are still several direct qualifiers left at PokerStars before that date, giving you a chance to compete and win your seat for a more affordable price.
Head on over to PokerStars right now, sign up for an account if you haven't already, and check out the live events lobby for a full list of upcoming satellites and your opportunities to win a package for EPT Cyprus 2023.