A Week of Midstakes Madness Is Coming to PokerStars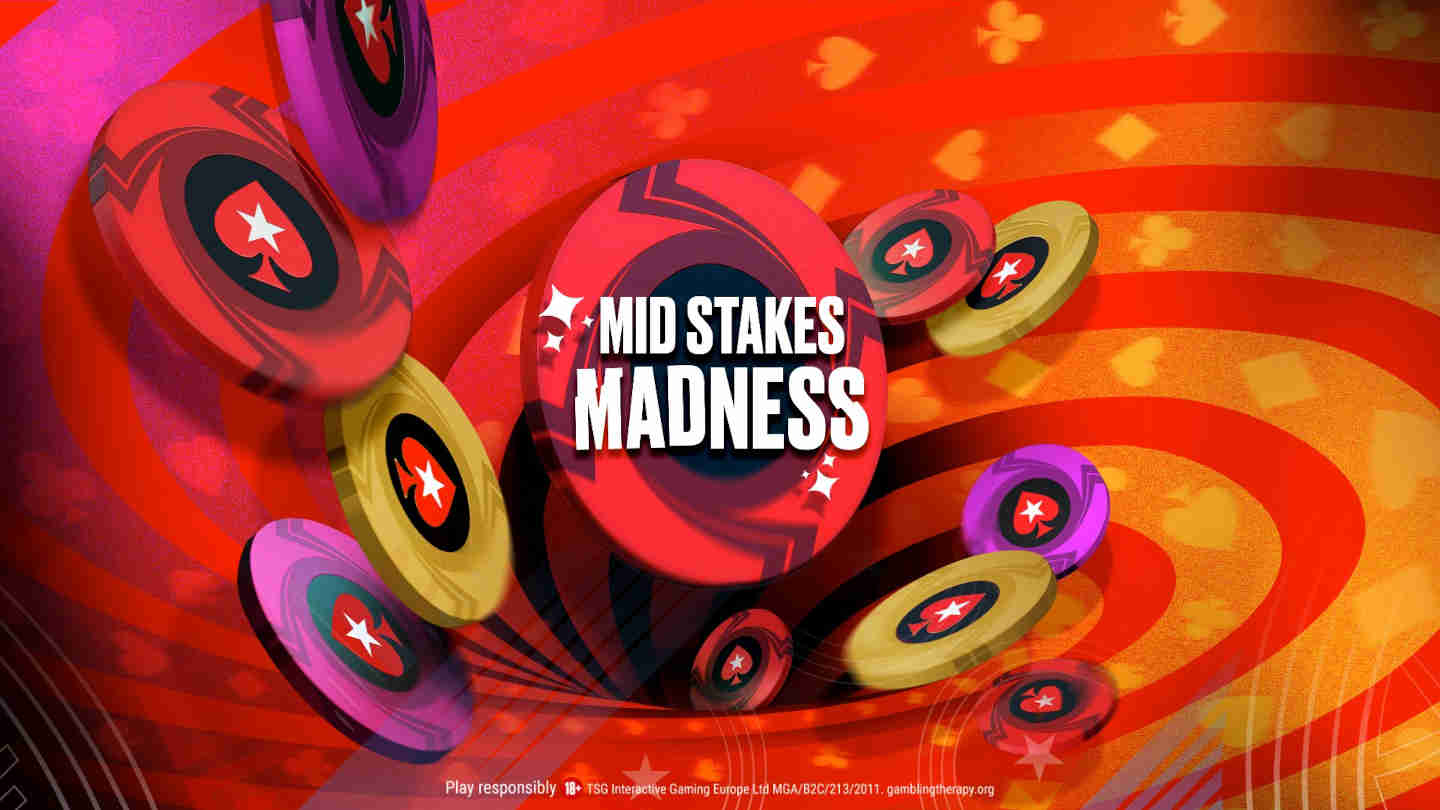 PokerStars has put another MicroMillions series to bed, and is now upping the stakes and offering players a chance to play in a slightly bigger and more rewarding Midstakes Madness series from August 6 to 13.
With a total of 61 events over a span of just a single week, tournament players will have their hands full with action.
Buy-ins for the Midstakes Madness are set in the $11 to $109 range, making them reasonably affordable, but also high-stakes enough to offer some serious guaranteed prize pools.
Overall, the series will give away at least $5,885,000, but is likely to smash the guarantees and end up with much more than the expected number in prizes paid.
PokerStars will be boosting the guarantees for some of its flagship tournaments, such as Sunday Million and Sunday Storm during the Midstakes Madness, with plenty of other unique events added to the schedule.
Head on over to PokerStars and check out the tournament lobby for an instant list of all the events, or keep reading and find out why Midstakes Madness is a tournament series you don't want to miss.
Midstakes Madness Highlights and Main Events
Midstakes Madness kicks off at PokerStars on Sunday, August 6, with nine unique events taking place that day alone, enough to keep even the most serious tournament grinders busy.
The series starts off with a bang, as a minimum of $1,000,000 will be given away in the boosted guarantee Sunday Million, along with another $100,000 in boosted $11 Sunday Storm, to name only the highlights of the day.
Over the course of the week, Midstakes Madness will offer almost a dozen events every day, with buy-ins of $11, $22, $55, and $109, most featuring the popular progressive KO format.
Unlike most PokerStars festivals, Midstakes Madness will focus on Texas Hold'em and PLO in full, with mixed game events not a part of the schedule.
However, a number of newly launched daily mixed game majors should be plenty to keep fans of mixed games busy throughout the week.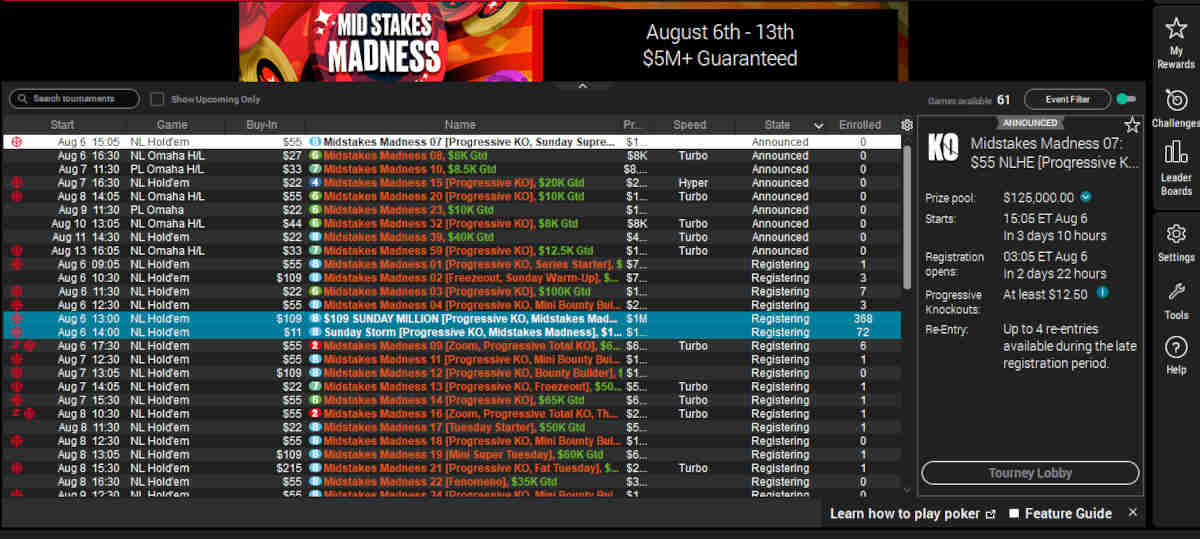 PokerStars will offer some massive guarantees for all NLH events, but fans of tournament PLO will also have plenty of chances.
On August 9, a $22 PLO event will guarantee $10k in prizes, while a handful of PLO8 and NLO8 events will be spread across the week for some fast-paced four card action.
A singular $33 NL 6+ Hold'em event will also play out on August 11, giving this reasonably new game a place in the mix and a chance to shine and bring in some new fans.
Finally, the week will end with new editions of boosted prize pool Sunday Storm and Sunday Million, with $100k and $1M guaranteed once again, with the two tournaments acting as the Main Events for the entire Midstakes Madness.
Midstakes Madness Highlight Events
$22 Midstakes Madness #3 (Progressive Knockout) – $100k Guaranteed
$109 Sunday Million (Progressive Knockout) – $1M Guaranteed
$11 Sunday Storm (Progressive Knockout) – $100k Guaranteed
$11 Midstakes Madness #49 (Progressive Knockout) – $30k Guaranteed
$22 Midstakes Madness #54 (Progressive Knockout) – $100k Guaranteed
$109 Sunday Million Main Event (Progressive Knockout) – $1M Guaranteed
$11 Sunday Storm Mini Main Event (Progressive Knockout) – $100k Guaranteed
Win Your Way to Midstakes Madness
While buy-ins for Midstakes Madness may not be astronomically high in the first place, PokerStars is offering plenty of opportunities to win your seats for an even more affordable price.
Each day in the buildup to Midstakes Madness, dozens of MTT satellites to the series will be running, with buy-ins as low as $0.33 and as high as $11, with seats into Sunday Storm, Sunday Million, and other Midstakes Madness events guaranteed.
As the series approaches, make sure to log into your PokerStars account, check out the Midstakes Madness tab, and look under the satellites for a list of your options each day.
Hundreds of seats will be handed out over the next few days at a fraction of the price, and you could easily be one of the lucky players who get to play in the series without having to pony up the full price of your buy-ins.
Power Path to Midstakes Madness
PokerStars recently launched its new Power Path promotion, which allows players to win seats for some of the top live and online poker tournaments with minimal starting investment.
If you were lucky enough to already capture a Power Path Bronze Pass, or happen to win one in the coming days, the Pass will be fully usable for the $109 events of Midstakes Madness.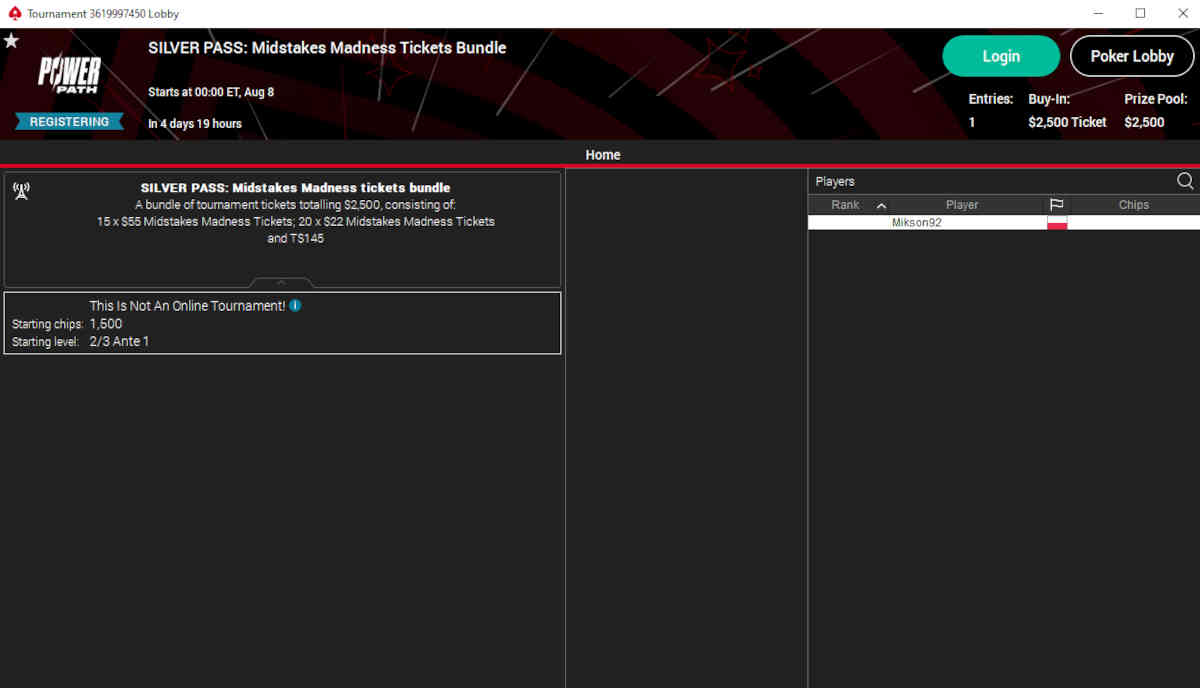 This means you will get to play two million dollar tournaments with your Power Path passes, so make sure to keep them in store for the week of August 6-13 and put them to best possible use.
A Week of Midstakes Action Ahead
The week ahead of us should be one of the most action-packed for mid stakes tournament players in a while, as PokerStars is offering 61 events with massive guaranteed prize pools and affordable buy-ins.
Midstakes Madness is sure to attract seasoned pros and thousands of recreational players alike, and with dozens of MTT satellites already running, should offer plenty of soft spots and great opportunities to make deep runs.
Join PokerStars today to take part in Midstakes Madness, check out the MTT satellites and Power Path options, and enjoy a week of nonstop online poker mid-stakes tournament action!