All the Ways to Qualify for the Upcoming WPT World Championship in Las Vegas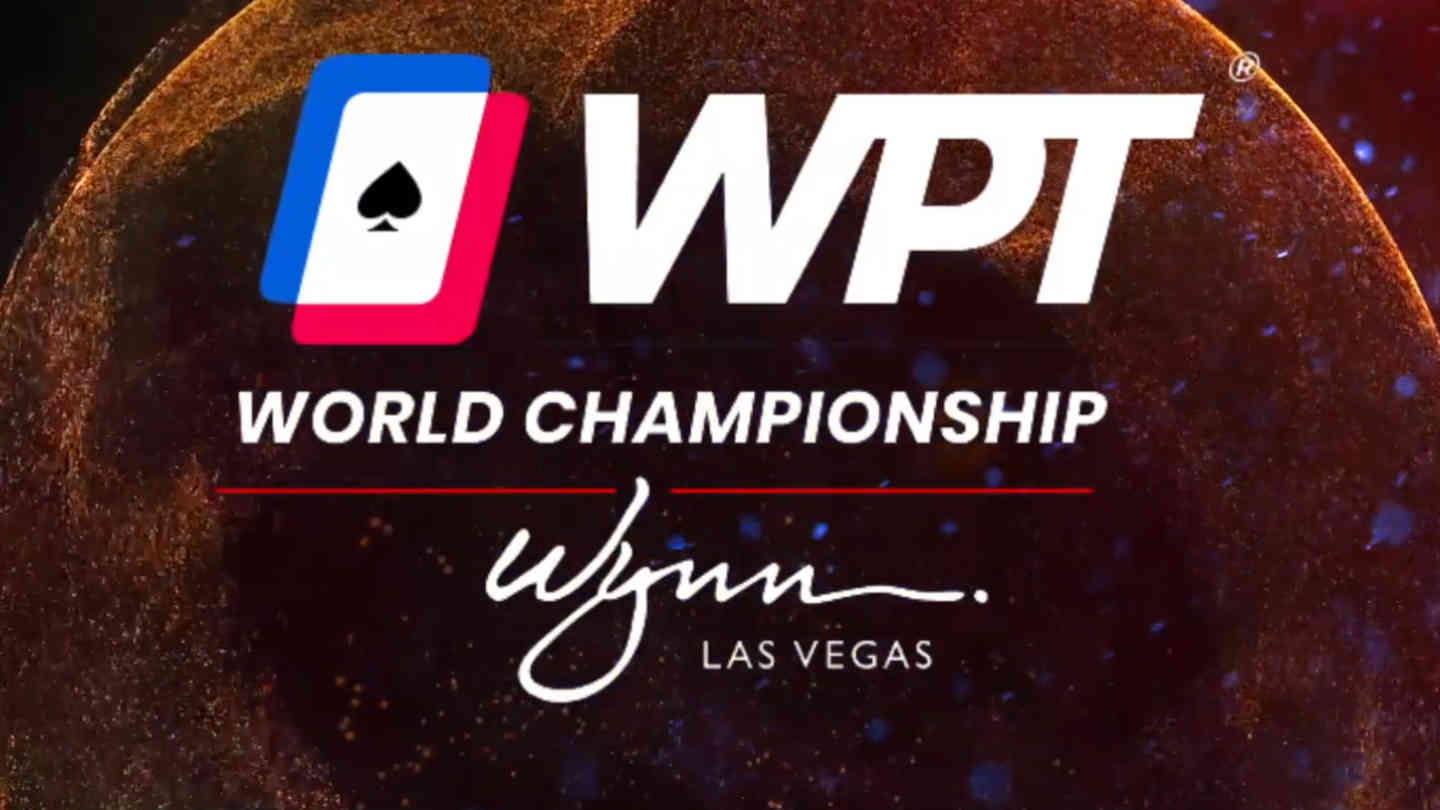 5 minutes
Last Updated: October 29, 2023
The WPT World Championship event is getting closer, as we are now only a few weeks from cards being in the air for what might well be the most important poker event of the year after the WSOP.
With the ambitious guarantee of $40,000,000, the tournament is equally as appealing to hardened professionals and casual poker fans. However, the high buy-in of $10,400 makes it a very difficult target for the latter.
However, WPT is firmly set on filling the seats come December and giving a chance to everyone to join the action. If you can't afford the buy-in and other related expenses (which is the case for many of us), there are many different satellites, live and online, to help you get there.
Everyone's situation is different, so in this article, I'll try to cover all the options out there and let you figure it out from there. If you'd like to have your seat at the table come December and compete for your share of the millions in the prize pool, keep on reading.

Qualify Online via WPT Global
Online qualifiers are always the easiest and most affordable route to a live poker event. You can usually start your journey for just a few bucks or, if your bankroll allows it, start a bit higher and make that road a bit shorter.
When it comes to online satellites for the WPT World Championship, WPT Global is the place to be. As the online partner of the World Poker Tour, the operator offers the greatest number of options.
Every day, you'll find feeder tournaments starting every few minutes. Buy-ins are $5, $22, and $55, awarding $220 and $1,060 tickets to the main satellites. You can also win tickets to higher buy-in satellites and take a slower but safer route.
Main satellites (direct qualifiers) take place every Sunday, offering at least one package for the WPT World Championship. The package is worth $12,400, covering the tournament buy-in and $2,000 for travel and expenses.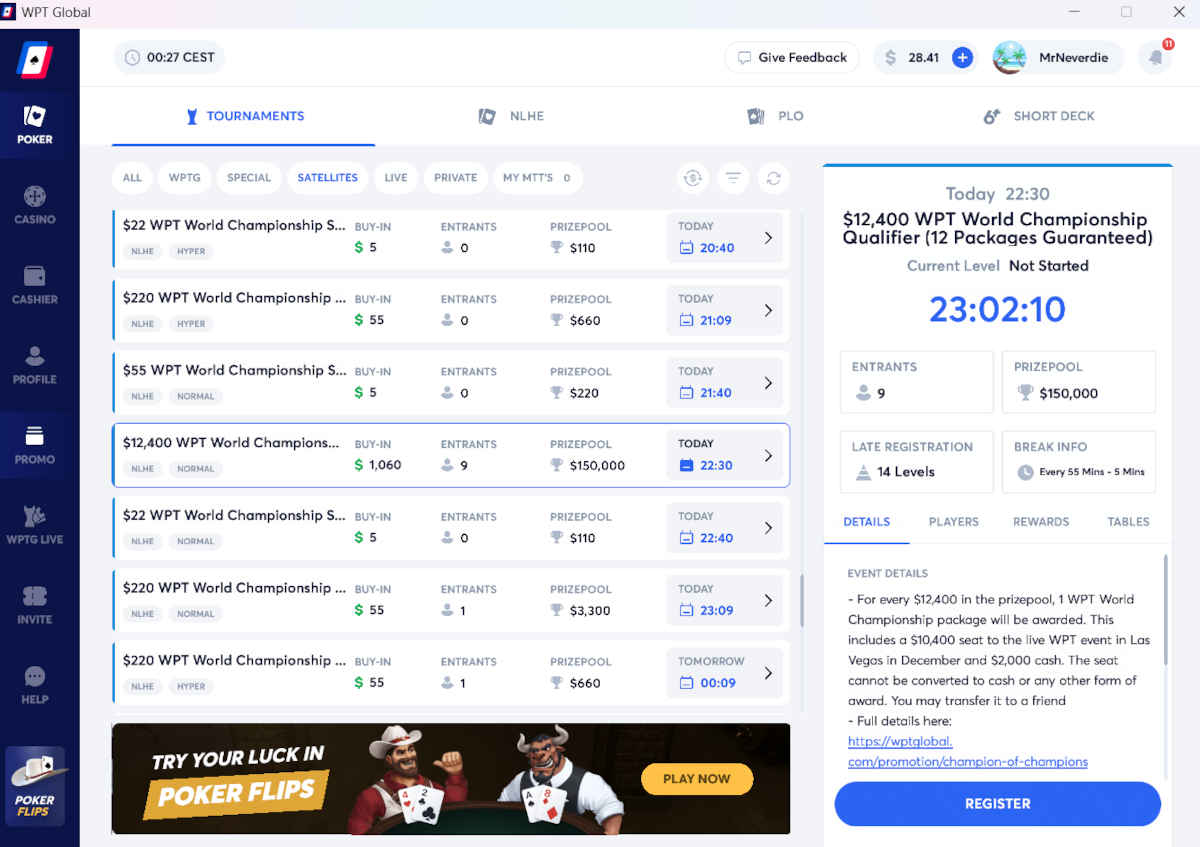 So, if you do get lucky and win one of these, you'll be pretty much covered and good to go. The package does not include accommodation, but with $2,000 to your name, you should be able to figure it out.
Package winners can pick one of the two starting flights, December 12 (1A) or December 13 (1B). You cannot exchange the buy-in for money, but in the event you cannot play, you can transfer the package to someone else, in agreement with WPT Global.
One of the biggest advantages of trying to qualify this way is the added value. Many of the feeder events have an overlay, i.e., the number of participants isn't big enough to cover the guaranteed prize pool. Thus, you'll be getting more value for your buck.
Online Qualifiers at Club WPT
Another online option, albeit only available to the players from the United States, is through Club WPT. This is a membership-based social poker platform where members can compete for prizes with real value.
All members had an opportunity to compete for their seat in the main satellite, awarding a $12,500 package for the WPT World Championship. That satellite takes place on October 29, and all feeders have been completed, so you've missed that boat, but there are still opportunities left.
On Sunday, November 19, Club WPT will host a tournament open to all VIP and Diamond members. There will be two WPT Prime packages up for grabs, worth $2,500 each, but that's not all.
The top two finishers will also get a chance to play heads-up against the legend that is Phil Ivey in Las Vegas on December 10.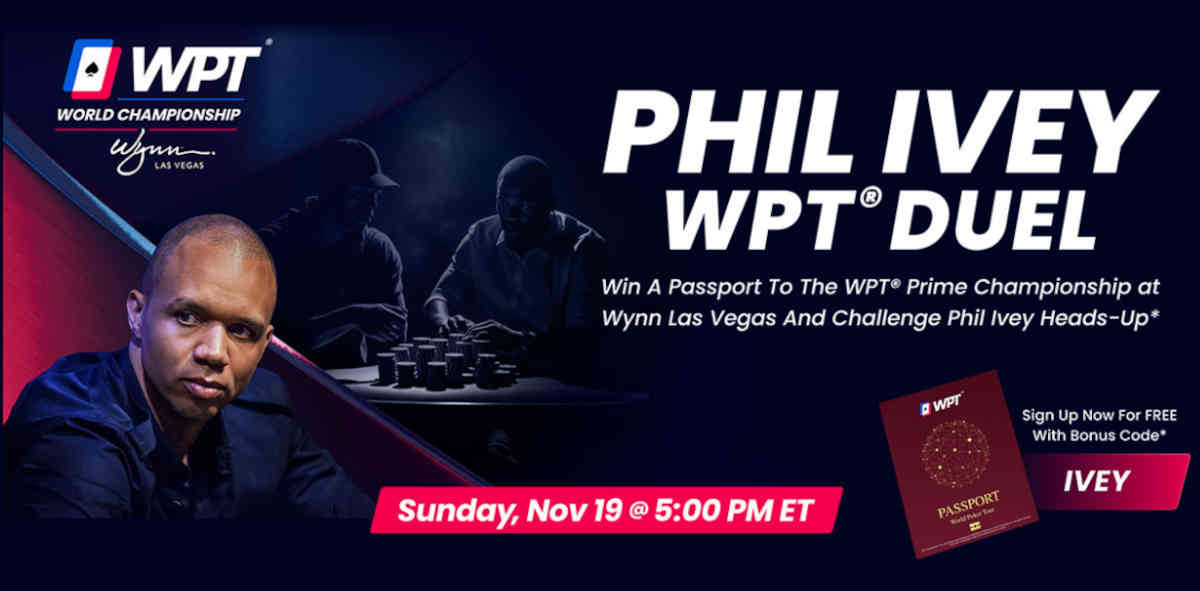 If they emerge victorious, they'll receive an entry into the $10,400 Championship. So, Club WPT will potentially add one or two more players to what's guaranteed to be a very long list of entrants.
Live Qualifiers at the Wynn
If you can find your way to Las Vegas and sort out the accommodation, but the big buy-in still remains out of your reach, there will be plenty of live satellites leading up to the Championship event.
The first of these takes place on December 3 and guarantees 10 packages worth $15,000 each. The price of admission is $1,600.
The rest of the schedule prior to the kickoff of the WPT World Championship is riddled with two types of Milestone Satellite events:
$400 Double Play Milestone Satellites awarding two $1,100 tournament tickets
$1,100 Milestone Satellites awarding WPT World Championship seats
If you don't feel like risking four digits, Double Play Milestone Satellites are a great way to give yourself a shot at the main event without risking too much. If you make it into the money, you'll receive two tickets that you can use to enter the main Milestone Satellites and try your luck.
Milestone satellites are different from your regular poker tournaments. You don't have to win the whole thing in these to qualify. Instead, you just need to accumulate a certain number of chips, and you'll immediately receive your ticket(s). You can find out more about this fun format in our interview with Matt Savage, WPT Executive Tour Director.
Live satellites are available all the way up to December 15, which is when the final of the four starting flights (Day 1D) takes place.
Get Your WPT World Championship Seat for Free
WPT is going all out for their December event at the Wynn, and that always spells good things for the players. If you don't feel like risking any money but would still like a shot at the Championship seat, there are ways you can try and do it for free.
The best way to go about this is to follow WPT Global on Twitter. The site and its ambassadors are running all sorts of promotions, hosting special tournaments, and giving away free satellite entries and packages left and right.
All you'll have to do is make a few comments, repost a few tweets, and maybe get creative with some fun images.
The final Discord Tournament starts this weekend and it's a shorter version 👊

A 3-week only leaderboard challenge!

It's another chance to win $12,400 the $40 Million Guaranteed @WPT World Championship package ✈️

The secret password will be released soon.

Join 👉… pic.twitter.com/9GSwSPWNiF

— WPT Global Poker (@wpt_global) October 27, 2023
I'd recommend doing this regardless of what your plans for qualifying are. While the competition is big, and there are quite a few players participating in these free giveaways, it only takes a couple of minutes to get involved, and it's well worth it for a shot at a seat in a $10k tournament with cool $40,000,000 million guaranteed.
With about six weeks to go before things kick off in Las Vegas, there is plenty of time to weigh your options and figure out the one that works best for you. Yours truly will be going the online route, and I will hopefully see some of you at the tables!