Shana Hiatt Poker Journey: Poker's Favorite Hostess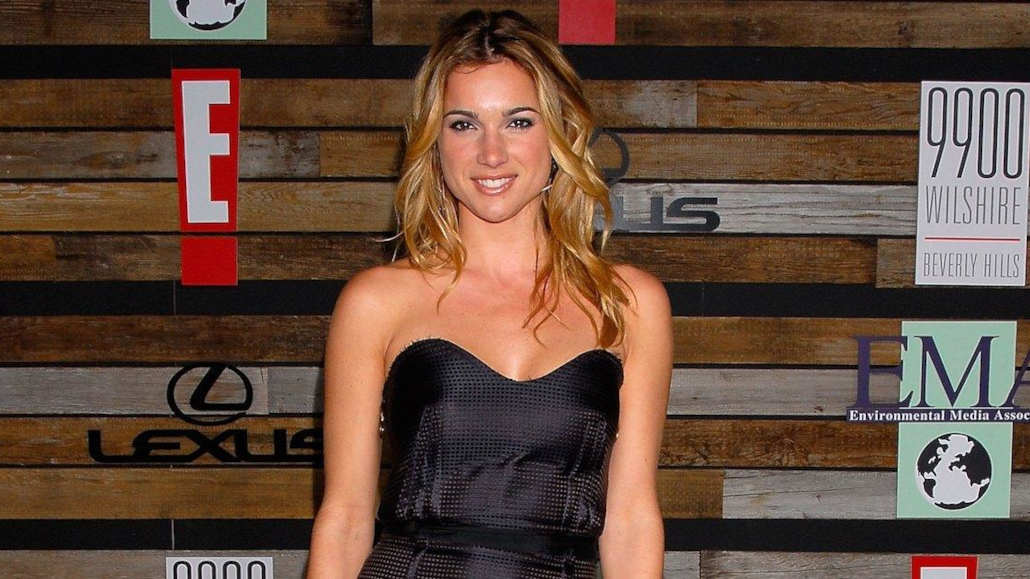 Image from: Distractify.com
It takes people from all over the world and from all walks of life to make the poker world the empire it is today.
According to the World Series of Poker, there are over 100 million people that play poker online, 60 million of which are in the USA.
With so many avid fans of poker, you can imagine that it takes an army of people to host, present, and broadcast the game to the public.
Among this entire army, Shana Hiatt is one of the people who truly stand out for their incredible career and general popularity among the fans.
Shana became famous for hosting the first three seasons of the World Poker Tour, the first two seasons of Poker After Dark, and The National Heads-Up Poker Championship.
In addition to her work on these shows, she had a very successful modeling career prior to her big break and even dabbled in acting in multiple movies and TV shows.
Shana Hiatt's Career Highlights
Began her modeling career in 1993 at the age of 18
Won the Miss Hawaiian Tropic USA pageant in 1995, representing New Jersey, opening many doors for her bright future
Featured on the April 1995 cover of Playboy
Also became the star of a Playboy DVD titled "The Girls of Hawaiian Tropic: Naked in Paradise," where she is featured on the cover.
Featured in movies and TV shows such as Grandma's Boy Must Love Dogs, The 4th Tenor, and Bill the Intern.
Hosted the first three seasons of the World Poker Tour from 2003 to 2005
Started hosting Poker After Dark and The National Heads Up Poker Championship in 2005 after a vicious parting from the WPT, involving lawsuits and restraining orders.
Shana Hiatt's Early Life and Career
Shana Hiatt was born and raised in Tabernacle, New Jersey, on December 17, 1975. She spent her youth with her parents and younger brother and had a normal childhood.
Shana often traveled around the country as an "Army brat," or someone who would often change homes because a parent was transferred from one military base to another.
As a young girl trying to figure out what her passions in life were, Shana became interested in television at the age of eight.
From this early age, she was infatuated with the idea of a life in front of the camera and would often sit in front of the TV watching broadcasters and news reporters for hours.
During high school, Shana was a popular girl and was a champion of lacrosse and field hockey player. She was nominated as one of the prettiest school cheerleaders by her classmates when she graduated.
She had yet to see just how far her talents and beauty were going to take her from that little town in New Jersey.
Hiatt enrolled in New Jersey's Burlington County College as a broadcast journalism major. She had high hopes and a huge passion for following her childhood dream of becoming a television broadcaster.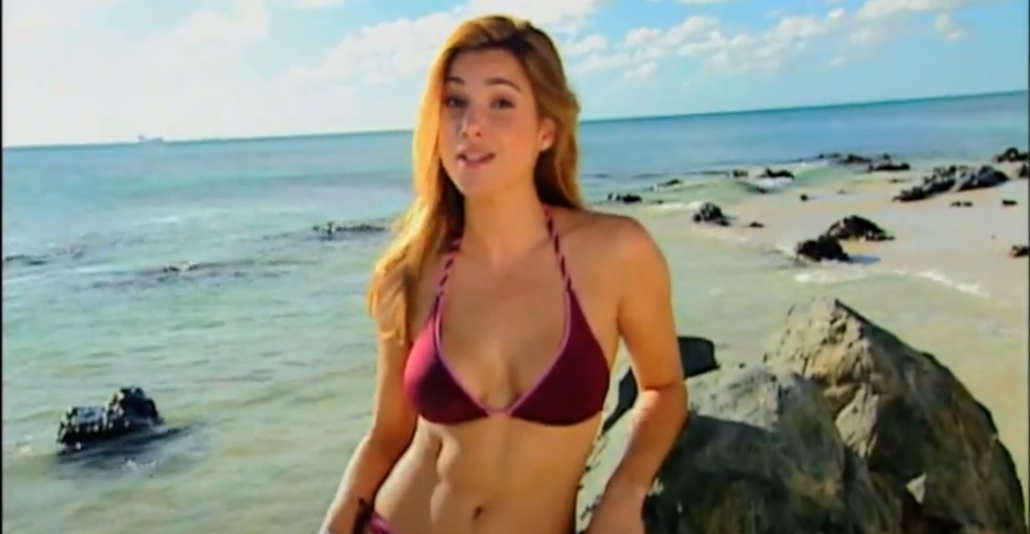 Noticing that she was complimented on her beauty frequently, Shana decided to take her chances in the modeling industry to start getting her name out there.
At the age of 18, she began modeling part-time and rapidly grew her career. The prestigious agent and producer Ray Manzella, who has made a career for countless models and actresses such as Vanna White, Pamela Anderson, and Jenny McCarthy, saw great potential in Hiatt and took her under his wing.
Soon after signing with Manzella, Shana took her modeling internationally and landed a serious modeling gig in Milan, which led her to other modeling jobs in Paris and Spain.
In a matter of a year, Hiatt had become a successful international runway model.
Upon returning to the States, she took part in the Miss Hawaiian Tropic USA pageant in 1995, representing New Jersey, and she was crowned the winner.
This event changed the course of Shana's life in many ways and led her to even more opportunities.
As Miss Hawaiian Tropic, it was Hiatt's duty to make in-person appearances at charity events all over the country.
While attending a fundraiser in Hawaii that helped fund shelters for battered women, Shana met the accomplished actor, writer, producer, and her future husband, James Van Patten.
Additionally, thanks to her pageant title, she caught the attention of Hugh Hefner and Playboy magazine. Hugh recognized her beauty and featured her in Playboy on the cover of the April 1995 issue.
She also became the star of a Playboy DVD titled "The Girls of Hawaiian Tropic: Naked in Paradise," where she is also featured on the cover.
Her features in magazines didn't end there as she has sported the cover of Stuff Magazine, the Muscle Media Magazine, and she was a Keystone Light girl in 2002, where she was photographed inside Stuff Magazine's private jet.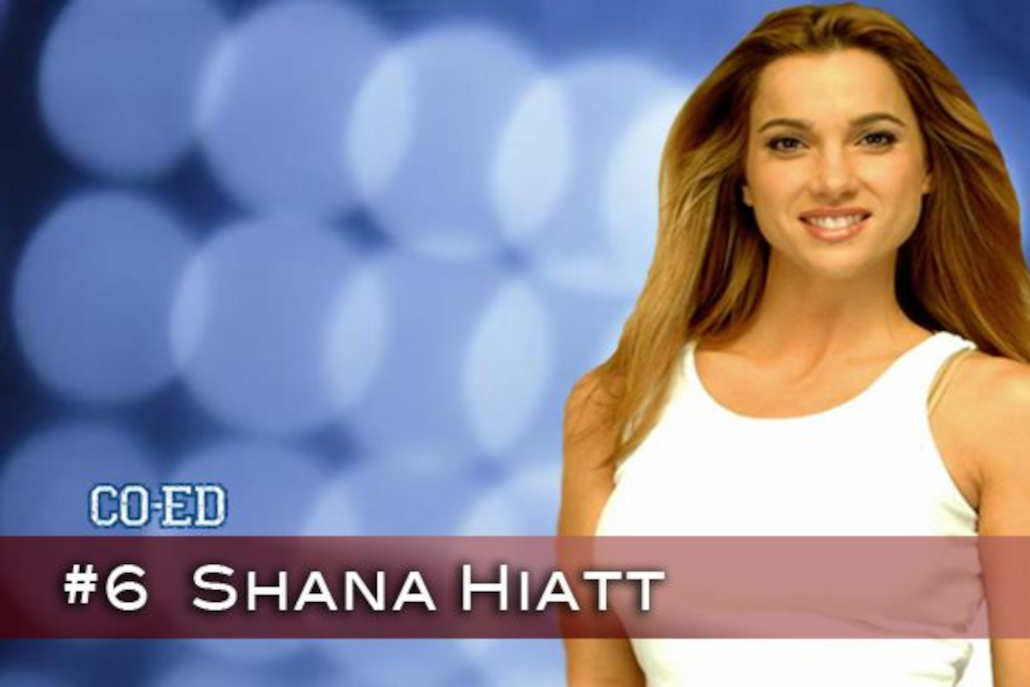 Source: Pinterest
Although Hiatt had established her modeling career, her heart still belonged to the world of television and broadcasting.
She shared her woes with her husband, Van Patten, whom she married in 1999, and who had great connections in the industry Hiatt truly wanted to be a part of.
Before she found her niche as a television host where she truly shined, Shana took on regular acting parts to get her name out there and gain experience.
She played a role in the film "The Flunky" in 1999, an off-beat comedy laced with a rock & roll grunge theme throughout.
During the early 2000's she took on roles in Grandma's Boy, Must Love Dogs, The 4th Tenor, Bill the Intern, and a few more movies before she landed a guest host position on the extremely popular television show Wild On.
On the show, she was taken out to South Africa, where she had amazing experiences such as swimming inches away from a great white shark, flying in an English fighter jet, and much more. Little did she know that the greatest gig of her career was still around the corner.
Shana Hiatt's Career in Poker
Hiatt's famous role as the host of the World Poker Tour came to her in 2003 after almost 10 years of hard work in the modeling then the film industry.
Shana hosted the first three seasons of the show, which aired every Wednesday evening on the Travel Channel, alongside her co-host and brother-in-law Vince Van Patten.
Shana's personality shined through to audiences around the world, and her fun and insightful interviews, commentary, and background information on various poker personalities were a hit in the poker world. She was also the official spokesperson for PartyPoker.com.
However, after only 2 years there, Hiatt announced she wasn't returning for the fourth season of the WPT.
Her parting with the WPT was anything but peaceful. In 2005 she sued the CEO Steve Lipscomb and ten other unnamed workers of the organization for 'intentional interference with economic advantage.'
Hiatt needed a restraining order to keep the WPT organization from forcing her not to work with rival poker shows. Shana testified that Steve Lipscomb had called executives and people of high power at NBC and attempted to sabotage her future career.
He would tell them that she had signed a non-compete clause at the WPT and that employing her elsewhere would be violating this contract.
Shana consistently denied signing this paper and fought for her right to work for other TV programs.
In 2005 Hiatt divorced James Van Patten, the brother of her WPT co-host Vince Van Patten, and in that same year married the movie producer Todd Garner whom she is still married to today.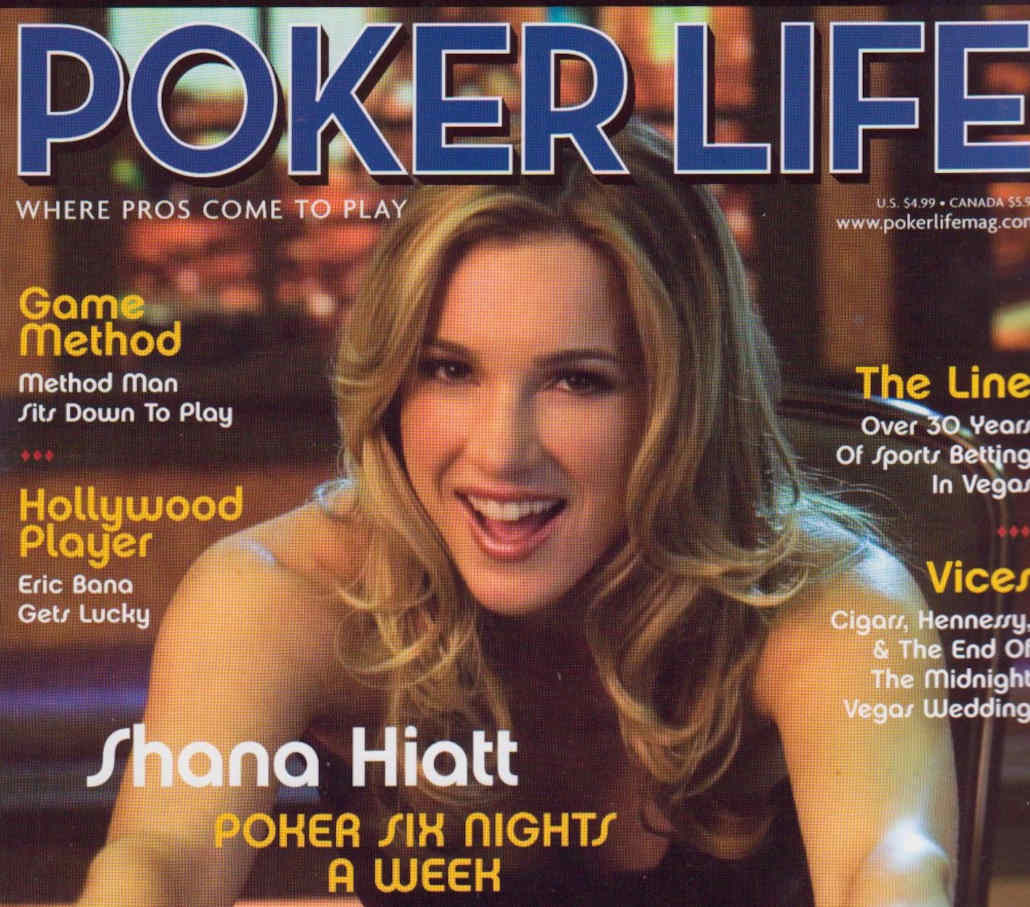 Source: Amazon.com
Along with the other charges she had against the WPT, she also sued them for a 'hostile work environment' involving her husband Garner, claiming that the producers and employees treated him poorly when he was on set.
Hiatt was not the first to sue the WPT. Earlier in 2005, 7 professional poker players sued the company, claiming that the contract players are required to sign to participate in WPT events violates players' intellectual property rights.
After a hostile and vicious ending to one of the programs which made her a broadcasting star, Hiatt turned a new page, and in 2005 she announced that she would be hosting "Poker After Dark."
The show was a great success which featured poker professionals playing for a winner-takes-all $120,000 prize and providing an intimate look inside poker games, something that was rare in 2005.
Along with hosting Poker After Dark, Shana was simultaneously hosting the National Heads-Up Poker Championship, an annual invitation-only poker tournament that also included celebrities and poker superstars.
In 2008 she had to leave both shows due to pregnancy, and Leeann Tweeden took over for her following her departure.
Since the end of her poker show hosting days, Hiatt has been an avid online poker player who will sometimes play in casinos as well.
Although not considered a regular professional poker player, she makes her appearances in the poker world now and again.
Shana Hiatt's Net Worth
From immediately hitting it off with her modeling career when she started in 1993, to acting in various movies and TV shows, to hosting well-known poker TV shows – Hiatt has certainly done well for herself throughout her life.
Working as hard as she has definitely paid off for Shana, and although she has walked away from the spotlight since the birth of her child in 2008, she did extremely well for herself for 15 years and certainly still has sources of income she hasn't flaunted to the public eye.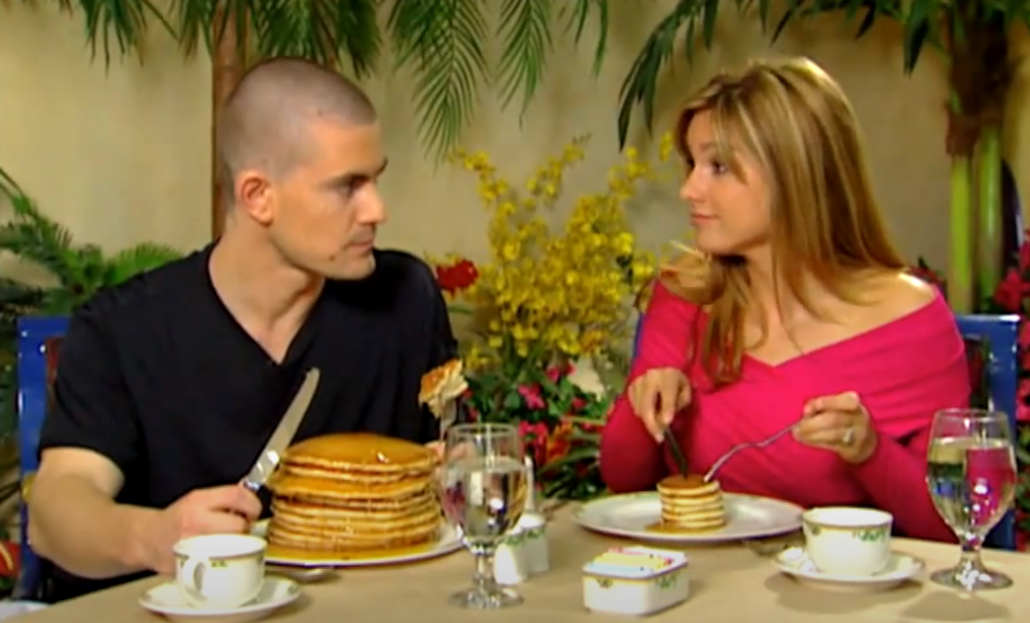 Although Hiatt has learned the ins and outs of poker from her work and enjoys playing a game occasionally, the results are too far and few between that we could account for them in Shana Hiatt's net worth.
Given all her high-profile work in the late '90s and early 2000s, we can estimate that Shana Hiatt's net worth is between $1,000,000 and $2,000,000.
Where is Shana Hiatt today?
Shana had stopped sharing any information regarding her personal life since 2014 when she last posted on her Twitter account.
Between 2010 and 2014, she would actively Tweet about current events and share pictures of her playing poker with friends.
On her Twitter, she has also often featured 'throwback' style, and behind the scenes posts of her time with the World Poker Tour, Poker After Dark, and the National Heads Up Poker Championship.
These posts proved just how much she enjoyed her time there and how fond she is of the memories and friendships she made.
Marrying James Van Patten in 1999 certainly had its perks as she hosted alongside his brother Vince Van Patten at the World Poker Tour.
In fact, it is thanks to her then-husband that she even grew an interest in poker as he would play and taught her about the game throughout their relationship.
However, their divorce made Shana's work environment awkward and uncomfortable later as she still had to be amicable with her co-host on and off-screen.
When her now-husband Todd Garner started visiting her on set, tensions rose and ultimately exploded.
Today Garner and Shana's marriage is still going strong to this day, almost 17 years later, and she has done a great job of maintaining her professional and personal life throughout the years.
Garner is a film producer who has produced major family favorites such as Paul Blart: Mall Cop, Paul Blart: Mall Cop 2, Here Comes the Boom, and Zookeeper.
In addition to this work, he is a former co-president of production at Disney and now has his own production company Broken Road Productions.
While Hiatt still had a social media presence, she would often promote her husband's work, flaunting how proud she was of him and his hard work.
His most recent work is the Mortal Kombat reboot which was released in 2021 and opened in the #1 spot at the box office.
In a Tweet from 2012, she said: "#IfIWonTheLotto I would seriously retire. Oh wait, I'm already retired.." revealing to us that as of right now, Hiatt has no plans to return to the spotlight.
However, poker fans who enjoyed her fun personality and commentary keep their fingers crossed that someday she makes a comeback and brings her bubbly flair back to TV screens around the world.