Sharkscope Poker Ability Rating – How to Use This Tool to Beat Others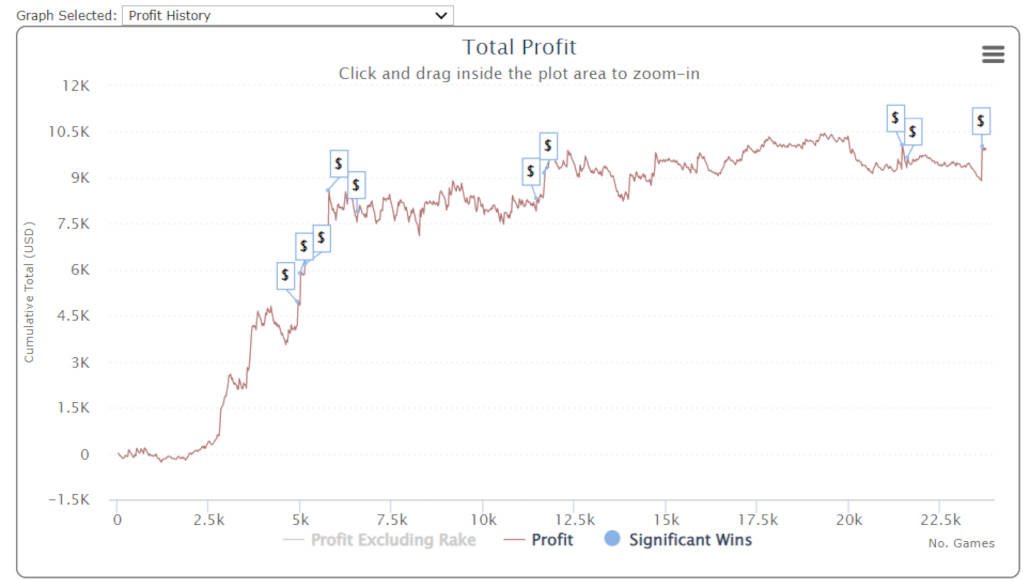 Poker is a game of information. The more information you have about your opponents, the more chance you have of beating them.
With this said, thousands of players play online tournaments daily, and it is impossible to know or remember them all.
Fortunately for you, today we will be explaining how you can use an online tool called the Sharkscope Ability Rating to get more information about your opponents.
What Is Sharkscope?
Ever since poker found its place in the online world, poker players have been trying to find ways in which they can gather as much information about their opponents as possible.
Over the years, many tools for tracking players' information and data were developed, but the one that stands out, at least when it comes to information regarding multi-table tournaments or MTTs, is Sharkscope.
Sharkscope is one of the biggest poker databases in the world. It contains almost 20 years of data about poker players and their online poker tournament results.
The site covers information from dozens of online poker sites, which makes it one of the most trustworthy poker tools available.
It contains data about MTT and SNG (Sit & Go) tournaments from active and even some closed online poker rooms, including GGPoker, PartyPoker, Pokerstars, Winamax, BTMGM, ACR, and Global Poker.
What Is Sharkscope Used For?
Poker players use Sharkscope to find out more information about their opponents, their opponents' winnings, and their skill levels.
For example, let us say that you recently registered on a new poker site and you are playing in a tournament against players which you have absolutely no information about.
You don't know if they are professionals or amateurs, how good they are, or are they regularly playing tournaments with similar buy-ins.
To find out more information about your opponents, you just need to:
Visit the Sharkscope website
Type in the name of each of your opponents in the search bar on the Sharkscope website
Select "Quick Search" or "Advanced Search"
If you select the quick search, Sharkscope will display a summary of the results for the username you entered. If you select the advanced search option, the site will offer additional filters that you can use to filter out the player's results.

Some of the information that Sharkscope will show include:
Profit history
Number of games (tournaments)
Average profit per game
Average stake
Average ROI
Total profit
Ability
Form
Note: Sharkscope gives five free searches per day, and the results for these searches come with limited information. Additional searches and more detailed results come with paid subscriptions to their website.
How to Use Sharkscope to Gain An Advantage Over Your Opponents
While Sharkscope is available to everyone, not all players use this software in the most optimal way. So, we decided to create a guide on how to use the Sharkscope poker website in the most efficient way possible.
First, we need to set a solid foundation when it comes to each individual piece of information you can get from the website. The data is available based on the subscription plan
Sharkscope – Player Profit History
In this category, Sharkscope shows the player's win/loss history under a specific username. Depending on the sample size, and if the player is using the same username across different poker sites, this data can tell you if the player is an overall winner in MTTS and SNGs.
It also shows how much money the player won or lost on a specific poker site and if he became better over time.
For example, someone can go from a losing to a winning player over the course of his poker career, and this graphic will show you when he started winning.
By right-clicking on this graphic, you can also open additional options such as:
Graphs
Tournaments
Breakdown
Statistics
Leaderboards
Insights
Each of these options has additional filters that allow you to break down the game of your opponent even more. Explaining each of the filters would take too much space, so we will give you one example of how you can use them.
If a player's profit history shows that he has won money in the game or is maybe a breakeven player, you can use the graphs and tournaments filter to check if most of his winnings come from one or a small number of tournaments.
One big win can drastically impact players winning in tournaments especially if he won or had a deep run in a tournament above his average buy-in (for example he qualified through a satellite). This can also show you that he is probably losing money in his regular games.
Sharkscope – Game Count
The count graphics shows how many games (Tournaments or MTTs) a player has played in his lifetime on a specific poker site.
This data can help you tell apart professional poker players from the amateur ones, but you will have to combine it with additional information from other graphics (such as the Profit History > Tournaments > Oldest) to get a better idea of the player's volume.

Some players might have a lot of games, but over a long period of time, while others might have a smaller amount but over a shorter period.
For example, if a player has a winning history and a large number of games, these two indicators can help you figure out that he is a consistent winner in MTTs and SNGs.
Sharkscope – Average Profit, Average Stake, and ROI
You can use the average profit and the average stake graphics to determine which buy-ins the player play for the most part.
These two graphics are best used with the ROI column for the following reason:
For example, let's say that two players have a similar number of games over the same period:
Player A's average buy-in is $15 and his ROI in these games is 9%.
Player B's average buy-in is $100 and his ROI in these games is 5%.
If you only compare the ROIs of these two players, you will come to the conclusion that Player A is a better player than Player B because he has a higher ROI.
However, if you also look at the average buy-in, you will understand that Player B is winning in bigger games, which makes him a more successful player.
Sharkscope – Profit Column
The profit column is not as useful by itself, as it only shows the total winning or losses of a player on a specific poker site.
Sharkscope – Useful Filters
Apart from the obvious graphics, Sharkscope offers advanced filters that will help you break down the paying style of your opponents even further.
If you select the "advanced search options" and type in the name of the player you will get the following filters:
Site filter – shows results based on the poker site
Game filter – shows results based on game type (SNGs or MTTs)
Entrants – shows results based on the number of participants
Stake – shows results based on the buy-in range
Include tournament types – shows results based on the tournament type (includes additional filters such as table size, structure, speed, payout structure, game format, etc.)
Exclude tournament types – excludes results based on the tournament type (includes additional filters such as table size, structure, speed, payout structure, game format, etc.)
Date range – shows results for a specific set period
Sharkscope Poker Ability Rating Explained
You probably noticed that we didn't mention the "Ability" column when we were talking about some of the features available in the summarized view of the player's profile.
It is because we wanted to explain it separately, as it is one of the more "controversial" pieces of information you can find on the site.
However, players' ability ratings can be a very useful tool once you understand how to interpret them.
On the Sharkscope website, you can find the following information regarding the Poker Ability Rating:
"The Ability rating is a rating that goes up to 100 and shows a player's ability based on an assessment of all the other statistics we have compiled for that player."
As you can see, the definition of the data in this column is pretty vague and leaves many open questions. We did our best to try and find additional information which could be useful and help you use this data more effectively.
The first thing to note is that, although the rating goes up to 100, it does not start from 1, as one might assume, instead, it starts from 50. meaning that all players have a rating higher than 50 and that the actual range for this data is from 50 to 100, not from 1 to 100.
For example, even if a player has been constantly losing money over a large sample, his ability will be at least 50.
The thing that confuses most people is when they compare one player with a small sample size against a player with a larger sample or two players with a smaller number of games.
In these situations, the results shown in the player's ability column can be interpreted as "odd." This is because the site's algorithm does not have enough data to accurately assess the player's ability.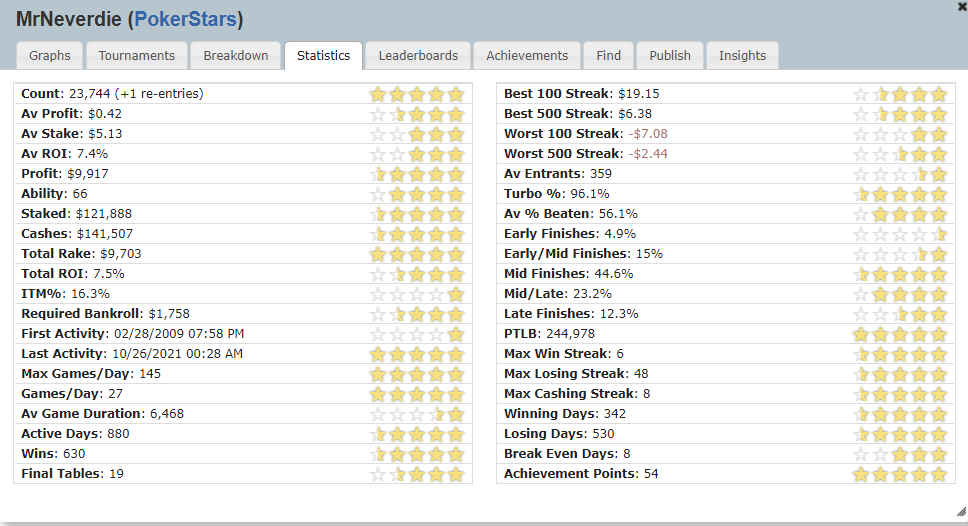 With this said, Sharkscope's Player Ability Rating is most accurate and best used when comparing players with a decent amount of recorded volume but playing different stake levels and tournament types.
For example, if we take two players with many tracked tournaments but play different games.
Player A is a small loser at high stake games.
Player B is a small winner at micro-stakes games.
In this case, the Player Ability Rating of Player A will be higher than the Player Ability Rating of Player B.
If you are in a rush, you also can make assumptions about the player based on the Sharkscope Ability rating alone. The way we judge it:
50-60 – losing recreational player
61-70 – mediocre player or low-stakes regular still trying to learn
71-80 – strong regular likely beating the games up to mid stakes
81-90 – a very solid player who is a winner in his games
90+ – a top pro who is crushing tournaments left and right
Examples like this are where the Player Ability Rating is very useful and can help players make quick assessments of their opponents without having to spend hours using different filters to determine their skill level.
Summary
Sharkscope is one of the most powerful tools you can use when playing online tournaments, and it can even come in handy in a live setting, provided you know players' online handles. It can help you gauge who the good players at your table are.
While it will cost you some money to gain full access to everything Sharkscope has to offer, the wealth of information you'll gain access to by doing so will make it well worth your while!