Upswing Short Deck Course Review – Six Plus Holdem Strategy from Kane Kalas
Upswing Short Deck Course Review – Kane Kalas Strategy
No-Limit Hold'em has been all the rage for many years, but Short Deck Hold'em (also known as Six-Plus Holdem) is gaining a lot in momentum and is one of the most promising games.
It owes a lot of its popularity to live high stakes cash games that are being played and broadcasted during Triton Series events. While many poker fans knew next to nothing about Short Deck a few years back, more and more people seem to be warming up to it.
This is why I was very excited to make this Upswing Short Deck Course Review and learn this game myself.
So, if there was ever a time to get your foot in the door and learn a new poker format to jump ahead of the competition, it is now.
The Upswing Short Deck Course presented by Kane Kalas is an excellent resource for everyone looking to learn Short Deck poker rules, adjustments, advanced strategies, and become a good player.
Kane Kalas has all the required credentials to present this course. The man has been battling the absolutely highest stakes online with amazing results.
In recent years, he's also been a regular in some of the highest stakes live cash games, including the famous Triton series. He's invested a lot of time learning and mastering the new game variation featured in those games – Short Deck (Six Plus) Hold'em, quickly becoming one of the best and most feared Short Deck players in the high stakes scene.
So, there is absolutely no doubt in my mind that he has all the know-how to teach anyone how to play Short Deck Holdem at the top level. And, after watching the course, I can say that he's not just a great player but an excellent coach as well.
Short Deck Poker Rules and Main Concepts
The Upswing Short Deck course consists of several main groups, covering game fundamentals, preflop and postflop play, and the play & explain section. So, it covers everything you could possibly need to find success at the tables, and it starts at the very beginning.

In the first few videos, Kalas explains the basic rules of the game as well as the main points of difference from No-Limit Hold'em.
Since most players are transitioning to Short Deck from NLHE, I think pointing out these differences is very important. As it turns out, many of the things that work like a charm in Texas Holdem are not nearly as effective in Six Plus games.
Some of the main differences between the two games, as pointed out in the videos are:
Short Deck is played with just 36 cards (2s, 3s, 4s, and 5s are removed)
Aces count as high and as lows when making a straight (A, 6, 7, 8, 9)
Forth knowing that flush beat a full house
You may have been watching those Triton games on YouTube, wondering about the betting structure cause it is not as obvious as in some other games.
Therefore, it's nice that Kalas takes time to explain how the antes' structure as well. It actually plays a huge role in building Short Deck strategies and your ranges.
So, the fact the course takes time to explain this point in detail is more than welcoming. It prepares you for what comes next, and there are plenty of videos on the line in this section alone.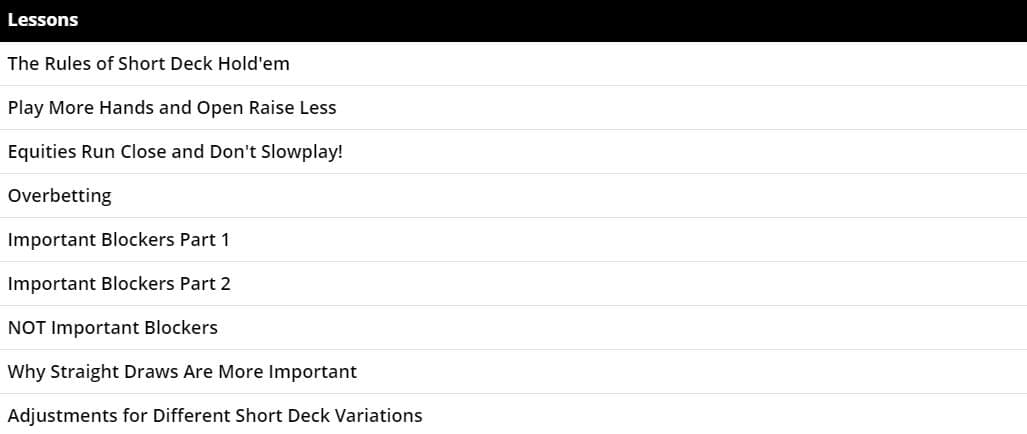 In this initial section, Kalas also covers some main ideas of the game which should look counter-intuitive at first glance. For example, he suggests limping with more poker hands before the flop and defending button with a much higher frequency than you probably used to.
With much more money in the pot every hand and equities running way closer, all of these ideas make a lot of sense.
If you have a solid understanding of No-Limit Hold'em, it will be much easier to keep up with the course. It hasn't been designed for someone who's never played poker and is just starting with Short Deck.
That said, though, even if you'd never played a single hand of Short Hand specifically, you'll be ready for action after watching this course and accepting ideas contained within.
Short Deck Preflop Hand Selection
Like in all flop games, choosing the hands to enter the pots with plays a huge role in your overall success (a bit more about this in upwsing poker lab review).
In Short Deck Holdem, a good preflop hand selection is even more important because games often play fairly short, so there is a lot of 3-bet shoving and even open shoving happening before the flop.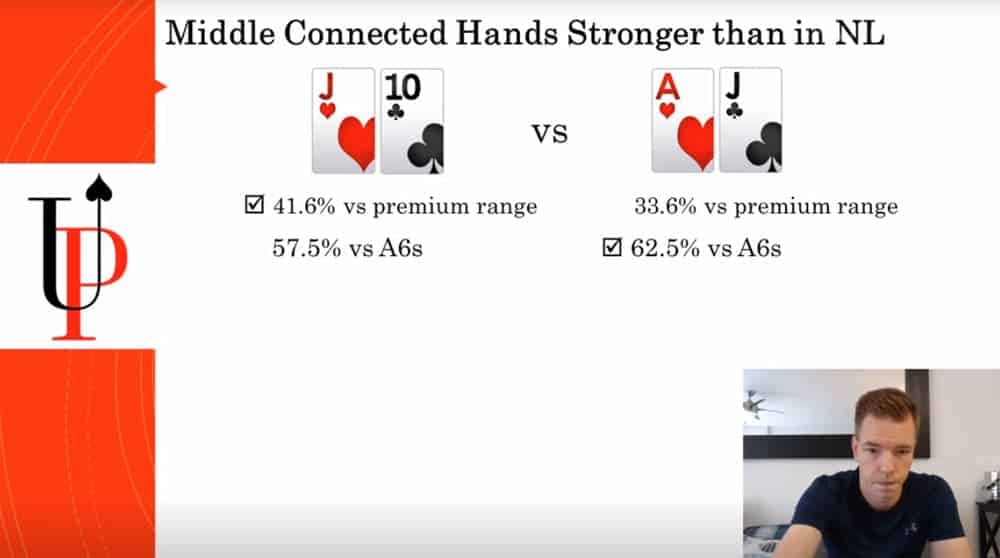 Kalas addresses all of this and much more in the preflop section. He devises preflop charts for two main stack depths: 50 antes effective and 100 antes effective.
He also takes time to explain how playing 50 antes deep in Short Deck is much different than playing 50 big blinds in No Limit, which I found very interesting and useful.
I think that this is one of the more important discussions in the entire course. Understanding the fact Short Deck in actuality plays much shallower is crucial to understanding how you should build those preflop ranges.
For a NLHE player, your instinct is definitely not to open shove 50 antes, but this is sometimes a correct play. After listening to Kane Kalas explaining it, you'll understand why.
Limping & Raising in Short Deck Poker: Adjusting Your VPIP & PFR
If you watched those high stakes Triton games, you've probably noticed a lot of players limping, even with what seems to be very strong hands.
In this game, limping is actually a part of the core strategy and can increase your EV. Unlike Texas Hold'em, where you'll almost never open limp, this is done routinely in Short Deck.
I won't go into too much detail as to why this is so, but you'll find all the answers in the course. Just think about the fact that you're getting much better odds in Short Deck in general and that you don't want to have a raise-folding range at 50 antes.
At 100 antes, things do change somewhat, but you can still limp a majority of your hands from early positions.
I was surprised to discover that raising from UTG and UTG+1 isn't a thing in 6-max games. Kalas explains that we should only be raising from late positions, starting with hijack or cut off, and then goes on to explain why.
Once again, this isn't something that comes naturally, so it's another great point worth taking time to study and understand. If you just jump to play Six Plus Holdem without knowing all of this information, you will not be very happy with the results.
Heads Up Play in Six Plus Games
If you're more into heads up, the Short Deck Course covers this area pretty well, too. Although most of it focuses on 6-max games, you'll find a very solid range of videos dealing with heads up Short Deck play as well.
Kalas presents an excellent breakdown of hand ranges for different HU situations, i.e. when you are first to act and when you are on the button. In the videos, you'll find detailed ranges for every possible situation, explaining what hands to open raise with, when to call raises, when to 3-bet, etc.
Short Deck Postflop Considerations
If there is one big thing about Short Deck that makes it different from the full deck game, it's the hand equities. If you've played the game or saw someone playing, you've probably noticed that equities are much closer across the board. So, how does that work?
The postflop part of this course certainly sheds a lot of light on these questions. In this section, Kane Kalas takes a lot of time to go through different types of hands you can have on the flop and how these various hands play against different holdings.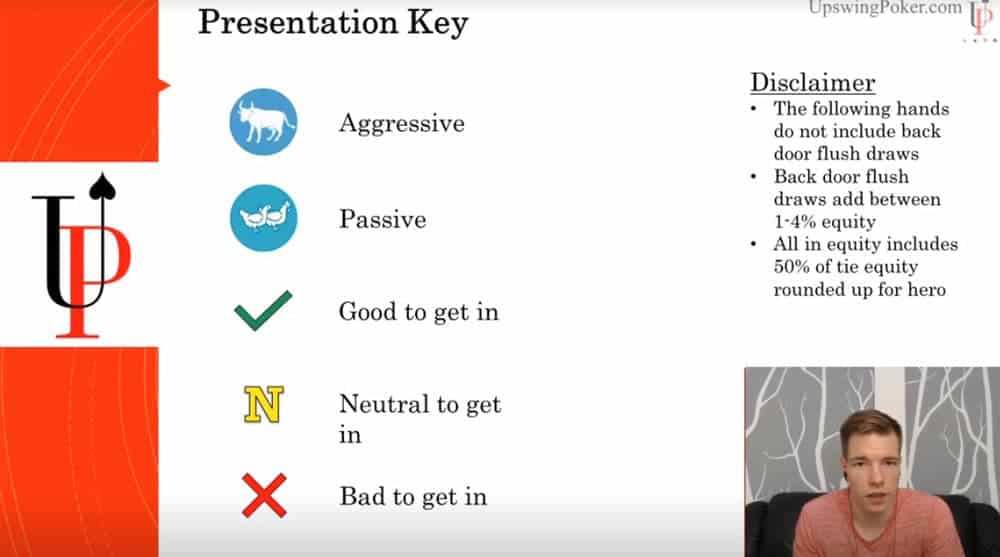 While you may have already picked up on some of these things intuitively, now you'll have actual numbers and explanations to confirm or deny your intuition.
For example, open-ended straight draws go way up in value in Short Deck, and you can play these hands much more aggressively. On the other hand, hands like bottom two pairs aren't nearly as strong.
The Kane Kalas strategy for postflop play will help you significantly improve your win rates. I like that everything explained in these videos is backed by numbers and calculations and not just opinions of the player.
When you see percentages of different hands going one against another, you'll have no problems understanding why certain plays make sense in Six Plus Hold'em even if they'd be out of place in full deck play.
If you want to know the math of the game and understand all the intricacies of the postflop play, this module will likely answer any questions you may have. I do believe that Kane Kalas has managed to cover every major group of hands in these videos.
The River Play in Short Deck Poker: Bluffing & Bluff Catching
The river play is usually not as complicated in Six Plus Hold'em, but that doesn't mean it's not relevant.
As Kalas keeps mentioning throughout the course, overbets are a standard feature in this game, so you often have to deal with big bets on the river. Sometimes you will be the one firing out, and sometimes you will need to decide whether to call it or not.
Playing as an Aggressor
In the first three videos in this section, Kalas addresses situations where you are aggressor, i.e. where you get to the river after betting the flop and the turn. Depending on the river card, you have to figure out when to bluff or bet for value and how big of a bet you should make. (which makes a big difference)
This one may give you a bit of a headache, I won't lie, but it's well worth the effort. These videos explain some of the most important concepts that come into play when constructing your bluffing and value betting ranges.
How does the board texture come into play? Are you blocking some of the hands that you want our opponent to have? You will get all the answers.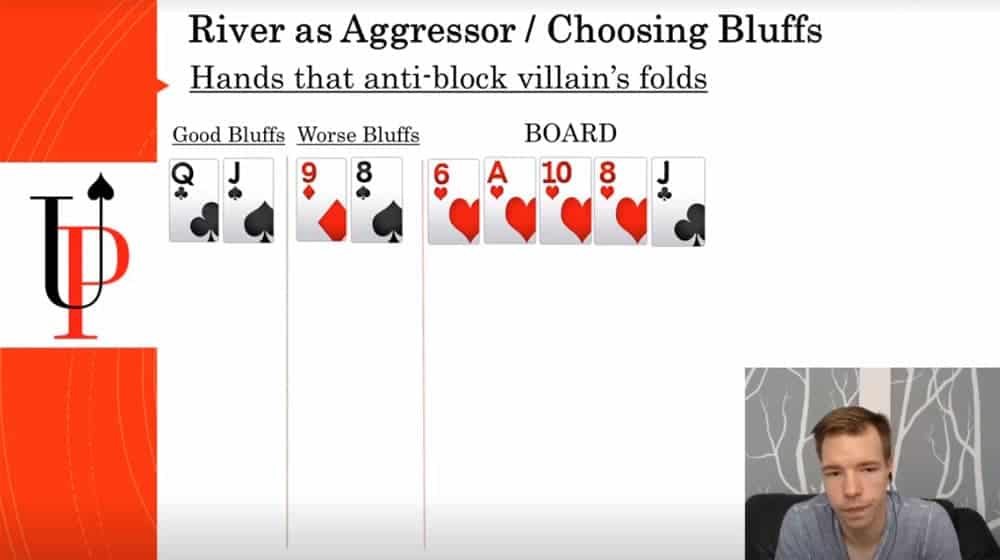 These videos are worth watching with a lot of attention. Don't try to rush through them because you might miss out on some important ideas. Since these river plays are bound to have a big effect on your hourly, make sure to get them right.
Playing Against an Aggressor
In the next few videos, positions are switched, and you are the one facing a big bet on the river. How do you decide what hands to call and which ones to fold? Why are some hands better suited to bluff-catch with even if their relative strength is lower?
Kane Kalas goes back to many ideas discussed in the first section but looks at them from a different angle. He also addresses some new concepts specific to Short Deck Hold'em to help you understand why some hands play better in certain situations.
If you've come to this part after watching all the previous videos, it will be much easier to understand it.
Exploitative Play in Short Deck Holdem
Like with most top players, Kane Kalas strategy for Six Plus Hold'em is based on the Game Theory Optimal (GTO) play. However, he admits that there are some situations where you'll want to move away from these theoretical ideas and adjust your play based on your opponent's tendencies.
In this section, Kalas goes back to everything that's been discussed previously about the correct way to play, i.e. limping a lot, not raising from early positions, not folding to 3-bets when 50 antes deep, etc. He then goes on to explain how to adjust against players who make these fundamental mistakes.
This section on the exploitative play is very valuable for a couple of reasons. It doesn't just give you some ideas on how to make more money from players making mistakes. It also shows you why you must do your best to avoid making them at all costs.
As you'll see from the videos, adjusting to take advantage of these errors isn't too difficult at all, so you don't want to be on the other side of making them.
In this section, there is also a full video discussing the difference between similar stakes in No-Limit Hold'em/PLO and Short Deck Hold'em. Although this topic has been covered pretty well throughout the course, this video is a nice roundup of everything that's been said.
If you're seriously looking into playing Six Plus Hold'em cash games, you'll want to watch the video and understand what's being discussed.
Short Deck Play & Explain
There is hardly a better way to wrap up this Six Plus Hold'em course than going through some examples of actual hands and discussing them in the light of theoretical concepts presented in the videos.
The Play & Explain section of this particular course is very rich and contains hours of high-quality footage.
Hand reviews for an Upswing member
Reviews of Kane Kalas heads up hands
Analysis of Triton live cash games
You can take your sweet time with these. As mentioned, there is a lot of footage, and you don't have to rush anything.
Watch it whenever you feel like it and pay attention to every hand. Some of the previously discussed ideas are much easier to understand when you see them explained on actual examples.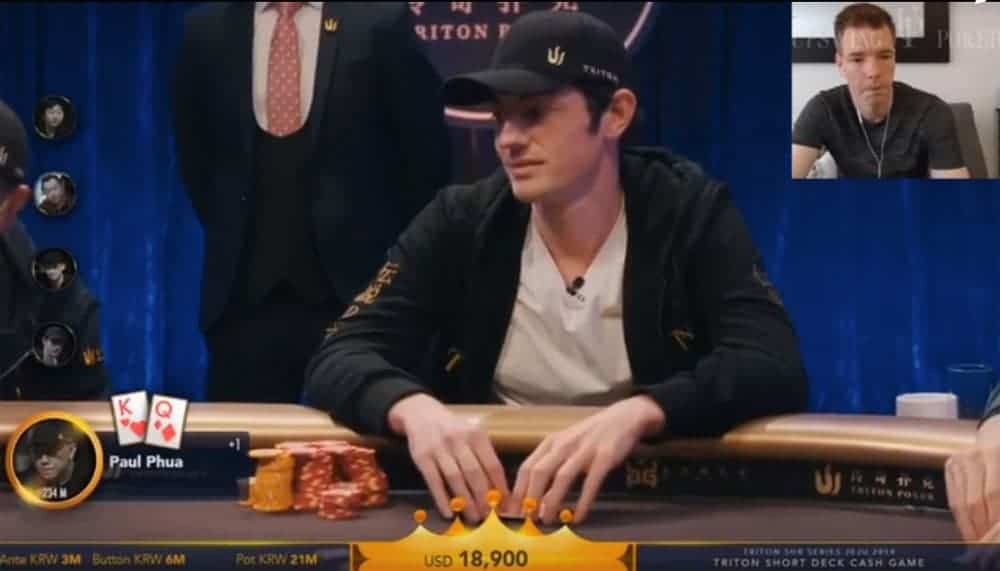 Of course, if you're a fan of Triton cash games like I am, it will be hard to stop watching those.
Kalas has picked up some of the biggest and most interesting spots from those games, so these are a lot of fun to watch even when you don't think about Short Deck Hold'em strategy. The added commentary only makes watching them better.
Conclusion: Who's This Course Really For?
When you're deciding about whether to invest money into poker coaching of any kind, you want to make sure what you're buying is worth your while. Sometimes, the decision isn't as easy as here.
If you want to learn Six Plus Hold'em, this is it! I do not see a better alternative to learn the game.
To my knowledge, this is the best course out there.
Here you will get everything you need to go from someone just hearing about Short Deck to becoming a very solid, winning player. So, if you have access to good games, both live or online, I think that this is a great investment in your poker career.
The only thing that I would like to see added, is more heads-up play and explanation. That part is quite small, but that is likely to change in the near future.
Since the vast majority of your opponents are not going to have this information anytime soon, you can even have time to build a massive bankroll until everyone catches up, so this "big" investment is going to pay for itself faster than you think.
What you will get:
Learn everything from fundamentals to advanced concepts
Understand differences between Short Deck and No Limit Hold'em
Build very strong preflop ranges
Learn how to play different types of hands on different board textures
Recognize and exploit other players' preflop & postflop mistakes
Access to an exclusive Short Deck Poker Facebook group, where you can discuss strategy and get your questions answered by Kane Kalas himself
EXTRA BONUS: I am an affiliate for the Short Deck Course, and will get a commission if you sign up through my link. That being said, I am ready to give that commission back and even add some on top to you in the form of an EXTRA bonus worth €497 when you join through this link.

Just contact me if you enroll to Short Deck Course, and I will give you a great course about live play nuances, which will help you excel further when playing live!