Worst Hotels In Las Vegas – Should You Avoid These Places?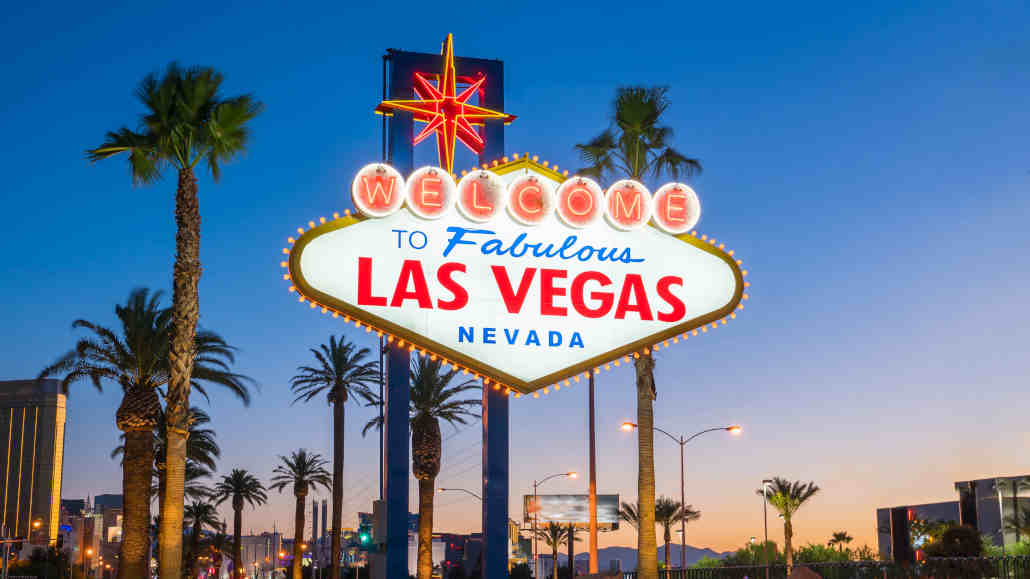 Most gamblers associate Las Vegas with bright lights, huge and awe-inspiring casinos, and magnificent and luxurious hotels.
While you can certainly find such things in the gambling capital of the world, not every hotel is worth your money. What's more, there are some Las Vegas hotels you should try to avoid at all costs.
We've browsed through many online reviews, read reports, and listened to hotel visitor stories, all to answer the question – what are the worst hotels in Las Vegas?
As a result, we've filtered the ten worst hotels Las Vegas has to offer to share with you.
Hopefully, you find this article informational, amusing or shocking at times, and use it as a good guide on what hotels you should avoid the next time you're in Vegas.
10. Luxor Hotel and Casino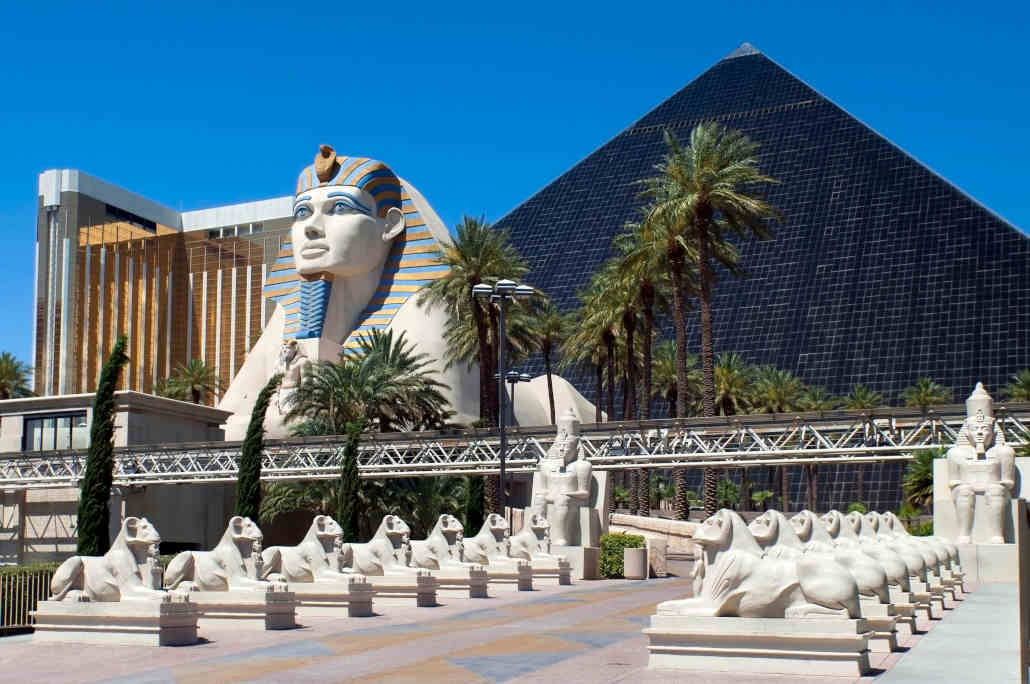 Named after the legendary Egyptian city and constructed with great ambition, the Luxor hotel and casino has certainly seen better days.
While it's far from the worst hotel in Vegas, Luxor doesn't really live up to the reputation it tries to set.
The worst part about this hotel and casino is that it deteriorated quite quickly, even though it's not that old.
Constructed in 1993, Luxor already shows quite a bit of age, despite being renovated and upgraded several times since its opening.
Most visitors and customers complain that the Luxor hotel and casino is poorly maintained and badly designed.
One of the main issues people find with Luxor is that the rooms are very noisy, and you can't get much rest due to constant noise caused by the elevators and stairs that are close to most rooms.
Additional common complaints include lack of air conditioning functioning and even lack of hot water from time to time.
Surprisingly, considering all of this, the Luxor hotel and casino staff don't offer very bad service. Still, the above reasons are enough for most visitors to avoid Luxor when staying in Las Vegas.
9. Tropicana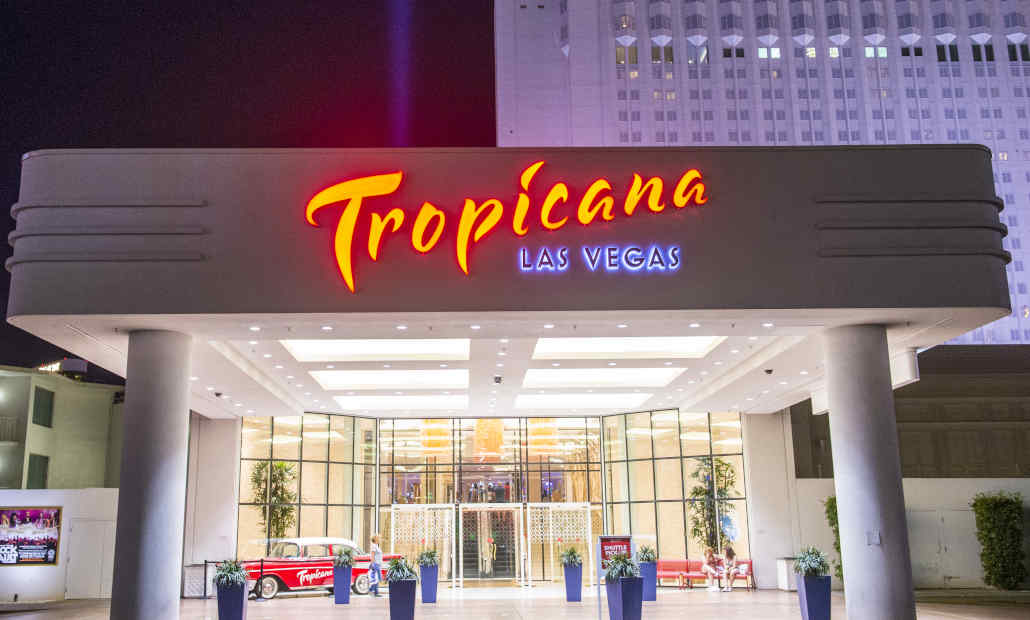 Although Tropicana maintains fairly good review grades on most online review sites, it's interesting to see that it has a relatively high number of terrible and poor reviews compared to the positive ones.
Looking at some of the worst ones, some visitors refer to their stays at the Tropicana as "Nightmare in Las Vegas".
Some of the most common issues many visitors have had with the Tropicana are dirty floors in elevators, hallways, and even their rooms.
Many users were also disappointed that a hotel carrying the Hilton brand can have heating issues, no hot water, and even broken equipment in the bathrooms.
On the bright side, many reviewers praise the casino staff, which is obviously doing their best.
Still, even mentioning this seems like grasping at straws, as it's hard to get a clean place to sleep in the Tropicana without finding previous guests' hair in the bed or questioning the cleanliness of the bathroom towels.
8. Caesars Palace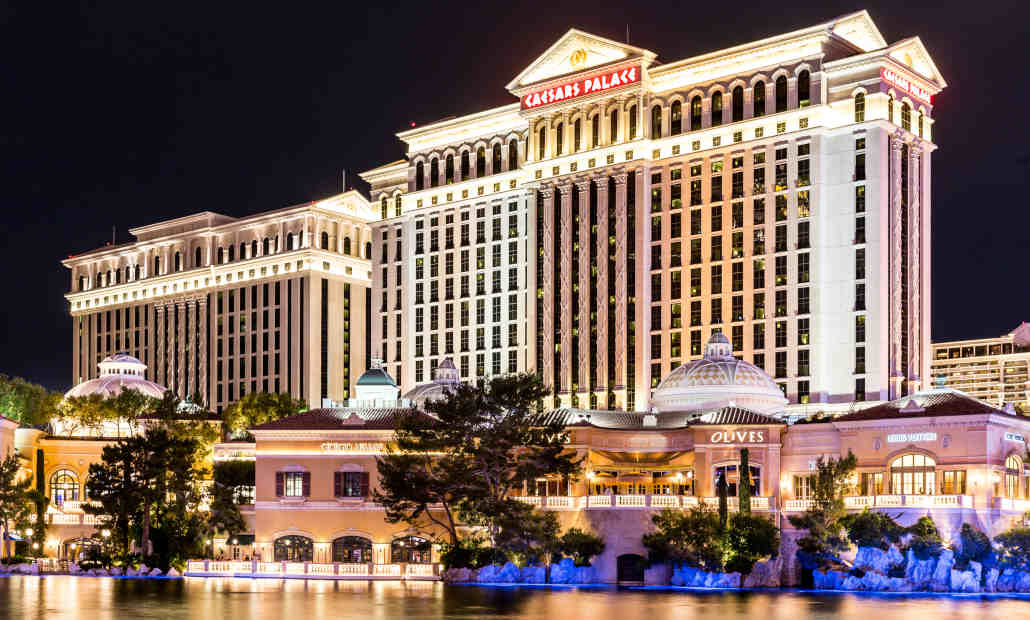 Caesars Palace is undoubtedly one of the most iconic landmarks of Las Vegas. So, we were reluctant to put such a big name on the list.
But the poor experiences and some truly disappointing stories made us rank it as one of the worst hotels Vegas has to offer, no matter its stature and reputation.
Unlike the previous two hotels on our list, the biggest complaint hotel visitors have with Caesars Palace is related to the hotel's frustratingly inadequate staff and customer service.
Visitors complain that the help desk isn't helpful at all, the staff is unresponsive, and the cleaning service is terrible.
That isn't to say that the rooms in Caesars Palace are flawless. Most often, it's quite the opposite. Common complaints include unsanitary rooms with a lot of dust, dirt, and even damaged furniture.
And, when you're paying top dollar for one of the best-known hotels in Las Vegas, the last thing you want to see in your room is "hair in the bathtub and urine on the toilet seat and floor" as one angry reviewer described their experience.
7. Westgate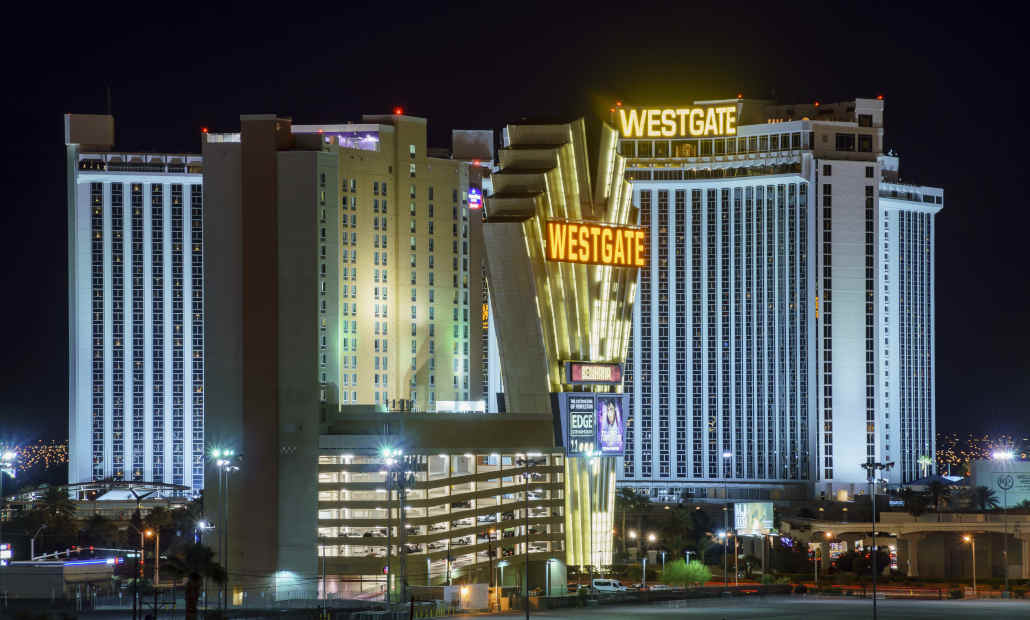 The Westgate Resort & Casino has been in business for over half a century and has changed several names over the decades.
However, what it hasn't managed to change is its reputation of being one of the worst hotels in Vegas.
While it is a bit of a budget hotel compared to some on this list, Westgate still fails on too many points and deservedly comes in at number seven.
As it's a fairly old hotel, it has many outdated rooms, and many visitors highlight how it needs a serious overhaul to keep up with modern standards.
This is noted through issues like yellow ceramic elements in the bathroom and torn or stained furniture.
Another common problem visitors have with Westgate's rooms is poor insulation.
A significant number of guests have complained about hearing people in other rooms, late-night parties, and unresponsive staff that doesn't do anything about the issue.
Lastly, Westgate's location is another disadvantage worth keeping in mind. The casino is not located nearby almost any quality restaurants and diners, so the food you can eat is mostly generic.
While this isn't a deal-breaker on its own, it certainly contributes to the overall experience and adds to the issues the hotel itself faces.
6. Palms Casino Resort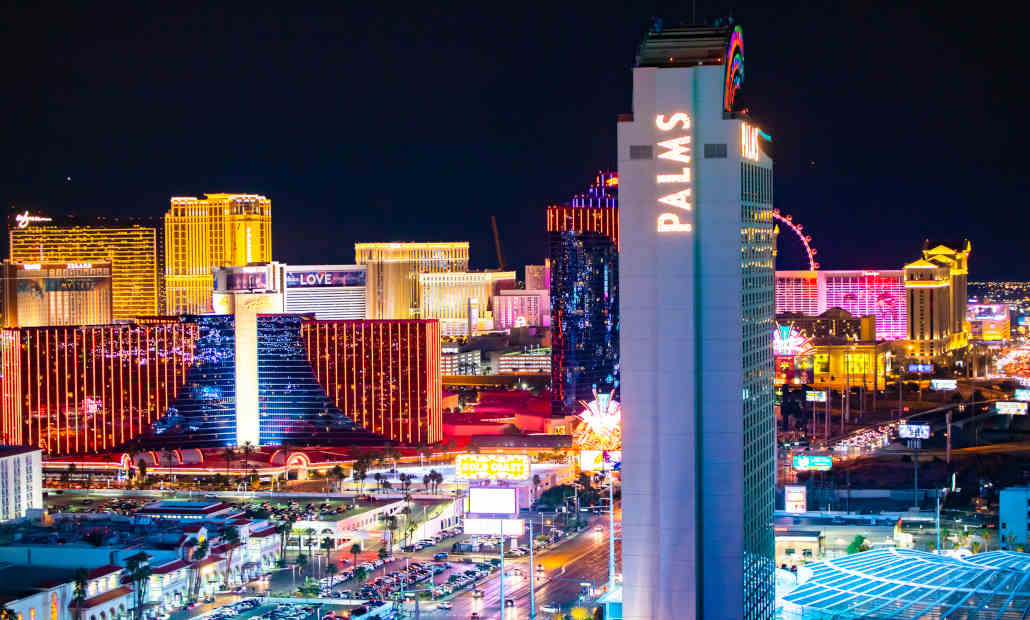 The Palms Casino Resort is another Las Vegas hotel that ticks all of the boxes on paper but fails to deliver when you actually try it.
Many guests describe the atmosphere in the Palms Casino Resort as cold and uncomfortable, and the overall feeling of the hotel being unwelcoming.
All of this is precisely the opposite of what you expect your Las Vegas experience to be.
With stingy rules on food and drinks and their tendency to "nickel and dime" their guests, Palms Casino Resort is particularly disliked for its staff and managers.
Often described as incompetent and unorganized, this hotel's staff is one of the biggest reasons for complaints among guests.
The Palms Casino Resort was once one of the most beloved hotels and casino places in Vegas but has had a rough few years.
This is why it's perfectly understandable that most visitors simply describe it as "not as good as it used to be."
This short portrayal is perhaps the best way to describe our disappointment with the Palms Casino Resort, a place that will hopefully regain its reputation in the future.
5. Excalibur Hotel and Casino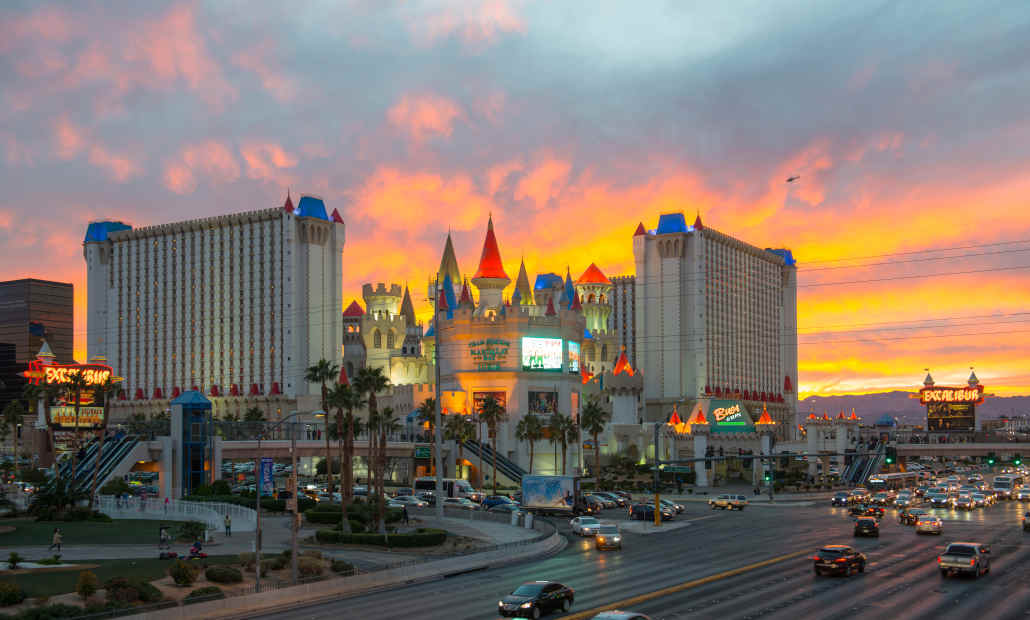 The Excalibur Hotel and Casino is an average Las Vegas casino in many aspects. But, if you were to look deeper into its service and room offerings, you would be surprised with all of the faults you would uncover.
Despite being a little over three decades old, this King Arthur-themed Vegas casino feels like it's from the same era that it draws inspiration from.
Most of its rooms are old and feature worn-out furniture that's well past its lifespan.
The most prevalent complaint is how dirty everything is. This includes the bathrooms, which often smell very poorly and come with clogged toilets.
Many guests also report outright broken items and furniture in their rooms.
Another common gripe is how unpleasant and unskilled the hotel staff is. At best, guests talk about unpleasant experiences with the staff. At worst, they accuse hotel employees of stealing their money and possessions.
How much of this is true is uncertain. But, all of this is enough reason to avoid staying at the Excalibur Hotel and Casino.
4. Circus Circus Hotel and Casino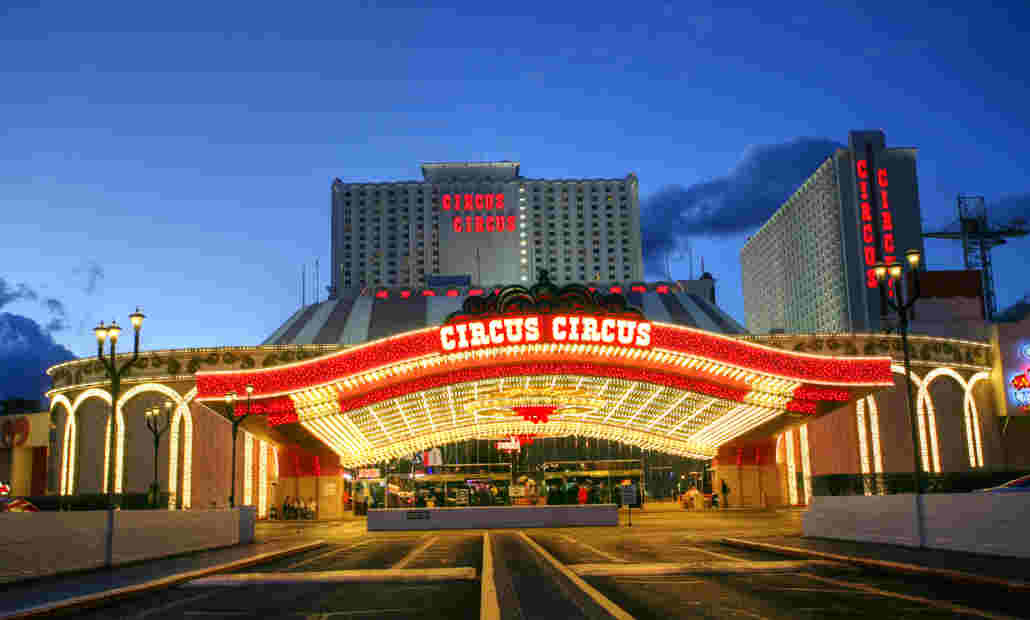 Despite being one of the more popular casinos in Las Vegas, the Circus Circus Hotel and Casino takes up a high fourth place on our list of the worst hotels in Vegas.
And, looking at several thousand negative reviews on Tripadvisor, it seems that many previous guests share the same sentiment.
Many visitors describe the Circus Circus as a dirty, poorly maintained hotel that's nothing short of a dump.
The beds, chairs, and other furniture in most rooms look like they've been there since the hotel opened in 1968, and the air is so stale and smelly in most rooms that you would suspect the same for it as well.
On top of this, the overall theme of the Circus Circus Hotel and Casino feels very worn out nowadays.
Although it was a smash hit back in the day, this carnival-themed hotel and casino often seems more creepy than anything else.
The theme is a bit old, and even if you're a circus and clown lover, you'll most likely get tired of the atmosphere.
3. The Strat Hotel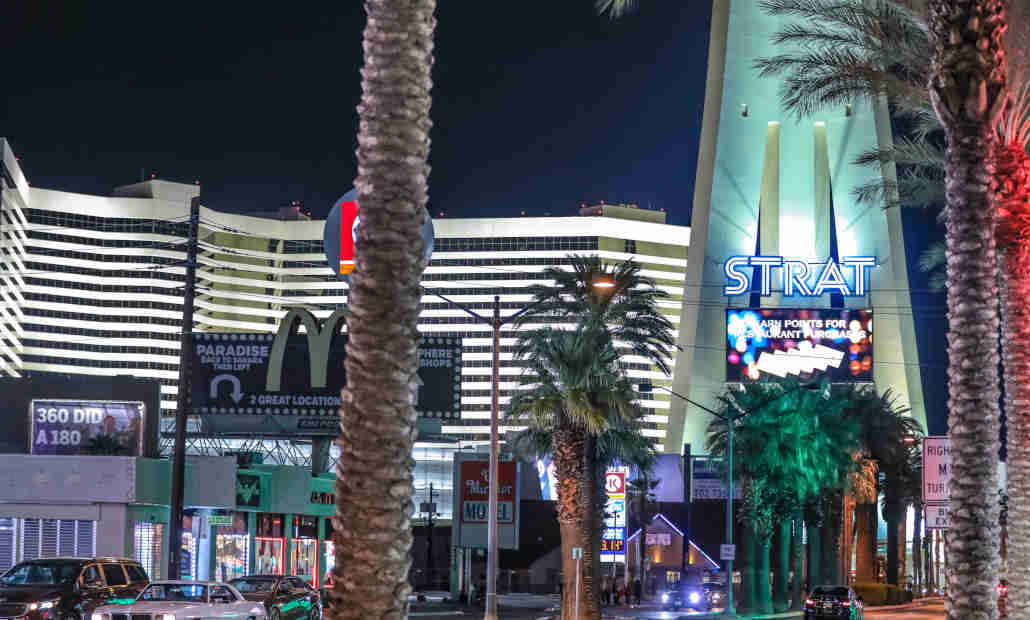 The Strat is well-known for its casino and perhaps even better known for its unique SkyPod attraction, one of the best non-gambling activities you can try out in Vegas.
The same can't unfortunately be said for The Strat Hotel. This hotel scores below average marks in all key areas.
It offers poor staff service, isn't very clean, and is fairly expensive. Moreover, it's not even in a good location.
Guests describe The Strat Hotel as gross, with many finding mold issues in their rooms. These issues present more than aesthetic problems, as they can even have a detrimental effect on the guests' health.
The Strat Hotel also doesn't miss out on the opportunity to deliver all of the standard concerns that plague substandard hotels.
You can find dirty sheets, hair all over, clogged sinks and toilets, overall smelly rooms, and many other issues.
While we wholeheartedly recommend trying the SkyPod, make sure you get a good night's sleep at a different hotel and avoid The Strat's rooms.
2. On The Vegas Boulevard Hotel
On the Vegas Boulevard hotel doesn't have many reviews online, but those that you can find are overwhelmingly negative.
Old furniture that looks like it came out of a horror movie and dirty rooms will keep your mind occupied for the entire night, waiting for the morning so you can pack up and get out as soon as possible.
Several guests even complained that their room was full of bed bugs.
And, when the standard gets so low that the staff can't even mitigate bed bug infestations, who knows what other underlying problems you might come across in this hotel.
Lastly, one amusing review perhaps best describes what you can expect from On The Vegas Boulevard Hotel.
The disgruntled customer wrote: "If you're on a budget and all other Vegas rooms are booked, you'd be more comfortable in a Clark County holding cell." We couldn't have put it any better.
1. Travelodge by Wyndham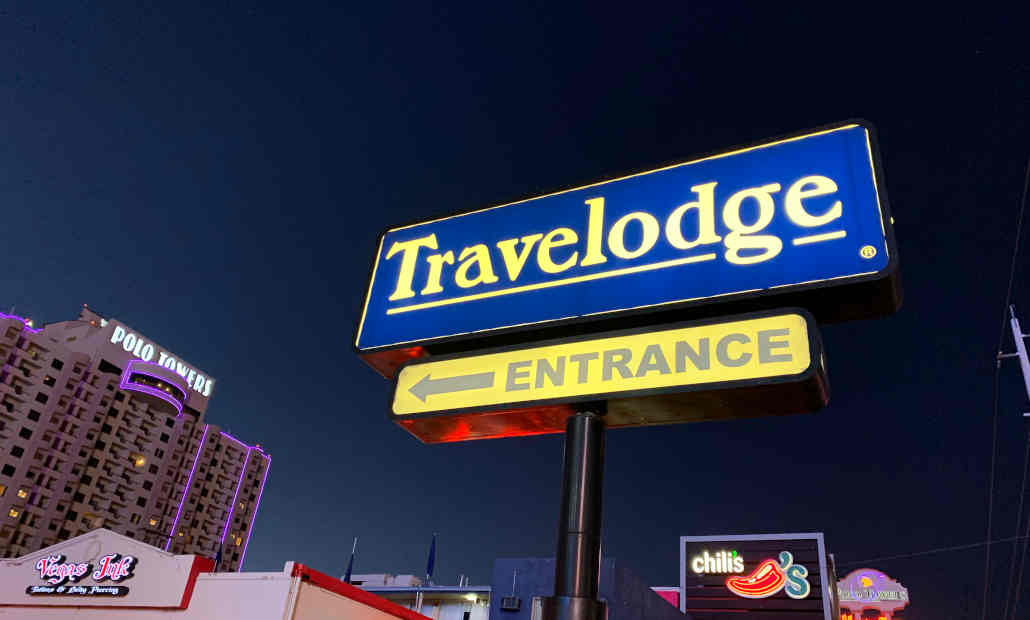 Picking the worst hotel in Las Vegas is an unforgiving task, but unfortunately, one hotel has to take this place.
And, after comparing the worst of the worst hotels Las Vegas has to offer, we give this "honor" to the Travelodge.
Despite being located in one of the better parts of the city, Travelodge fails in so many other aspects that it deservedly ranks number one.
Looking at the hotel's reviews on Tripadvisor, you can find almost the same number of 5-star reviews as 1-star reviews, which is not a good indicator for any hotel.
There are so many things wrong with the Travelodge hotel that it almost deserves a separate in-depth article focusing on all of the issues you may come across if you make the mistake of booking one of its rooms.
With reviews simply stating "don't stay here" and "they don't care," you can sense that you would be better off by booking a cheap motel than staying at the Travelodge.
Dirty furniture, stained sheets, and carvings on tables and other wooden moveables make for a very unpleasant setting in Travelodge rooms.
But, perhaps the worst part of every Travelodge room are the bathrooms. You can expect dirty toilets, chipped bathtubs, and even cracked bathroom floor tiles in almost every room.
So, unless you're looking for creepy crawlers or have a hobby of collecting hair from previous guests, never book a room at the notorious Travelodge.