Facebook Casino Games – Enjoy Best Free Slots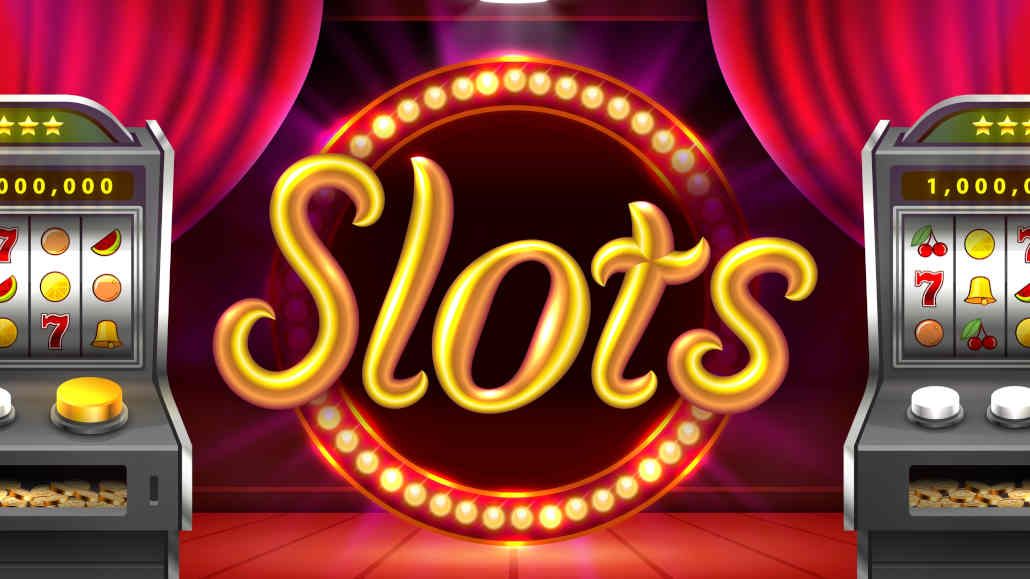 Facebook casino games are an excellent choice if you like gambling online but don't want to spend any money doing so.
Moreover, the social element of Facebook casino games allows you to play with your friends, share your successes, and enjoy a sense of community while gambling for free.
That said, with so many Facebook games available, you need to know which games are worth playing and which aren't.
On this page, we'll share the best free Facebook slots and other Facebook casino games worth downloading on your mobile device.
Casino Games on Facebook – Leading the Social Gambling Wave
Facebook casino games belong to a so-called social gambling branch. These are gambling games that allow you to play for free but also don't provide you with any real money winnings.
They are like any other video game, as the main goal of social gambling games is to have fun.
Social gambling games get their name from the fact that they are mostly played through a social media platform or a dedicated social gambling website.
In this regard, Facebook is arguably the best-known example, as it hosts a ton of free-to-play casino games.
Additionally, social games have at least some element of social interaction. In some games, you're directly playing against other gamblers.
In others, you simply compete on the leaderboards, share your results with other players, or collect various achievements to rank your account.
Are Facebook Casino Games Legal?
Yes, Facebook casino games are perfectly legal. Much like real money online casino games, Facebook gambling games use RNG (Random Number Generator) software that ensures fair and random outcomes of each game.
Moreover, as Facebook adheres to regulations in every country it's in, you don't have to worry about the legality of the social casino game.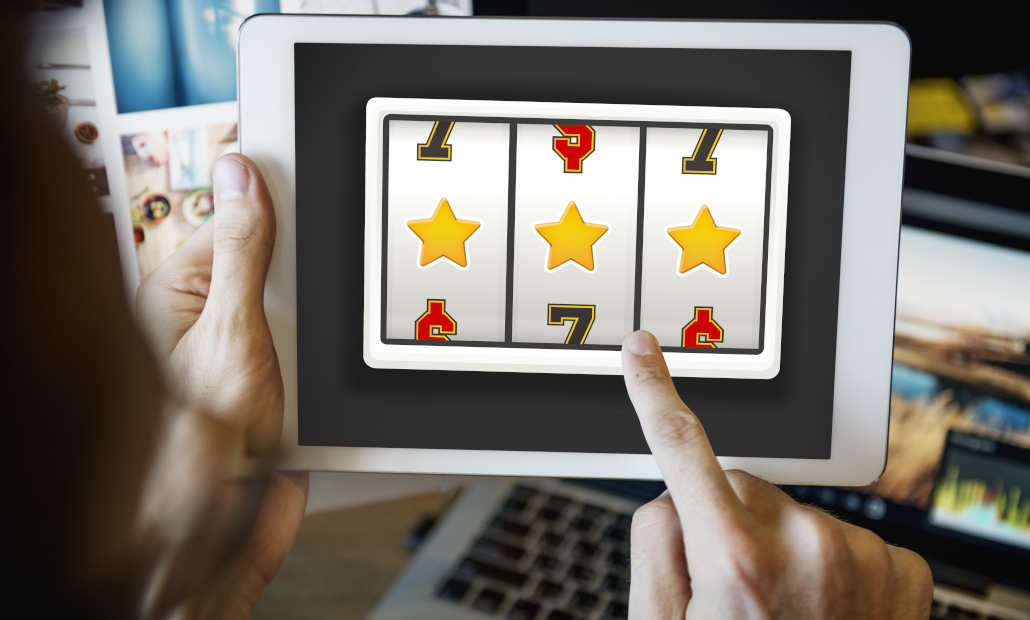 In other words, if you live in a country where all forms of online gambling are illegal, you most likely won't be able to access these games anyway.
Of course, there are also countries where Facebook itself is blocked by the government. In these locations, you can still access the platform and its games using a VPN, but this is a comprehensive topic on its own.
Still, Facebook casino games have been the target of some controversies over the years, mainly from people accusing them of advocating underage gambling.
This is because anyone can access these games, and Facebook doesn't ask for verification proof of the legitimacy of information users provide it with.
From this perspective, if you're underage, we advise you to avoid playing Facebook gambling games.
They might not accept real money wagers but they can still be addictive, and underage individuals are more prone to developing bad gambling habits.
Best Free Slot Games on Facebook
With so many app developers working on free gambling games you can try on Facebook, finding the best free slot games takes some time and a lot of hit-and-miss app downloads.
We've run through the Facebook slot games list and filtered only the best casino slot games available on Facebook to save you time and effort. Here are the best free slot games you can find on Facebook:
Pink Panther
One of the best licensed slot games you can play on Facebook for free is the Pink Panther slot, themed after the iconic cartoon and movie character of the same name.
Everything is designed to produce the Pink Panther atmosphere, from the characters to the letters and sound design.
The Pink Panther is the main symbol and helps you multiply your winnings. You can also find other symbols like the clumsy Inspector Clouseau, a safe, a diamond, and other themed images.
Apart from the recognizable characters and great design, the Pink Panther free slot also has good gameplay features. You can adjust the paylines as you want and play up to 35 paylines per spin.
Silver Lion
The imposing Silver Lion slot made by Playtika will mesmerize you into playing for hours without even noticing it.
Although it has a relatively simple and sleek design, it's gorgeous to look at. Set in front of a savannah backdrop, this free Facebook slot enables you to play up to 50 lines per spin.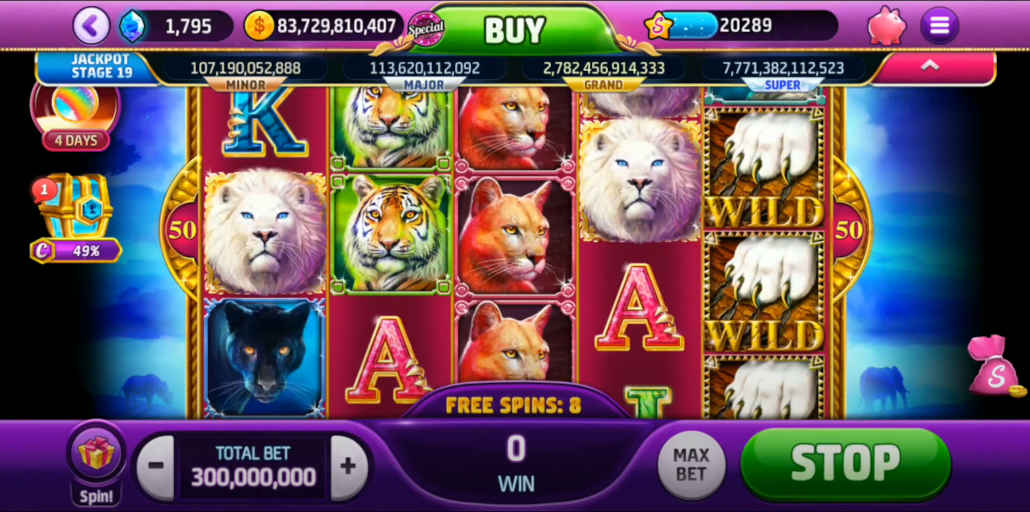 Apart from the majestic Silver Lion symbol, you'll also find other animals like the tiger, cougar, and a leopard on the reels. Some of these symbols can trigger multipliers that multiply your wins up to four times.
DoubleDown Casino
For this selection, we're going to break the criteria a bit, as DoubleDown Casino isn't just one free Facebook slot game but a collection of slot games.
More precisely, Playtika's DoubleDown Casino provides you with over 200 free slots to pick from.
DoubleDown Casino slots are available on both desktop and mobile devices and require no downloads in order to play. So, you can enjoy tons of games instantly at the tip of your fingers after logging into your Facebook account.
Some of the best slots available at DoubleDown Casino are hits like Larry Lobstermania 2 MultiWay, Cleopatra, Da Vinci Diamonds, and Buffalo Bash. DoubleDown Casino even has a VIP club with 11 tiers, so you can truly feel like you're playing slots at a real online casino.
Cleopatra's Quest
Cleopatra's Quest is themed after the most famous Egyptian queen and features symbols of Cleopatra, the pyramids, and various sacred birds. It also has an immersive sound design with ancient Egyptian music.
This free casino slot has a total of 30 paylines and includes scatters, wilds, and other bonuses.
This free Facebook slot game is available on the free Facebook casino gambling app Slotomania. It's another Playtika-operated free online slots platform.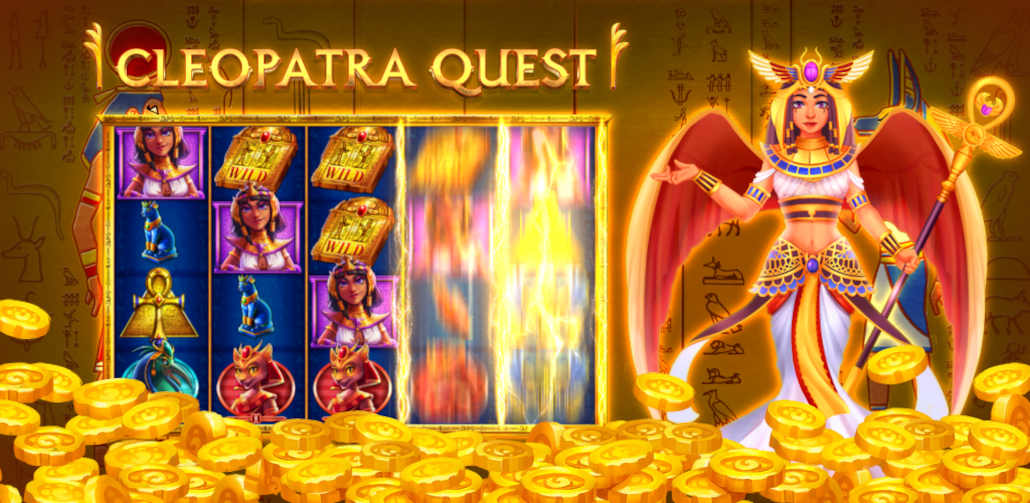 Besides the Cleopatra's Quest slot, Slotomania has over 160 other free slot games you can enjoy.
Overall, Slotomania is one of the most popular social gambling Facebook apps, as it's enjoyed by over 100 million players worldwide.
Rapid Fire
If you want to enjoy a traditional and old-school Vegas slot, Rapid Fire is the perfect game. This classic fruit-themed slot has a simple 5×3 layout. It even features a pull lever design you would find on a slot machine half a century ago.
The slot features some bonus symbols like the standard scatter and wild symbols that provide for more rewarding wins.
But, other than that, there are no special mini-games or features that would take away from this traditional fruit machine experience.
Other Top-Quality Casino Games on Facebook
Like in regular real money online casino sites, slot games lead the way when it comes to Facebook casino games.
That said, they are far from the only type of casino games on Facebook you can play for free. Here are other Facebook gambling games you should try out:
Zynga Poker
Launched in 2007, Zynga Poker is one of the oldest and biggest social gambling games you can find on Facebook.
At one point in the past, it was the largest poker website in the world. A testament to its worldwide popularity is the fact that the mobile version of Zynga Poker is available in 18 languages.
This game allows gamblers to simulate playing the world's most popular poker variation, Texas Hold'em Poker.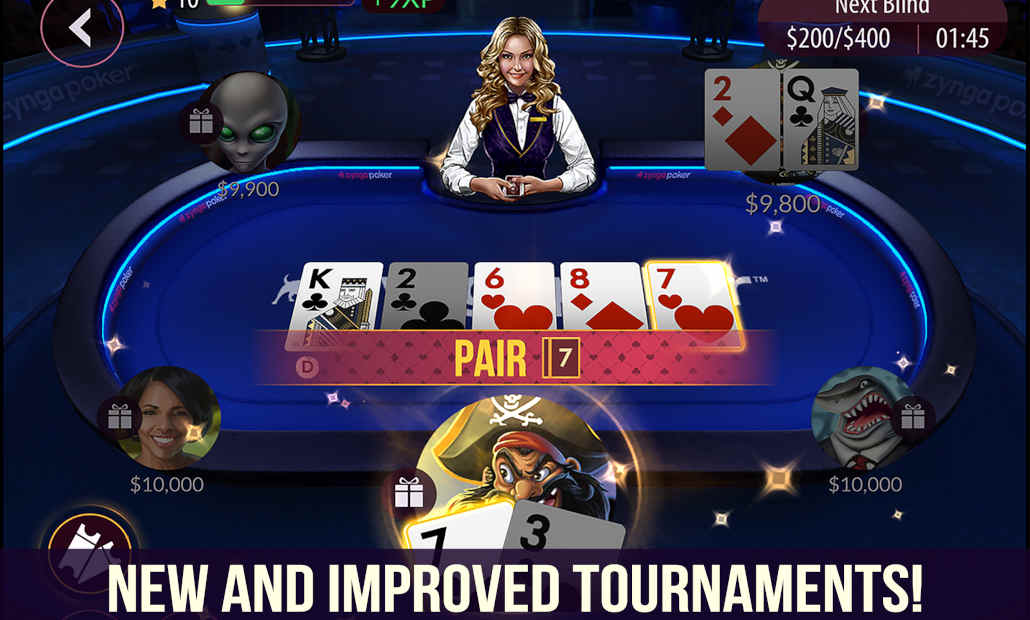 It's designed to provide a welcoming social gambling environment, with a casino lobby where players can choose the tables they want to play at or join their friends.
Zynga Poker has something to offer to every Texas Hold'em fan. You can play casual table games, participate in tournaments, or even sit at a high-roller VIP table.
Players can also send and receive gifts from other players and even tip the dealer at the table.
Bingo Blitz
Bingo Blitz is one the most popular board game apps made by the 'freemium' casino game developer Playtika.
It was published in 2012 and is available on Facebook for iOS, Android, and Microsoft Windows devices.
In 2021, it was even the top-grossing board game app in the US on both Google Play and the Apple App Store.
The app is impressive and well-designed. It features beautiful and amusing cartoony animations and graphics.
Apart from the bingo game itself, you can enjoy various mini-games, bonuses, promotions, and more. It's an excellent choice if you like playing bingo with your friends, as it provides many tools necessary for a very sociable experience.
Blackjack 21
Released in 2015 by KamaGames, the Blackjack 21 free Facebook social casino game is a hugely popular blackjack game. It has a comprehensive but intuitive layout with plentiful features.
This includes a chat messaging system, rewards, and many quick-game and tournament options.
Players can also look forward to regular giveaways and special prizes that can boost their chip balance.
Besides its Blackjack 21 game, KamaGames has also released social gambling games based on roulette, baccarat, poker, slots, and other popular casino games.
Conveniently, all of your accounts in these different apps are linked, so you can have the same contacts and even the same chips across multiple games.
Best Facebook Casino Game Providers
As you might've noticed while reading through our game recommendations, some of the top Facebook casino games are made by two major game developers. These are Zynga and Playtika.
These two social gambling game developers have been around ever since the first Facebook casino games started popping up.
Zynga was founded in 2007, while Playtika came slightly later, in 2010. Zynga employs over two thousand people, while Playtika employs nearly twice as much, over 3,800 employees.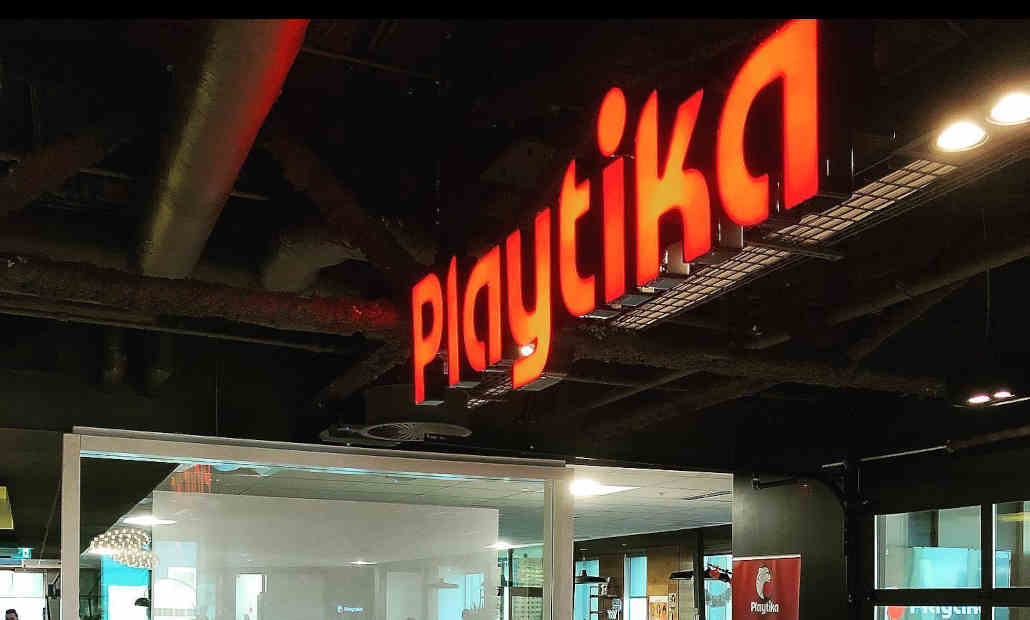 Looking at the user numbers, Zynga is the more popular of the two. In 2020, Zynga had over 134 million active monthly users. On the other hand, according to data from 2021, Playtika had over 35 million.
Knowing this, you can trust that all Zynga and Playtika games are safe and fair to play. While some of their games are more popular than others, you can rely on the same quality that's to be expected from industry-leading game providers.
Facebook Casino Games – Key Things to Remember
With each passing year, casino game developers on Facebook add more and more content for gambling enthusiasts.
What's more, new games keep getting better and more immersive, providing players with a real gambling feeling.
The top Facebook casino games that we've highlighted on this page are just some of the best ones, in our opinion. With that in mind, many other Facebook gambling games are waiting for you to try out.
So, whether you like playing slots, poker, blackjack, baccarat, or any other casino game, you are bound to find an enjoyable Facebook casino game with a quick search.
All that's left now is to download a Facebook casino game you like and enjoy!
Facebook Casino Games FAQs