DoubleDown Casino Promo Codes – Get Your Chips and Play Social Games for Free
10 minutes
Last Updated: August 19, 2021
The phenomenon known as social gambling has become very popular in recent years. Be it due to increasingly restrictive regulation around the globe, people being uncomfortable with gambling for real money, or something else, the social gaming industry has been booming.
You can find many social casino apps out there, but Double Down Casino is easily one of the top choices.
The app offers a great selection of games as well as a very enjoyable experience all around. This article will provide you with the best ways to find Double Down Casino promo codes and other ways to boost your virtual bankroll.
You might be wondering why you'd need codes for DoubleDown Casino if there is no real money gambling taking place here?
The answer is quite simple.
Although social casinos don't offer real money games, you still need virtual money and chips to keep playing.
So, special DDC codes, which seem to have been discontinued and promotions, allow you to get your hands on more playing money, whether completely free or as a boost on your next purchase.
If you enjoy playing video slots and other casino games just for the thrill of winning, you'll probably find this article really helpful. It will help ensure more playtime and give you more opportunities to move up in stakes and win virtual billions.
Double Down Casino in a Nutshell
DoubleDown Casino is a social gambling app available on Android, iOS, and Windows devices. As such, you can download and install it on your phone or tablet with no restrictions. Apps are available in their respective stores, so the whole process is very straightforward.
One of the reasons why this app is so popular and why DoubleDown free codes are such a hot commodity is the fact it's owned by IGT.
IGT is one of the top companies in the gambling industry, featuring a massive portfolio of popular video slots.
Many of these slots, such as  DaVinci Diamonds and Siberian Strom, are readily available on the app. This gives Double Down Casino a more realistic feel.
Of course, you'll find a host of unique games as well that were developed before IGT purchased the company, as well as many brand new titles.
If slots aren't your cup of tea, the casino also offers free table games like blackjack and roulette, as well as a nice selection of video poker variations such as Jacks or Better, Bonus Poker, and Ultimate Poker.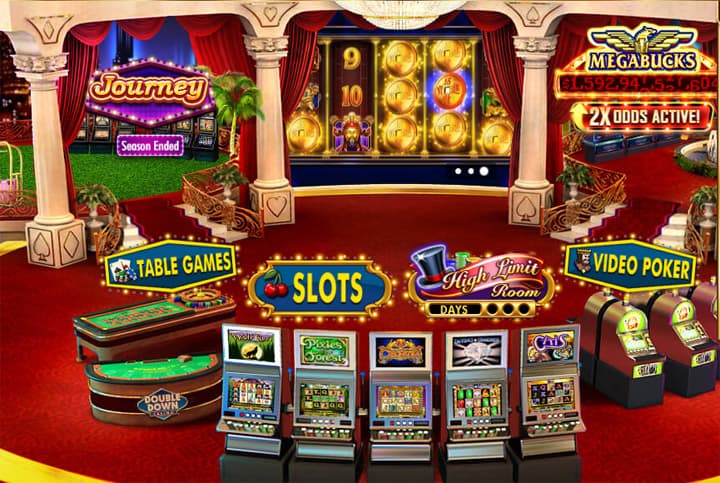 You can also play on your PC if you prefer this over playing on your phone. In both cases, you can log in with your Facebook account, which makes it very easy to start.
Get 1,000,000 in Chips – No DoubleDown Casino Promo Codes Required
If you haven't played on this casino before and would like to give it a try, the good news is that you can do so with 1,000,000 worth of free chips.
You don't need to use any special codes for DoubleDown Casino to claim this initial batch of free chips.
The first million will be added to your account as soon as you register or when you log in with your Facebook account.
The casino will give you a further 250,000 worth of Double Down Casino free chips as a part of their welcome offer, so you'll have a nice stash to get you started.
This means that you can start playing slots and wagering on roulette and blackjack within seconds.
If things go well and you manage to catch some luck right off the bat, you could build on your initial bankroll and never look back.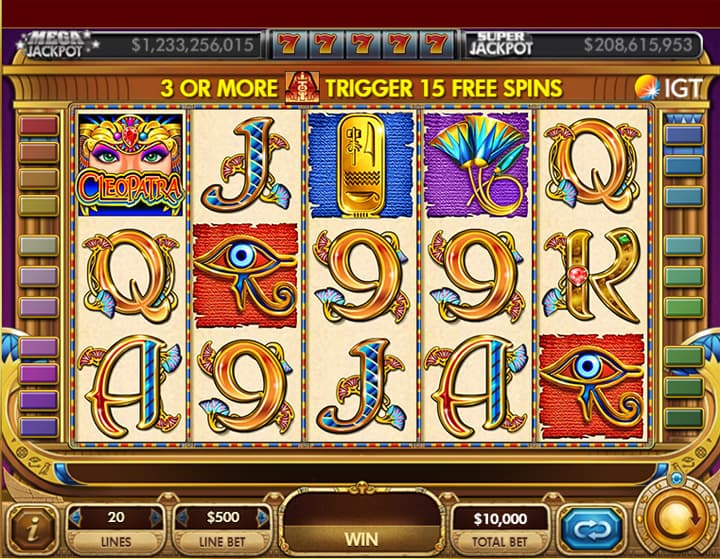 However, since social gambling is still gambling, there is a chance you lose the first million, especially if you employ a more aggressive strategy to try and run it up. This is where DDC promo codes and promotions come in really handy to help you get your hands on some more chips.
How Do Double Down Casino Promo Codes Work?
Just like a traditional online casino, Double Down wants to keep its players happy and satisfied as much as possible. You'll get some free chips every day just for logging into the app, but this isn't really enough to fully enjoy your gaming sessions here for a long time.
So, the casino offers additional opportunities for users to claim some extra free money, and DoubleDown free codes used to play an important role in that process.
These DDC promo codes were given out for a variety of reasons and through different channels. If you followed the casino's social media pages, for example, you would have a good chance of catching some nice codes and quickly boosting your virtual balance.
But, it seems like Double Down Casino free codes are no longer a thing.
Although you'll still find a number of sites mentioning these codes and telling you this is a way to get some free chips or boost your purchases, there is simply no way to utilize any of these. You no longer get the option to apply a code anywhere in the casino lobby.
The good news is that although you can no longer use DDC codes, there are still many ways to get plenty of Double Down Casino free chips.
In some ways, this new approach to rewarding players might even be better because DDC promo codes weren't without their downsides.
They were often time-restricted, so by the time you'd get a code, it would already expire. Some sites shared wrong information on purpose, trying to attract players, promising free promo codes for Double Down Casino, but these weren't real codes.
Unfortunately, you'd only find out when you tried to use them.
This page won't promise you DoubleDown Casino promo codes because they don't seem to be an actual thing at this moment in time. Instead, it will focus on other ways of acquiring free money to enjoy your social gambling adventures.
Applying Codes for Double Down Casino
If you do happen to find a working DoubleDown Casino promo code and the casino allows it, the process to use it is quite simple. Once you log in to your account, do the following:
Click or tap the "Buy Chips" icon
Enter your DDC free code
Enjoy your DoubleDown Casino free chips
There is no guarantee a particular code will work for you as some of them expire quickly, are limited on a certain number of uses or specific countries. So, if other players get to input the code before you do, you might be out of luck.
On the flip side, there are really no negatives to testing different codes to see if they work. It will take a bit of your time, but it's not like there is any kind of penalty for trying too many free chips' codes.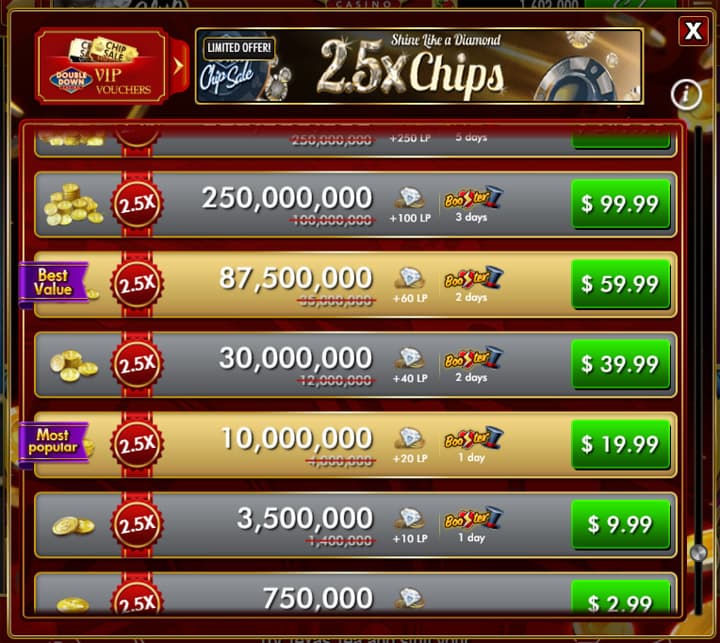 Again, this option seems to be removed from the software right now, so this is just a reference to the way it used to be done. If DoubleDown Casino free chip codes make a return at any point, this is how you'll be able to use them to top up your virtual balance.
Getting Free Chips Without DoubleDown Casino Promo Codes
So, with Double Down Casino promo codes out of the picture, what other options do you have to get your hands on some free chips?
The best thing you can do is follow Double Down Casino on their social media pages, especially Facebook.
This will give you an opportunity to get involved with all sorts of promotions and giveaways that won't cost you a single cent.
For example, quite often, they'll post a direct link to follow to get free chips. Simply click or tap the link and let the casino load. Once done, your balance will be increased automatically by whatever amount the casino is giving away.
The great thing about this is that you don't need any special DDC codes to make things work. These are official links posted by the casino, and they work without a fault.
There is a special link posted on the Facebook page almost every day and especially on weekends.
You can expect to get anywhere from 200,000 to 500,000 DoubleDown Casino free chips for just a few seconds of your time.
If you have some time on your hands and are also in a mood to have a bit of fun, the casino often posts challenges and puzzles for their players.
Offer the right answer and, if you're lucky enough to get picked from the pool of right answers, there'll be even more chips coming your way.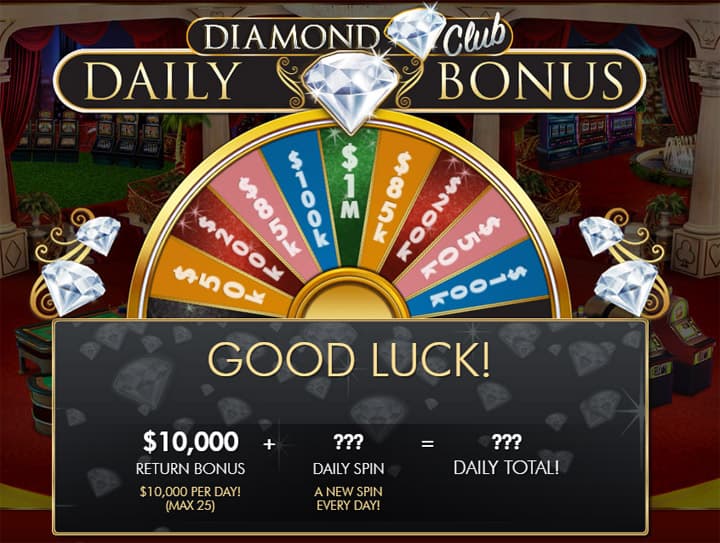 The bottom line is, you don't really need DoubleDown free codes to get a hold of heaps of free chips.
The casino is giving away heaps of them to everyone, and what's required of you to get involved with these promos is far less demanding than searching the web for Double Down Casino promo codes, 80% of which ends up not working anyways.
Other Ways to Get Free Chips Not Using Codes for DoubleDown Casino
In addition to these cool promotions that run pretty much around the clock, there are other ways to get some extra DDC free chips. These are more demanding but more entertaining as well, as they actually require you to play the games.
Once you join Double Down Casino and visit your account section, there will be certain Missions waiting for you.
To complete a mission, you'll need to accomplish a particular goal, such as playing a number of different games, wagering a particular amount of chips, etc.
Completing a mission will award additional free chips and give you access to new missions.
As you make progress, these challenges become increasingly harder and more demanding, so they aren't always easy to meet as playing x hands of blackjack on a particular stake.
You might be required to wager a lot of your chips to complete a certain mission, and there are limited daily options on how you can top up your balance, especially without Double Down Casino promo codes.
Still, when you first start on the casino, missions are a breeze to get through, and you can easily win another 1,000,000 or so worth of Double Down Casino free chips.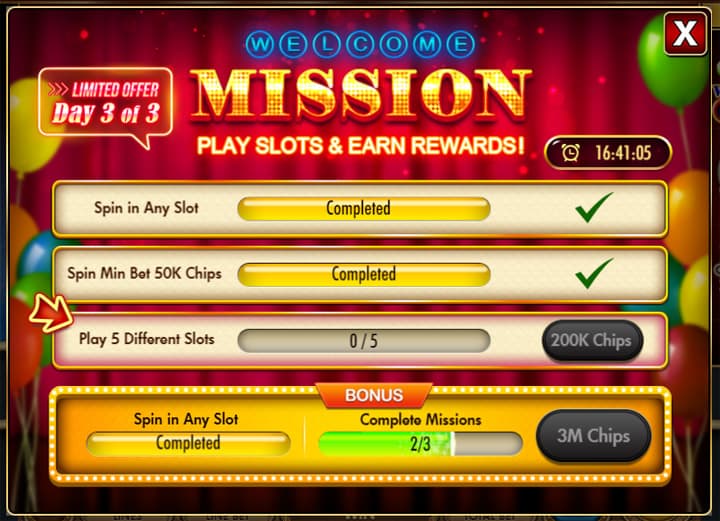 The best part is that you don't need to manually opt-in for these or do anything out of the ordinary.
Just by playing your favorite games, you'll likely complete the required tasks. Every time this happens, the "Collect Reward" button will light up.
Simply click the button to see what reward is waiting for you, claim it, and any free chips you won will be added to your balance.
Additionally, as you play, you'll slowly build your experience and unlock new levels. Each new level brings a larger free chips' reward, so the more you play, the better your rewards get.
Double Down Casino Free Chips When You Buy Chips
One final way to get some free chips for Double Down Casino involves spending money, so this one may not be to everyone's taste.
Like most social casinos, Double Down gives you a chance to buy chips for real money and boost your virtual balance that way.
Playing at higher stakes does have some advantages, as it lets you play for big jackpots, so spending some cash for more excitement is perfectly fine for some players.
But, even when buying chips, you can get some free boosts, and that's important to keep in mind.
Again, you can't use any of the DoubleDown Casino promo codes at the moment, but the company often runs special sales. When active, these let you purchase chips at discounted rates, and these discounts can be quite significant.
 What Are Alternatives to Double Down Casino
Double Down Casino is currently one of the best social casinos around. However, if you're not entirely happy with the site or are looking for alternatives that offer some other games like craps, for example, there are quite a few.
Zynga, Slotomania, and Big Fish Casino are a few names definitely worth checking out as well, so if you are looking for free casino games, you have plenty of choices.