Best PKO Tournaments at PartyPoker: Join Juicy Bounty Action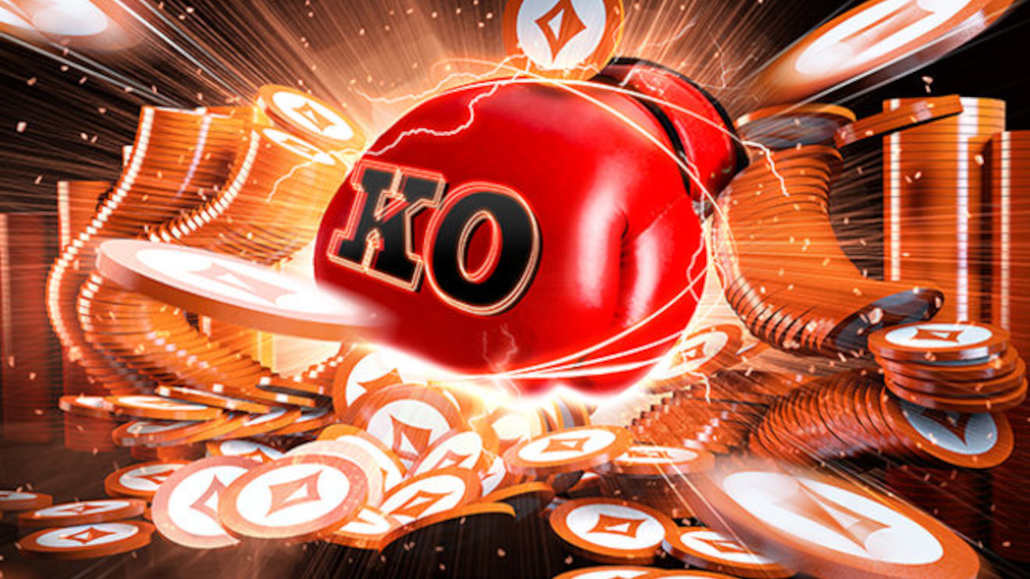 5 minutes
Last Updated: November 6, 2023
PartyPoker has long been one of the biggest and most attractive brands in the online poker industry, and has always been quick to adopt innovations in the world of poker.
The progressive knockout (PKO) tournament format has been incredibly popular in the last few years across all online poker platforms, and PartyPoker has made sure to follow the course and ensure its players can enjoy plenty of PKO action as well.
If you are someone who loves this tournament poker format, you should be aware that there are more than a few PKO tournaments each week at PartyPoker that you can enjoy, regardless of your bankroll.
Before we go into the specifics of the best PKO tournaments you can play at PartyPoker, let's take a look at what this tournament format actually is and what makes it so appealing to the players.
What Are PKO Tournaments?
Bounty or knockout tournaments have been around for a long time. The basic premise is that one half of each player's buy-in goes into the prize pool, while the other half is immediately given to the player who eliminates them.
In regular knockout tournaments, all it takes is eliminating two players from action to get your full buy-in back, as you continue to fight for more bounties and a share of the prize pool.
The PKO tournament format built on this and went a step further. Instead of getting the full bounty when you eliminate players from PKO tournaments, things are a bit more interesting.
When you eliminate someone from a PKO, one half of their bounty will be added to your balance. The other half will be added to your own progressive bounty, making you a more appealing target to everyone else in the game.

Your current bounty will be displayed on top of your name at the tables, so everyone will be able to know exactly what eliminating you is worth.
The more players you knock out, the higher your own bounty will become. With a high bounty on your head, you will often get players to call your all-ins very light in hopes of taking your bounty.
Of course, the same goes for other participants, as you can find players with high progressive bounties and call them off light hoping to win their bounty.
A lot of new strategy must be considered in PKO tournaments compared to regular online poker tournaments, as each all-in and call has a different equity than it would in a regular poker game.
Daily PKO Tournaments at PartyPoker
PKO tournaments have become a huge part of the daily tournament schedule at PartyPoker, with a number of games across all buy-in levels and different game types available.
Both No Limit Texas Hold'em and Pot Limit Omaha players can look forward to a solid selection of daily PKOs, with buy-ins ranging from $1.10 to $530.
Some of the most appealing PKO games you can find on the daily schedule fall into the Daily Legends category, where each tournament comes with a guaranteed prize pool.
For instance, a $5.50 PKO Daily Legends tournament comes with a $1,000 guarantee, while the $33 version of the same event guarantees $2,500 in prizes.
Our Super Daily Legends tournaments got even better, with the new Grand Prix Edition offering bigger guarantees for the same buy-ins. 😎

Check it out! https://t.co/JVTuJHonyJ pic.twitter.com/vmD1KwQipF

— PartyPoker (@partypoker) March 21, 2023
Regardless of the size of your bankroll or the preferred number of players per table you want to play with, you can find at least a few PKO tournaments on the schedule each day that match your preferences.
It is also worth noting that PartyPoker regularly runs PKO events as part of its various tournament series, including the current Grand Prix Spring series, which includes a great number of exciting PKO tournaments.
This means that on top of all the regular PKO events, many of which are labeled Daily Legends, you will also find plenty of action through seasonal tournament series, which run at PartyPoker multiple times per year.
Finally, make sure to keep an eye out on all the PKO events on Fridays, when guaranteed prize pools are boosted and there is an even higher value in playing these events.
Big Sunday PKO Events at PartyPoker
Sundays are the best time to play online tournament poker, and that's been the case for many years now, so it's no surprise that PartyPoker also runs its biggest PKOs on Sundays.
The newly added Sunday Party is a $109 PKO tournament with a $150,000 guaranteed prize pool, which means you are looking at a huge field, often filled with tons of qualifiers.
If you yourself need some help with the buy-in, you can play in countless satellites for Sunday Party, with buy-ins starting as low as $0.11.
Regardless of how you make your way into the Sunday Party, expect a ton of action and plenty of great chances to capture bounties as this event is softer than most other $109s you will find out there.
When you have it all worked out … @MattStaplesPKR

18+ (19+ in Canada) https://t.co/Qk1mEDhgYr Play responsibly. pic.twitter.com/f5RpqNXEiy

— PartyPoker (@partypoker) March 27, 2023
The Sunday Carnival is yet another exciting PKO event that only runs on Sundays, which guarantees a massive $50,000 in prizes.
Such a huge prize pool for such a tiny buy-in means that thousands of players will be at the tables. Many of them will give you an easy chance to win a bounty and make your own bounty even more appealing to others.
If you are looking for the best PKO action around, there is no doubt that Sunday Party and Sunday Carnival are the two events you should look into playing.
Join PKO Action at PartyPoker Today
PartyPoker continues to offer one of the most versatile and player-friendly tournament schedules in 2023, with the recent revamp adding even more games and boosting existing guarantees.
If you are looking for the ultimate place to play tournaments today, join PartyPoker, claim your welcome bonus, and play in some of the softest and most valuable PKO games around.
To make things even juicier, PartyPoker will also offer a lot in terms of player rewards and regular promotions, all of which can significantly boost your profits and keep you afloat as you chase your big score.
Create your free PartyPoker account today to join all the action and keep informed about the best PKO tournaments on the internet.