Jared Bleznick Wins $100k PLO Super High Roller Bowl After Stalling Play to Open Sports Cards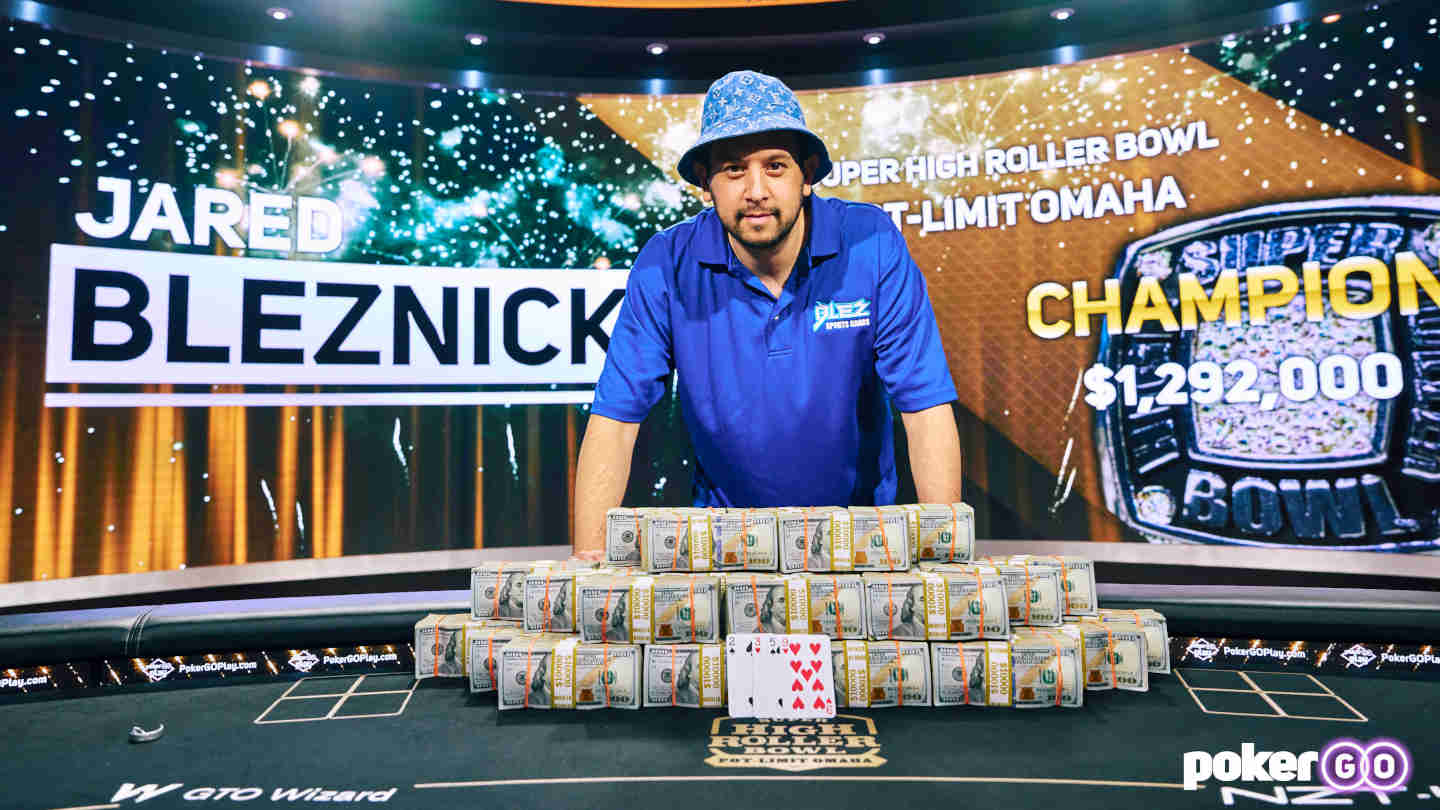 5 minutes
Last Updated: October 20, 2023
It was an eventful few days for the poker high rollers in Las Vegas, as the $100k PLO Super High Roller Bowl rolled into town and brought some of the very best together to test their skills in the Great Game.
A Super High Roller Bowl event was played over a PLO table for the first time in its history, so it was fitting that Jared Bleznick, who is somewhat of a PLO expert, would walk away with the trophy and $1.29 million in prize money.
A furious start to the action on Tuesday saw a total of 38 players pony up the $100k buyin to enter the event, 17 of whom survived Day 1 action and progressed to Day 2.
None other than Isaac Haxton, the reigning Super High Roller Bowl champion, entered the final table as the chip leader, but brilliant Bleznick was able to turn the tables on one of the most prolific tournament players of his generation and come out as the champion.
The first-ever PLO Super High Roller Bowl brought quite a bit of excellent play, but also a bit of controversy, as the eventual champion decided to use some of his designated time to do some self-promotion and indulge in his favorite hobby during the live streamed final table action.
Bleznick Beats Haxton and Chidwick for the Title
Day 3 of the PLO Super High Roller Bowl was reserved for final table action, as Poker Hall of Famer Daniel Negreanu fell as the final victim of Day 2 action and the bubble boy, walking away without a prize.
The seven players who made up the official final table included the likes of David Chino Rheem, Isaac Kempton, and Aaron Katz, along with Jared Bleznick, Isaac Hexton, and Stephen Chidwick.
When final table action started, it was Haxton who had a dominant chip lead with nearly 4.5 million chips, with Bleznick coming in second with about 2 million.
Action came down to three handed play when Blez eliminated Kempton and took over the chip lead, but this would not last very long, as Chidwick managed to double up through him shortly, more or less equalizing the three remaining stacks.
This started a six hour long three-handed play, which saw each of the three players obtain and lose the chip lead before Bleznick finally managed to strike the final blow on Stephen Chidwick in third place, earning him a $570,000 payday.
It was down to Haxton and Bleznick for the trophy, and it seemed like Ike could be on his way to a third Super High Roller Bowl champion title in his career.
It was not meant to be for one of the most decorated tournament players of all time however, as his Aces lost to Bleznick's rundown for an all-in, before his pocket Queens could not outlast Jared's flopped pair and gutshot.
Jared Bleznick (@harrington25) is your inaugural Pot-Limit Omaha Super High Roller Bowl Champion!

Bleznick made the claim of being the best PLO player in the world, and he definitely showed his skills as he maneuvered his way to the $1,292,000 first-place prize. pic.twitter.com/pguLTLtP3V

— PokerGO (@PokerGO) October 19, 2023
Haxton was left with a consolation prize of $836,000 and 251 PGT points, which was more than enough to see him take the first place on the overall PGT leaderboard for the year.
Bleznick, on the other hand, earned his first ever Super High Roller Bowl trophy, $1,292,000 in cash, and the bragging rights that come with defeating such a start-studded field in an event as prestigious as this.
Bleznick Stirs Up Drama at Final Table
If you have been following Jared Bleznick's career at all, you have probably noticed that he's taken every chance he gets over the last few years to advertise sports cards and talk about his "hobby" during various poker TV shows and streams.
In fact, Blez has more or less stepped away from poker in favor of pursuing this hobby, and while it remains unclear what his deal with sports cards is exactly, what is clear is that he will take any chance he gets to talk about them.
In his opinion, one such chance came up during final table play of the $100k PLO Super High Roller Bowl, as action was on Jared with Isaac Kempton shoving all-in for his last 460k chips over Chidwick's 140k open.
Jared announced to the table that he would be using some time banks to open a couple of basketball card boxes at the table, and even told the dealer that he plays "faster than all these guys" so he would not be needing the time banks later.
Every poker player knows that time extension management is a crucial part of tournament play. @harrington25 uses his time extensions to break two boxes of @PaniniAmerica One and One's. #SportsCards pic.twitter.com/v3027dWNpA

— PokerGO (@PokerGO) October 19, 2023
He even went on to talk about the cards he found in there, announcing one of them was worth $2k and was a very rare card, although the table in general didn't seem to care.
Jared got quite a few looks from other players at the table, who did not seem amused by his shenanigans, but he technically remained within his rights and did not break any rules.
The reactions of the poker community have been somewhat mixed, although most agree that Jared was doing it all in good fun and had no intention of hurting or disrespecting anyone.
Ike Haxton Climbs to the Top of the PGT Leaderboard
While Haxton was not able to seal the deal this time around and did fall short of the title, his second place finish was more than enough to propel him to the first place of the overall PGT leaderboard with 2,548 points, more than 200 clear of second-placed Daniel Weinman.
Haxton's 9 cashes and 4 wins on the PGT so far this season also put him over 400 points clear of his closest real contenders, Chris Brewer and Stephen Chidwick, as Weinman does not really take part in the high stakes circuit and recorded the entirety of his 2,300 points for his WSOP Main Event win last summer.
There is still ways to go before the PGT season is officially concluded, and it will be interesting to see Brewer, Chidwick, and other players chase after Haxton and try to overtake him on the leaderboard.
Whoever does manage to sit at the top at the end of the year will take home a $50,000 cash bonus, along with the biggest chip stack in a dedicated Million Dollar Freeroll designed to award the most successful PGT players.
Stay tuned as the PGT season approaches its end and we keep you updated of your favorite players' progress and all the major events played as part of the PGT.