Daniel Weinman Is Crowned the World Champion of Poker in Largest-Ever WSOP Main Event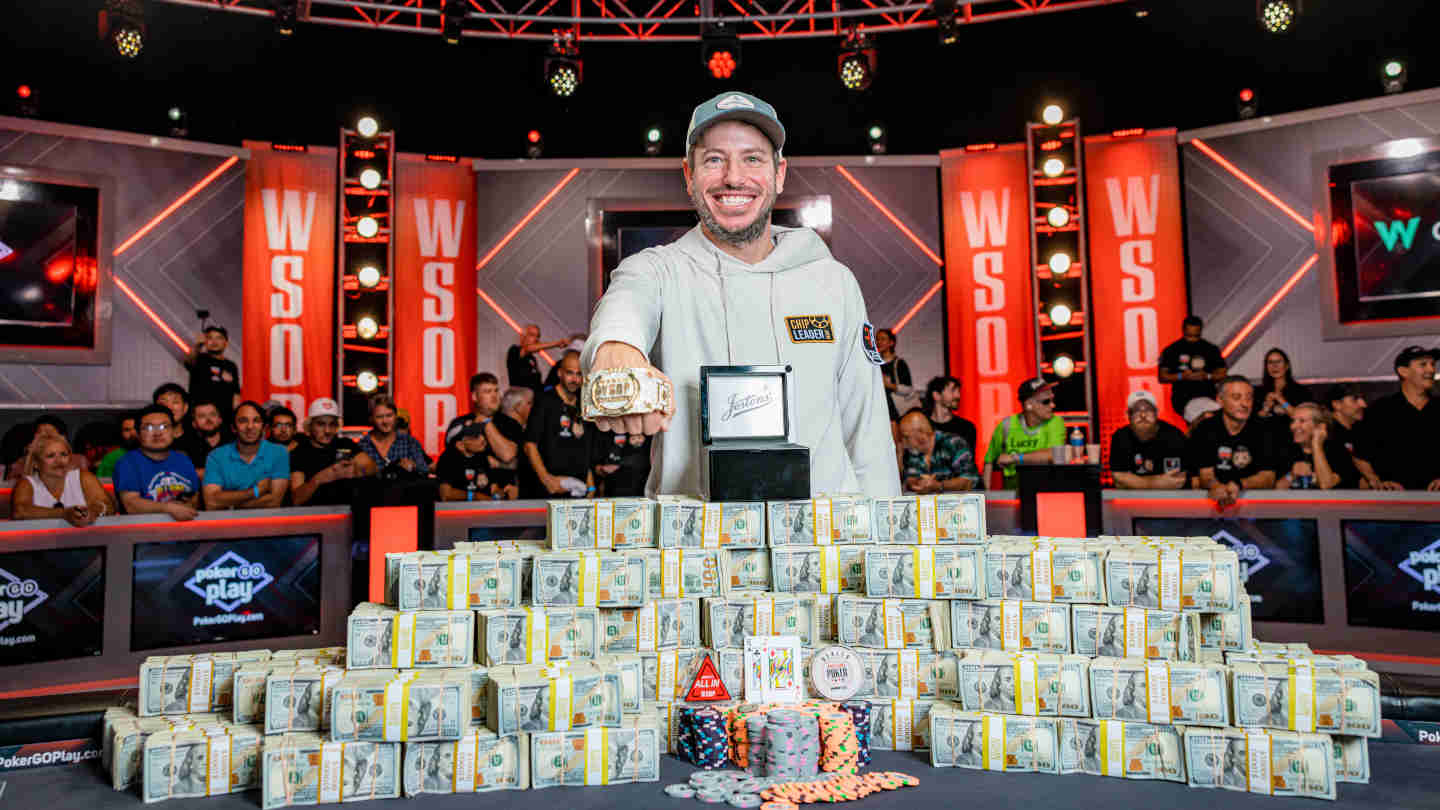 The largest-ever World Series of Poker Main Event came to an end on Monday evening with American poker pro Daniel Weinman taking down the $12.1 million first-place prize, along with his second WSOP gold bracelet.
Daniel came out on top in a very diverse final table that included players from seven different countries, but defeated fellow American Steven Jones in the heads up battle for the bracelet.
While some of the heads up play made a big chunk of the poker community believe a deal was made prior to the final showdown, no official deal was made, and Jones ended up winning $6.5 million for his second-place finish.
The Georgian native enjoyed the support of a rail that was made up of some of the biggest names in the game, including Shaun Deeb and Josh Arieh, who have won their fair share of WSOP bracelets this summer as well.
The pro added the $12.1 million in prize money to the $3.7 million he had won in poker tournaments since 2010, thus quadrupling his total winnings and securing his place in the poker history books.
But the road to Main Event glory was a long and difficult one, and it took ten full days of nerve-wrecking play for Weinman to finally lift the most elusive prize in all of poker.
WSOP Main Event Exceeds Expectations
In the days leading up to the Main Event, most industry insiders believed this could be the year the attendance record, previously set in 2006, would be broken, but the exact numbers were still under a big question mark.
Sure enough, the tournament broke attendance records in the early levels of Day 1D, with a total of 10,043 unique players signing up to play in poker's biggest show by the end of registration.
Among those 10,043 were many of poker's biggest names, including Daniel Negreanu, Phil Ivey, Johnny Chan, Phil Hellmuth, Mike Mattusow, and a plethora of other well-known and respected pros.
They were joined by celebrities and wealthy businessmen from all walks of life, including the likes of Sergio Aguero, one of the top soccer players of his generation.
As days went by, players fell one by one, until the money bubble was finally reached during Day 3 action.
Among those who cashed were hundreds of anonymous players who were playing their first-ever $10k poker tournament, but also quite a few well-known names.
The likes of Doug Polk, Patrik Antonius, and Faraz Jaka, all made deep runs, but could not quite hold on to reach the final few days of the Main Event.
As the final table approached, the field was a mix of recreational and professional players, with the likes of Alec Torelli failing to make the final table and busting out just short of the final nine.
In the end, the final table was set with players from the USA, Germany, Ukraine, England, Scotland, Spain, and Italy taking their seats.
Final tabled the Main Event, is this real life? Really feeling everyone's support and I'll try to get back to everyone that's messaged when I can.

— Daniel Winmain (@notontilt09) July 15, 2023
Weinman Reaches Final Table in Shocking Fashion
As it usually happens in the Main Event, Weinman had quite a few ups and downs on his journey to the final table, but the biggest breaking point came just before the final table would be set.
With just 14 players remaining late in Day 8, the 35 year-old was dealt pocket Jacks, and ended up getting all his chips in the middle before the flop, trailing behind pocket Queens and Kings of his opponents in 3-way action.
The Ace-high flop with two hearts spelled disaster for Weinman, who held no heart in his hand, and had come to terms that his Main Event run had come to an end.
Yet, as it so often happens in poker, the turn card changed everything, as the Jack of hearts rolled off, sending Weinman's rail, and the player himself, into a state of disbelief.
In a short moment, Weinman had gone to being the next player to bust out, to one of the chip leaders of the tournament with only a few players left before the final table.
Daniel's set of Jacks held up, and he entered the final table as the third biggest stack, which led many poker fans to believe that destiny was on his side and that winning the bracelet would only be a matter of time.
Americans Dominate Final Table Action
As final table was set, it was Adam Walton who had the big chip lead, holding 143,000,000 chips, ahead of Steven Jones' 90,000,000 and Weinman's 82,000,000.
The three American players would end up in the top three spots at the end of the day, only not in that order, as Walton's chip lead was only good enough to win him third-place money.
Players from six different countries chased after the locals during the two days of final table action, but none could build the kind of momentum it would take to bring down the three chip leaders.
Among these players were the likes of German bracelet winner and PLO specialist Jan-Peter Jachtmann, and British super-pro Toby Lewis, as well as a number of less known players with significant tournament winnings to their names.
And while they all managed to bag the biggest score of their poker career on Monday evening, the poker gods favored Daniel Weinman to become champion.
Daniel Weinman is the 2023 World Champion!

Daniel takes home the largest payout in Main Event history, $12,100,000, by outlasting the record-breaking field of 10,043 players.

A huge congratulations to @notontilt09, your 2023 Main Event Champion. pic.twitter.com/EsU7x6MZOa

— WSOP – World Series of Poker (@WSOP) July 17, 2023
In the final hand of the night, Weinman held a significant chip lead over Jones, although the effective stack was still close to 50 big blinds.
In a single raised pot, the players got their chips in on a board of J♠5♠2♦4♣, with Jones' J♣8♦ dominated by Weinman's K♣J♦.
The champion's hand held up, although the quick action and willingness to get so many big blinds in so easily prompted many to question if an unofficial deal had been made behind the scenes.
The massive discrepancy between first and second place money would certainly have warranted such a deal, and it is entirely possible that both players ended up bagging closer to $9,000,000 for their efforts in the end.
Your 2023 WSOP Main Event Champion, Daniel Weinman. Congratulations, @notontilt09 🏆 pic.twitter.com/BpjjbOrMIn

— WSOP – World Series of Poker (@WSOP) July 18, 2023
Regardless of any unofficial deals that may have been made, Daniel Weinman is the latest WSOP Main Event champion, and will hold the title until next summer when the Series returns to Las Vegas to crown yet another world champion.
Here are the final standing and payouts for all 2023 WSOP Main Event final table participants:
| | | | |
| --- | --- | --- | --- |
| Position | Player Name | Country | Payout |
| 1st | Daniel Weinman | USA | $12,100,000 |
| 2nd | Steven Jones | USA | $6,500,000 |
| 3rd | Adam Walton | USA | $4,000,000 |
| 4th | Jan-Peter Jachtmann | Germany | $3,000,000 |
| 5th | Ruslan Prydryk | Ukraine | $2,400,000 |
| 6th | Dean Hutchison | Scotland | $1,850,000 |
| 7th | Toby Lewis | England | $1,425,000 |
| 8th | Juan Maceiras | Spain | $1,125,000 |
| 9th | Daniel Holzner | Italy | $900,000 |