Cardplayer Lifestyle Mixed Game Festival Returns to Vegas for Its 5th Iteration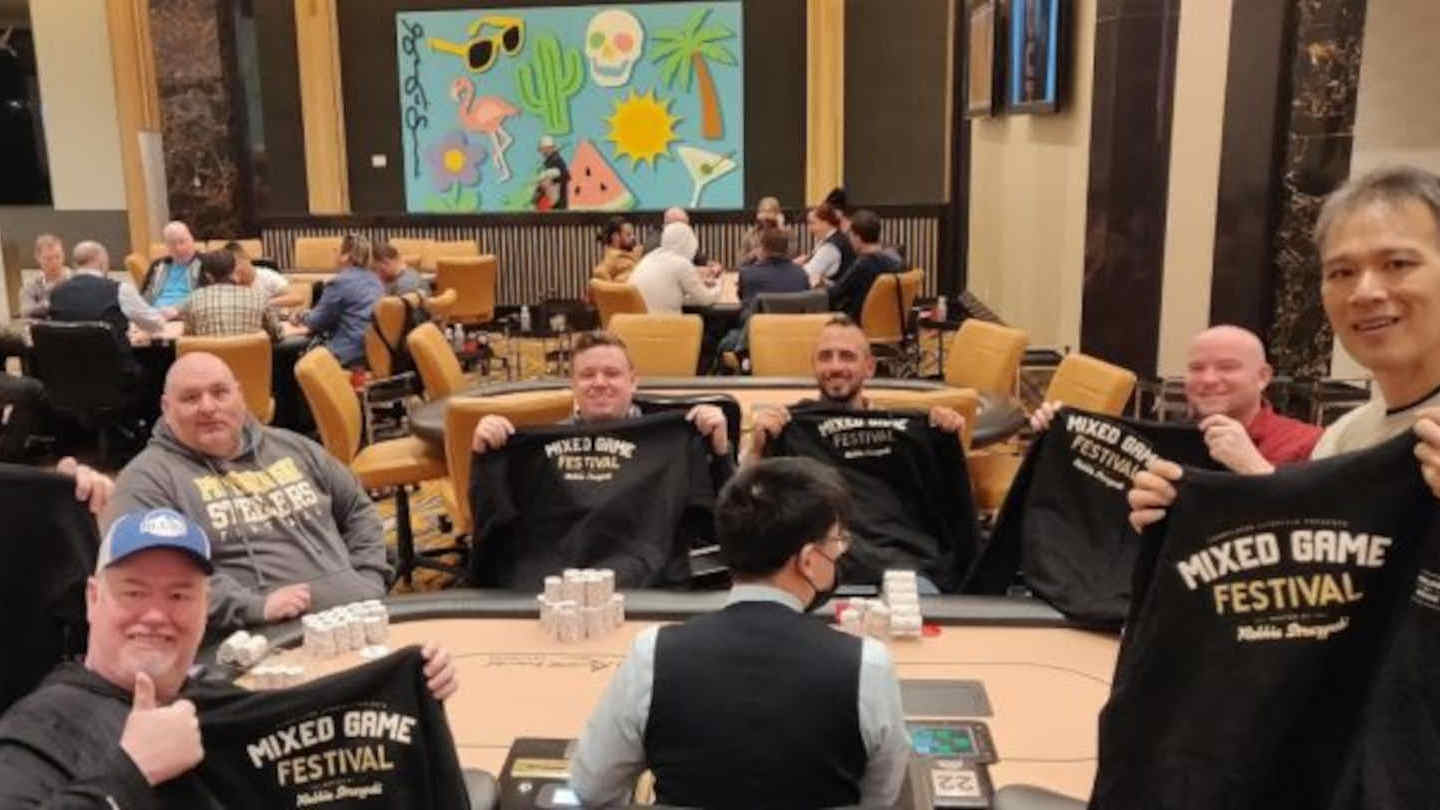 While the 2023 World Series of Poker may be capturing the attention of the poker world, there is a lot more happening in Las Vegas this summer. This includes the return of the Mixed Game Festival powered by Cardplayer Lifestyle and PokerStars.
Catering to all the fans of many popular (and not so popular) variations, the Mixed Game Festival provides non-stop, affordable action on the tournament felt and at cash game tables.
The fifth iteration of the event will take place July 2 – 6 at Resorts World Casino in Las Vegas.
The Festival will bring a lot of what players have come to expect, but there are also a few surprises to keep everyone on edge.
Poker Fun, Camaraderie, and Generous Prizes
Those who had an opportunity to participate in one of the previous Mixed Game Festivals in Europe or the US know that the event is not just about playing cards.
The Cardplayer Lifestyle founder and the man who came up with the concept, Robbie Strazynski, envisioned it as a place where all the fans of mixed games can come together and have fun in a chilled and relaxed environment – all without breaking the bank.
Talking about the upcoming event and why people should join in on the fun, Strazynski emphasized that message once again:
"There are so many reasons! It's the perfect place to expand your poker horizons beyond Texas Hold'em into other variants because we play low-stakes limit games. 
You could sit on the same $200 or so and play $4/8 all day long! The atmosphere is super friendly and inviting, and there are tons of merchandise giveaways. 
Our grand prize for Mixed Game Festival V is a PokerStars-sponsored EPT Cyprus mixed game package valued at over $3,000 — and for every hour you play in our cash games, you'll get an entry into our grand prize drawing. 
Plus, there are lots of big-name poker pros and personalities who visit us and enjoy splashing around. There's no reason NOT to come join us!"
You can expect the stakes to be mostly $4/$8 and $8/$16, and there are no fixed schedules. If past festivals are anything to go by, the action will be available pretty much around the clock during those five days.
One lucky winner will take home the EPT Cyprus package, covering their buy-in, travel, and accommodation.
Players will get one raffle entry for every hour spent at the tables, so the more time you spend on the grind, the better your chances will be.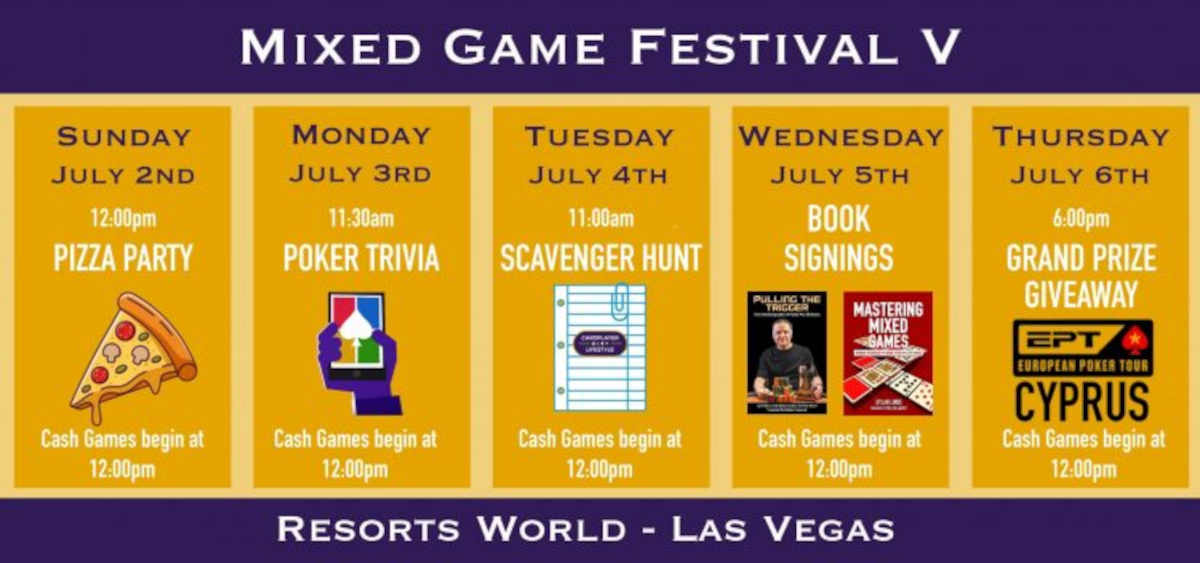 Fun Away from the Felt
While poker will be the focus of the Mixed Games Festival V, there is more fun awaiting those who decide to visit the Resorts World during the event.
Poker Trivia Competition (Monday, July 3, 11:30 am) – test your knowledge of poker in general and the Mixed Games Festival in particular, and win one of many valuable prizes ($20 entry fee, but all participants are awarded a Mixed Game Festival T-shirt or a copy of Eli Elezra's book).
Scavenger Hunt (Tuesday, July 4, 11:00 am) – more prizes up for grabs – $20 entry fee, and $5 of each entry is donated to charity.
Another novelty at the Festival is that one Player of the Day will be selected every day, and they'll get to tell their story and share it with the poker world on the Cardplayer Lifestyle website.
There will also be book signings by Dylan Linde and Eli Elezra, and we expect a few more known names to join the action over the course of those five days.
Join us at @PokerRoomRWLV from July 2-6 for #MixedGameFestival V sponsored by @PokerStars! 🎉

💰 5 days of low-stakes cash games
🙋‍♂️ Poker Trivia Competition
🔍 Scavenger Hunt
📚 Poker Book Signings 📷
🎁 Merchandise Giveaways

and more!https://t.co/H8UDgx8XCS

— Cardplayer Lifestyle (@PokerLifeMedia) May 31, 2023
If you love mixed games and don't get to play them very often, the Mixed Game Festival V is a great opportunity to switch gears and move away from Hold'em for a bit.
Once again, it's all happening July 2 – 6 at Resorts World, and there are no invitations or registrations required. Simply show up and play. Learn more in the official announcement!