Top Casino Card Games That You Should Try in 2023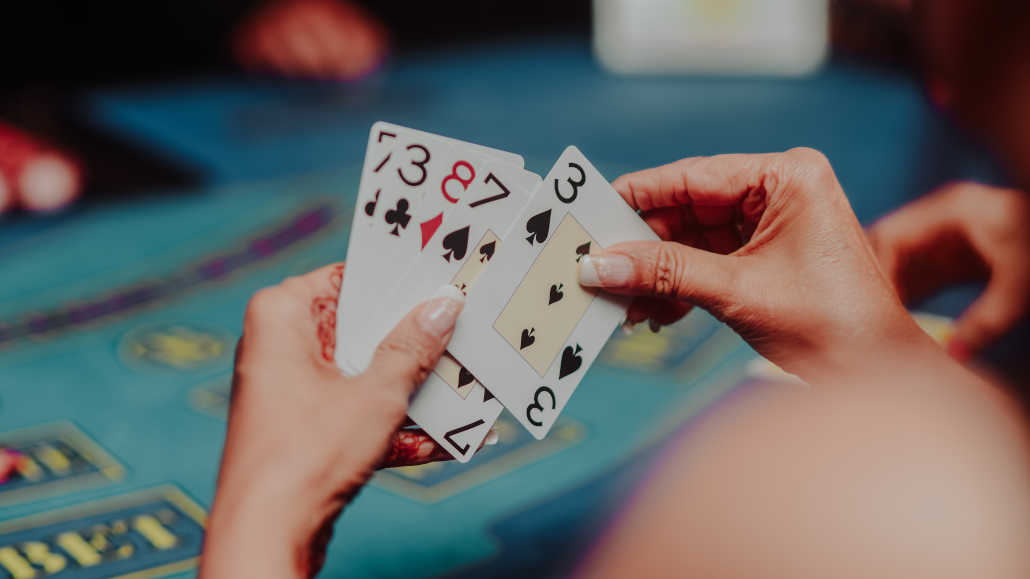 With so many card games in casinos just waiting for you to try them out, picking one to test your luck on can be challenging.
This is especially true if you're just starting out and don't know which card games pay out best or which would be the most entertaining for you to play.
In this article, we'll go over the top ten casino card games you should try in 2023. This includes both popular casino card games and some lesser-known games that are also well worth trying out.
So, if you're looking for new card games to try out in 2023, make sure to read this page and find out more about our picks.
10. Three Card Poker
Three card poker is a casino table game based on classic poker. It's one of the youngest casino games and has only been around for over two decades.
It has an interesting take on poker, with simpler rules and a house edge of around 2%.
The game is very straightforward to follow, as it's played as a heads-up between the player's and the dealer's hand.
After the initial ante wagers are placed, the player and dealer receive three cards each. At this point, players can either fold or continue by placing a bet equal to their ante. After this, the hands are exposed to determine the winner.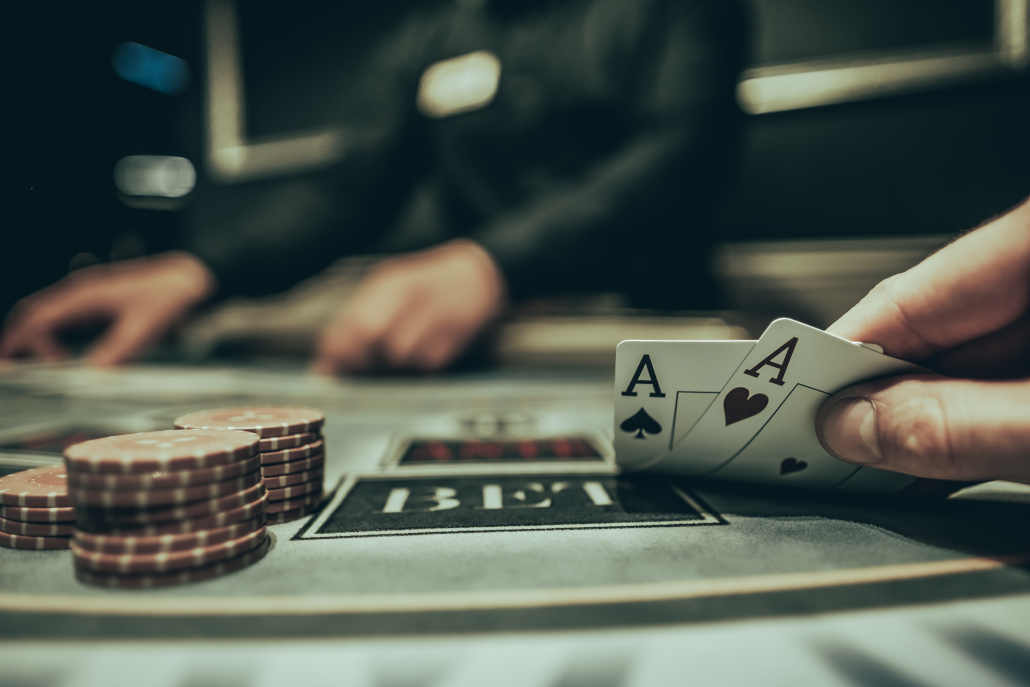 There's one twist in three card poker, and that's that the dealer's hand must be a Queen high hand or better to play. If the dealer doesn't play, there's no further action, and the ante bets are paid automatically at 1 to 1 odds.
There are also several additional bets available, the Pair Plus wager and the Ante Bonus. The latter can be particularly rewarding and pay up to 5 to 1 for a straight flush hand.
9. Pai Gow Poker
Also known as double-hand poker, Pai Gow Poker is a version of the popular Chinese gambling game Pai Gow. Only, instead of dominos, this game uses playing cards.
More precisely, Pai Gow Poker is played with a standard 52-card deck, plus one joker. It's another poker variation in which you're trying to beat the dealer and not other players at the table.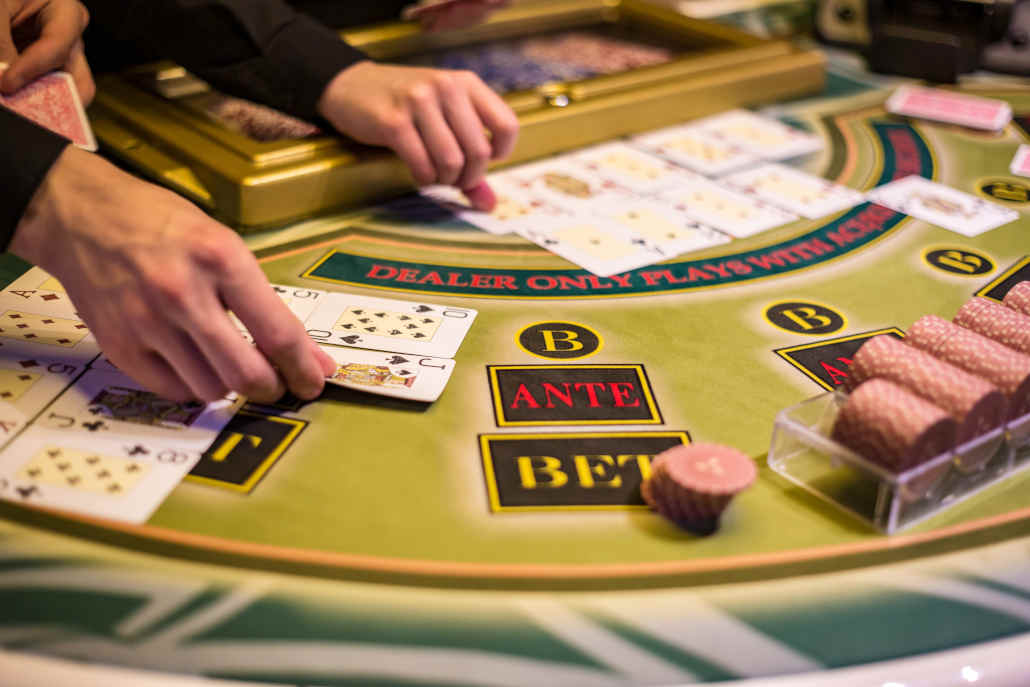 But, here's the interesting part. To beat the banker, you need to make two separate hands.
You make a five-card high/big hand and a two-card low/small hand. Additionally, your high hand must be better in rank than your low hand.
There are three possible outcomes of every Pai Gow Poker game.
The first one is that you win both hands and therefore win the bet. The second one is that you win one hand and the dealer wins another, which results in a push. The third outcome is that the dealer wins both hands and you lose the bet.
8. Red Dog
If you're just starting out your gambling experience this year and are looking for a simple game you can learn quickly, Red Dog is a great pick.
This game was very popular a few decades ago, although its popularity declined a bit in recent years. Still, you can find Red Dog in both land-based and online casinos.
Red Dog is very straightforward to follow, as it only uses three cards at a time. Aces are always high, and the suit of the cards is irrelevant.
From the three cards that are dealt on the table, the first and third cards are face up, while the middle card is face down.
The goal is simple. You bet on whether or not you think the middle card's rank falls between the two face-up cards' ranks. You also have the option to double your bet and potentially play for twice the profit.
What makes Red Dog so simple and easy to follow is that it always has only three possible outcomes.
The two face-up cards can be consecutive, in which the result is a push, and you get back your wager. If the two cards have the same value, then the third card is dealt. If neither of these scenarios is true, the spread is announced.
7. Pontoon
Pontoon is a popular variant of blackjack and one of those card games casino players can mostly find online.
It uses a standard 52-card deck and shares quite a few similarities with blackjack. However, there are several crucial differences between classic single deck blackjack and Pontoon.
The first difference between Pontoon and blackjack is that the players must always hit any hand valued at 14 or lower in Pontoon.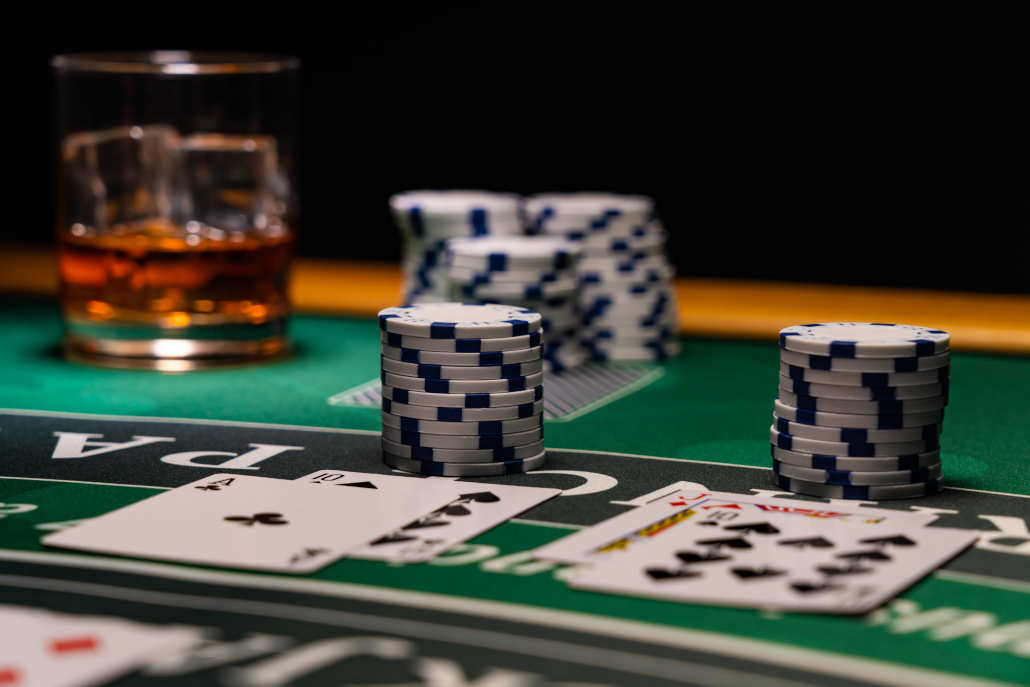 Another trademark feature of Pontoon is that you can always double down at any time. That said, Aces always count as one when you do so. Additionally, you can hit, double, or re-split your split aces.
As far as gameplay goes, you have the same options as in blackjack, making it easier to transition to this game.
This includes gameplay options like hitting, standing, doubling down, surrendering, and splitting. When it comes to Pontoon payouts, a winning five-card hand pays 2 to 1. All other winning hands pay even money.
6. Video Poker
If you want to play a card game but wouldn't mind doing so on a machine, video poker is a uniquely outstanding choice.
Moreover, this card game deviates from the norm we're following on this page in the sense that it's actually not a table game.
Combining the elements of classic poker and slot machines, video poker is unlike any other casino game you can play.
Much like slot machines, video poker games use an RNG (Random Number Generator) to determine the outcome of every deal.
This is a computer algorithm designed to be as close to random as possible and ensure fair results neither the player nor the casino can tamper with.
Video poker is an excellent game for poker enthusiasts looking for a simplified version of this card game.
Every video poker game begins with you making a bet and receiving five cards. You can pick which cards you want to hold, after which you get additional cards in exchange for those that you threw away.
Depending on the strength of your poker hand, you receive a payout of a predetermined size.
That said, there are many video poker variations, so your experience can also differ based on which game you choose. To name a few, two of the most popular video poker games include Jacks or Better and Deuces Wild.
5. Omaha
Omaha poker is the second most popular poker variation in the world, right behind Texas Hold'em.
It has grown immensely over the last decade, mainly thanks to its popularization online. There are many different versions of Omaha poker, with the two most popular types being pot-limit Omaha and Omaha hi-lo.
Omaha is a game for two to ten poker players and uses a standard 52-card deck. Like most other poker variations, Omaha follows the same pattern for each round.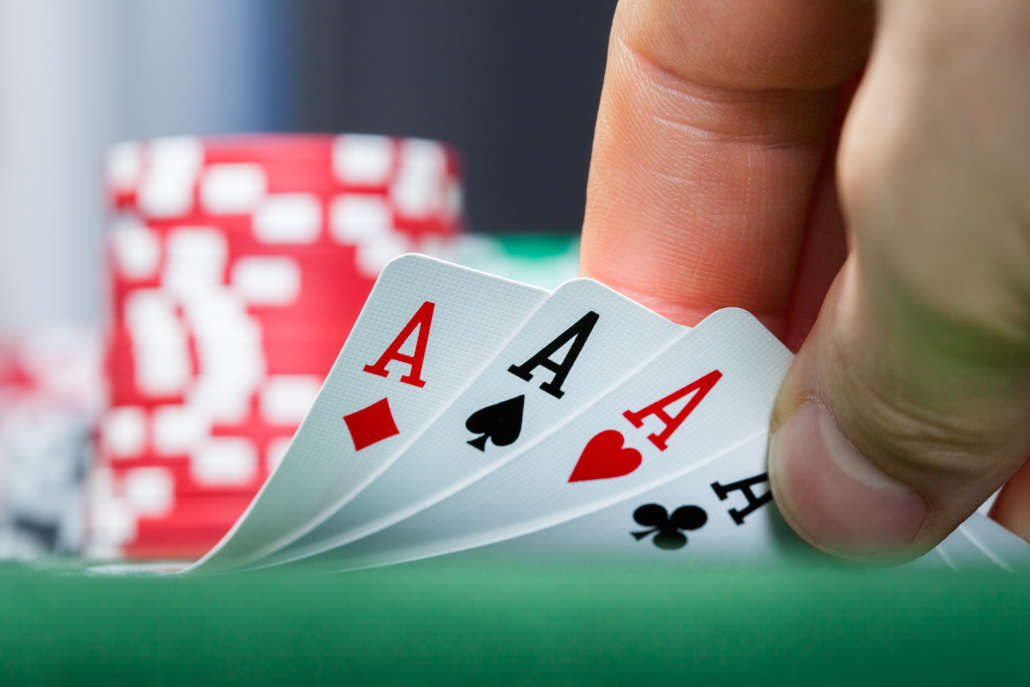 Every game starts with a pre-flop betting round. This round is followed by the flop, turn, river, and ultimately a showdown during which all of the remaining players reveal their cards.
For many poker players, Omaha is a more accessible game compared to Texas Hold'em. A major reason for this is that Omaha players receive four hole cards. This makes it easier to create winning hands.
That said, players can only use two of these cards, along with three community cards.
4. Spanish 21
Another popular blackjack variation, Spanish 21 is one of the few card games actually owned by a company. In this case, the owner is a Colorado-based gaming publishing company called Masque Publishing Inc.
Spanish 21 is played on a custom blackjack table and has a few distinct differences that set it apart from the standard version.
Most notably, the game is played with a 48-card deck. This is a standard deck with all four tens removed from it.
There's also one very favorable rule that a player's blackjack hand automatically wins the round, regardless of whether or not the dealer has a blackjack.
Moreover, Spanish 21 also features half a dozen different payouts based on what cards make up your 21-point hand. This adds a great deal of diversity to the game compared to classic blackjack.
Spanish 21 is also interesting for its unusual Match the Dealer bet. This unique bet is available as Spanish 21 games can use up to eight decks.
You can bet that either or both of your first two cards will match the dealer's up card in rank. If the cards match the dealer's card in both rank and suit, you get an even more rewarding payout.
3. Baccarat
Long reserved for wealthy aristocrats, baccarat is nowadays a fan favorite among many casino players.
Baccarat's origins are often disputed. Some historians believe it dates back to the 19th century. Others believe that it's much older and that it was introduced to French soldiers returning from Italy at the end of the 15ht century.
Baccarat is pretty complex at first sight but is actually a pretty simple game that doesn't require a lot of tactical thinking and strategy.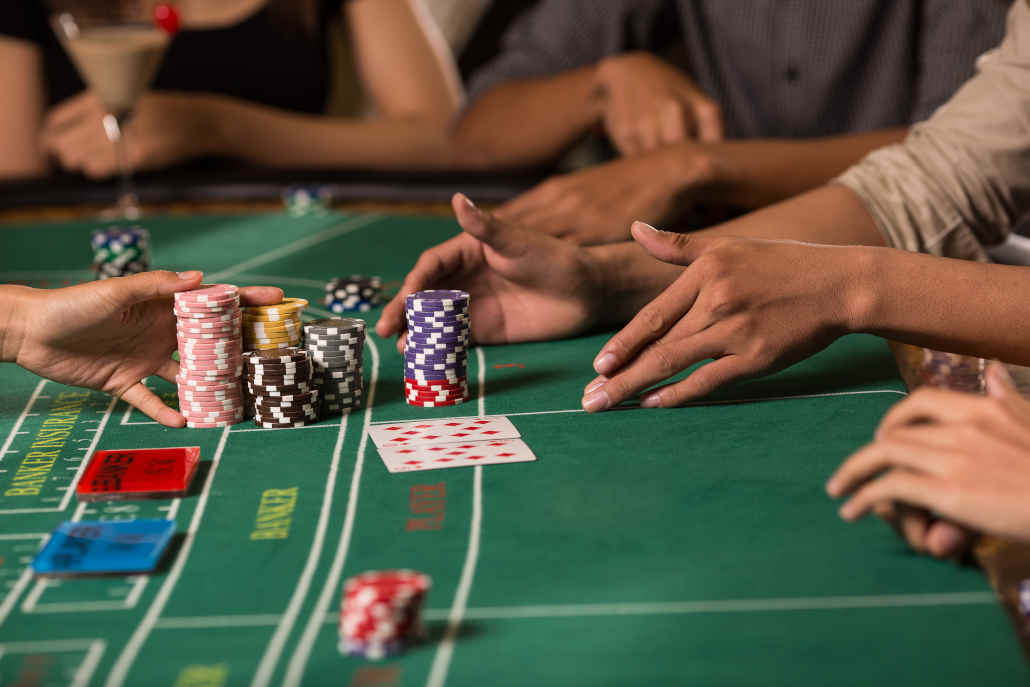 While this game is still very popular among casino high rollers, it's also become affordable for casual casino players. Low-stakes baccarat games are available at just a dollar or two per hand, making it suitable for everyone's bankroll.
Another reason why this casino card game is so popular is that it comes with very low house edge percentages.
For example, if you bet on the banker, the house edge is just 1.06%. If you bet on the player, it's slightly higher at 1.24%.
The only unfavorable wager is the tie bet which has a house edge of around 14.36%, but you should generally avoid this bet anyway.
2. Blackjack
Blackjack is undoubtedly one of the coolest casino card games there are. It's also one of the simplest card games to learn, a factor that significantly contributed to the game's popularization.
Even if you're not a passionate gambler, you're probably familiar with the basic blackjack rules. And, these rules are static, no matter where you play. Just get to 21 or as close as possible while having a better hand than the dealer.
The game uses a standard 52-card deck. Additionally, it can feature from one to eight decks, depending on whether you're playing single-deck or multi-deck blackjack.
This super-popular casino card game is also very social. As you're not actually playing against any other players at the table, the atmosphere is always good, and players are often rooting for each other.
Plus, it's a very fast-paced card game, so you never have to worry about getting bored.
Moreover, blackjack is also a favorable casino card game to focus on in the long run. This is because it has a very low house edge of under 1% if you play optimally.
Plus, if you employ a card counting technique, you can even obtain an edge over the casino. Just be careful not to get caught, as this will book you a one-way ticket out of the casino.
1. Texas Hold'em
Topping our casino card games list is Texas Hold'em poker, the favorite choice of millions of gambling fans worldwide.
Texas Hold'em is the foundation of almost every poker room worldwide. It's been one of the most popular casino games since the 1960s and is today easily the top casino card game you can play in online and land-based casinos.
Although it is a highly strategic game that requires a lot of learning and effort to master, Texas Hold'em is also relatively easy to learn.
There's even a popular saying in the poker world that goes: "Texas Hold'em takes a few minutes to learn and a lifetime to master".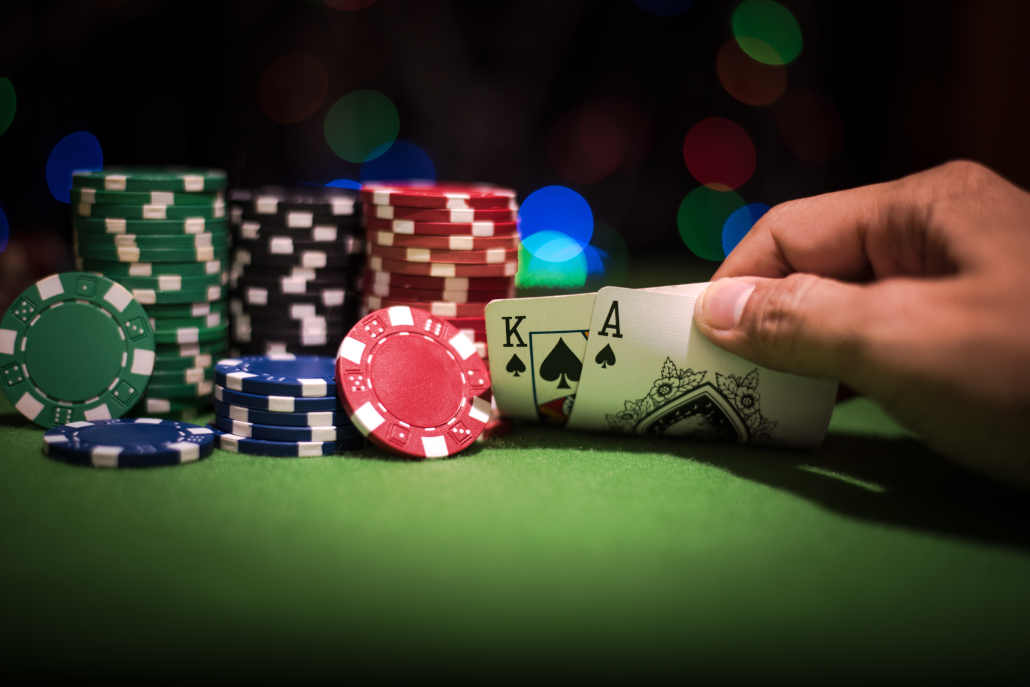 The action in Texas Hold'em is fairly straightforward to follow. Each player receives two face-down cards, called hole cards. Then, five community cards are unveiled on the table in three separate stages called the flop, turn, and the river.
Out of the seven total cards available, each player tries to make the strongest possible hand. During the game, players can check, call, raise, or fold. The player with the best hand wins the pot.
Texas Hold'em poker is also the most popular casino game in the mainstream scene. There are countless World Series of Poker events running throughout the year, and many famous millionaire poker stars who made their names playing this game.
Considering all of this, Texas Hold'em poker is undoubtedly at the very top of the food chain when it comes to casino card games.