Inaugural EPT Cyprus Wraps Up: Gilles Simon Walks Away with the Trophy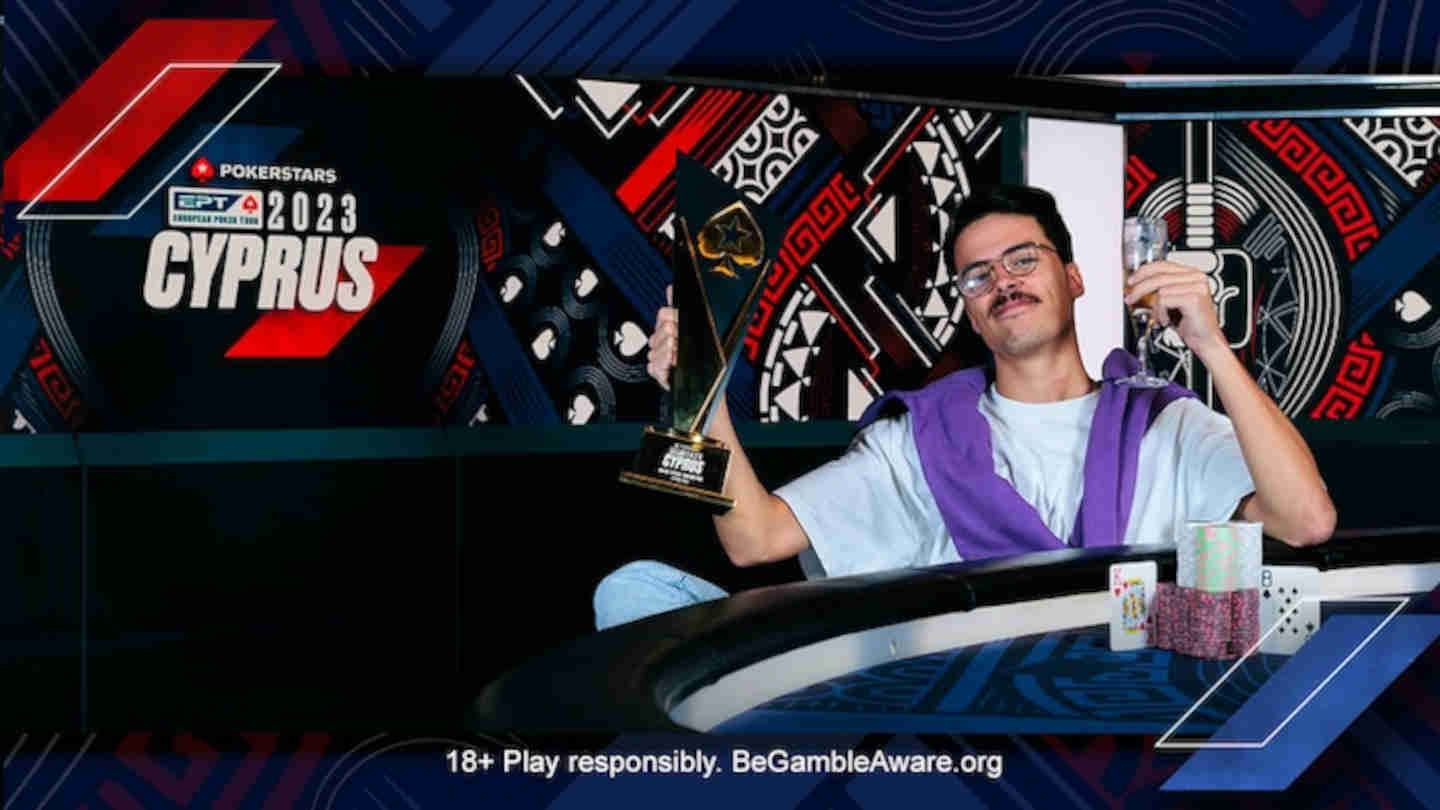 5 minutes
Last Updated: October 24, 2023
For the first time ever, the beautiful Mediterranean island of Cyprus hosted a stop of the PokerStars EPT, and the new venue proved to be quite a hit, with hundreds of players flocking to play in the penultimate stop of the Tour for the season.
Players from across Europe and rest of the world came together at the luxurious Merit Royal Diamond Hotel Casino for a festival that ran from October 11 to 22, with dozens of events scattered across the period.
In the end, it was Dutch poker streamer Gilles Simon who came away the biggest winner of the PokerStars festival, taking down the $5,300 EPT Main Event for $1,042,000 and his first major live poker trophy.
Joining him in the winner's circle were the likes of Ankit Ahuja who won the $1,100 Eureka Main Event, Oleg Seminov who was named champion of the $10,200 Mystery Bounty event, and Juan Pedro who dominated the $50,000 Super High Roller.
Hundreds of others made the money across the events, with quite a few big winners emerging from massive fields in the EPT Main Event, Eureka Main Event, and several other events that attracted hundreds of players.
Gilles Simon Dominates Main Event
It was a week to remember for Dutch poker streamer Gilles Simon, who entered the final table of the EPT Cyprus Main Event as the chip leader and managed to ride the wave all the way to victory.
Former winner of the PokerStars "Dream2Stream" promotion went a long way in just a few short years, from grinding low stakes online poker tournaments to winning one of the biggest live events on European soil this year.
While Simon did have the chip lead at the start of play on Final Day, he was closely followed by Halil Tasyurek from Turkey and Nikita Kuznetsov from Russia, both of whom busted in 4th and 6th place respectively.
It were Spaniard Jose Gonzalez Sanchez and Italian Andrea Dato who made it to 3-handed play, with the former getting eliminated in third place for a payout of $466,425.
The heads up battle was a rather short one, and despite having the chip lead to kick things off, Dato was not able to seal the deal and would eventually fall in second place, taking home $652,200.
The 24 year old champion, who was cheered on by a rowdy Dutch rail throughout final table play, would eventually celebrate taking down his first major live tournament and a first place prize of $1,042,000, about five times more than his combined live earnings to date.
EPT Cyprus Main Event Payouts
| | | | |
| --- | --- | --- | --- |
| Place | Player | Country | Payout |
| 1 | Gilles Simon | Netherlands | $1,042,000 |
| 2 | Andrea Dato | Italy | $652,200 |
| 3 | Jose Gonzalez Sanchez | Spain | $465,425 |
| 4 | Halil Tasyurek | Turkey | $358,075 |
| 5 | Yannick Schumacher | Germany | $275,425 |
| 6 | Nikita Kuznetsov | Russia | $211,850 |
| 7 | Bjorn Kozenkai | Hungary | $162,925 |
| 8 | Victor Yugay | Uzbekistan | $125,350 |
| 9 | Priit Parmasto | Estonia | $96,425 |
After his victory, Simon gave a short interview, saying:
"It was very close and I think it was just very much for everyone involved. The battle of who can just hold on, who can keep playing steady and not make too many big mistakes because the pressure is on, has been on for multiple days already.
And it just gets bigger and bigger and bigger, and everyone just has that feeling of 'I want it to be over with. I want to be done with it. But you also want to keep playing long game.
So yeah, What did it take? I don't know. Good cards. And I like to think also mostly good decisions as a couple of spots where I was like, I don't know if I played that optimally, but yeah, I like to think that I made some good decisions in the end to maneuver my way to heads up and eventually to win."
Ankit Ahuja Takes Down the Eureka
In preparation for the EPT Main Event in Cyprus, players were given a chance to warm up in the $1,100 Eureka Main Event, as has become typical at PokerStars EPT festivals.
As expected, the event drew in a massive crowd, with a total of 2,659 entries made, making this the third-biggest Eureka event to date.
While the field was very international, as it usually tends to be in Eureka events, the final table was made up of five players from Eastern Europe, one player from each Iran and Lebanon, and a single Indian player.
Eureka Main Event Payouts
| | | |
| --- | --- | --- |
| Place | Player | Country |
| 1 | Ankit Ahuja | India |
| 2 | Eduard Norel | Romania |
| 3 | Andrei Teodorescu | Romania |
| 4 | Andrei Vavilonskii | Russia |
| 5 | Roman Gadzhiev | Russia |
| 6 | Mykhailo Demydenko | Ukraine |
| 7 | Delrouz Babak | Iran |
| 8 | Michel Atallah | Lebanon |
It was this player from the Far East, who actually used to work for PokerStars in the past, who ended up taking the Eureka trophy and $362,365 back home.
The massive number of entries ensured that as many as four players took home six-figures, with fifth place also paid just over $95k.
With this, Ahuja scored the biggest win of his life and added to a respectable $1.8 million in live tournament cashes he earned throughout his career since leaving his job at PokerStars.
High Roller Action Marks EPT Cyprus
While PokerStars gave everyone a chance with some lower buy-in events at EPT Cyprus, they also made sure that high rollers don't feel left out.
In fact, more high rollers were organized at this EPT stop than most, with six $25k events, a single $50k Super High Roller, and the official $10k EPT High Roller all taking place over the course of 12 days.
The $10k EPT High Roller trophy went into the hands of Russian players Ilia Pavlov, who bested a big field of 407 entrants to win a prize of $787,400 after working his way through a tough final table.
The likes of Alexander Tkatschew, Pauilius Plausinaitis, Maher Nouira, Aleksej Ponakovs, and Albert Daher all won trophies of their own, winning a $25k High Roller each, while the priciest event of the festival was taken down by Spaniard Juan Pardo, who made a heads up deal with his compatriot Vicente Delgado, and took home $688,560.
Get Ready for EPT Prague
Another season of EPT is almost in the bag, with only a single stop left for the year. As has become customary, Czech capital of Prague will play host to the final stop, and we can expect plenty of heated action for that one.
EPT Prague kicks off on December 6 and will run through December 17, with more than 50 unique events on the schedule in the short time period.
With just under two months left, it is high time to start getting ready for that one, and PokerStars is already running satellites where you can win full packages to travel to Prague in style.
Head on over to PokerStars to check out the EPT Prague satellite schedule and work your way up to a package from one of the affordable Step Satellites already running on the platform.