GGPoker Announces Inaugural World Poker Festival with $200 Million GTD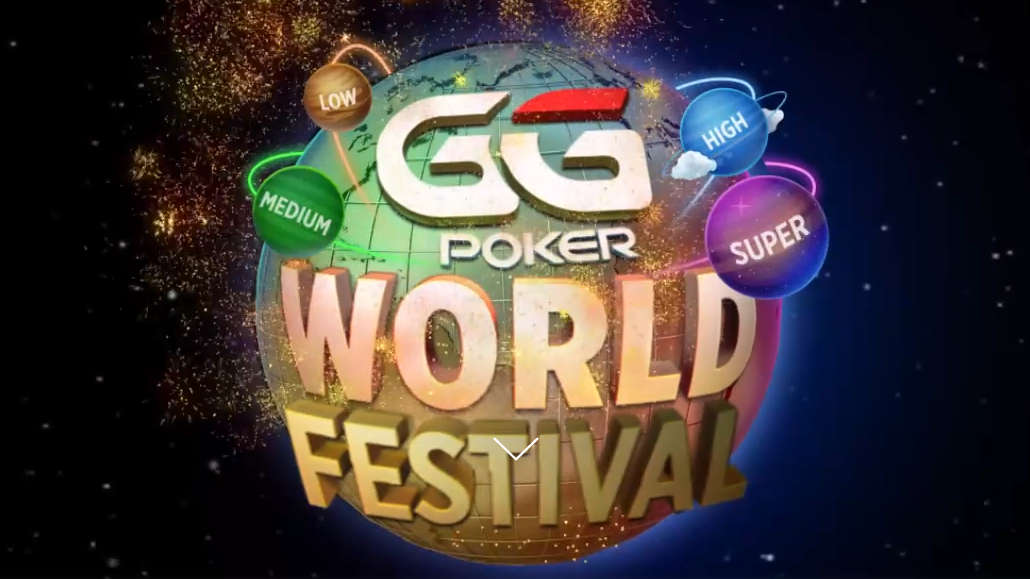 GGPoker is continuing to shatter records and set industry standards as it launches the largest online tournament poker festival ever, the inaugural GGPoker World Festival.
Starting on April 30, GGPoker World Festival will give out $200,000,000 in prize money (guaranteed) across hundreds of events in four buy-in orbits (low, medium, high, and super).
The GGPoker World Festival is looking set to break quite a few records and become the most spectacular online poker extravaganza ever, as players are treated to to more than 30 days of incredible non-stop action across all buy-in levels.
Join GGPoker today to claim your exclusive welcome bonus worth $600 (or $100 in free play) and enter the largest online poker festival ever thrown at one of the best poker sites out there this May.
Play at Your Preferred Buy-in Level
GGPoker World Festival is an exclusive tournament poker series which will have its first tournaments kick off on April 30, and run all the way until June 6.
The all-inclusive festival is giving away $200 million in prizes across this period, with a chunk of the prize pool going towards each of the four buy-in orbits.
Announcing the $200M guaranteed GGPoker World Festival, the biggest online poker tournament series ever seen. Running 5/1 to 6/6, with 100s of events across 4 buy-in tiers, with leaderboards, mystery bounties and more for players of all levels to win big. https://t.co/Xa4WbGudLF

— GGPoker (@GGPoker) April 26, 2023
Previous festivals at both GGPoker and competitor sites regularly featured three buy-in orbits. GGPoker now decided to add an extra "super" orbit for the super-high-rollers out there.
The four orbits available in the GGPoker World Festival are:
Low Orbit: $2.50+ buy-ins
Medium Orbit: $25+ buy-ins
High Orbit: $150+ buy-ins
Super Orbit: $1,000+ buy-ins
A special orbit for tournaments with a buy-in of $1,000+ may seem like a bit too much. However, given the number of such events that are on the GGPoker World Festival schedule, it is quite warranted.
On top of the $200 million in guaranteed prizes, GGPoker is also giving away $400,000 in extra value via four tournament leaderboards.
Each buy-in orbit will feature a $100,000 leaderboard of its own. The most successful players in each orbit will pick up extra cash prizes when it's all said and done.
There is plenty of reason to play in the GGPoker World Festival regardless of your average buy-in and common buy-in level.
Make sure you have your bankroll in order and as much free time on your hands as possible to take part in the biggest poker festival this year.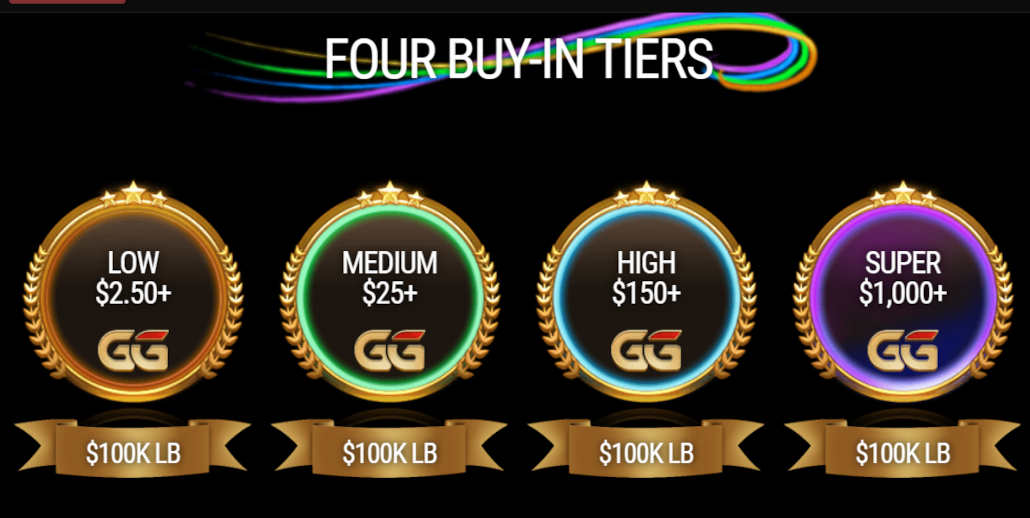 GGPoker World Festival Schedule Highlights
The schedule for the GGPoker World Festival is now out, and it is one of the most impressive tournament rosters we have ever seen, live or online.
On top of the dozens of events that will run daily across all buy-in orbits, GGPoker has prepared a record number of phased and multi-day poker tournaments with massive guaranteed prize pools.
Some of the noteworthy events in this year's GGPoker World Festival include:
$5 Global MILLION$ Mystery Bounty Grand Opening – $1,000,000 Guaranteed
$50 Global MILLION$ World Celebration – $2,000,023 Guaranteed
$500 Global MILLION$ World Festival 5 Million – $5,000,000 Guaranteed
$525 Omaholic MILLION$ Mystery Bounty – $1,000,000 Guaranteed
$1,500 GGWF 2023 Main Event – $8,000,000 Guaranteed
$1,500 Omaholic Bounty Main Event – $1,500,000 Guaranteed
$10,300 Super MILLION$ World Festival 10 Million – $10,000,000 Guaranteed
$10,300 Super MILLION$ Omaholic Edition – $1,000,000 Guaranteed
These are only a few of the most notable events to highlight from the GGPoker World Festival schedule. There are many more tournaments on the docket, offering hundreds of thousands in guaranteed prizes.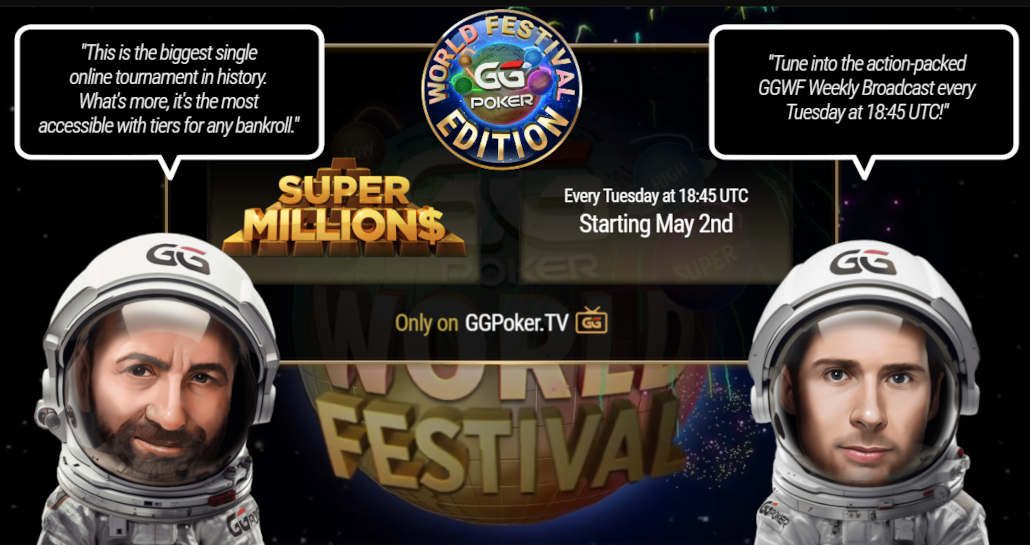 Along with the USD tournaments, the Festival will also feature special "Zodiac Edition" events, which will feature buy-ins and prizes in Chinese Yuan. These cater specifically to the Asian market and have different starting times to accommodate players from this part of the world.
GGPoker World Festival will be a true international poker fiesta and the most inclusive tournament festival ever, making it one you will not want to miss out on.
Join GGPoker Today and Play in the Inaugural GGPoker World Festival
The inaugural GGPoker World Festival is now upon us and only days separate us from the first cards hitting the virtual felt.
Keep in mind that this festival is ideal for you regardless of your bankroll size or average buy-in, and that plenty of satellite tournaments are running for the higher orbit events around the clock.
All this means May could easily end up being your lucky month if you put in the time and commitment to grind it out in the first-ever GGPoker World Festival.
Join GGPoker today to claim all the valuable welcome bonuses and rewards and start building your bankroll for all the upcoming GGPoker World Festival events.