MGM Grand Poker Room Review: The $1/$2 No Limit Capital of Las Vegas
Situated at the south end of the Las Vegas main strip, the MGM Grand is the largest single hotel, not only in Nevada but the entire United States.
A former Las Vegas Poker Titan, the MGM Grand Poker Room is a shadow of its former self. With now only 13 tables, this once poker mecca is slowly turning into the Aral Sea.
However, for all its faults, the room is easy on the eye, the chairs are comfortable, and the tables are in top condition.
The MGM Grand Poker Room is also on the Poker Bravo Management App, so you can see what games are running and all the other information regarding the poker room you'll need.
Amenities on offer at the MGM Grand Poker Room include:
Tableside massages
Smoke-free room
Tableside food and drink service
MGM Grand Poker Room Review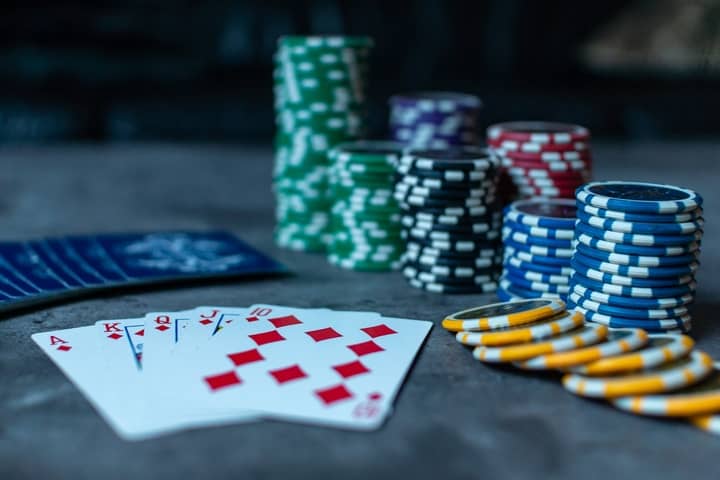 As mentioned, the MGM Grand poker room is far from its former glory. You'll still find plenty of games running here, but your options in terms of stakes will be quite limited.
Those new to poker and looking to experience the game in the casino setting will appreciate lower buy-in games. However, the rake is quite high, and higher buy-in tables run rather infrequently.
Those looking for some affordable tournament action will be happy with what the MGM poker room has to offer. There are several daily events offering prizes that won't change your life but will give you that much-needed live experience.
MGM Grand Poker Room Cash Games
With the nickname of 'the $1/$2 No Limit Capital,' it doesn't take a lot to figure out the main poker cash game that runs at MGM Grand.
You can buy into the game for a minimum of $100 and a maximum of $300.
You can usually find a table offering some $2/$5 action with a min buy-in of $200 and, on a very rare occasion, you may be lucky enough to find yourself a $5/$10 game.
It is somewhat disappointing that an iconic casino like the MGM Grand offers little variety in terms of which games are spread.
With games like Pot-Limit Omaha gaining popularity, it would be nice to see regular games running. However, as with most casinos on the strip, the game will run if there is a demand for it.

Fixed Limit Hold'em games used to be a staple here, but the demand for those games has dried up a lot in recent times.
Rake
The MGM rake is one of the major reasons why this poker stronghold has fallen drastically as of late, with rake capped at $5 and a further $2 for the jackpot drop.
While once used to be a thriving place for some poker action, the higher rake, as well as the room's relocation from its original setting, has turned away many a budding poker player.
MGM Grand Poker Room Tournaments
If battling it out on cash games tables doesn't float your boat, you will be thrilled to find out that on a usual week, there are five daily tournaments every day.
More geared towards new players or those on a budget, tournament entry fees are either $65 or $100.
Daily tournaments at 1:05 am, 2:05 pm & 10:05 pm
These daily tournaments are perfect for poker beginners as all have a $65 buy-in and give you a starting stack of 15,000 chips.
Blinds levels are 15 minutes long, and the 2:05 pm & 10:05 pm events both have $500 guaranteed prize pools.
Seasoned players will roll their eyes at this, but if you are someone who is just starting, then these tournaments provide you with an opportunity to get accustomed to live poker without causing major damage to your bankroll.
11:05 am & 7:05 pm daily tournaments
These daily tournaments have a slightly different structure than the above but do not let that scare you.
The buy-in is slightly higher as well, set at $100, but for this, you get a 25,000 starting stack and guaranteed $1,000 prize pools. The tournament also plays a little longer as blind levels are increased to 20 minutes.
MGM Grand Parking
In response to COVID-19, the MGM Grand is offering guests complimentary self-parking. Now, there is no timeline regarding future changes on this, so if you hate paying for parking, now might be a good time to go.
Valet parking is suspended for the time being and MGM is evaluating the situation regularly so they can offer guests more services when it is safe to do so.
This policy is being rolled out amongst all Las Vegas MGM Resorts.
MGM Grand Casino Games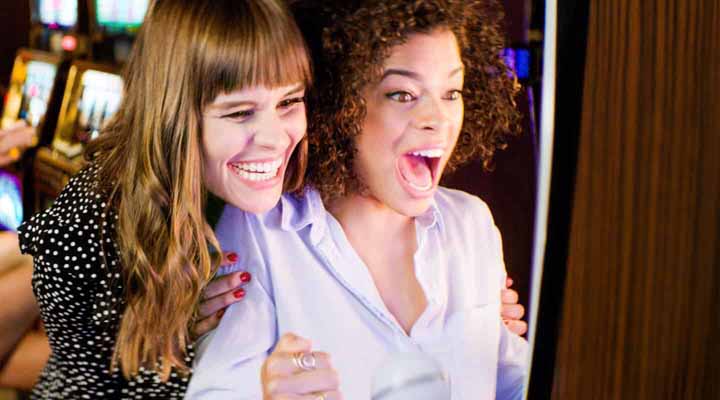 With an immense 171,500 square feet of gaming space, MGM Grand has one of the biggest casino floors in Las Vegas.
With around 2,500 slot machines and over 100 gaming tables, you can bet your bottom dollar that you'll find something to enjoy once you have finished your MGM poker room session.
MGM Grand Slots
You can play slots from as little as 1c per spin. If you have got the bankroll and/or the cajones, you can also wager as high as $1,000.
There is a great spread of progressive slots, multi-game machines, and our favorite video poker games.
Those who consider themselves VIPs can try to run it up at the exclusive High Limit Slots room where you could win a cool half a mil – not too shabby for an evening of hitting buttons and pulling levers.
Some of our favorite featured slots at MGM Grand Las Vegas include:
Heidi's BeerHaus
88 Fortunes
Frogger: Get Hoppin
MGM Grand Table Games
With over 100 gaming tables, MGM Grand guarantees you a spot at one of their tables. The atmosphere of a buzzing casino gives you an adrenaline rush like no other.
You will be able to find all the action you've ever wanted, whether you're a Vegas first-timer or a veteran of Sin City.
If you want to have the full Las Vegas experience in one casino, you can't go wrong if you choose to stay at the MGM.
You will be able to try your hand with a plethora of games from your casino bucket list as the table games on offer include:
Baccarat
Craps
Roulette
Single Zero Roulette
Let it Ride
Crazy 4
High Card Flush
If you are fanatical about poker, you will be pleased that this list includes several poker casino table games.
If you are short on time for whatever reason and can't put a proper session in, you'll be able to get your poker fix at one of these table games.

When playing casino poker games, the house will always have an edge on you, so make sure you know which casino games are the most player-friendly.
And once you've exhausted yourself playing table games, you can take it easier at the sportsbook, place a bet on whatever game is being played and you can kick it back and watch all the sporting action.
MGM Grand Resort and Casino – What to Expect
The standard rooms here are good, they score highly among guests, and reviews tend to be quite positive.
Rooms are priced fairly, so your money does go further when compared to other mainstream Vegas resorts.
If you are traveling with a four-legged friend and can't stand to be apart from it, the MGM Grand offers dog-friendly rooms too, albeit at a charge of an extra $100 per night ($150, if you are in a suite).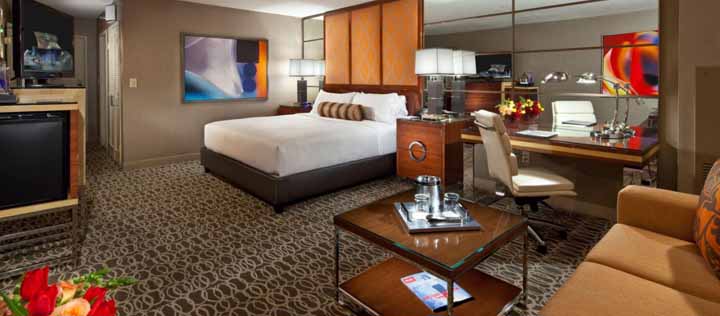 The cream of the crop rooms at MGM Grand are the Skylofts. They are quite breath-taking and give you beautiful views of the surroundings. You get a top tier experience and your own 24-hour personal butler.
If you are looking for a trip of a lifetime, then staying a night or two in the Skylofts is a must.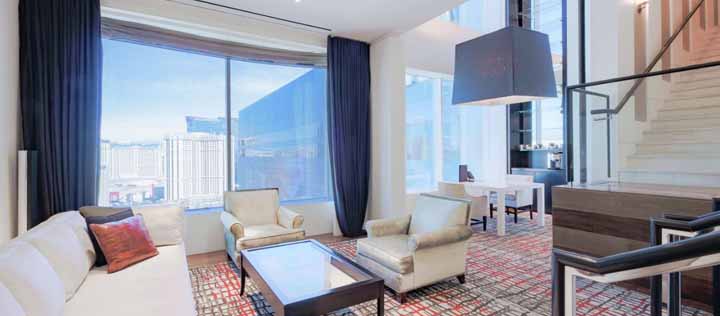 Dining Experiences
Whether you are after something on the go or prefer the ultimate dining experience, you'll be able to satisfy any cravings you might have.
If you are visiting Vegas for a special occasion, then a visit to Joel Robuchon's 3 Star French Restaurant is a must.
With lush terraces and stunning marble floors, a night here with your better half will score you plenty of brownie points.
If you prefer more casual dining experiences, then a trip to International Smoke would be a wise choice. Some great BBQ dishes are on offer, and the restaurant has a great atmosphere, too.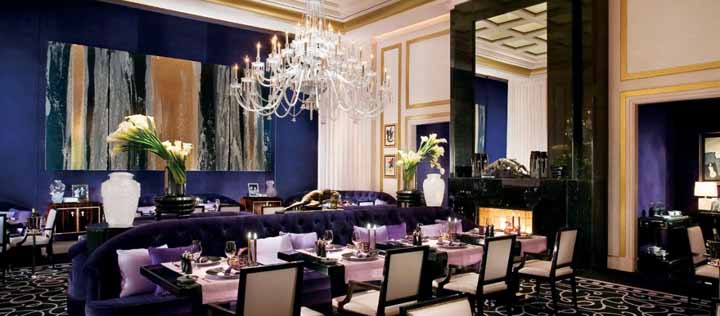 MGM Grand – Things to Do (non-gambling related activities)
There's a load of great activities in the MGM Grand, but two of the most favored attractions are:
CSI: The Experience
TopGolf
At the CSI Experience, you'll try to solve murder cases interactively. You'll have to put on your detective cap and find your inner sleuth as you observe the evidence and then present your findings to see if you crack the case.
If you manage to catch the killer, you'll get your very own CSI Diploma, which could be a saving grace if things don't fall in your favor on the poker table (not really).
TopGolf is a great way to spend some time out of the poker room, whether in a group or by yourself, as you can enjoy some great food and drinks while knocking some dimples off of golf balls.

Have you still got a bad beat on your mind? Let your frustrations escape you at this top entertainment destination. You can even get some lessons from PGA Teaching Pros.
MGM Grand – Keeping You Safe Against Covid-19
All MGM Resorts have a seven-point safety plan in place, but to cut a long story short, it boils down to this:
Screening and temperature checks on arrival
Masks are mandatory for both guests and team members
Physical distancing in place
Easy access to hand sanitization stations
Increased fresh air circulation
Incident Response Protocols
Digital innovations
Final Thoughts on MGM Grand
Poker beginners will enjoy the low-limit games as it will give you an opportunity to learn the game in a live setting without ruining your finances.
However, you need to be aware that the rake will heavily cut into your profits. If you are someone looking for higher stakes, then, unfortunately, you'll need to be at the right place at the right time to catch a $5/$10 game.
Rooms score very highly here and are a major selling point, especially the Skylofts, which offer unparalleled views of Vegas. Those alone are worth the price of staying here.
Despite the poker action drying up lately, there are many other ways to pass the time with great featured attractions as well as a wide variety of dining options.
It is just a shame that the MGM Grand is no longer the poker behemoth it used to be, dealing thousands of poker hands every day, but you never know what the future has in store.
Maybe one day, the MGM Grand poker room can be restored to its former glory. Only time will tell.