Mirage Poker Room Review: A Great Spot for Cash Games and Tournaments
10 minutes
Last Updated: July 29, 2023
"I want him to think that I am pondering a call, but all I'm really thinkin' about is Vegas and the f*ckin' Mirage."
Whenever I hear the Mirage mentioned, my mind instantly goes to that famous quote from one of the best poker movies Rounders, and you can channel your inner Mike McDermott at this iconic poker room in Las Vegas.
Prior to renovations in 2015, the Mirage Poker Room was one of the longest-running poker spots to play on the Vegas strip and holds a soft spot for many young and old poker players.
Standing the test of time, the new poker room still has that old school feel where the past meets the present.
Mirage Poker Room Review

Before the Mirage went under the knife in 2015, the poker room used to home 19 tables, today there is now only a modest 12 poker tables for you to play at and situated next to the sportsbook.
This was to make enough space for a new casino bar as well as a cash cage. Although this may disappoint some players, the consensus from Vegas locals is that the new and improved room is much brighter and more pleasant to play in.
On top of that, it is a lot friendlier to recreational players, which is always a good thing.
There's nothing worse than traveling somewhere new while being all excited for a poker session to find yourself cramped at a dirty table on chairs that have seen better days.
Luckily for you, the Mirage Poker Room scores well when it comes to comfort.
The ceilings are high, which allows the poker room to feel more spacious, and the improved lighting gives it a pleasantly bright and airy feel.
Like many casinos, the Mirage poker tables all have automatic shufflers, including USB ports for mobile phone charging.
Also, you will be delighted to know that the Mirage Poker Room is supported by the Bravo Poker Live App, meaning you can see all the poker info you need to know prior to your visit.
You will be able to track what games are running and see if there is a waiting list.
You will also be able to find out any tournament and promotional information too.
This allows you to manage your time better so you do not end up waiting for hours to jump into a game.
Peak times at the Mirage Poker Room are in the evenings and weekends, and action during the day has been described as slow and almost non-existent.
The general population at the Mirage is a mixture of tourists and locals with all varying levels of skill, so if you know what you are doing, you should be able to swim with the sharks just fine.
Mirage Poker Room Cash Games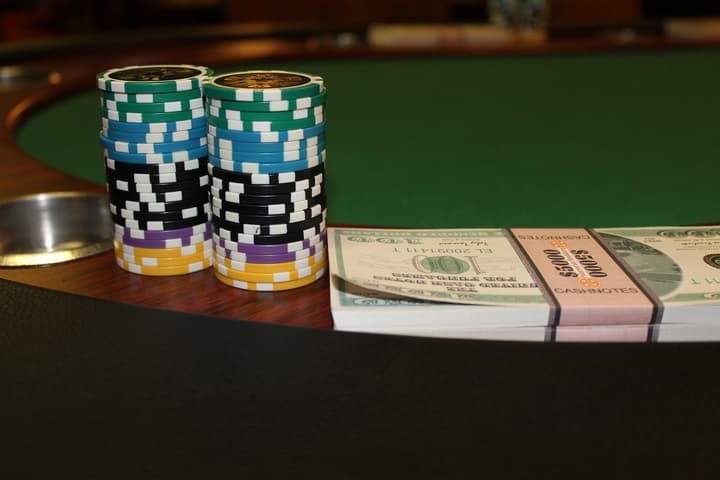 Cash games at the Mirage are okay, but there's very little that you would not see at your local casino or card room.
There is some variation with the poker games to choose from, which is perfect if you get fatigued playing just one poker game type.
At the Mirage, you can jump into one of the following games:
$1-2 Blinds – Buy-in $100 – $300
$2-5 Blinds – Buy-in $200 – $1,000+
Limit Hold'em
$3-6 Blinds
$6-12 Blinds
$10-20 Blinds
$1-2 PLO – Buy-in $100 – 500
Omaha 8 or Better
$4-8 Blinds with Full Kill
Suppose you are visiting the Mirage as a group for a Bachelor or Bachelorette Party, for example. In that case, the Mirage Poker Room will happily welcome you to play amongst yourselves for some great enjoyment.
You just need to check with a supervisor or manager first to get the green light.
As I said, the Mirage scores okay when it comes to cash games, there's enough variation to keep you entertained, but if you are looking for bigger stakes games, you may have to look elsewhere and maybe visit Wynn poker room or other destinations like Aria to satisfy that hunger.
That being said, the games play deep, which can allow you to score some big winnings at the more modest stakes.
Rake
The rake at the mirage does not stray too far from most poker rooms in Vegas.
The rake is 10% capped at $5 at $1/2, with an additional $1 being taken out for a jackpot drop when a pot hits $40.
However, if there is no flop, there is no drop! So try to win as many pots pre-flop to avoid paying over the odds in rake fees.
Mirage Poker Room Tournaments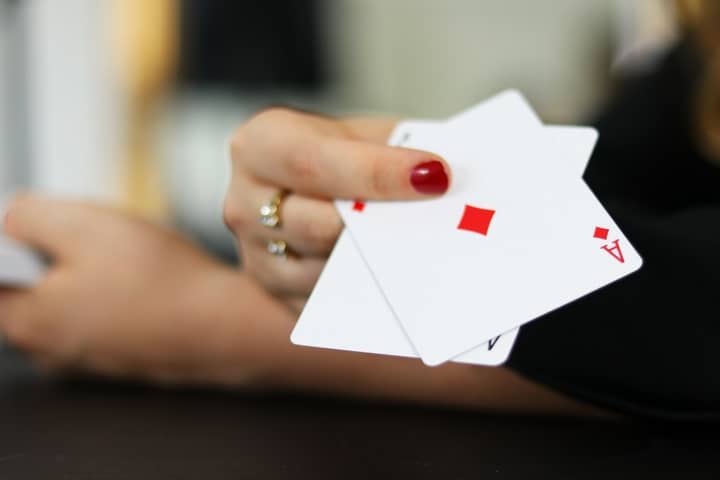 If poker tournaments are your preference over cash games, then the Mirage will rank highly for you as there are many daily tournaments to choose from.
They are described as perfect for the more fun and laid-back type of player, so you can infer that the standard isn't the highest.
11am Tournament
The grandest and biggest poker tournament on offer is the weekend morning tournament, starting at 11 am and runs every Friday, Saturday, and Sunday.
It will set you back $120 to enter, but you receive a starting stack of 25,000 chips for your money.
Add-ons are available for $5, which will net you an additional 5,000 chips for your stack. The blinds are well structured and run for 25 minutes each.
2pm Tournament
There are two different tournaments that run at 2pm.
On Wednesdays and Thursdays, the buy-in is $100, which includes a $25 bounty. You start with 15,000 chips and again can add on for $5 for 5,000 chips. Blind levels are also 25 minutes.
The 2pm tournament that runs from Friday to Tuesday is a standard No-Limit Hold'em tournament.
You start with 10,000 chips, which will cost you a reasonable $65, and $5 gets you a 5,000-chip add-on. Blinds run a little quicker in this tournament as each level lasts for 20 minutes.
7pm Tournament
The 7pm tournaments are pretty much exactly the same as the 2pm games.
On Wednesdays and Fridays, you have the bounty tournament, which has the same buy-ins and structures, then for the rest of the week, it's a standard $65 NLHE tournament, which runs as described as above.
10pm Tournament
This tournament runs daily and does not differ like the timings above. It follows the same structure as the other $65 tournaments.

Mirage Poker Room Promotions and Bonuses
As the Mirage is an MGM owned property, you can earn bonuses if you sign up to the MLife reward scheme while you stay and play.
You can earn $2 for every hour you play and spend it on food, massages, and general hotel services.
The Mirage Poker Room also has a bad beat jackpot!
Unlike most establishments, you usually need to lose with quads to qualify, but here you can get in on the jackpots if you lose with at least aces-full.
As you can imagine, these poker hands hit more often than when the qualifying benchmark is quads, but even then, the jackpot resets at a respectable $2,000.
And if that wasn't enough, high hand bonuses are in effect. Quads nets you $100; a straight flush earns you an extra $200, and you rewarded with $500 if you make a Royal Flush.
Mirage Poker Room Staff
The Mirage is described as a well-run poker room with a friendly and welcoming environment.
The poker dealers know what they are doing, and the cocktail waitresses come around often enough that you don't feel neglected.
Mirage Parking Of The Poker Room
As each casino and resort is battling for footfall due to the pandemic, so the Mirage offers guests and visitors free self-parking.
Parking fees were in place before, and there's little information to suggest if parking will remain free once the world goes back to normal.
Valet parking, for the time being, is unavailable, but the Mirage is regularly evaluating what services it can offer guests, so I imagine in the not too distant future, you'll be able to use the valet service.
Mirage Casino Games

The casino floor isn't the biggest on the strip but is still an impressive 100,000 square foot in size.
The Mirage has your favorite slots, table games, and their own state of the art sportsbook for you to get some big wins at.
If you are a high roller, you can get access to the high-limit room for an additional layer of luxury that you do not get with the general population.
The casino reviews are fine, but there's nothing that makes this casino floor stand out and make it a must-visit destination while you are in Nevada.
Slots
The Mirage also offers you the experience to play classic slot reels and the hottest new games. There are a plethora of slots to get stuck into across the casino floor.
The two featured slots at the Mirage are:
Ironman – If you are a Marvel's fan, then you'll enjoy this machine. There's a free spin bonus that allows you to don the famous Tony Stark super suit, which then 'fly's you through the movie's action.'
Willy Wonka & The Chocolate Factory – I am not a veteran slot player, but I was surprised to see that this machine uses motion effects to immerse you in the gaming experience. Try to get a golden ticket on the chocolate riverboat for some big wins! If you find it, you'll claim a $5,000 jackpot!
You can keep it cautious with penny slots or go big with $1,000 bets per spin. If you are a reserved person or VIP, there's a game here for you to play.
Table Games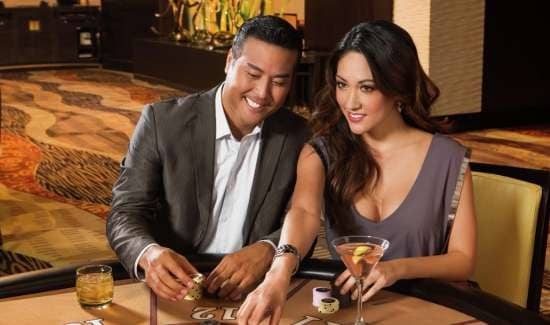 If you have played table games at other MGM enterprises, then you know what to expect when playing it at the Mirage.
You can play classic and new table games across this vast casino floor, which will keep you entertained for hours and maybe days on end. At the Mirage, you can play:
Roulette
Craps
Crazy '4' Poker
Let it Ride Poker
Casino War
Mirage Resort and Casino – What to Expect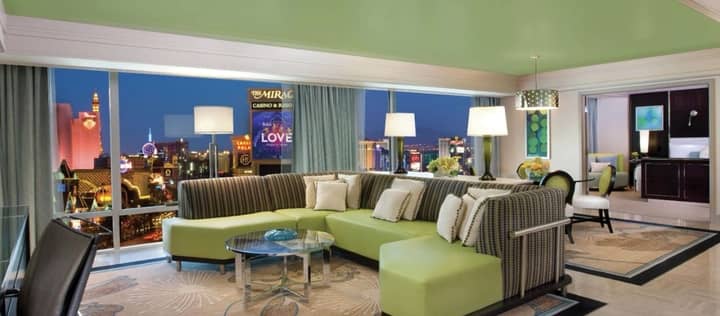 As most casino resorts follow a theme, Caesars Palace is ancient roman, The Venetian is well…Venetian, The Mirage has adopted a Polynesian theme to make it stand out from the crowd.
As with most popular resorts, the décor and styling of the rooms are luxurious.
With so many establishments competing against each other, each hotel pushes further and further the experience they can offer a guest.
As you can see, when staying at the Mirage, you will not be disappointed with the quality of the rooms.
The Mirage also offers guests plenty of culinary delights. There's a mixture of quick bite restaurants as well as fine-dining eateries for you to explore.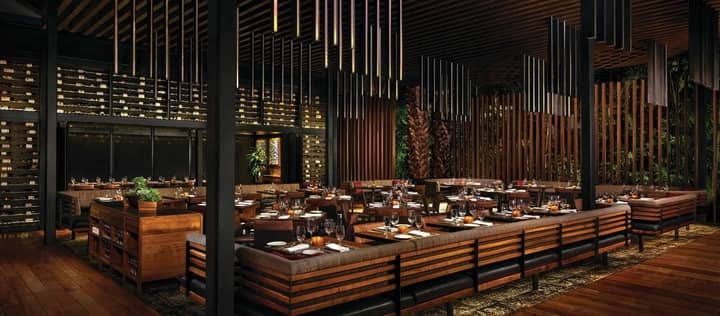 Some of our favorite places we think you can satisfy some cravings are:
Quick Bites
The Roasted Bean
Starbucks
The Pantry
Paradise Café
Casual
Otoro
Osteria Costa
Diablo's Cantina
Fine-Dining
Tom Colicchio's Heritage Steak (pic)
Stack
Mirage – Things to Do (non-related casino activities)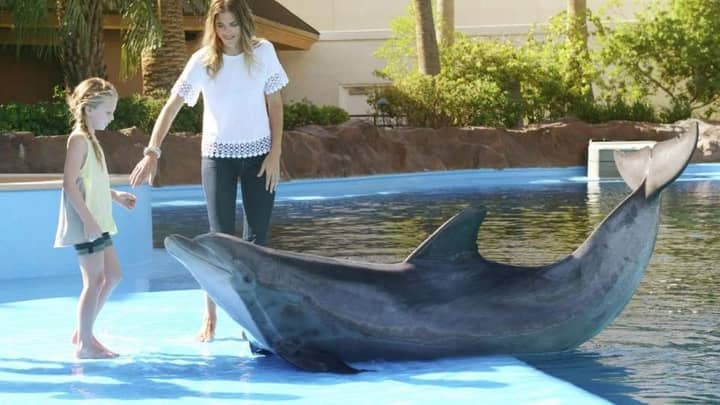 Once you tire of playing on the poker felt, you will surely find a nice way to relax in the Mirage. Here are some of the amenities you can enjoy while you are a guest at this resort.
Pools & Spa
The Mirage Pool
The Spa
The Salon
Fitness Studio
The Bare Lounge Pool (21+)

Activities
Secret Garden & Dolphin Habitat
Golf
The Volcano (Show)
The Aquarium
Shopping
Nightlife
Rhumbar
The Still
Parlor Cocktail Lounge
Center Bar
Lobby Bar
Mirage – Keeping You Safe Against Covid-19
At all MGM owned resorts, there is a seven-point plan to keep colleagues and guests safe from coronavirus.
They're taking things seriously, so be expected to wear a face covering, there's extensive cleaning going on around the clock and plenty of hand sanitizer to go around. You can read the plan in full here.
Mirage Poker Room and Casino – The Final Thoughts
The Mirage has a certain charm, which is why it is one of the longest-running poker rooms in Las Vegas.
The poker room's action may not be like what it once was, but the old school vibe is hard to replicate in modern resorts.
With plenty to do, eat, and watch – the Mirage offers guests a true Las Vegas experience.
The Polynesian décor makes the Mirage stand out in a city full of excess, which is impressive, to say the least.
Whilst the more serious poker player may try their luck elsewhere, for first-timers and poker newbies, the Mirage offers you a safe haven to get stuck into the delights that Sin City offers you.