Poker Atlas App – How To Find Local Poker Games Near You
8 minutes
Last Updated: January 20, 2023
Traveling the globe to play some poker hands can be both quite lucrative and a lot of fun. However, finding the best local poker games in a new country can be quite challenging.
You can spend some time on Google or try to find the information on Facebook, but not all poker rooms are diligent about their online presence.
Or, you could download the Poker Atlas app.
This convenient mobile app is completely free, and it lets you quickly find any casinos or poker rooms offering cash games and tournaments in an area of your choice.
At this moment, Poker Atlas is mostly focused on North America, i.e., the USA and Canada, but there are already some European countries on the list as well.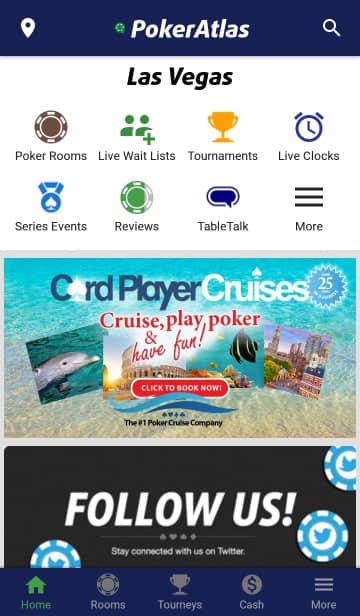 If you want a simple, easy-to-use solution for finding live poker action, this is what you need. While the app has some minor issues, which we'll also cover in this Poker Atlas app review, it is definitely a great thing to have on your phone if you like to play poker while traveling.
PokerAtlas Download and Installation
PokerAtlas is a simple app to use. You can download it from the official site, and there are versions for Android devices and iPhones. The file is about 10MB, so it won't take too much space or power on your phone.
The entire process of downloading and installing the app on your device should take about two minutes.
Once you finish the download and start the app, you'll need to complete a few more steps before you can start using it.
PokerAtlas requires you to open an account, either by creating one from scratch or using your Facebook to log in.
If you decide to go with the Facebook option, which is faster, you'll only need to create your alias and enter your date of birth.
The latter part may feel like a bit too much, but this is the type of information casinos, and poker rooms ask from their players, so the Poker Atlas app requires it as well.
Poker Atlas Interface – Find The Best local Poker Games Near You
Once you log in, you'll have full access to everything the app has to offer. No payment is required to use any part of Poker Atlas.
However, expect to see some ads in-app, which can be a bit annoying at times. I guess it's the price you have to pay for getting something free, but once you get used to the interface, these aren't as bad.
You'll need to enable the geolocation for the app if you want to take advantage of its full potential.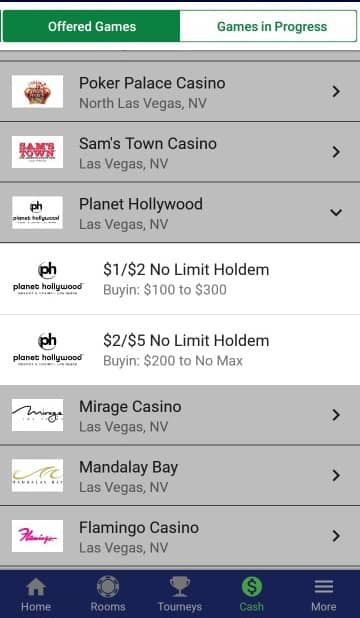 With the geolocation enabled, PokerAtlas will be able to quickly give you the list of the local poker rooms near you, which is the fastest way to find what you're looking for.
Of course, you can also use the manual search by entering the name of the city or the zip code. As you type, the app will offer the list of available locations you can explore.
If you want to find the best local poker games at a particular location ahead of the time, this is a very convenient option.
Poker Atlas Review: Detailed Information About Venues & Games
What makes Poker Atlas such a useful app is the fact that it goes well beyond just showing you a list of casinos and poker rooms in a specific area. You'll find a lot of additional information about venues such as:
The type of games they offer
Minimum and maximum buy-ins
Rake
Number of players per table
Live straddle information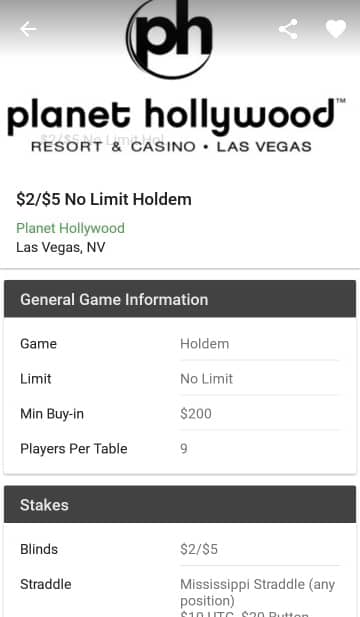 So, you'll have access to all the info you need to decide whether you like the game and what kind of a budget you'll need. Tap the "Cash" icon to get the list.
The same goes for tournaments, as the PokerAtltas will provide you with:
Start times
Buy-in & entry fee
Starting stacks
Level duration & planned breaks
The information is found under the "Tourney's" Tab.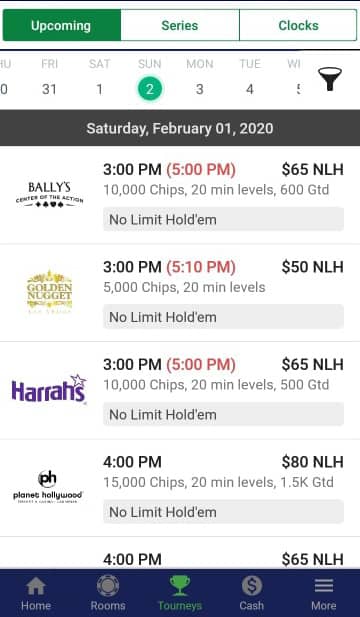 So, once you are at the location or select the location in the app, you can display the list of tournaments or local poker games.
Items in the list provide the most important details at a glance (such as venues, blinds, buy-ins, and start times for tournaments). By tapping on an individual item, you'll get access to all the additional information listed above.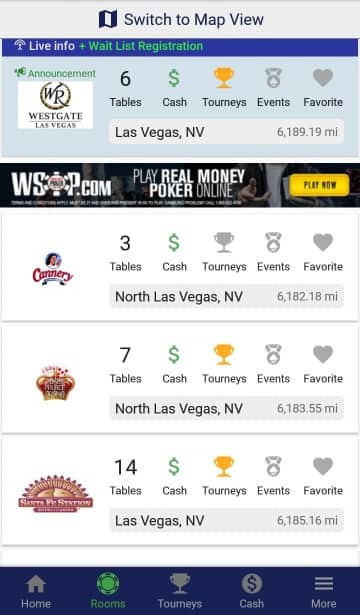 Extra PokerAtlas Value: Put Your Name on a Waiting List
Certain casinos and poker rooms listed on PokerAtlas will even help you get your name on the waiting list.
This can help you save the seat ahead of your arrival, so you don't have to waste time sitting around the room, waiting for a seat to open.
Of course, not all rooms listed in the app offer this option. It is only available for those venues that run the TableCaptain software.
However, it only takes you a few seconds to check, and if the room you want to visit offers a possibility to get on the waiting list ahead of time, even better.
Although it's not the end of the world to wait for a bit once you arrive, you ideally want to spend as much time as possible at the tables, especially when traveling.
Poker Atlas Offers Players' Perspective
One of the best features of the PokerAtlas app is that it gives players a chance to leave their reviews after they had visited a particular venue.
If you want to get a better feel for the place, you can go into the players' review section and browse through the comments.
This will give you a really good idea of what to expect. While people's impressions can be somewhat misguiding at times, you can draw a pretty good conclusion from a dozen or more reviews.
If there are many players complaining dealers are bad at a particular venue, the odds are that the staff isn't exactly stellar.
By the same token, if there are many positive reviews about how a room treats its players, you can probably expect to get a similar treatment yourself.
You'll find out about any free stuff (like food and drinks), special promotions, bad beat jackpots, and anything else that isn't necessarily listed in the app by default.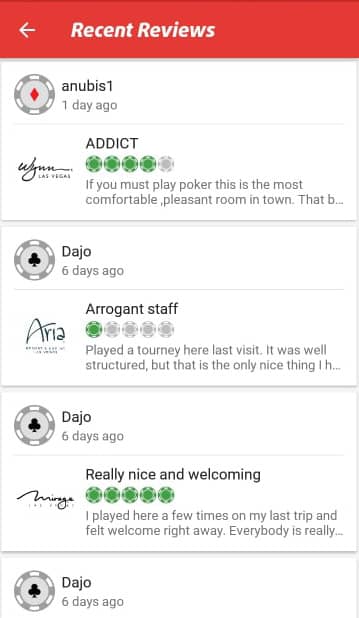 I think that the players' reviews are a nice touch and make Poker Atlas a well-rounded app. Knowing what to expect from a particular place beyond just the stakes they offer and their tournament schedule is very important, especially if you are looking to have a good time.
Thanks to these reviews, you have a much better chance of finding a place where you'll likely feel comfortable.
On top of this, there is also the TableTalk section, which is like a mini-forum where players share their thoughts, all sorts of news about venues in a particular area, etc.
You can get involved in the discussion if you want, or you can simply read through these to get even more insights about the poker scene in a certain location.

What Could Poker Atlas Do Better?
So, overall, PokerAtlas is a very useful app for anyone looking to play poker while traveling or even for finding new places to play poker near where you live. However, there is still some room for improvement, which is quite natural as no app is ever really perfect.
The first thing that comes to mind is better coverage for European and the rest of the world countries.
At the moment, you can find info about local poker games in Australia, Mexico, Germany, Cambodia, Costa Rica, India, Denmark, Switzerland, and a few more places, but the list is far from complete.
Of course, this is a huge task, so it is hard to fault Poker Atlas for not having the entire world fully covered. They'll probably continue to expand the list as the time moves on, and this will make the already great poker app even better.
The second small thing that I've already discussed is the ads.
Often, an ad will pop over the screen, or it will appear in the middle somewhere, so you might tap the ad by accident instead of what you wanted to do.
This can be annoying, especially on smaller phones where you don't have much room on your screen, so "misclicks" like this happen quite frequently.
Then again, Poker Atlas doesn't charge any fee or subscription for a very useful service, so it would be a bit entitled to ask them to remove ads as well.
I'm sure maintaining an app such as this, even with all the input from the users, takes a lot of time and effort, so if an occasional ad in the app helps them keep the things moving, it's not a big deal.
That being said, I would be happy to pay a fee to remove those, so maybe this is an option for future PokerAtlas expansion?
Summary: PokerAtlas is A Must-have App for Live Players
There is no reason whatsoever not to have Poker Atlas installed on your phone if you play in live games. It is a completely free, relatively small app that only takes a few minutes to install, and it provides great help in finding local poker games.
Maybe PokerAtlas doesn't cover all the countries around the globe, and it won't be useful in every situation, but if you find yourself in the area that is cover, Poker Atlas app is a must-have, and it can be very helpful when you are traveling and looking to find local poker games near you.
While finding games is important, you also should be ready for those games, and this is where you can take advantage of the best poker training sites and test your skills with the ultimate poker quiz!