Poker Bunny Journey: A Mysterious Newcomer to the High Stakes Scene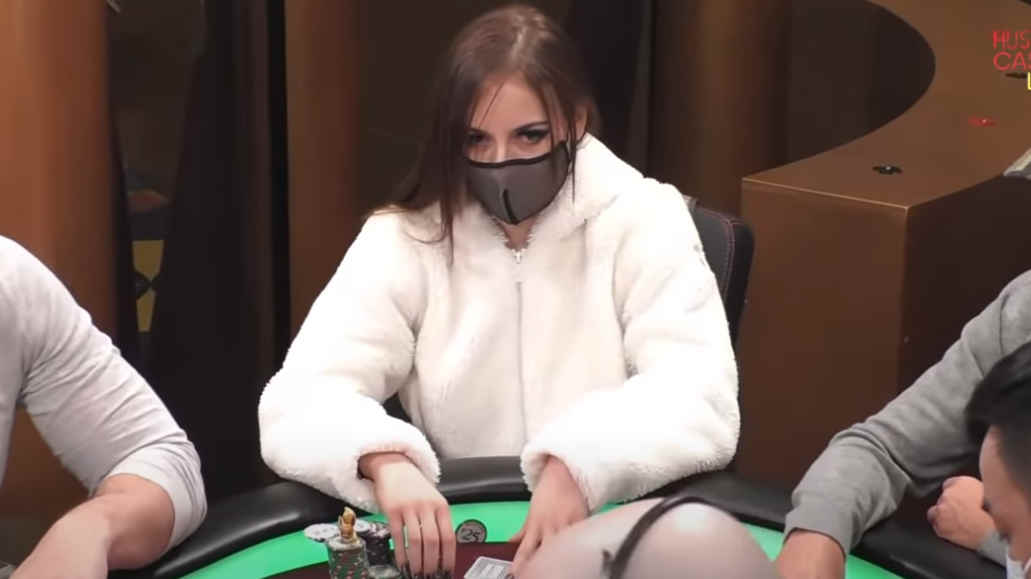 9 minutes
Last Updated: April 10, 2022
Over the years, we have seen a fair share of mysterious and eccentric poker players who have done their best to use their unique image to their advantage.
Yet, few come close to the character of Poker Bunny, a player who burst onto the poker scene just a couple of years ago and quickly turned herself into a true poker brand.
Very little is known about Poker Bunny, to the point where most players don't even know her real name, and the one she has used to play poker tournaments has been under some scrutiny as well.
Poker Bunny has been an enigma since the first time she showed up in the poker world, playing mostly on live-streamed cash games such as Live at the Bike and Hustler Casino Live.
On the felt, she plays a unique style of poker that often gets her into interesting spots and gets the poker world quickly talking about the poker hands she's played.
On social media, Poker Bunny is somewhat of a beast, posting practically every day on Twitter and Instagram profiles about a whole range of topics, both poker and non-poker related.
So who exactly is Poker Bunny? I tried to find out by looking over all the available materials, but don't hold it against me if I don't give you all the information you have been looking for about this extremely cryptic character in the poker world.
Poker Bunny Career Highlights
23 years old, the full name of Paulina Loeliger
Lived and went to college in Sydney, Australia
Several WSOP cashes and $20,000 in live tournament earnings
A regular on Hustler Casino Live and Live at the Bike
Instagram and Twitter personality and influencer
Poker Bunny: Who Is She and How She Got Into Poker?
Very little is known about Poker Bunny's origins, place of birth, or family. Her social media profiles suggest she is 23 years old, which would mean she was born in 1999, definitely putting her in the younger category of poker players.
That Poker Bunny is young is not a secret, and neither is that she is good-looking, a fact she has been using to her advantage quite a bit in her poker career.
The real enigma, of course, has been regarding Poker Bunny's real name, which appears to be Paulina Loeliger. At least, this is the name she used when playing at the WSOP.
However, it would also appear that Poker Bunny legally changed her real name to Paulina Loeliger at some point for reasons unknown.
Her current last name, Loeliger, has brought about questions about her possible relation to poker sensation Linus "LLinusLLove" Loeliger, a highly proficient high-stakes pro.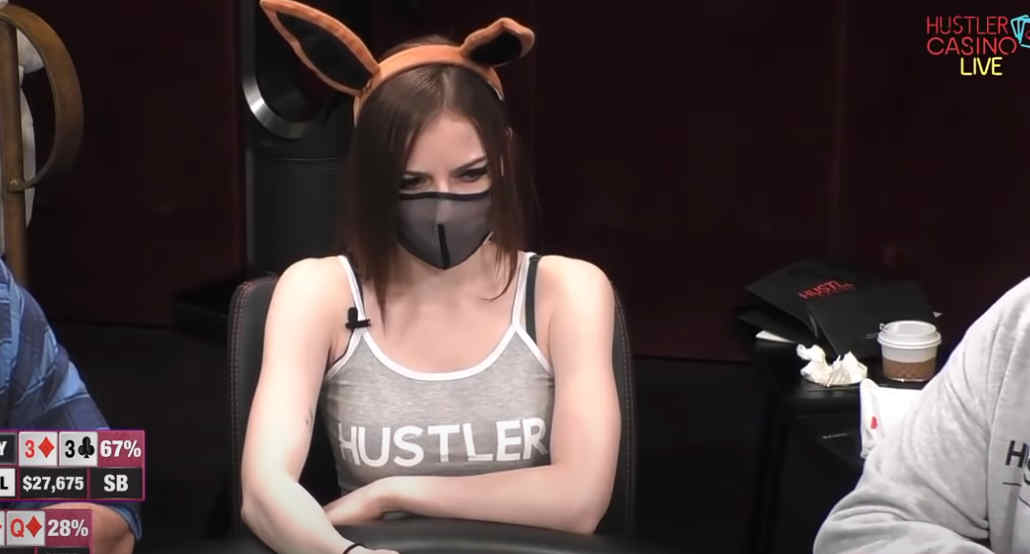 Yet, no evidence has been found of such a connection, and Poker Bunny never really claimed it. She simply took on the name as part of her generally unusual approach to life as a whole.
Where Poker Bunny went to elementary or high school, how she discovered poker, and other details about her youth and upbringing remain unknown to this date, pending an interview that many in the poker community are certainly hoping to get.
Some Poker Bunny Instagram posts revealed that she went to college in Sydney and used to play some low-stakes poker while there.
At the same time, she seems to have lived in an apartment with a number of roommates, where she indulged in drug and alcohol abuse, seemingly trying to put her life together the wrong way.
Since I can't tell you much more about who Poker Bunny or Paulina Loeliger is in the real world, let's take a look at what she's done in the poker world thus far.
Poker Bunny's Professional Poker Career
First of all, I want to start this segment off by saying that it would be a bit of a stretch to call Poker Bunny a professional poker player.
Her achievements in the poker world have been very few and far between, and her success in the game seems to be very limited.
The first thing most people look at when it comes to poker players are their Hendon Mob profiles, and Poker Bunny's is far from stellar.
Being only 23 years old, it is understandable that Paulina has played few poker tournaments to date. Yet, even in that short time, her results are hardly impressive.
Her biggest live poker cash has been for $8,915 in a $5,000 WPT event at the Venetian, while her highest finish remains the 20th place in the 2021 $1k Ladies Championship at the WSOP, where she was eliminated by JJ Liu.
A few other cashes in smaller buyin WSOP events certainly don't make her a pro or a winner at poker, and it is hard to see how she hasn't lost thousands playing tournaments so far, given her total cashes amount to under $20,000.
That said, cash games seem to be where she spends the majority of her time, often playing in private games and on streamed games in the LA area.
She set up her brand as Poker Bunny early in her streaming career, always wearing a set of plastic bunny ears when she plays on streamed games, a prop she doesn't seem to wear in her daily life.
Her appearances on Hustler Casino Live and Live at the Bike have been nothing if not bizarre, with a number of hands played in a very unusual manner by anyone's standard.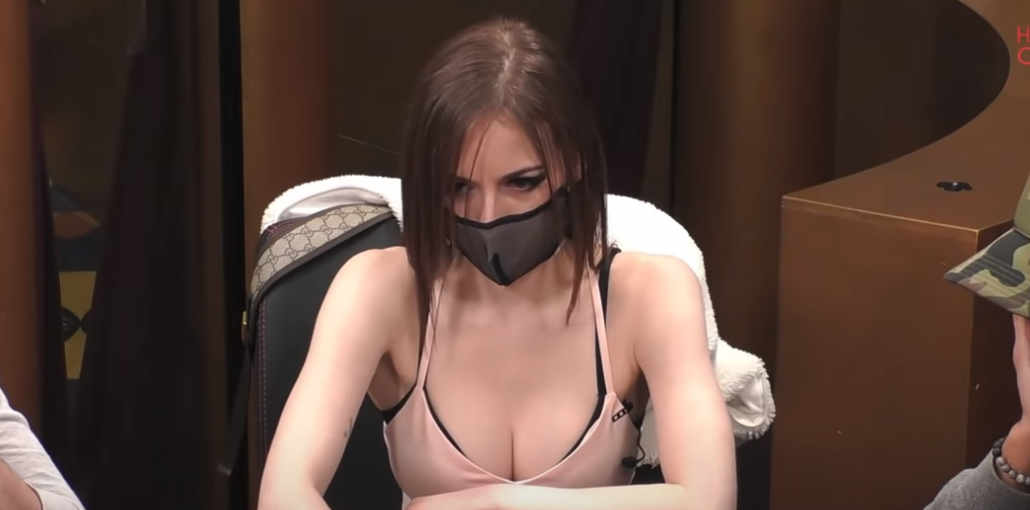 Poker Bunny has the tendency to fold big at times while getting involved with weak holdings and bluffing her stack off in bad spots.
At the same time, she sometimes misreads her hand, bet sizes, and other live poker queues.
Tracking the exact results of any player who has played on many episodes of the live-streamed cash games would be very difficult, but it is safe to say Poker Bunny has rarely left the table as the big winner.
In fact, more often than not, she leaves the table after losing a buyin or two while doing her best to get as much camera time as she can.
Her poker game has improved since her early appearances on the shows, but she definitely has a long way to go before she can think of realistically competing against the likes of Garrett Adelstein, Jesse Sylvia, and the other players that regularly sit in the same games.
The one thing going for Poker Bunny is that she seems to find a way to constantly play in some pretty high-stakes games, with a lot of speculation of her being staked.
Who exactly may be staking Poker Bunny remains a mystery, although she has personally posted on her Twitter that she has poker-related debts, which would mean she plays on borrowed money rather than stakes.
If her social media posts are anything to go by, it would appear Paulina has spent some time studying poker and practicing her play online, which should have some effect on her end results.
In either scenario, it will be interesting to keep following Poker Bunny's poker career and see if she can actually turn it around and become a successful poker player.
Poker Bunny's Net Worth
This brings us to the next interesting question about this mysterious poker player, and that is Poker Bunny's net worth.
For most poker players, we are able to speculate their net worth, considering they have won some poker tournaments or posted wins in other formats.
Poker Bunny, to this date, appears to be losing money at poker, which means we would have to look beyond the game to find out her net worth.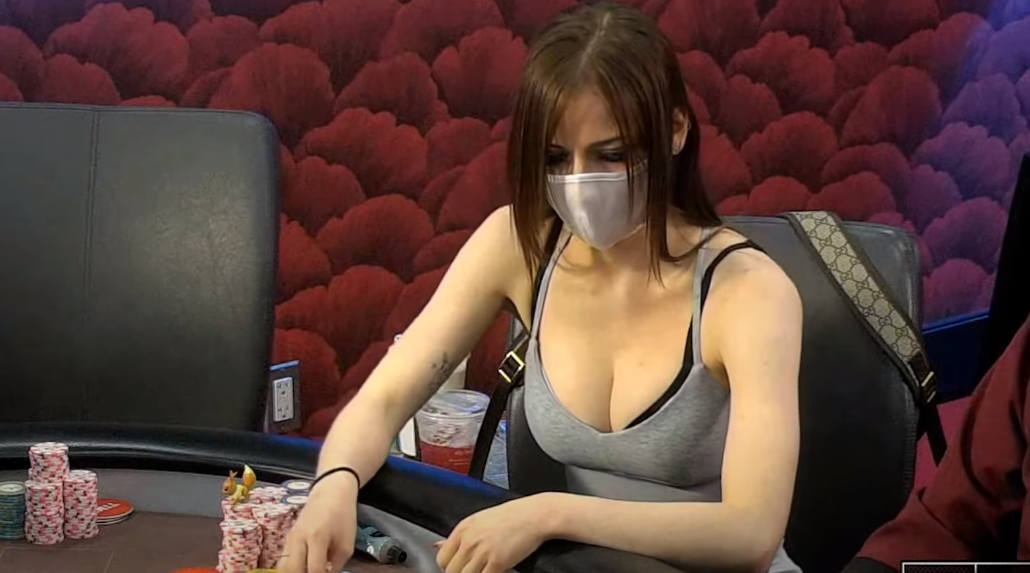 Yet, with Paulina willing to disclose so little about herself, it is nearly impossible to guess how rich she may be or who might be financing her poker career.
From everything I have seen, I would venture a guess that she is playing on loans or stakes and that Poker Bunny's net worth is negative, or rather that she has more debts than net worth.
This is not to say that Poker Bunny doesn't have what it takes to turn it around and become a profitable poker player in the future, but at her young age of 23, she certainly has a long way to go.
Poker Bunny on Social Media and Controversy
Despite her constant insistence on trying to play good poker and build her brand up this way, to this date, more of her presence in the poker community has been about anything but poker.
Bunny often posts provocative images and videos on her Instagram profile while at the same time gradually revealing small bits of her past.
Her Instagram is loaded with images and videos of her playing high-stakes poker, but she has done little in terms of talking about her actual results, her bankroll, or other things the poker community would be eager to see.
On the other hand, she has been very active on her Twitter profile, where she regularly posts tweets that are very hard to understand, talking about the state of consciousness, the multiverse, and other abstract concepts that don't seem to add up too much.
Her feed is also loaded with tweets about her past drug abuse, which she appears to be over now, likely putting her one step closer to actually making a career out of poker.
Yet, even just weeks ago, Poker Bunny managed to get into some controversy, acting out on an episode of Hustler Casino Live and causing a whole range of reactions from the poker community.
In the episode in question, Bunny was slow to act on her hands, made some bizarre decisions, and seemed to break up the game at one point with her shenanigans.
For someone who claims to want to get into the "sickest" poker games around, Bunny has a lot to learn about the optimal way to act at the live poker tables.
Can Poker Bunny Make It?
Without a doubt, Paulina Loeliger, aka Poker Bunny, is looking to make a career out of playing high-stakes poker games.
Yet, we have seen time and time again what a difficult feat that is and how many players with a lot of talent and promise actually failed at it.
If Poker Bunny is to make it big, she will need to work on her game, her bankroll management, and her attitude at the tables, as all of these things are crucial to success in poker.
For the time being, I definitely look forward to seeing more of Poker Bunny on the live streamed games, and the majority of the poker community seems to agree.
Only time will tell what becomes of Poker Bunny and whether her unique style and approach to the game will yield results or force her to leave the game of poker and look for other ventures.