Win Your Way to the NAPT with PokerStars Special Edition Power Path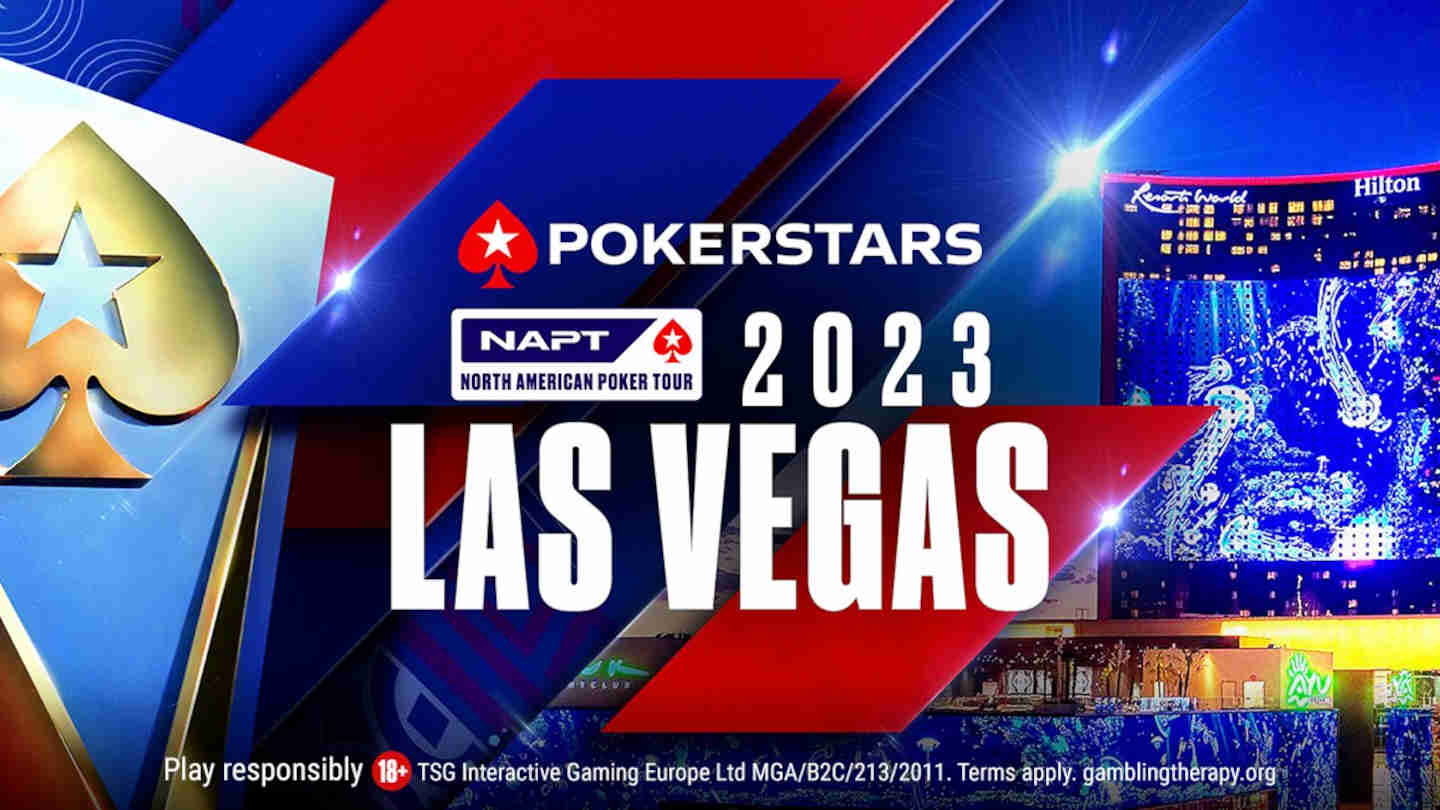 4 minutes
Last Updated: October 2, 2023
Only recently added into the PokerStars platform, Power Path tournaments have already become quite popular with the players, with plenty of Power Passes handed out to the lucky winners each week.
Now, as the return of NAPT edges closer by the day, PokerStars is giving away 50 special Vegas Gold Passes worth $20,300 each, in addition to allowing ten players who win a regular Gold Pass to exchange it for a Vegas Bundle, earning an extra $10k in value.
The promotion starts today, October 2, and will run through October 26, giving everyone another chance to win their way into the first NAPT tournament since 2011.
Keep reading to find out how you can win your own Vegas Bundle, or sign up with PokerStars right now to get into the mix and fight for your Power Pass.
Vegas Gold Power Path Special Edition
PokerStars have been giving away Power Passes to their players for several weeks now, and the promotion has been wildly successful, with tournament grinders fighting left and right for their chance to play at one of the prestigious PokerStars live tournaments.
The Power Path normally offers an opportunity to win one of three Power Passes, with Gold Passes worth $10,300 allowing entry into elite PokerStars tournaments such as EPT.
Now, PokerStars is offering 50 special Vegas Bundle Power Passes, which will be up for grabs in special final steps of the Power Path throughout the month of October.
In these, players will have a chance to battle for packages worth a total of $20,300, which will contain:
$5,300 NAPT Las Vegas High Roller Buyin
Tickets for Two for Oracle Red Bull Racing Grandstand Fan Experience (Formula 1)
10 Nights' Accommodations at Resorts Las Vegas
$3,653 for Flights and Expenses
The comprehensive travel package is an ideal one for both online poker players and fans of Formula 1, who will get to witness the return of F1 Championship to Las Vegas in a very special way.
The package also includes enough extra money to allow for flights for two to be arranged from pretty much anywhere in the world.
All of this makes it a truly ideal opportunity for a Las Vegas trip for two, with the addition of a High Roller poker tournament at the first stop of NAPT since 2011.
How to Win Your Vegas Power Pass
On total, PokerStars is offering 50 Vegas Bundles over the month of October, which will be worth over a million dollars between them.
These Bundles will be up for grabs in special editions of the final step of the Power Path, which you can enter only with exclusive passes, worth $109 each.
However, it is key to note that you cannot buy into the final steps of the Power Path, but will rather have to qualify for your chance at a package.
Just logging into your PokerStars account every day, you will receive a single $0.50 Step 1 Power Path ticket, which you may be able to spin up into playing the final Step 4 tournament.
Of course, you can also buy into any number of Step 2 and Step 3 events in an attempt to win the Step 4 ticket and compete.
It is worth saying that, since there are no direct buy-ins, and no re-entries in these satellites, the playing field you will be going up against will be softer than usual.
Pro poker players will not have a chance to buy into the event directly, and once they are busted, they will not have a chance to re-enter, either.
This leaves plenty of recreational and fun players, who will win their tickets at lower levels, in the mix, making it an ideal opportunity to play with an edge.
In addition to the 50 Vegas Bundles that will be awarded directly, PokerStars is also offering 10 players an opportunity to exchange their Gold Pass for a Vegas Bundle.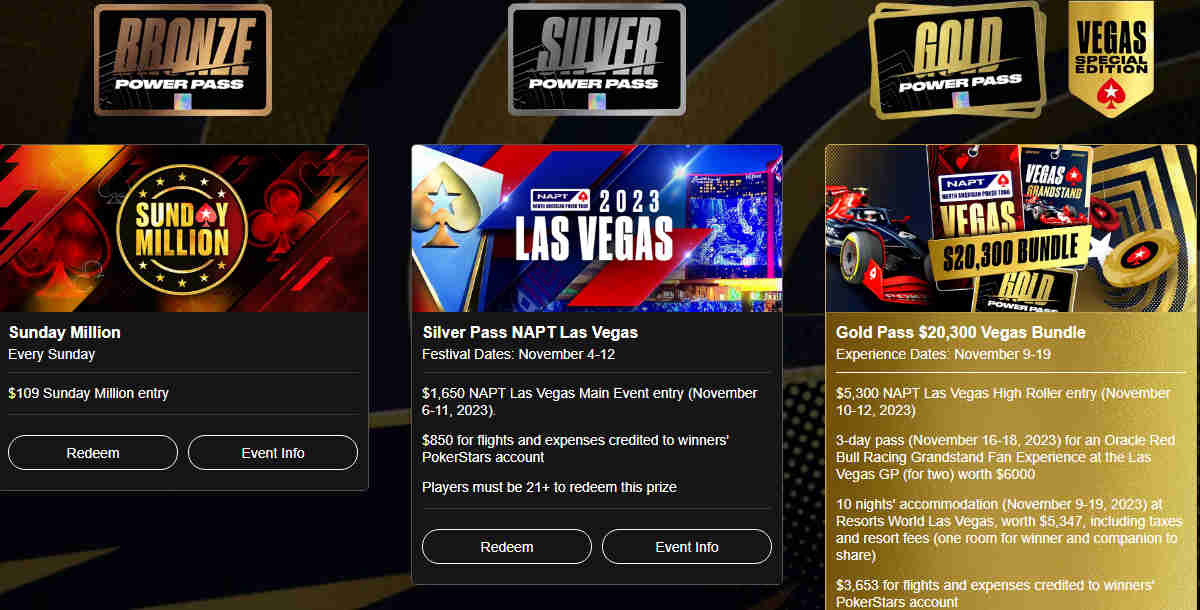 If you win a Gold Pass in one of the other Step 4 Power Path qualifiers, you will be able to get one of these 10 packages, on a first come, first served basis.
This is the best time to get into the Power Path grind, as you may be able to win a trip of a lifetime for as little as $0.50, which is the lowest entry point for Power Path.
Also, remember to log into your PokerStars account daily to pick up your free Power Path tickets, which are available to every registered PokerStars player.
PokerStars NAPT Is Back
In case you are wondering what exactly you will be playing with your Vegas Bundle, and haven't heard just yet, PokerStars is bringing back the legendary North American Poker Tour (NAPT) this November.
The inaugural event will take place between November 6 and 12, with the Main Event priced at $1,650 and starting on November 6.
However, if you are lucky enough to win your Vegas Bundle, you will get entry into the more valuable $5,300 NAPT High Roller, which kicks off on November 10.
The full #NAPTLasVegas schedule is here!

Take a look and find out all you need to know about the festival, including how to win your way there AND enjoy a VIP racing experience…

🌎 https://t.co/F2Aaq8Em3Q
🇬🇧 https://t.co/L2sss2doLu pic.twitter.com/ZUZlUrPJL1

— PokerStars Blog (@PokerStarsBlog) October 2, 2023
What's even more, the Bundle includes well over $3,000 in cash, which means you could afford a buy-in into the Main Event as well without spending a cent of your own money.
The PokerStars NAPT Las Vegas festival is likely to be a massive event, and the fact it's being played just ahead of the epic Formula 1 race, which is on the calendar for Sunday, November 19, we can expect quite a spectacle in the city over the two week period.
Win Your Power Pass Today
Special Edition Power Path tournaments will be starting today (October 2), and running throughout the month, giving you plenty of opportunities to win one of the 50 packages.
Head on over to PokerStars now to start grinding out the lower Steps of the Power Path, win your Step 4 tickets, and battle it out for your ticket to Sin City.
Keep in mind that these Power Passes are worth $10k more than regular Gold Passes, which means now is the best time to join the Power Path and try to win these extra value Passes!