Twitch Poker Streamers to Follow – Top Channels & Best Content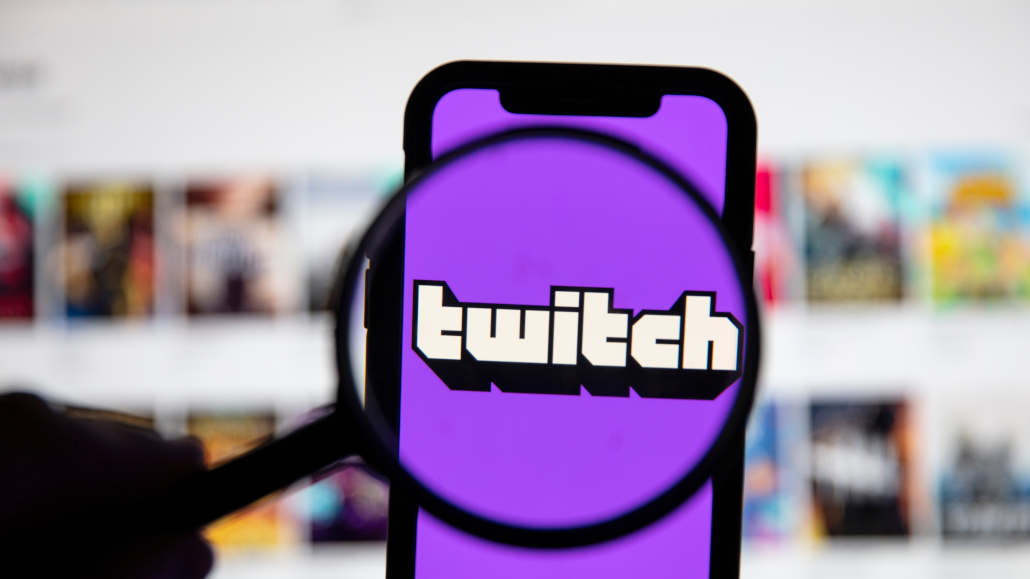 9 minutes
Last Updated: March 8, 2022
Poker fans have had an opportunity to watch their favorite game on TV for some two decades, while the birth of online poker also brought new opportunities with it.
During the poker boom, videos of people playing online poker and explaining their play became very popular and helped shape a whole new generation of poker players.
However, Twitch poker streams have overshadowed both the video content and the televised poker shows, with millions of people using the popular streaming platform to keep tabs on their favorite players.
Twitch was initially a platform dedicated to video games, but it extended to many other things over the years, with games like chess and poker having many prolific channels on the platform.
Today, we take a look at the best Twitch poker streamers and their channels.
This is a list of the streams you will want to watch if you are a poker player, whether it is for their entertainment value alone or to learn how to play poker better and crush the game like these popular streamers.
1. Lex Veldhuis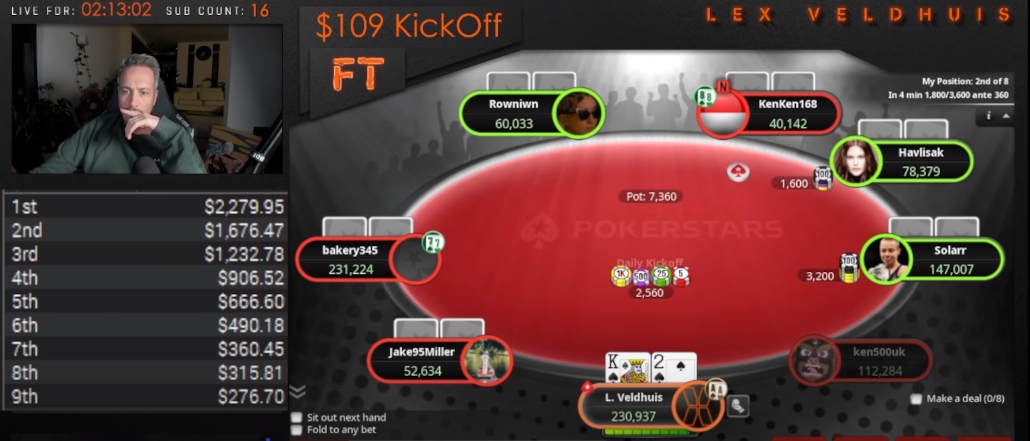 Follower Count: 297,000
Content Type: Online Tournaments
Rating: 8/10
With close to 300.000 followers, Lex Veldhuis is a Dutch poker professional who has been streaming on Twitch since 2016.
Lex has been a poker pro since an early age, and while he has had some success in the live tournament poker world and made some appearances on TV poker shows like The Big Game, his true poker accolades come from the world of online poker.
This is exactly what his Twitch poker stream is about, as Lex shows his audience the highlights of his career as an online tournament player.
His streams, which are very regular, usually show him playing online poker at PokerStars, where he goes under the screenname RaSZi.
Veldhuis is one of the most accomplished tournament poker players out there, and his streams feature tournaments with buyins ranging from just $20 to $10,300 and beyond.
Lex is an absolute beast at tournament poker and is the kind of player you definitely want to watch if you are looking to get insights into how the best tournament players play.
However, this is not the only value of Veldhuis' channel, as he is also an extremely entertaining and fairly emotional player whose streams are charged with adrenaline and very fun to watch even if you are not an avid poker fan.
2. Jason Somerville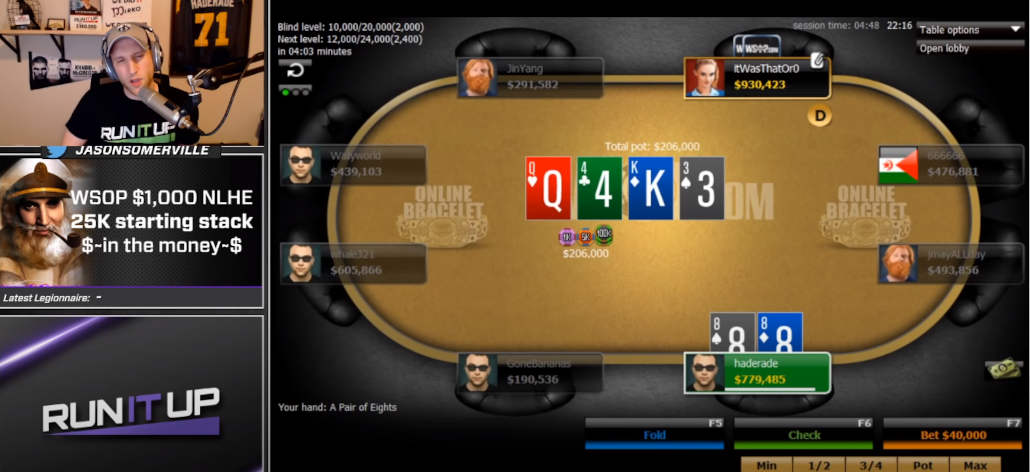 Follower Count: 228,000
Content Type: Live Cash Games/Online Tournaments
Rating: 9/10
With a following of 228,000 poker fans, Jason Somerville is another one of the prolific Twitch poker streamers you should know about.
Jason initially streamed on his own poker channel but later moved to "runitup," which is a Twitch channel dedicated to all forms of poker, where he is the main presenter.
Run It Up is a community of poker players and fans that have a lot in common. The streams include a variety of tournament and cash game action by Jason and others.
The Run It Up home games have become a staple of the channel, drawing in massive crowds with its live mid-stakes poker action that's far superior to any online poker content out there.
Yet, you can also find streams of Jason playing online poker and running deep in a variety of online tournaments for a very complete experience.
Jason Somerville is one of the more successful poker players of his generation and a colorful character who has a lot to bring to the table.
If you are a poker fan of any caliber, watching the Run It Up Twitch stream and enjoying the commentary by Jason and his colleagues is an absolute must.
3. Parker Talbot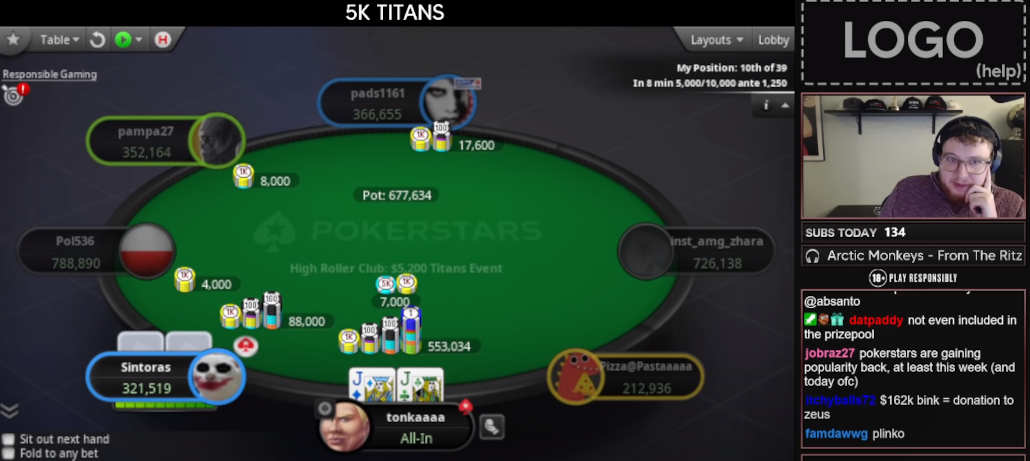 Follower Count: 123,000
Content Type: Online Tournaments
Rating: 7/10
Plenty more online tournament poker action can be found at Parker Talbot's Twitch poker stream. Going under the name tonkaaaP on Twitch, Talbot has become one of the staples of the online poker community.
Parker Talbot has been one of the most successful online tournament players in recent years, dominating the mid and high-stakes tournament action and playing massive sessions on live streams.
The highlights of tonkaaaaP Twitch channel include Parker final tabling and winning major online poker tournaments in real-time, along with his interesting commentary on the play and his witty jokes and fun nature.
Parker Talbot is certainly one of the most entertaining poker presenters on Twitch and another character you should look into if poker is a passion of yours.
4. Daniel Negreanu
Follower Count: 124,000
Content Type: Online Tournaments/Online Cash Games
Rating: 7/10
Daniel Negreanu is one of the most prolific poker players of all time, in any form of poker, and one of the biggest celebrities in the game.
While the popular "Kid Poker" spends most of his poker playing days at the live felt, he has recently taken more of an interest in online poker as well, participating in a variety of online poker tournaments and playing online poker heads-up matches against the likes of Doug Polk.
Daniel has also decided to make his poker career more public than ever and has been producing a lot of poker content of his own.
During his WSOP performances, Daniel posts a series of VLOGs he creates himself in Las Vegas, but these are shown on his YouTube channel.
Yet, Daniel also has a Twitch channel with the handle DNegsPoker, and he has been streaming more and more there in recent months.
Currently, DNegs has 124,000 followers on Twitch and is streaming his online WSOP bracelet hunts, with plenty more content likely to come in the future.
If you want to learn how the very best players in the game think about poker and how to compete at the highest levels, following Daniel Negreanu on Twitch may just be a good idea.
5. Jeff Gross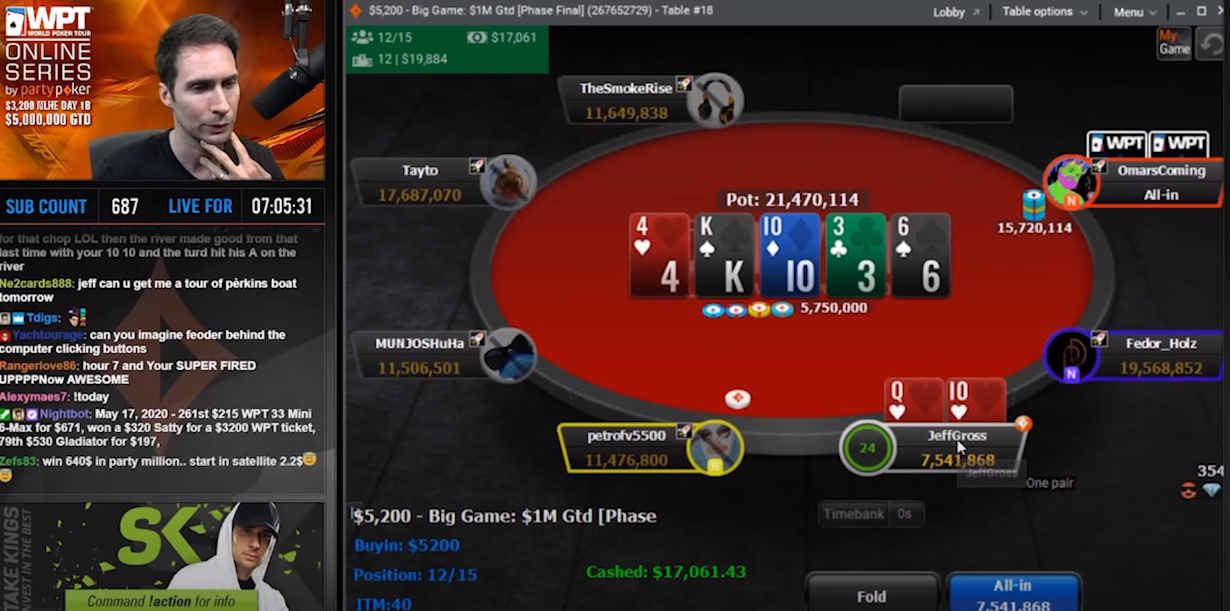 Follower Count: 83,000
Content Type: Online Tournaments/Podcast
Rating: 7/10
Jeff Gross may not be one of the biggest names in the poker world, but he is a player who has had a lot of success in the online circles and whose Twitch poker channel has earned him a great amount of popularity.
With an audience of 83,000, Jeff Gross is not the number one poker streamer on Twitch, but he is definitely one of the most entertaining to follow.
The JeffGrossPoker channel features streams of Jeff playing in high-stakes poker tournaments, as well as a live poker podcast with major characters from the poker world coming on as guests.
Through Gross' Twitch streams, you will be able to stay current on topics from the poker community while also seeing a lot of actual online poker action and more.
I would highly recommend watching Jeff Gross' Twitch stream whenever you can. There is tons of entertainment value there, and streams come on a fairly regular basis.
6. Jaime Staples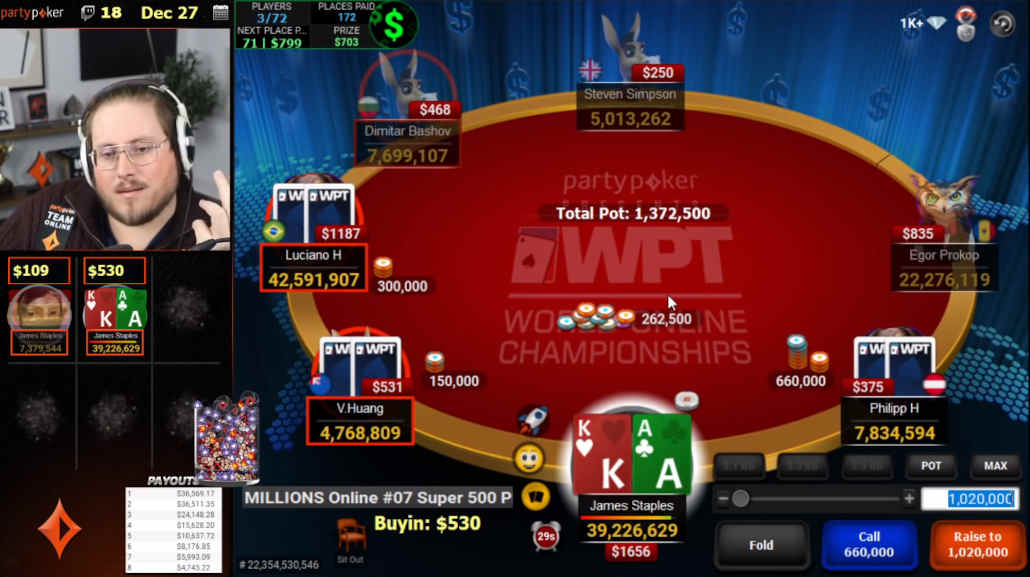 Follower Count: 150,000
Content Type: Online Tournaments
Rating: 8/10
Jaime Staples was born in 1991 and discovered the game of poker in 2009. Ever since then, the Canadian player has been fascinated with poker tournaments and has done extremely well for himself, winning more than $1,000,000 online.
Yet, Jaime is best known as one of the top Twitch poker streamers, where he hosts his channel PokerStaples, which currently has more than 150,000 active followers.
On his stream, Jaime mostly shows his own online poker sessions, including deep runs in mid to high-stakes tournaments as well as general action where anything can happen every time he plays.
Jaime became very popular in the poker community when he and his brother, Matt Staples, took on high-stakes poker and prop betting legend Bill Perkins in a wager that saw the two of them need to match their weight.
Not only did Jaime manage to become a whole lot healthier over the course of the bet, but he also won a hefty sum of money from Perkins and managed to show the progress of the bet to his Twitch viewers as it went on.
7. Matt Staples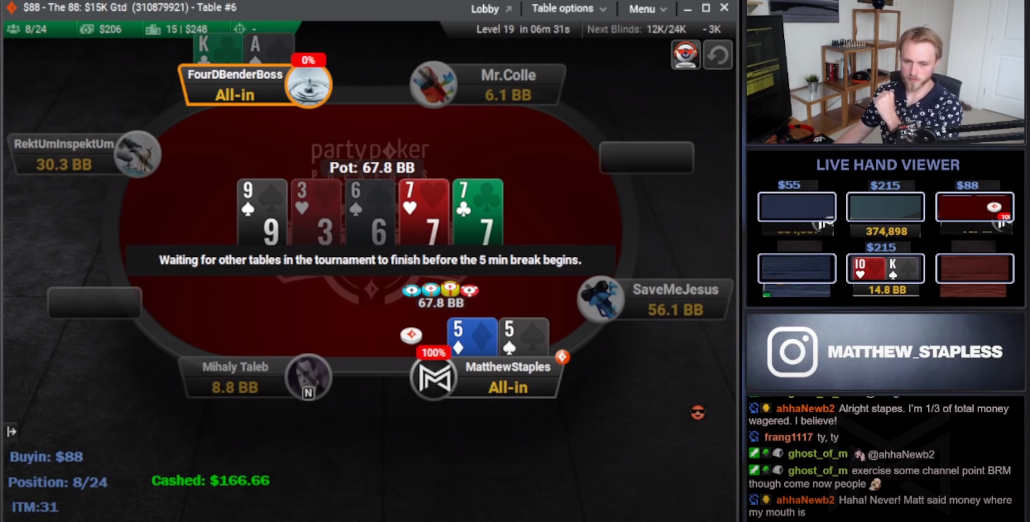 Follower Count: 100,000
Content Type: Online Tournaments
Rating: 7/10
Jaime Staples may have been around first, but his brother Matt managed to come very close to him in both follower numbers and general popularity on the platform.
With over 100,000 followers, Matt Staples is another one of the most popular Twitch poker streamers, and his channel MattStaples is one of the most active ones on the platform.
Like his brother before him, Matt took on poker tournaments as his favorite game and has done very well for himself to date, managing to amass many wins and tens of thousands of dollars in winnings on live streams.
Matt also features some charity streams as well, where he helps gather money for various causes close to his heart.
Matt was also involved in the famous Bill Perkins bet with his brother Jaime, and the two were successful in beating the millionaire with a team effort.
If live tournament action and entertaining commentary interest you, then MattStaples is a channel to follow on Twitch.
8. HeyMonia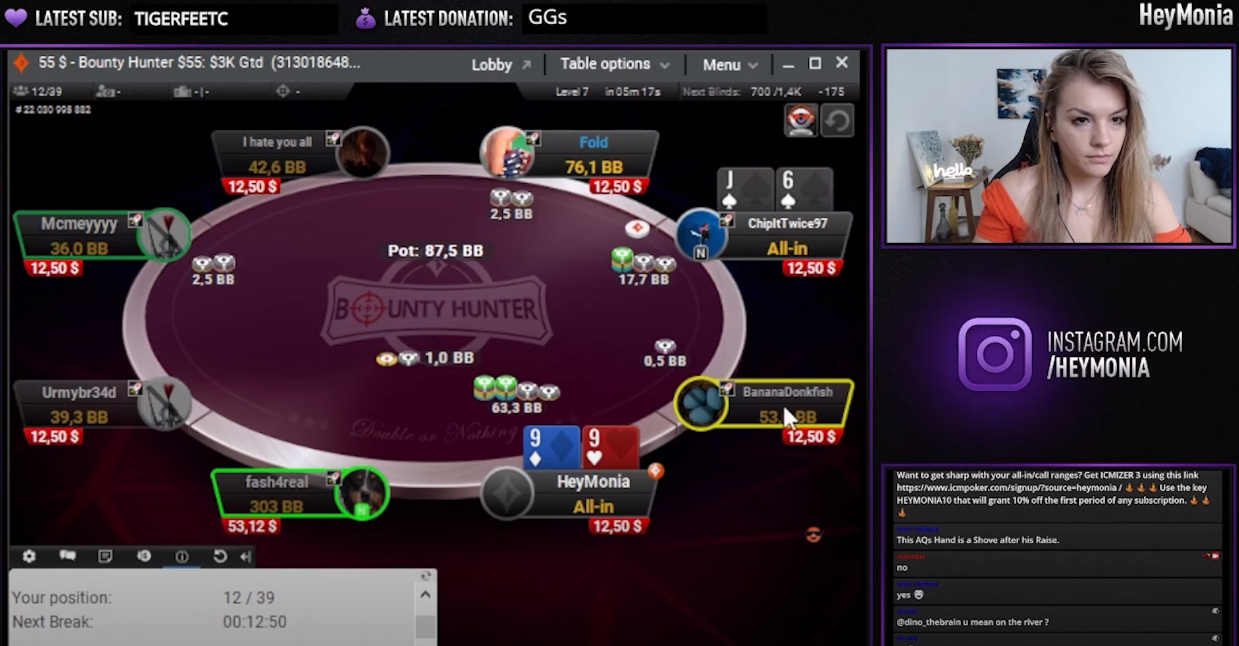 Follower Count: 21,000
Content Type: Online Tournaments
Rating: 8/10
Going under the nickname HeyMonia, which is also the name of her Twitch channel, Monika Zukowich is a poker player based in Vienna, Austria.
Like Matt Staples, Monika is a member of partypoker Team Pro Online, and her Twitch channel is a fast-growing one for many reasons.
Not only is Monika an amazing tournament player, but she is also one of the few female poker players and streamers who stream on a regular basis.
At this time, her channel only has just over 20,000 followers, but this is a number that's guaranteed to grow. Her streams are very entertaining, and her playful personality easily attracts new fans.
HeyMonia can be seen playing tournaments that, on average, may be a bit lower stakes than those played by the likes of Lex Veldhuis or Jason Somerville. However, following her journey in poker is something that should be inspiring to most true fans out there.
9. Jonathan Little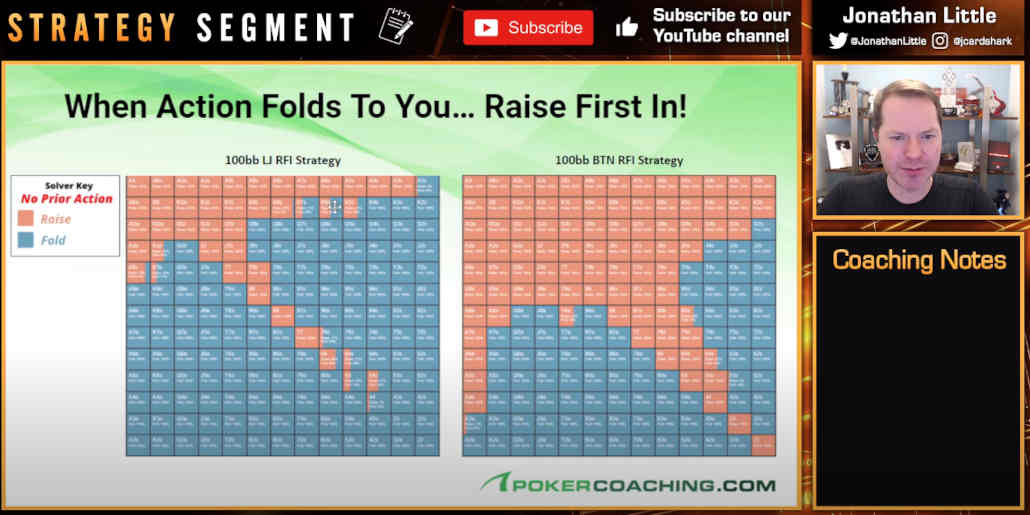 Follower Count: 14,000
Content Type: Educational
Rating: 9/10
There are few people in the poker world who have made as much useful educational poker content as Jonathan Little, and that's what his Twitch stream is all about.
Since his streams are not as much entertainment-oriented as some of the other ones, he only has just over 14,000 followers, but this takes nothing away from the quality of his channel.
If it is poker knowledge and expertise you are looking for JonathanLittle is probably one of the best Twitch poker streamers to follow.
On Little's channel, you will find educational videos on various poker concepts, breakdowns of particular live and online poker hands, and general poker tips that you can use in your game.
Jonathan also does his best to analyze some interesting poker hands from live streams, such as the recent Garett Adelstein slow roll on Hustler Casino Live, and give his opinions and insights into topics that are not just related to the math of the game and the sheer gameplay.
While his channel may not be as popular as some of the other ones on this list, I would definitely recommend following Jonathan Little for some of the best educational poker content out there.
10. PokerStars247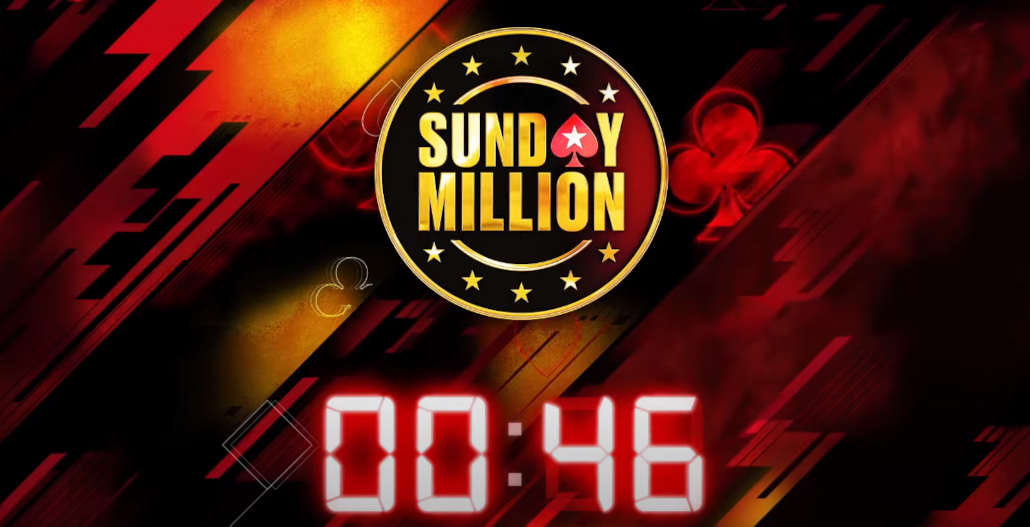 Follower Count: 297,000
Content Type: Online Tournaments/Live Tournaments/Educational
Rating: 9/10
Last but not the least, PokerStars247 is a Twitch poker channel that everyone who enjoys poker should follow for non-stop poker action.
Brought to us by PokerStars themselves, PokerStars247 brings a mix of educational, entertaining, and informational content.
With the live stream never going down, there is always something for poker fans to enjoy on this popular channel, which currently has about 150,000 followers.
While it is definitely one of the Twitch poker streams with the highest follower numbers, I put it last on the list because it is not owned by a particular poker streamer and is more of a general poker channel with content coming from PokerStars production.