Video Poker Trainer – How To Master This Game
5 minutes
Last Updated: September 23, 2021
Images from Pixabay
Video poker is a fun way to play without the threat of competition. In traditional poker, you are competing against other players, but when you play online video poker, you are simply playing against the dealer.
It means no one will be staring at your trying to pick up some reads or berating if they think you made the wrong play.
This alone can be a big difference to new players who are just starting in the game and will help avoid any misunderstanding while you learn basic poker rules and strategies that go into this game.
It is one reason that the game is so popular, and it surely can be a good entry point for new players.
On top of that, it is worth mentioning that video poker has one of the best odds in the casino, so it is surely a friendly game to the player, assuming you know what you are doing.
Just like everything in life, to be good at something, you need to train and invest your time into the matter, and this article is exactly about that.
What is a Video Poker Trainer?
For serious players, video poker can even offer a way to make some money, especially if you combine big bonuses and reward programs with a solid strategy.
However, if you want to avoid costly mistakes and follow the optimal strategy, you need to get familiar with poker trainers. OnlineUnitedStatesCasinos is a great source for sites to play online video poker as well as how to train to ensure you build a solid bankroll and pull in major wins.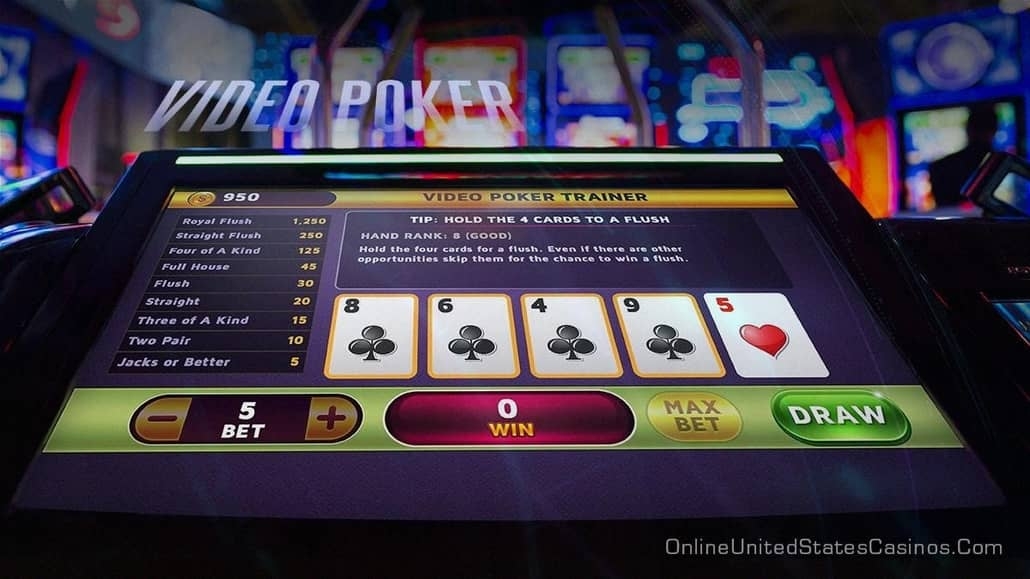 The term video poker trainer refers to a learning tool used for the video poker game.
Basically, this is a simulator for your game where you are taught which cards to hold in given scenarios to make money while you play.
The best poker hands ranking will provide details on the highest expected value based on the cards you have, and a hand analysis will provide you payout odds based on possible hands.
By utilizing a video poker trainer online, you can build a strategy for your gameplay. Trainers put you in various scenarios and show you how to react.
It is essential to practice so that you are comfortable with the game and can put what you learned from the trainer to good use, so definitely spend some time with it.
Video Poker Training Videos
Because there are so many variants of video poker available, it is also useful to watch some poker training videos.
There are general videos that simulate how to play video poker, as well as cards to discard and other basics. Also, some videos break down specific types of video poker, so you can learn how to adjust to those.
The most common forms found online are Jacks or Better and Double Double Bonus Poker.
When searching for training videos, consider what you will be playing. Do you want to know more about a specific video poker game or just video poker in general?
For the most part, all games play relatively the same. However, there are rules for specific video poker games that come into play and should be considered when creating a strategy.
Free Video Poker Trainers
When it comes to video poker trainers, there are free options for you to utilize. YouTube is a vast resource of videos, but you will find a mix of great and not so great options.
It is best to search on sites like YouTube for specific games and look for view counts and ratings.
You will find there are top resources available if you know where to look. The Wizard of Odds is a great place to start.
This site has been around for decades and offers a ton of information on video poker, including trainer videos. By utilizing this information, you can start using trainers and find more ways to build up your game.
Video Poker Software
If you want to go a different route, there is also video poker software that you can use to upgrade your gameplay.
From video poker app tools to full software downloads, there are ways to increase your knowledge of the game and take advantage of other tools like hand analyzers, pre-loaded games, and more.
The benefit of video poker learning software is that you have everything you need in one place.
Tools are loaded into the software so that you can work on our game as you see fit, and it will analyze your strategy as you play and provide insight into any mistakes you make.
Every player is different, so you will most likely have to try a few different software options to find exactly what works best for you.
Jacks or Better Video Poker Training Strategy
Jacks or Better is one of the more popular video poker games played online. It is not only fun but also offers a high payout percentage, which is a definite plus!
When you play video poker with a quality strategy in mind, you can increase the payout percentage up to 99%.
With an effective training strategy, you can learn how to reduce the house edge, make the most out of the cards you are dealt with, and maximize your chance to win each hand.
There are main tips associated with Jacks or Better that help you build a better hand:
When you have four cards to a Straight or Flush, hold all four and only draw one card.
If you get a pair, hold them and draw three more cards.
If you have no matching cards, then hold a card that is a Jack or higher.
Of course, it is a bit more complicated than that, but learning what to hold on to and what to fold will ensure you make smart decisions while playing.
Video Poker Books
If you prefer to learn in written form, you will find there are plenty of video poker books on sale via the internet and in bookstores.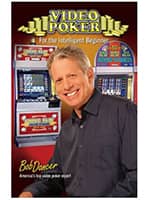 Books layout the details in paper format, providing you with a visual on what hands to keep, how to play certain video poker games, and more.
Books on video poker have been published for decades, so you have a long list of options to choose from.
A popular choice found online is Video Poker for the Intelligent Beginner by Bob Dancer. Mr. Dancer has seen great success in video poker gaming and has used his skills to provide insight to players via strategy cards, video poker reports, software, and books.
You can pick up this book or look for other options online based on the specific game you wish to play or strategy you want to utilize.
The end goal of all video poker tools is to improve your play. Whether you use videos, books, software, or websites, you have a world of information at your fingertips.
Of course, these materials are not so extensive as some of the best poker training sites, but utilizing these options, you will surely learn how to play better strategy and avoid common mistakes, which will help you win more often.