Planning a WSOP Paradise Visit? These Are Celebrities You Will Run Into!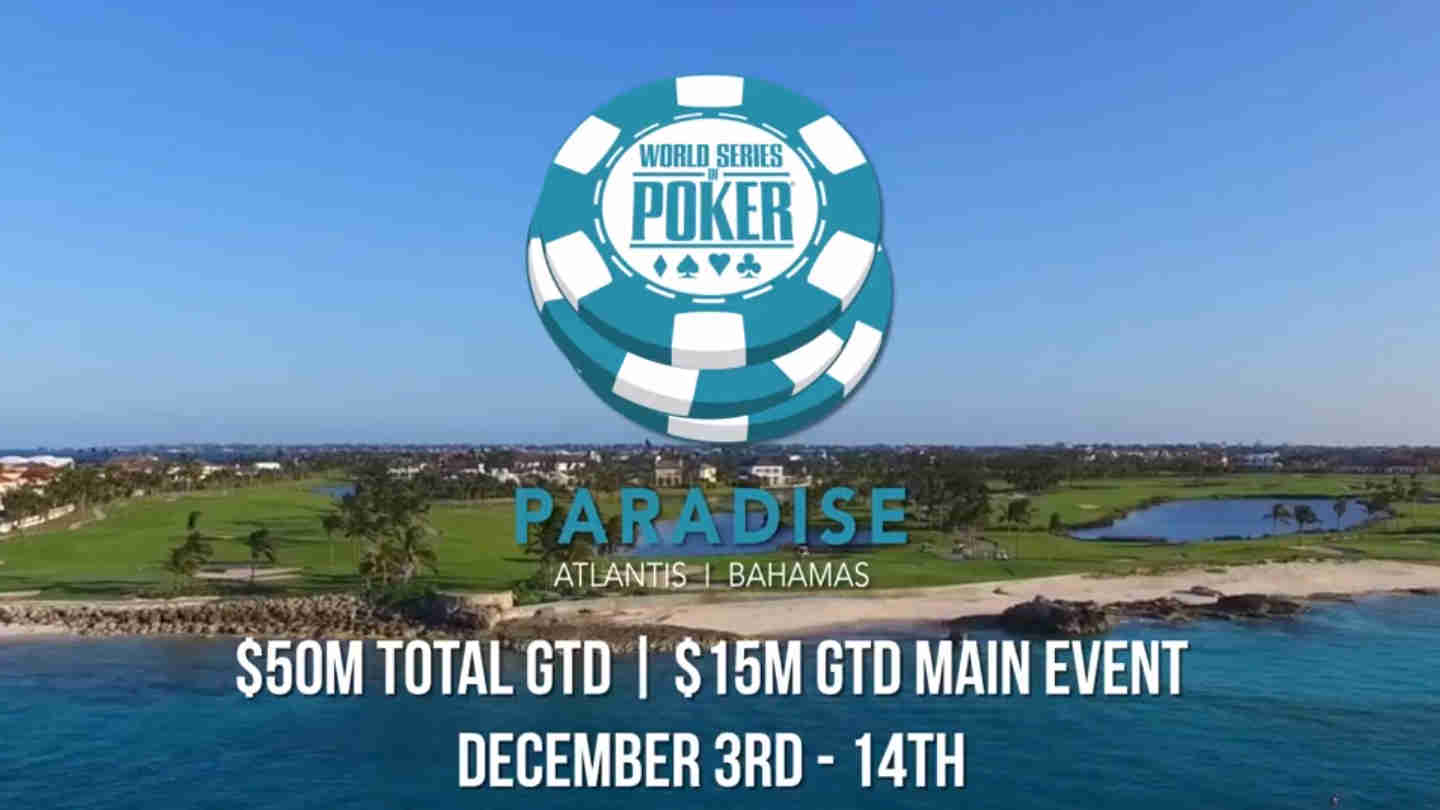 4 minutes
Last Updated: November 6, 2023
In case you have been living under a rock and haven't heard just yet, the world's biggest poker tour, WSOP, is going to host 15 gold bracelet events at Paradise Island this winter for the first time in its history.
The inaugural edition of WSOP Paradise, as the festival is officially called, is coming closer every day, and so does the list of qualifiers and famous players confirming their attendance of this historic festival.
With the first WSOP Paradise event set to kick off on December 3, starting 12 days of non-stop tournament poker action, it is high time to finalize your plans and decide whether or not you will be making the trip out to Bahamas.
To help you out with the decision, WSOP has been making sure to highlight all the most notable attendees who have confirmed their participation in the festival, and the list is quite a mouth-watering one.
Whether you are an old-school fan of poker looking for those well-known poker legends, a newer generation of players growing up with poker streamers and content creators, or a sports fan hoping to run into a legend of another game, WSOP Paradise will have it all.
Superstars to Show Up in Force for WSOP Paradise
WSOP Paradise may still be a full month away, but a number of famous people from both the world of poker and outside of it have already booked their accommodations at the Atlantis and are eager for the day to finally come.
For those looking to meet their poker heroes, the likes of Daniel Negreanu, Jamie Gold, and Bertrand "Elky" Grospellier have all confirmed they will be making a trip out to the Bahamas, which is not a big surprise considering their affiliations with the WSOP brand and GGPoker, the festival's online poker partner.
Up next: Jamie Gold!

The legendary 2006 Main Event winner will look to make another historic run in the $5,300 Main Event Championship on December 9th at the 2023 WSOP Paradise.

Event Schedule: https://t.co/FLKqnACbvZ
Book Room: https://t.co/HFkVTwhn8v pic.twitter.com/QzoKUOF4GP

— WSOP – World Series of Poker (@WSOP) November 2, 2023
Jonathan Little, one of the best and most well-known poker coaches these days has also put his name out there, announcing to the world that he will be in the Bahamas, ready to shake some hands, meet some fans, and likely quite a few of his online students in person.
Jonathan Little is going to the Bahamas!

Fresh off last week's six-figure score, the poker coach with over $8 Million in live poker earnings is packing his bags for a trip to Paradise.

We are almost one month away from the first-ever WSOP Paradise! Who's ready to hunt… pic.twitter.com/7GSv7UjHsk

— WSOP – World Series of Poker (@WSOP) October 31, 2023
The likes of Alexandra Botez, Lexy Gavin, and Alexander Wolfgang will all attend the inaugural WSOP Paradise as well.
This means we will have tons of video content coming straight from Atlantis throughout, as all three are famous content creators who can't wait to tell us their Paradise story.
If all these poker superstars were not enough to wake up your imagination, then imagine playing poker with the likes of NBA legend Tony Parker or former Argentina and Manchester City striker Sergio Aguero, both of whom have confirmed their trips to the Bahamas this December.
The list of superstars attending WSOP Paradise is growing by the day, and includes a who's who of poker, sports, and business, on top of the hundreds of casual poker players who have already won their WSOP Paradise tickets via a variety of satellites running at GGPoker and ClubGG.
Join Your Poker Idols in Paradise
If you are eager to join your poker idols and play in the first-ever WSOP Paradise, there are quite a few options you could get into the action without paying the full price of admission.
GGPoker, the world's biggest online poker site, has been running its "Road to Paradise" promotion for weeks now, promising to send at least 1,000 players to the Bahamas to play in the winter festival at a significantly reduced price.
The satellites at GGPoker are running from as low as $15, with three steps needed to get into the $5k Main Event with one of the valuable Main Event packages.
The $10k packages for the Main Event, hundreds of which have already been given away at GGPoker, WSOP.com, and ClubGG, include the buy-in into the Main Event, 10 nights at the Atlantis Resort, and a free lunch for each of the days.
All-time great @aguerosergiokun will be chasing WSOP bracelets in Bahamas at @atlantisbahamas, will you ?

Book your hotel package with special rates starting at $209 : https://t.co/7QZxvDerEV pic.twitter.com/aYr0UyDzMW

— WSOP – World Series of Poker (@WSOP) October 13, 2023
If you haven't get given the satellites a shot, make sure to join GGPoker if you live in Europe or Asia, or ClubGG if you are in the United States, to grab one of the late opportunities still remaining to grab your tickets to Paradise.
It is also worth noting that a number of WSOP Paradise events, including the Main Event, will allow players to play Day 1 online, before travelling out to Paradise Island for Day 2 action.
The $1.5k WSOP Millionaire Maker, $25k GGMillion$, and the $5k Main Event will all be offering Day 1 flights at GGPoker, with the Millionaire Maker Day 1 being an exclusively online event and the final 100 players coming together to play the Final Day live at Atlantis.
This means that you can not only win your seats in the WSOP Paradise online, but also play Day 1 of some major tournaments from the comfort of your home and only make the trip if you already know you are running deep in one of them.
More Big Names Coming Soon
WSOP and GGPoker have been slowly leaking the list of famous attendees of this year's winter WSOP festival, but it is clear that this list keeps expanding by the day, with new big names added on a regular basis.
For that reason, I strongly urge you to keep up with the official WSOP Twitter account, where you can see all the new updates and the names and faces of all your poker and sports heroes who will be attending the event.
The sheer opportunity to play poker with the likes of Daniel Negreanu, Elky, Jonathan Little, Tony Parker, and Sergio Aguero all within a single tournament series is one you don't want to miss out on, so make sure to jump into those satellites and give it your best shot to qualify playing on your PC or mobile poker app.