2023 WSOP Week 5: Phil Hellmuth Adds to His Legacy Winning Another WSOP Bracelet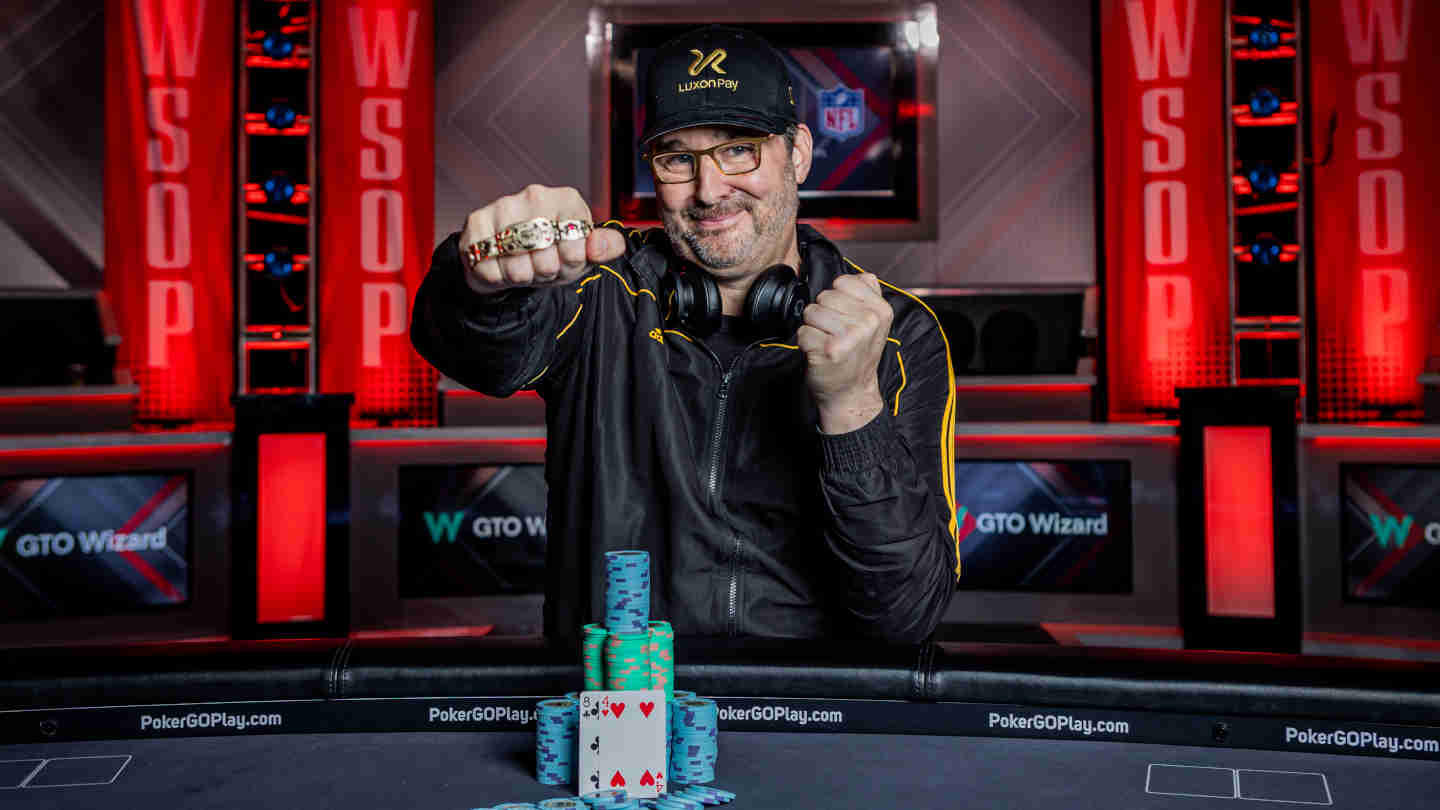 Phil Hellmuth has been holding the record for the most WSOP bracelets won for some time now, and it seems it will take a while before anyone comes close to jeopardizing that record.
Up until today, Phil held the impressive 16 bracelets, but he was able to add to that number today, triumphing in the $10,000 Super Turbo Bounty event.
Hellmuth was the last man standing in a 642 field and he claimed over $800k for his win, but much more importantly, he added the bracelet number 17 to his record, further extending the lead over the rest of the poker world.
Mastering an Unlikely Comeback
There is no giving up in tournament poker, and that's something we've seen time and time again. Players have mastered remarkable comebacks from the verge of elimination to claiming the victory, and Phil Hellmuth pulled one of these on his way to his latest bracelet.
His stack at one point was as low as two big blinds, and it certainly didn't look like Poker Brat would be adding to his bracelet count in this event. However, after he came back from the break, things started to fall into place, and he could do no wrong.
Phil sent many players packing on his way to the win, including another legend and his namesake, Phil Ivey. Ivey had a very good run through the tournament, but Hellmuth stopped him in his tracks, sending him to the rail in sixth place.
It was another big day for Poker Brat, who continues to extend his legacy, proving all the doubters out there the White Magic really works.
BOOM!! Hello 17th World Championship!!! #POSITIVITY @WSOP #PHNiceLife pic.twitter.com/HHDjAPvG6v

— phil_hellmuth (@phil_hellmuth) July 2, 2023
Huge Turnout for the 2023 Colossus
In other WSOP news, the 2023 edition of the popular $400 Colossus attracted 15,894 entries, which is over 2,000 more than the last year.
With everything we've seen at the Series this far and attendance records being broken left and right, this was somewhat expected, but it's always nice to see these kinds of expectations come true.
At the time of writing this, the massive player field has been reduced to just over 180 players, and that number will continue to drop during the night. There is a massive prize of over $500k awaiting the winner, which is a truly stunning number for a $400 live event.
Talking about big turnouts, the $1,000 Seniors Championship didn't disappoint, either. That tournament attracted 8,180 entries, resulting in a prize pool of almost $7.3 million. Lonnie Hallett, who defeated Billy Baxter to claim the victory, took home $765,731.
Another High Roller in the Books
On the other side of the buy-in spectrum, last week saw another high roller event come to a conclusion. It was the $50,000 PLO event that attracted exactly 200 entries, leading to a $9.5 million prize pool.
It was a strong field, as one would expect from a $50k event, featuring the likes of Isaac Haxton, Tyler Smith, Jared Bleznick, Sam Soverel.
In the end, though, it was Jesse Lonis claiming the victory good for $2.3 million and his second WSOP bracelet. In addition to being his biggest cash, the win was quite important for Lonis as it came in such a tough field made of some of the best players in the world.
Jesse Lonis scores big by taking down the $50,000 PLO High Roller for $2,303,017 and his second bracelet!

Congratulations, @JesseLonis! pic.twitter.com/UsODtCjRoL

— WSOP – World Series of Poker (@WSOP) July 3, 2023
Main Event Kicks Off
Monday, July 3, will mark the official start of the 2023 WSOP Main Event. As always, there will be four starting flights, on July 3, 4, 5, and 6.
This means that by the end of the week, we'll have the answer if this Main Event will finally break the 2006 record and become the largest one in history.
From everything we've seen so far, we wouldn't bet against it. The World Series of Poker is buzzing right now, and it could be the case that we finally see a number of entries reaches five digits!