How to Find the Best Cash Games on PokerStars?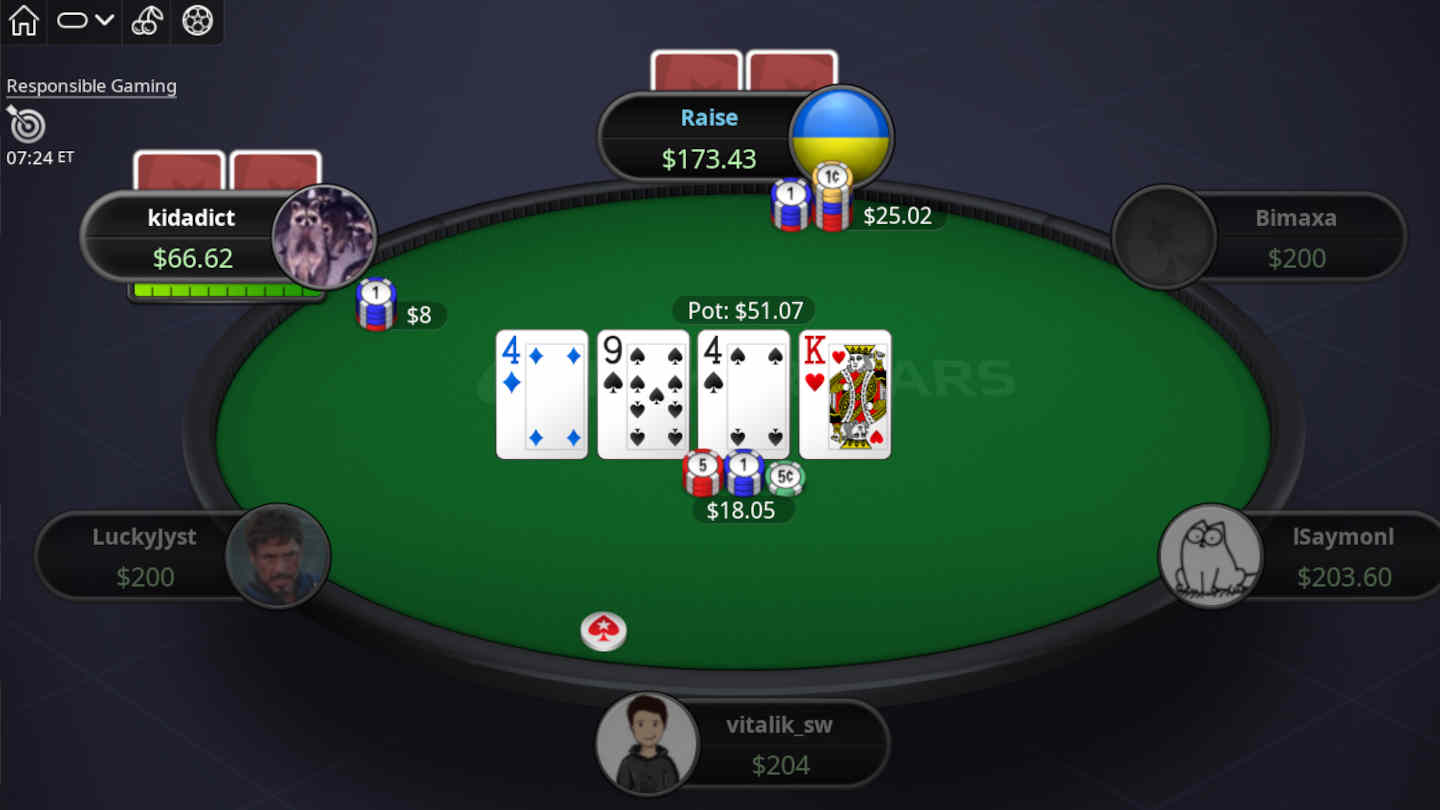 The online poker juggernaut PokerStars captivates players worldwide, thanks to its thrilling gameplay and fantastic tournaments.
However, if you are seeking a more direct and dynamic poker experience, cash games present an enticing option.
Finding the best cash games on PokerStars is crucial if you are looking to maximize your enjoyment and potential profits.
This article will navigate you through the vast selection of cash games available at PokerStars and offer valuable insights into which factors to consider, tools to utilize, and strategies to employ.
Understanding Cash Games on PokerStars
Cash or ring games are some of the most popular formats on online poker sites like PokerStars.
Unlike tournaments, cash games do not have a set starting or ending time. You can join and leave the tables at your convenience. This makes them highly flexible and ideal for players on a tight schedule.
In cash games, you exchange real money chips for a seat at the table, with the option to buy more chips if needed.
The blinds (small blind and big blind) remain the same throughout the game. This is in contrast to tournaments where blinds increase over time.
This allows you to use more strategy and play with a deeper stack, as you can top up your stack whenever you fall under the initial buy-in amount.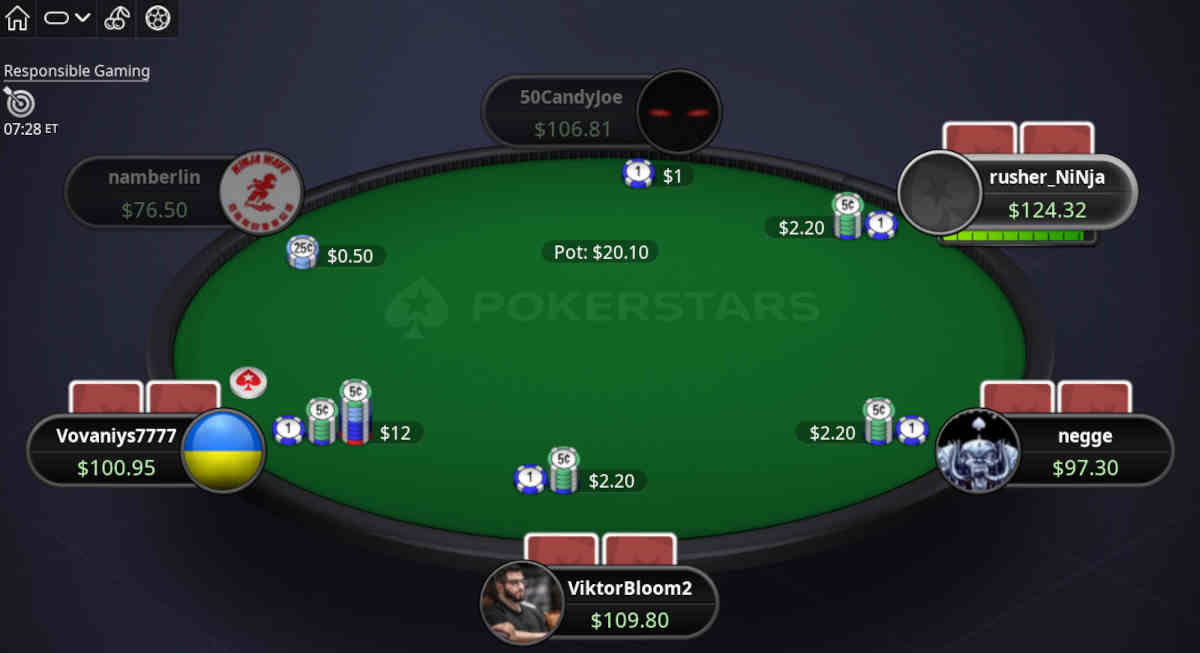 Regarding cash games, PokerStars has one of the biggest offers available online. In addition to the number of games, they are also tailored for players of different preferences and skill levels.
The most popular cash game variant on PokerStars is No Limit Hold'em. Players can bet any amount of chips they want during the hand in this format.
NLHE has earned its place as the most popular poker version in the world thanks to its exciting gameplay full of strategic decisions.
Pot Limit Omaha, Fixed Limit Hold'em, Omaha Hi/Lo, Seven-Card Stud, and Razz are some od the other poker formats available on Poker Stars.
Each format has unique gameplay, attracting players with different preferences and skill levels.
We recommend researching every one of them before jumping into games to choose the best one for you.
Factors to Consider When Choosing Cash Games on PokerStars
Here, we explore the key factors to consider when choosing which cash games on PokerStars to play. This includes stake levels, bankroll management, game selection, and skill level, among others.
Stakes and Buy-ins
Cash games on PokerStars offer a range of stake levels, from micros to high-stakes tables. Because of this, you are required to do your research about which stakes suit your bankroll and skill level.
Higher stakes games are usually home to more skilled players, while lower stakes games will often have some recreational players.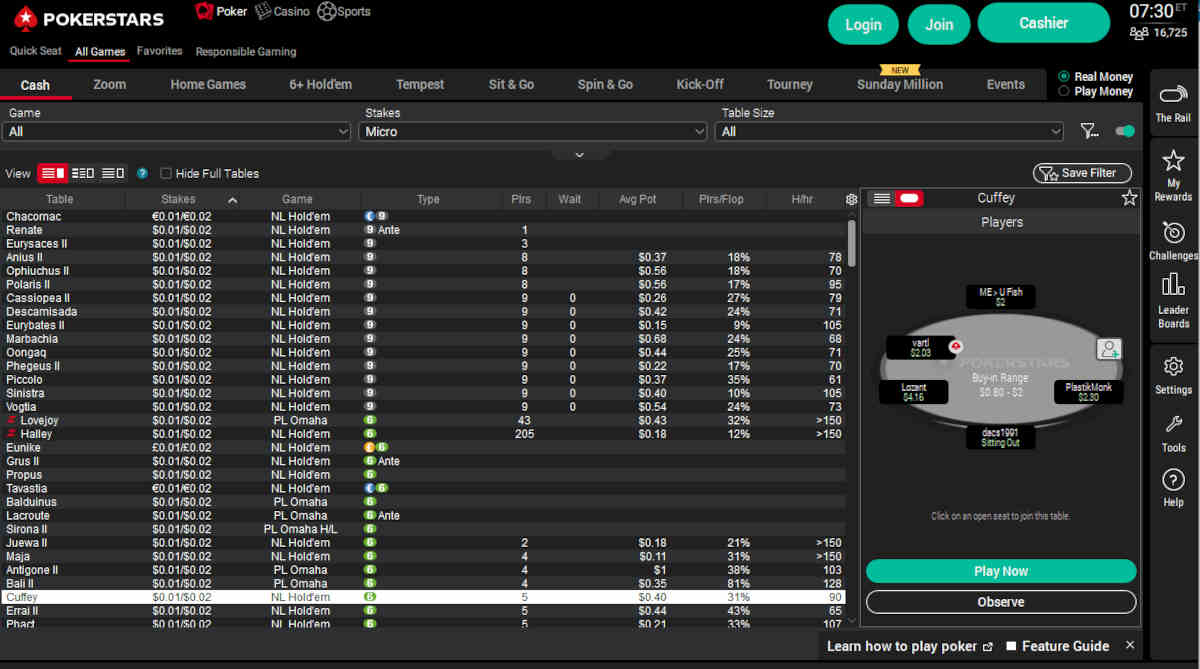 Bankroll management is also crucial when choosing which poker games to play. Generally, you will want at least 20 to 30 buy-ins for the stake level you intend to play.
For example, if you plan to play in $0.5/$1 NLHE, you should have a bankroll of at least $2,000 to $3,000. This will help you manage potential downswings without going broke.
Choose stakes that allow you for comfortable with bankroll management. This will minimize the chances of losing all your cash because of a few coolers.
Skill Level and Competition
Evaluating your opponent's skill level is another essential step in determining which cash games to play.
Consider the average ratio of regulars and recreational players, average pot size, and players' statistics.
Look for cash games in which you will play against multiple recreational players, significantly increasing your chances of success.
Balancing profitability with the challenge is very important to improve your game and make money.
While playing against weaker opponents can be more profitable, facing some competent opponents to improve your skill is also essential.
Find the right balance between the two to make your poker experience more enjoyable and rewarding.
Game Format and Table Structure
Different cash game formats, such as No Limit Hold'em or Pot Limit Omaha, have distinct strategies.
This is why it is essential to consider your preferences and strengths when selecting a cash game format.
Choose the variant that suits your style of play and provider the most enjoyment.
Additionally, consider the game structure, such as the table size (6-max or full ring) and the speed of play (regular vs. zoom tables).
These factors significantly affect the pace of the game, the number of hands you will be playing per hour, and your style.
By carefully considering these factors when choosing cash games on PokerStars, you can optimize your playing experience, manage your bankroll effectively, and increase your chances of success at the tables.
Tools and Resources for Filtering Cash Games on PokerStars
The PokerStars lobby is the central hub for navigating and discovering cash games in the operator's client. You will find many options and tabs to explore upon logging in.
To efficiently find the cash games you are looking for, you must familiarize yourself with the lobby layout.
If you want to refine your search results, use the full potential of available filters. Utilize them to narrow down the game selection based on your preferences.
Key filter options include:
Stake level
Game type
Table size
Consider using additional filters, such as the average pot size or player count. This will help you to customize your search further.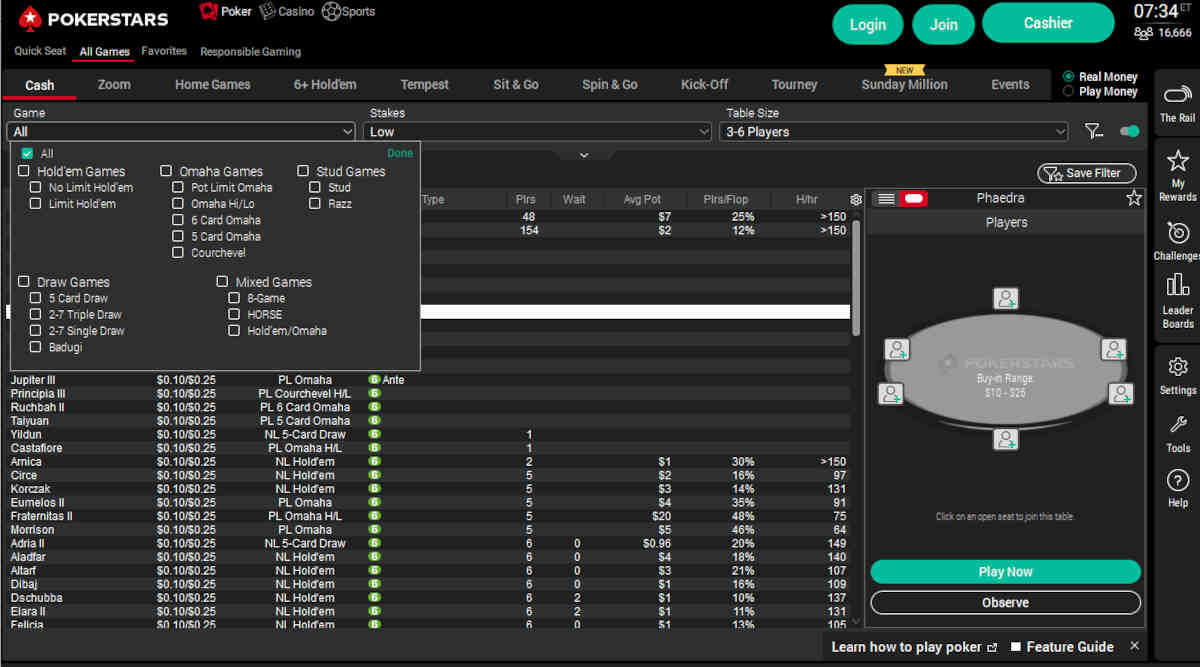 You can also take advantage of the advanced filter options that allow you to use additional criteria such as:
Table speed
Buy in ranges
Game variations
You can streamline finding the most suitable cash games on PokerStars by fine-tuning your search with detailed filters.
Remember to periodically refresh your lobby view to stay updated with the latest available table and to adjust filers based on current player traffic.
Being familiar with the lobby layout and using filters effectively will save you time and ensure you can quickly find the cash games that align with your preferences.
Strategies for Maximizing Profits in Cash Games on PokerStars
Good bankroll management is crucial to avoid significant losses in cash games on PokerStars.
Set clear boundaries for how much of your bankroll you will risk in a single session or at a specific stake level. This will help you avoid emotional decision-making and ensure long-term sustainability in cash games.
With this said, recommended bankroll guidelines vary depending on the stakes you play. Generally, the higher your stakes, the more buy-ins you should have, starting with 20 at the micro stakes.
For example, if you are paying $1/$2 No Limit Hold'em, you will want to have at least $4,000 to $5,000 in your bankroll.
In other words, the stronger the competition you face, the smaller your edge will be and the more poker buy-ins you should have in your bankroll.
It is also essential to reevaluate your bankroll as you move up or down in stakes. If you are climbing in stakes, you should ensure that your bankroll can withstand the swings on those stakes.
Conversely, if you experience a big hit to your bankroll, move down in stakes and try to rebuild it before moving up again.
Additionally, avoid the temptation to play above your bankroll limits due to tilt or impatience. Stay disciplined and play within your bankroll to maintain a sustainable poker career.
By implementing everything we've mentioned, you can mitigate the risks of playing poker cash games and put yourself in the best possible position to maximize profits over the long run.
Final Thoughts on PokerStars Cash Games
This article covered the essentials of finding the best cash games on PokerStars. We explored factors such as stake levels, bankroll management, and game selection.
We also discussed using the filters to find suitable cash games in the PokerStars lobby.
We encourage you to implement the strategies and tips provided in this article. By considering these factors and utilizing the available tools, you can enhance your chances of finding PokerStars cash games that suit your preferences!