Play Aviator Demo Slot Game Online
The online gambling industry is constantly evolving and innovating. But, most of these innovations stick within the boundaries of classic gambling games like slots, blackjack, roulette, and others.
However, the same couldn't be said about Aviator, the game we'll thoroughly review on this page. It's a relatively new online gambling game and a title recently gaining significant traction.
Aviator is a casino game that offers you a unique gambling experience like no other.
So, if you want to bring some excitement into your gambling sessions and potentially hit a lucky win, make sure first to read our comprehensive Aviator review to the end!
Play Aviator Demo Slot Game For Free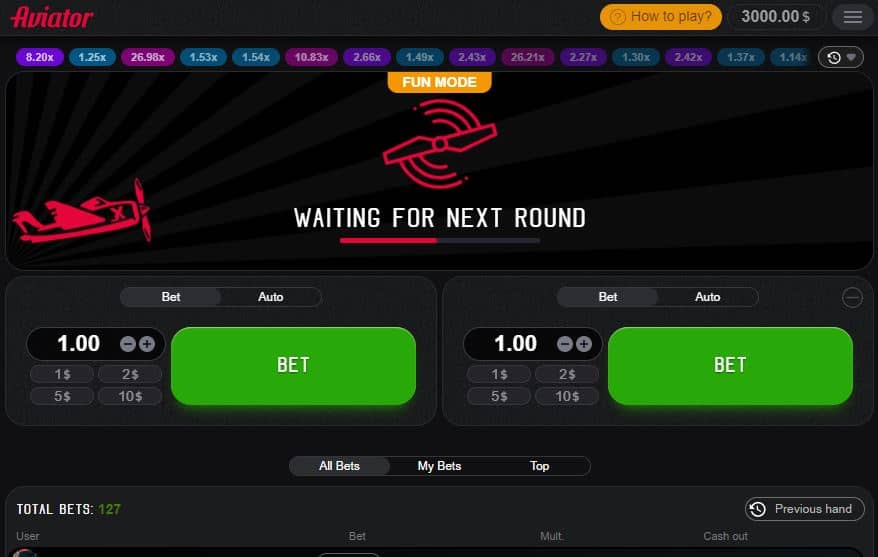 Aviator is different from other online casino games you'll come across. Instead of featuring symbols, paylines, cards, numbers to bet on, or any other standard gambling instruments, it includes an airplane.
We'll get to the specific gameplay features and tips on how to play Aviator later down this guide.
That said, this extraordinary online casino game also comes loaded with other features that provide additional entertainment. These include:
Chat Feature – Aviator is an excellent game for socializing with other gamblers, as you can interact with all the other players playing this casino game. You can share your stats or even send emojis and GIFs using the excellent integrated chat feature.
Live Bets and Statistics – On the left part of the gameplay screen, you can see how much other players have wagered and at what points they cashed out in the round. Moreover, there's also a live leaderboard featuring the largest wins and biggest multipliers in a given period.
Promo Features – The game includes Aviator Aviance tournaments you can compete in to win additional prizes and more rewarding payouts. Additionally, other promo features include Free Bets and Rain Promo, which deliver various giveaways and free bets you can use to win more.
Spribe – The Company Behind Aviator
Much like the game itself, the company behind it, Spribe, is a new force in the industry not many online gamblers are familiar with. Spribe is an up-and-coming and innovative iGaming provider.
The company was founded just a few months before Aviator was published. It started operating in November 2018, and the game went live in January 2019. So, it's safe to say that Aviator is currently Spribe's flagship game and their most popular title to date.
Despite being a very young game in the online gambling industry, Spribe has already managed to obtain licenses from the industry's biggest authorities.
It is licensed by:
Apart from these three big names, Spribe holds licenses and certifications from over a dozen gambling jurisdictions worldwide.
Aviator Bet Sizes
Of course, when talking about any online casino game, it's essential to understand the bet sizes available to you. With that in mind, Aviator is a very flexible slot, as it offers a very broad range of bet sizes.
The minimum you can bet per single wager is just $0.01, and the maximum is $100.
As you can place two bets simultaneously, the maximum amount, you can bet each round is set at $200.
If you don't want to constantly switch between lower and higher denominations as your bankroll changes, you can use one of the four quick bet options. These are set at $1, $2, $5, and $10. There's also a maximum win limit for one bet, set at $10,000.
That said, there's also an additional twist. As this game is also available in some crypto casinos, you can use cryptocurrencies to bet on it.
More precisely, you can use the most popular currency, Bitcoin, to bet on Aviator. And most often, the wagering limits are lower compared to those in regular real money online casinos that use fiat currencies.
Aviator Online Casino Game RTP and Volatility
According to the info provided on Spribe's official website, Aviator has an RTP of 97%. Of course, the casino still has an advantage, as is the case with any game. But, in this case, it's just 3%, a percentage you can live with in the long run.
The specific nature of the game means that Aviator also has low to medium volatility.
In other words, you can expect small wins very often. Larger wins tend to happen occasionally, but you have to time the flight and jump at the right moment, which is often easier said than done.
That said, with low to medium volatility and an RTP of 97%, this online gambling game is an excellent pick for long-term gamblers. You can expect decent returns on your bets over time, better than what most online slots can offer you. And, the game's volatility means that you don't have to worry about losing huge amounts of money if you're just a bit careful.
How to Play Aviator Online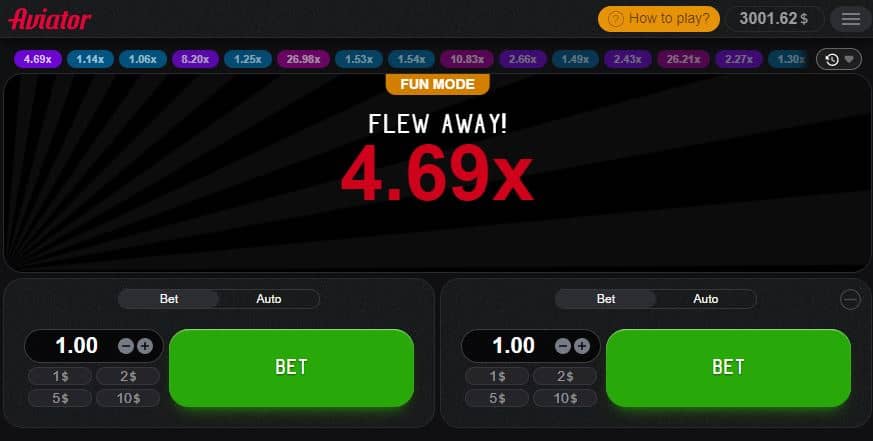 With Aviator being such a unique game, we should also go over the steps of how to play it online. These are fairly simple, but you should keep them in mind if you've never tried this gambling game before. Here's a quick look at how to play Aviator in online casinos:
Sign up with an online casino that offers Aviator.
Make a deposit.
Load up the game on the casino's website.
Set your bet(s).
Once the betting window closes, the airplane will start flying.
As it flies, wait for the best moment to cash out before it flies away.
So, how does the game determine how much you win? Well, it's all pretty simple from start to finish. Once you make your bet and start the game, the airplane will take off. At that moment, the game's multiplier will start ticking.
It starts at 1.00 and grows in decimals.
As the plane flies, you have to determine the best moment to cash out. You have to do so before the plane flies away out of sight. As everything is random, there are no clues as to when this can happen, making the gameplay really nail-biting.
The multiplier can go up to 100x, meaning that if you ride it to the end and it doesn't fly away, you'll get a hundred times your bet's worth. But, it can fly away at 99.90 or any earlier point with any indication, so you'll always be on the edge of your seat.
Lastly, while many online gamblers classify Aviator as an online slot, it's technically not one. This is because it involves significant input from the player. While it's still heavily luck-based, the player is the one deciding when they want to stop and cash out for the round.
Best Strategies for Winning at Aviator
So, what are the best strategies to boost your winning chances in a game with such a simple premise and straightforward gameplay?
The most responsible and probably strategically smartest way to play Aviator is to set the auto cash-out feature.
That way, you won't miss out on the opportunity to cash out, even if you place two bets in the same round.
Now, here's the tricky part, how to tell where to set the auto cash-out mechanism? If you want to play it safe, you can set it around 2x your bet size. On the other hand, if you're chasing bigger wins, you can set the auto cash-out to trigger at 5x or perhaps even at a bigger amount. This provides you with more rewarding wins but is significantly riskier.
These are the most important things to keep in mind to help you get the best winning chances for every flight. However, we should mention that these strategies are just suggestions, and you might want to check general tips on how to win at slots.
You can't guarantee a win in this game, as it is gambling, after all. Every outcome is completely random and is not tied to any previous flight. So, make sure to gamble responsibly and play according to your bankroll and preferences.
Aviator Mobile Casino Game Version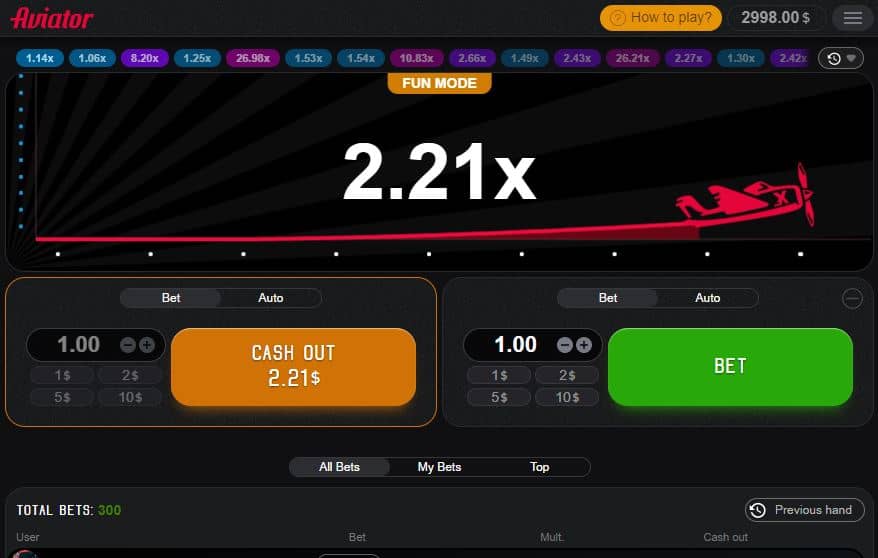 If you like playing casino games on the go, it's good to know that this exciting online gambling game is available on both tablets and mobile phones. Moreover, you can play Aviator regardless of whether you have an Android or iOS device.
After playing Aviator on both desktop and mobile devices, we liked the overall experience more when gambling on a handheld device. The game feels more intuitive and seems easier to control on a mobile device than on a desktop one.
Apart from that, the mobile version of Aviator has all of the same features you'll find while playing on a desktop computer. Everything is the same with the same betting options, interface, and soundtrack.
The only potential negative side of playing on a tablet or mobile device is that the game quickly consumes a lot of battery.
So, if you want to play primarily on these devices, make sure you have a lot of battery left or carry an external battery charger.
However, there's one more great thing about Aviator in the context of mobile gambling. This is because it's very light and adaptive. You don't need great Internet bandwidth or an expensive mobile device to play this online casino game.
Aviator Review Conclusion
At first glance, Aviator is a weird and unusual slot, so luckily, you can test it for free on this page. To be honest, you might not even like it based on your initial impression when you see it, as it strays so far from the regular online casino games we're used to.
It seems too simple to be real, and it's easy to suspect that it's fixed and that you can't win any real money playing it.
However, after playing it for hours and inspecting every part of it, we were left very impressed.
And, we can confidently say that the best way to dispel all of these negative opinions is just to try out the game.
There's something very addictive about Aviator's gameplay.
It will hold your attention during long sessions and keep you engaged despite the simple concept.
In our opinion, this is mainly because of the very exciting nature of the game. You never know at which millisecond the plane will start taking off.
So, if you're tired of classic online casino games or simply want to try a new game, Aviator is a must-play. The good news is that it is available as a free game to test.
It is totally different from the norm and does not resemble any other online casino game genre.
Aviator Slot FAQs