Play Fishin Frenzy Demo Slot Game Online
Fishin' Frenzy is one of the most popular online slots around. In fact, it is so popular that Reel Time Gaming originally developed it but then licensed it out to Merkur and Blueprint Gaming.
It is a typical classic fishing-themed slot that looks like a bit of an older version of Sweet Bass Bonanza at first glance.
In this Fishin' Frenzy slot review, we will look at all that Fishin' Frenzy has to offer. We will discuss the Fishin' Frenzy bonuses, pros and cons of the game, additional features, return to player, volatility, min and max bets, and more.
If you want to know all there is to know about the Fishin' Frenzy slot, then continue reading this Fishin' Frenzy by Blueprint Gaming slot review.
Play Fishin' Frenzy Demo Slot Game For Free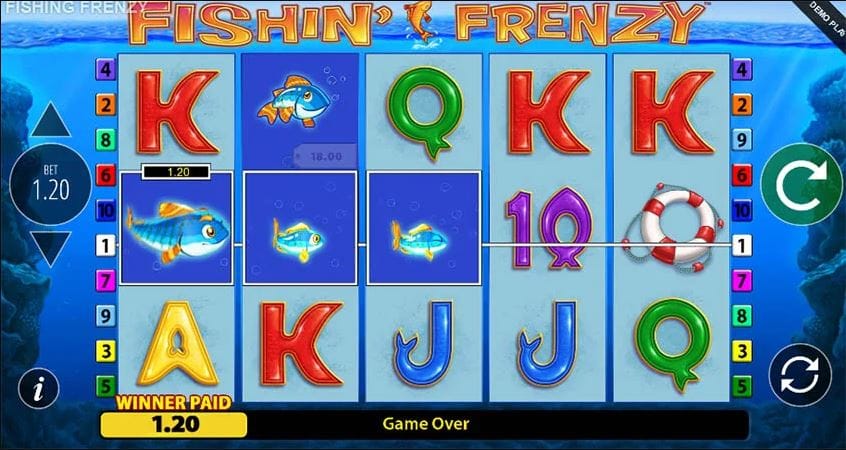 As we already mentioned in the intro of this review, Fishin' Frenzy is a fishing-themed slot machine game. It has 5 reels, 3 rows, and 25 fixed pay lines.
The playing field is colorful, and we see all the different paylines marked in different colors.
To the left side of the reels, we see our current bet and arrows to adjust this. To the right side of the reels, we have the big spin button, and below the slot, we have the betting interface, which shows us our current balance, bet per line, and the total bet.
The soundtrack of Fishin' Frenzy is cheerful, and you get the feeling that you're out on a boat fishing because the game's background is underwater.
We like the fact that all the symbols on the reels are designed as fishes. This is a small detail but very well thought out by Reel Time Gaming.
How to Play Fishin' Frenzy by Big Time Gaming
Fishin' Frenzy by Big Time gaming is an easy-to-play online slot, requiring no strategy. You just hit the spin button and await what happens next, but you can still follow tips on how to win at slots to do better.
To get started playing Fishin' Frenzy, you follow these simple steps:
Go to the website of your favorite online casino or open your favorite casino app, navigate to the casino lobby and use the search bar or filter options to search for Fishin' Frenzy. You can also search for Big Time Gaming and manually select the game if the casino's search feature doesn't work with the ' symbol.
After loading the game, we suggest clicking on the menu icon. This will show you the paytable, so you know exactly how much the different symbols payout. Here you can also set your sound preferences in case you want to play muted.
Once you know the different payouts, adjust your total bet size. You do this with the arrow buttons to the left side of the reels. You always play all the paylines. They are fixed, and you can only change your total bet.
If you want to use the Autospin feature, you can activate it and set it up however you want in terms of the number of spins, loss limit, and single win limit.
Once you're all ready to go, you simply hit the spin button on the right side of the screen and await the results.
Fishin' Frenzy by Big Time Gaming Symbol Information
There are 9 symbols totals that can show up on the reels while playing Fishin' Frenzy by Big Time Gaming.
The lowest-paying symbols are the card symbols 10, Jack, Queen, King, and Ace. They will pay you out five times your total wager per spin when you spin three of them on any of the paylines, 25 times your bet per spin when you have 4 of them, and 100 times your bet when all five of the same symbols are spun on one of the 10 paylines.
The highest-paying symbols are the pelicans (2000x), the fishing rod (1000x), the lifesaver (500x), and the fishes (200x).
These multipliers are when you spin five of them on any of the 10 paylines.
Fishin' Frenzy by Big Time Gaming Minimum and Maximum Bets
As we mentioned in this Fishin' Frenzy slot review, you can adjust your wager per spin with the arrows to the left side of the playing field.
The lowest amount you can play Fishin' Frenzy per spin for is just $0,20 ($0,02 on all 10 paylines).
Fishin' Frenzy's maximum bet per spin is $400 ($40 on all 10 paylines). There are no bonus buy features whatsoever.
The highest amount you can win is 5,000x your wager per spin, so the highest Fishin' Frenzy jackpot is $2,000,000.
One of the best things about Fishin' Frenzy is that you don't have to worry about which paylines to play, as you automatically play all of them.
Fishin' Frenzy RTP and Volatility
Fishin' Frenzy has a return to player of 96,21%. This is quite decent and higher than the average RTP of online slots.
In terms of volatility, Fishin' Frenzy rates 1,5 out of 5, which means it is a low-to-medium volatility slot.
You will win relatively often, but the prizes you win won't be relatively big. Low volatility slots like Fishin' Frenzy are interesting for players with smaller playing budgets or who want to play through casino bonuses.
Fishin' Frenzy Bonuses and Features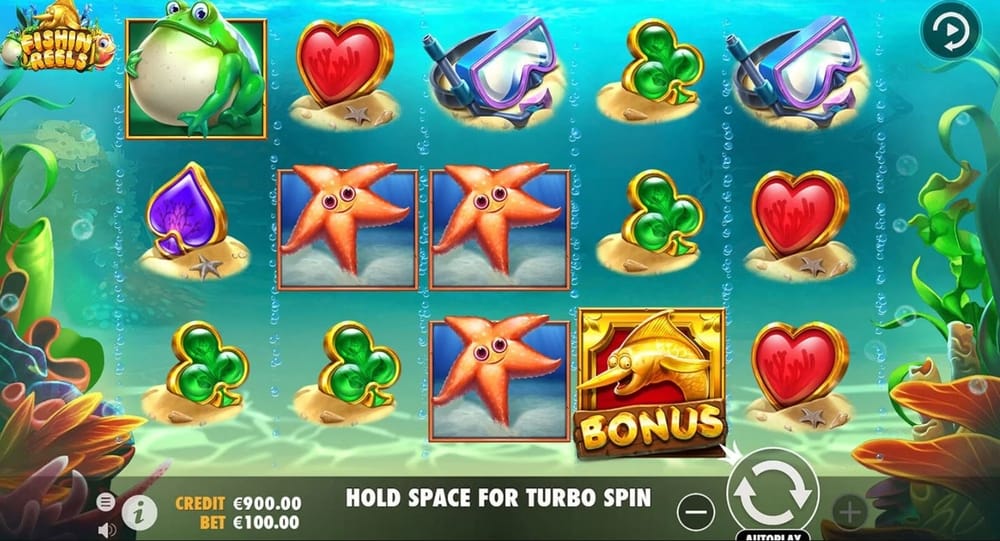 Fishin' Frenzy has two sorts of bonuses or special features. As we all like slot bonuses, let us explain exactly how these Fishin' Frenzy bonus features work.
Free Spins Bonus
Whenever you spin three scatter symbols while playing Fishin' Frenzy, you will receive 10 free spins. If you spin more scatter symbols, you will receive even more free spins.
You get 15 free spins with four scatter symbols, and with 5 scatter symbols, you will get a whopping 20 free spins.
These scatter symbols can be spun anywhere on the reels. They don't need to be adjacent to each other or on a certain payline from left to right.
Fishing Win Bonus
While you are in free spins mode with Fishin' Frenzy, an angler will appear on top of the reels, and he will cast a line into the playing field.
Some symbols will turn into fishes with price tags. When the angler catches these fish, you will receive the cash prizes shown on the price tags.
Gamble Feature
Fishin' Frenzy contains a so-called gamble feature. This means that after every winning spin, you get to choose whether to cash in your prize or wager the win in a bonus game. If you just want to take your prize, you can do so and just click on the 'Take Win' button.
If you want to gamble with this feature, you click on the 'Gamble' button.
There will be a face-down playing card in the middle of the screen. You have to guess the card's color (red or black). If you guessed correctly, you'd double your win.
If you guessed wrongly, you lose your win, and the spin or game round ends. You can gamble up to 5 times a row to double up your winnings or press 'Take Win' any time you want.
How to Win with the Fishin' Frenzy Slot Machine Game
You win the Fishin' Frenzy slot machine game by spinning winning combinations, so you do not need to know any slot machine secrets. If you happen to spin any three or more identical symbols on any of the game's 10 paylines, this is considered a win, and you will receive a payout.
All symbols pay out differently, with the Pelican symbol paying out the most.
It is possible to double your winnings by using the optional Gamble Feature at the end of a winning spin. Note that Fishin' Frenzy is a game of chance; there is nothing you can do to influence your chances of winning or losing. There is no certain slot strategy you can apply other than managing your gaming budget properly.
Other Fishin' Frenzy Casino Games
Fishin' Frenzy has become such a popular online slot among players across the globe that Big Time Gaming decided to create a few different versions of the game. For instance, there is the Fishin' Frenzy Megaways, where there are a massive 15,625 paylines instead of just 10.
The max win of this version is 10,000x instead of 5,000x. Then there is also Fishin' Frenzy: The Big Catch.
This is basically the same as the normal Fishin' Frenzy slot machine game, but with an enhanced bonus round.
During the free spins mode, you can spin angler symbols. Whenever you have reeled in four angler symbols, two of the lowest-paying fishes will transform into higher-paying ones. This version of the game can lead to very big wins in free spin mode.
Fishin' Frenzy Demo Gameplay
We always recommend trying a slot machine game out in demo mode first. This is a great way to familiarize yourself with the game and get to learn its mechanics and payouts. \So, do yourself a favor and definitely play the Fishin' Frenzy demo version first on this page before wagering your hard-earned money.
Note that the Fishin' Frenzy demo version mirrors the real slot machine game and pays out exactly the same.
Almost all online casinos that offer Big Time Gaming slots allow you to play the Fishin' Frenzy demo or you can just visit our free casino games page. You will have to have an account with these online casinos, though.
Fishin' Frenzy Mobile Version
Although being a bit of a classic slot (released in 2014), Fishin' Frenzy is perfectly playable on mobile devices.
You can play the game on both Android and iOS devices, and all the buttons and text will adjust to the screen size of your device.
You don't need to download any casino app or special software to be able to play the Fishin' Frenzy mobile version, as you can just play it directly in the browser of your mobile device.
Casino Software Provider Behind Fishin' Frenzy – Big Time Gaming
Big Time Gaming was founded 11 years ago in 2011 by Nik Robinson. Big Time Gaming became famous in 2017 among real money online casinos because of the so-called Megaways mechanic. This mechanic uses six reels, but the number of symbols that can show up on these reels is randomly chosen every spin, up to a maximum of seven symbols per reel.
This creates thousands of paylines, 117,649, to be precise, rather than just 10, 25, or 40.
To this date, Big Time Gaming has developed and released about 200 online slots that feature this Megaways feature. Evolution Gaming recently acquired Big Time Gaming for $534 million.
Fishin' Frenzy Review – Our Verdict
We find it no wonder that Fishin' Frenzy has become such a popular online slot among gamblers across the globe.
It has a vibrant tune to it, pays out well, and despite being a classic slot, it gives you that exciting feeling of playing slots, especially once you hit the free spins mode and the angler starts to show up.
If you are a fan of slot machine games, we highly recommend giving Fishin' Frenzy a spin and experiencing its gameplay yourself. On the other hand, if you want to play classic table games, you will not go wrong with blackjack or roulette.
Fishin' Frenzy by Big Time Gaming FAQ