Hustler Casino Live Announces Super High Stakes Week 3 – Alan Keating Headlines a Stacked Lineup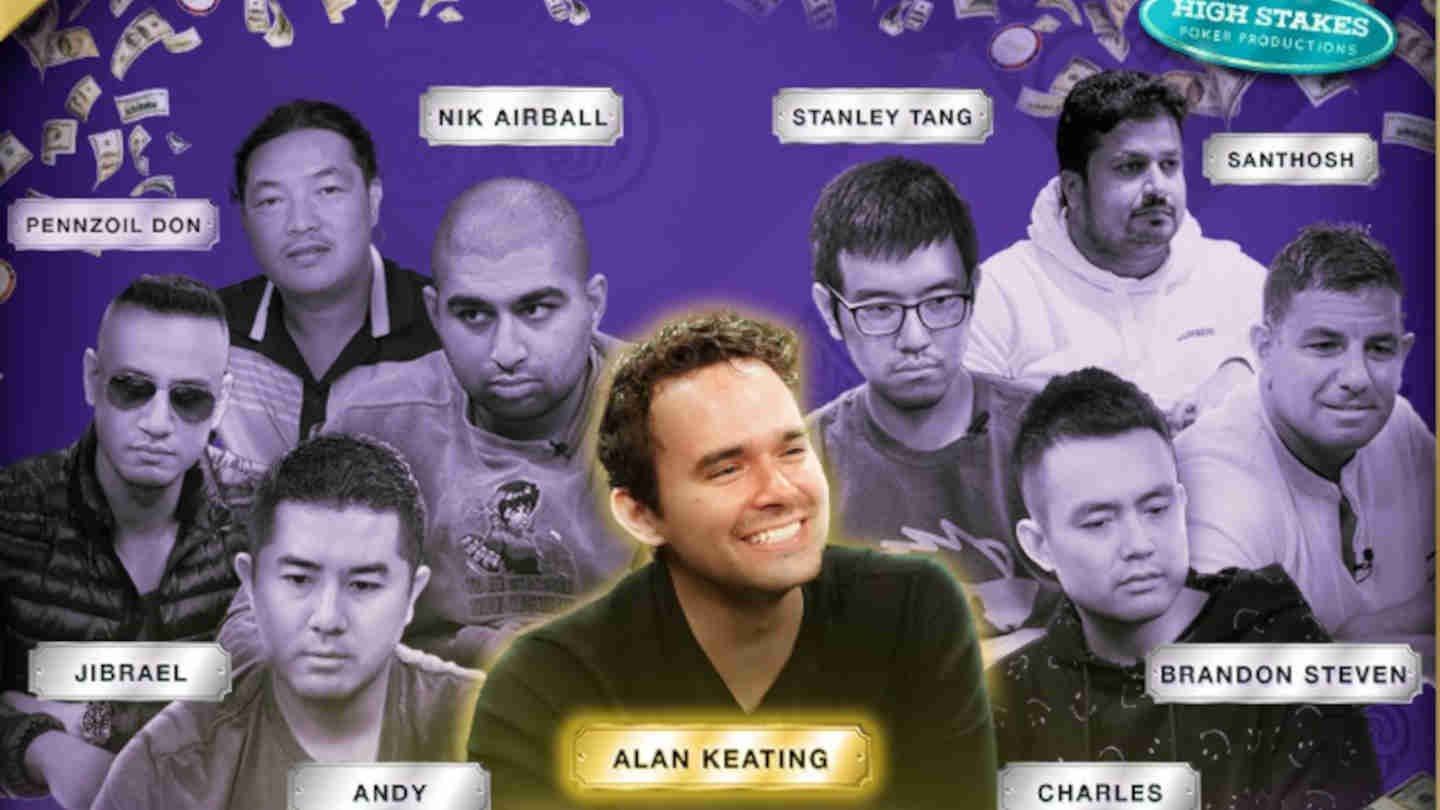 5 minutes
Last Updated: November 10, 2023
Hustler Casino Live has established itself as the world's finest poker live stream and has hosted some of the biggest and most memorable games we have ever hand a chance to witness.
Now, Hustler Casino Live has announced yet another incredible poker game, with "Super High Stakes Week 3" scheduled to air live November 27 to December 1.
The game will feature five days of nearly non-stop poker action, with a 24-hour stream scheduled for Friday, December 1, and stakes set at $100/200 with a minimal buy-in of $100k per player.
To make things even better, the show's hosts have announced that none other than Alan Keating will be headlining the lineup for this epic game, and we can definitely expect to see him at the table for the vast majority of the five day period.
Despite the initial stakes set relatively low to some of the previous games we have seen on HCL, we can expect this one to be one of the biggest games to date, considering the star-studded lineup and the fact we will see the first full-day live stream ever made in the history of poker.
Keating Joined by Billionaires and Poker Pros
To say that the cast of characters assembled for HCL Super High Stakes Week 3 is incredible would be a massive understatement. The organizers have managed to put together one of the most action-heavy groups in TV or streamed poker history.
Mr. Keating is always one to bring action to any poker game, but he will also be joined by Nik Airball and Santosh Suvarna, two of the wildest poker players we have seen play poker in a long time.
Along with these guys, we will also see businessmen like Brandon Steven, Stanley Tang, and Penzoil Don, all of whom are definitely not afraid to put their chips in and let it ride, as well as Jibrael, a player who we have seen little of on HCL but who has also played quite a few hefty pots in his time on the show.
BREAKING NEWS!! @Mister_Keating is back!!

SUPER HIGH STAKES WEEK 3 — November 27-December 1

5 straight days of $100/200 w/ $100K minimum buyin

Friday, December 1 will be 24-HOUR STREAM!! First 24-hour stream in poker history!! pic.twitter.com/yCpMzESnWb

— Hustler Casino Live (@HCLPokerShow) November 6, 2023
So far, the only real full-time poker pro announced for Super High Stakes Week 3 is Andy "Stacks" Tsai. Andy is Taiwanese poker pro who has spent hundreds of hours playing on live streams and is known for always bringing enough chips to cover the table, regardless of the lineup.
It may get a bit hard for Andy to cover everyone this time around, as some of the players he will be going up against have immeasurable wealth at their disposal and are not afraid to put that wealth in play whenever necessary.
Andy will likely be joined by another one or two pros, and we'll probably see other players join the game, as there will be five days of live streams going on and it is likely that some alternates will come in to fill the seats of players who decide to leave for one reason or another.
Names like Tom Dwan, Ethan "Rampage" Yau, Andrew Robl, Patrik Antonius, Aussie Matt, and Eric Persson are being floated around, but none of these players have been confirmed for High Stakes Week 3 as of yet.
What is certain beyond any doubt is that we will see millions of dollars change hands over the course of the five days of high stakes action. All that truly remains to be seen is who will walk away with the lion's share of the cash at the end of the bloodbath.
Can Things Turn Around for Alan Keating?
Alan Keating has quickly become one of the most beloved poker players out there thanks to his calm demeanor and incredibly wild play that has led to some of the most interesting pots ever aired.
Win or lose, Alan has always remained a true gentleman on air, but fortune has not been too kind of him to date. He has continually been on the wrong side of variance and lost well over $3 million in recorded poker games to date.
Most of that amount has come from his play on HCL, where he experienced his biggest loss for over $1.1 million on the "Creators Game" back in May last year, as well as several other massive losing sessions.
Keating is widely known as the VPIP God, as he is almost always the player with the highest VPIP at the table, which has certainly contributed to the high variance and big swings he has experienced.
VPIP God is back, let's go! https://t.co/bI1SWGvADh

— Nik Airball (@nikairball) November 7, 2023
On November 27, Keating will come back to try and take revenge against some of his biggest foes, looking to turn things around and finally book a big win on an HCL game.
One thing that is almost for sure is that Keating won't end the game even, as his playing style simply puts him in a position to either win big or lose big almost every time he plays.
It will be interesting to see if Alan uses his image to change things up and trick his opponents or if he approaches the game as he always does and looks to make some big hands and get paid big when he does.
Don't Miss HCL Super High Stakes Week 3
Hustler Casino Live Super High Stakes Week 3 promises to bring some of the biggest and wildest games in the history of televised poker, and it is completely free!
All the games, including the 24-hour game on December 1, will be streamed live and available in full on the popular HCL YouTube channel, where you can tune in and watch without paying a single cent.
While a variety of other poker shows that offer far less material and action are now only available at a price, HCL continues to bring us the best cash game content around at absolutely no cost.
Tune into the HCL YouTube channel on November 27 and keep your eyes glued to your screen as you might miss a million dollar pot in a blink of an eye.