Daniel Negreanu Defeats Doug Polk in Round 2 of High Stakes Duel 4
The second round of High Stakes Duel 4 played out live on PokerGO last night, and it was defending champion Daniel Negreanu that once again walked away victorious, pocketing the $200,000 prize pool and extending his win count to two in a row.
After defeating Eric Persson in Round 1 of the Challenge, Daniel expected to face the same opponent once more, but the Maverick Gaming CEO had pressing business to attend to and eventually decided to decline the rematch and pass the ball to the next in line.
Next in line was Doug Polk, one of the most successful heads up players of all time, and one that "Kid Poker" was very familiar with, after losing $1.2 million to him in a 25,000 hand online poker match dubbed "High Stakes Feud."
Of course, Daniel had little say in who his next opponent would be, as per the rules of High Stakes Duel, but was fortunate enough to defeat Polk in a relatively short match and without breaking too many sweats.
Ali Nejad Sits Down with the Players
As it has become customary for High Stakes Duel matches, PokerGO host Ali Nejad sat down with the players before the match for a "weigh in," where a variety of questions were directed at both players.
Daniel, of course, was asked the question the general poker community had been asking for days; Why are you playing Doug Polk again after what happened the last time?
Daniel replied that he has no choice, as the rules of High Stakes Duel allowed Polk to sign up as the next challenger, and Negreanu had to accept.
That said, Daniel did not back out from the fight, and went into it believing he had what it takes to take Polk down, especially given the format of this particular game.
Polk discussed his new role as a father with Ali, and talked about his relatively new business venture, "The Lodge" poker club in Round Rock, Texas, which has been making a lot of headlines in recent months.
Following the initial "weigh in," the two players took their seats and began the game with 100,000 in chips each, and blind levels going up every half an hour.
Polk Dominates Early Game
Round 2 of High Stakes Duel 4 was not marked by a ton of massive swings and all-in pots, as you would expect when two experienced heads up players sit down to play.
Instead, we saw a lot of small pots and chips going both ways, although Negreanu generally held over Polk by getting dealt better cards and having many reasonably easy decisions to make.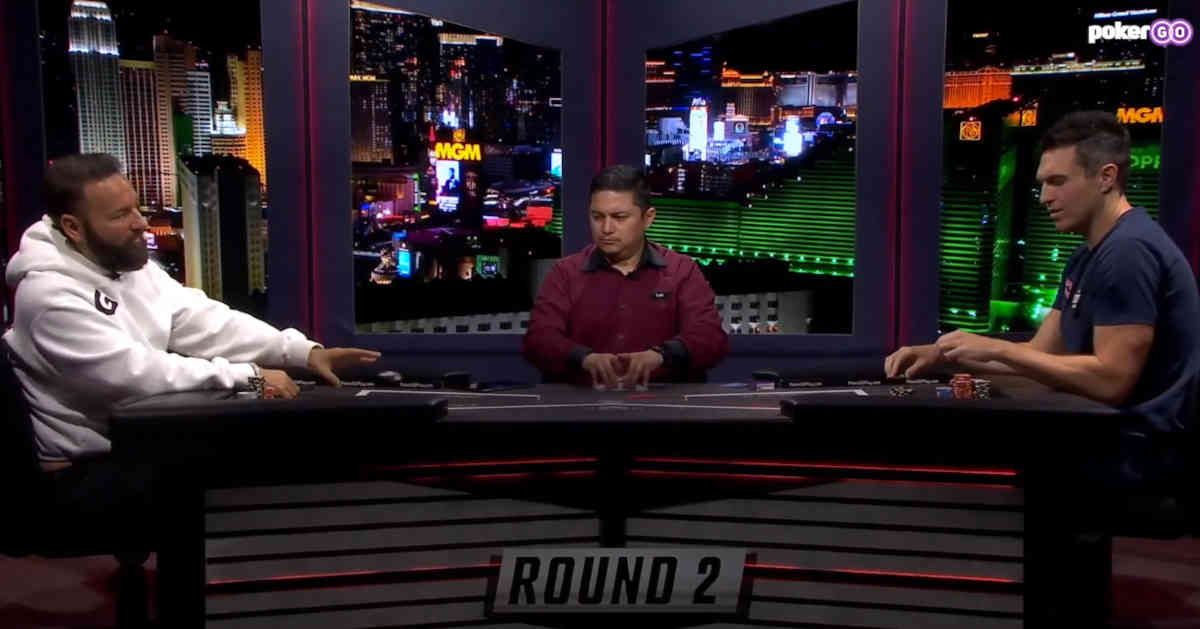 It was Polk who drew first blood, however, as the first big pot of the match went his way. After check raising the flop of A♦7♣3♣, and barreling the K♠ turn with his 5♣4♣, Doug made his flush when the 2♣ hit the river.
Polk moved all-in, and Daniel was left contemplating a call with his A♠J♦, a reasonable bluff catching candidate. Having no club in his hand, however, Negreanu correctly decided to let the hand go, but relinquished a nearly 2:1 chip lead to his opponent.
Negreanu Chips Up with the Nuts
As blinds went up, the situation turned significantly in Daniel's favor, and one pot in particular accounted for a major change in momentum.
Negreanu called Polk's 3-bet holding A♣J♣ and flopped the stone cold nuts on the 10♣8♣4♣  flop, with Polk drawing completely dead with his K♣3♦.
Unfortunately for Polk, he decided that holding the K♣ made it a great situation to fire three barrels, and it ended up costing him 45,000 chips in total, taking Daniel up to a 125,000 chip stack.
Negreanu Calls Down with Aces
With blinds at 600/1,200, Polk raised to 2,500 with 9♠7♠ and got called by Negreanu's A♦10♥. When the flop uncovered K♣8♦6♣, Polk was in prime position to take it down, and fired a small c-bet to get things going.
Daniel called the c-bet, but was likely going to fold on many turns. However, the A♥ made him a monster hand and gave him all the advantage he needed.
Holding a straight draw, Polk knew he had to keep firing and representing the Ace, which he did to the tune of 8,400, which "Kid Poker" called.
When the Q♣ hit the river, Doug decided to go for it all and represent the front-door flush. Left with nothing but a bluff-catcher, Daniel mustered the strength to make the call and finish the Duel.
It's all over! @RealKidPoker defeats @DougPolkVids in Round 2 of High Stakes Duel 4!

With that, Negreanu claims the $200,000 prize and walks away with the belt as the High Stakes Duel 4 Champion.

📺 – Watch a replay of Negreanu's match against Polk here: https://t.co/R2gEb2tpF6 pic.twitter.com/IlF24m8Uan

— PokerGO (@PokerGO) August 25, 2023
Polk immediately said "good game" to his opponent, which Daniel accepted in style, but you can imagine things would have looked a lot nastier if it was Daniel's earlier opponent Phil Hellmuth sitting across the felt.
What Happens Next?
With Round 2 of High Stakes Duel 4 now over, the fans would love to see more Negreanu vs. Polk violence to come, but unfortunately that is not going to happen.
The 6-time WSOP champion announced that he would be cashing out the $200k, and taking the High Stakes Duel 4 belt home to add to his extensive trophy cabinet.
Daniel Negreanu is the High Stakes Duel 4 Champion!

After two matches, and wins over @IAmMaverick888 and @DougPolkVids, @RealKidPoker claims the belt and a $200,000 prize for his victory in High Stakes Duel 4. https://t.co/B9qzwZErG3

— PokerGO Tour (@PokerGOTour) August 25, 2023
While some may speculate that Daniel simply doesn't want to go up against Doug again with even more money on the line, the truth is that the tournament champion has a very busy schedule coming up, with WSOPE, WSOP Paradise, and a variety of online events at GGPoker all coming up in before the year's end.
As expected, Negreanu will be stepping away from the heads up arena to focus on his bread-and-butter game, while new challengers will have to sign up for the next High Stakes Duel at PokerGO.