Short Deck on PartyPoker – What Games Can You Find?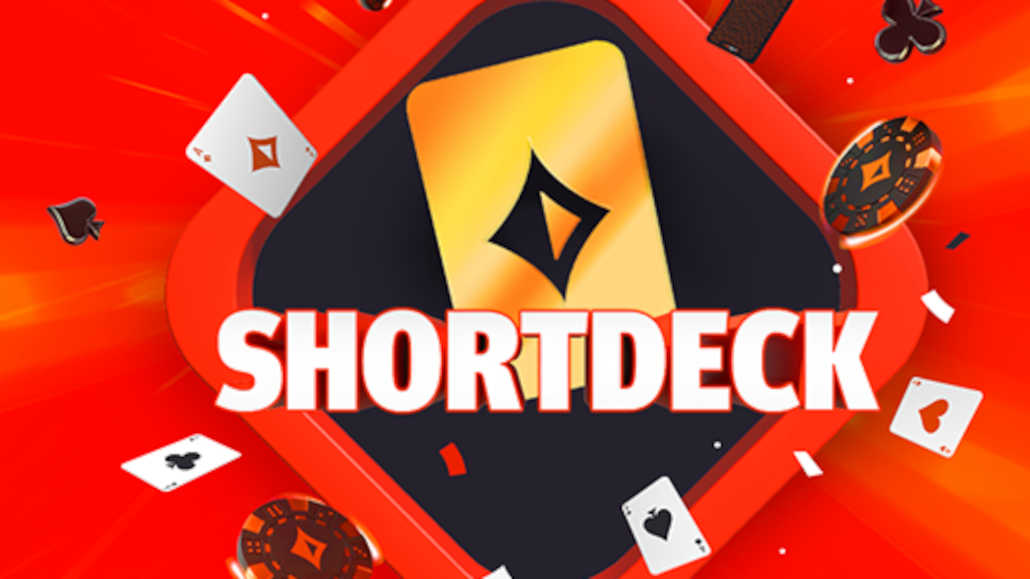 4 minutes
Last Updated: November 6, 2023
Short Deck Poker, also known as 6+ Hold'em, is a relatively new variation of the game of Texas Hold'em that entices more action by getting rid of all the small cards in the deck.
PartyPoker was one of the first online poker sites to introduce Short Deck in order to offer players a new and exciting poker game that is ideal for recreational and professional players alike.
If you have seen Short Deck played at the highest stakes on TV or YouTube and want to try the game for yourself, keep reading, find out how to play it, and what Short Deck games you can find at PartyPoker.
What is Short Deck Poker?
Short Deck is a variation of Texas Hold'em poker that plays very similarly to the original game, with a few major changes.
For one, the card deck in this game does not contain any deuces, treys, fours, or fives, which means there are only 36 cards being played with.
Each player is dealt two hole cards, just like in Texas Hold'em, but the probability of getting dealt a strong starting hand is much greater.
With the odds of getting dealt pocket aces or kings, or a hand like AK, now so much higher, the action can get pretty fast and furious at the Short Deck tables.
There are also a few changes in the hand rankings systems. Flushes beat full houses, because they are harder to make, and the Ace can count as the lowest card in an A6789 straight.
Finally, instead of two players paying the big blind, all players at the table pay an ante, while the player on the button pays the double ante. This leads to a lot more limping and larger raises compared to Texas Hold'em games.
Here are the most important rules of Short Deck Poker you should know before you sit down to play:
Every player at the table pays an ante, button pays double ante
No deuces, treys, fours, or fives in the deck
A flush beats a full house
Ace acts as the low card in a 9-high straight
Big starting hands are easier to come by
If you like poker and learning about new and exciting variations, PartyPoker Short Deck games are ideal for you, as they offer you a chance to compete in a game that has not yet been solved and is still new and strange to the vast majority of players.
Remove Chips from Play at Short Deck Tables
As you have probably seen if you have been watching the big Triton Poker Short Deck games, Short Deck tends to get pretty wild.
Chips get into the middle a lot more often than they do in Texas Hold'em.
For that reason, players have agreed to add a rule whereby they are allowed to take chips off the table as their stacks grow beyond a certain number of antes.
You will be allowed to take chips off the table in online poker games at PartyPoker once you reach 300x the ante. This only applies to cash games, though, as you won't be able to take chips off the table in tournaments.
#ShortDeck produces larger preflop pots than a typical Hold'em cash game thanks to the ante-only format. Try it out today and see why the likes of @JasonKoon and @ikepoker love playing Short Deck so much. https://t.co/mcCUbDfT5I 18+. Play responsibly. begambleaware pic.twitter.com/mNG8CLdr6v

— PartyPoker (@partypoker) August 19, 2019
For instance, in a $0.50 ante game, you will be able to take all chips beyond $150 that end up in your stack off the table, thus avoiding having to flip a coin for hundreds of dollars at a low stakes game.
This rule was introduced to avoid such situations, as poker equities in Short Deck run a lot closer than they do in Texas Hold'em.
A hand like AA or KK is not a massive favorite against a hand like QJs or JTs. This fact would lead to a lot of massive pots that most players would rather avoid.
On the other hand, if you enjoy playing super deep stacked poker, and other players at the table want to do the same, you are allowed to leave the chips in play and battle it out for as many antes as you want.
Find Your Short Deck Table at PartyPoker
PartyPoker introduced Short Deck across all stakes on its platform, which means you will be able to play this new poker variation with antes as low as $0.02 and a buy-in of just $2.
Of course, you can also play a lot higher, with plenty of micro and low stakes action going on, and some mid and higher stakes tables popping up when enough players come together to play.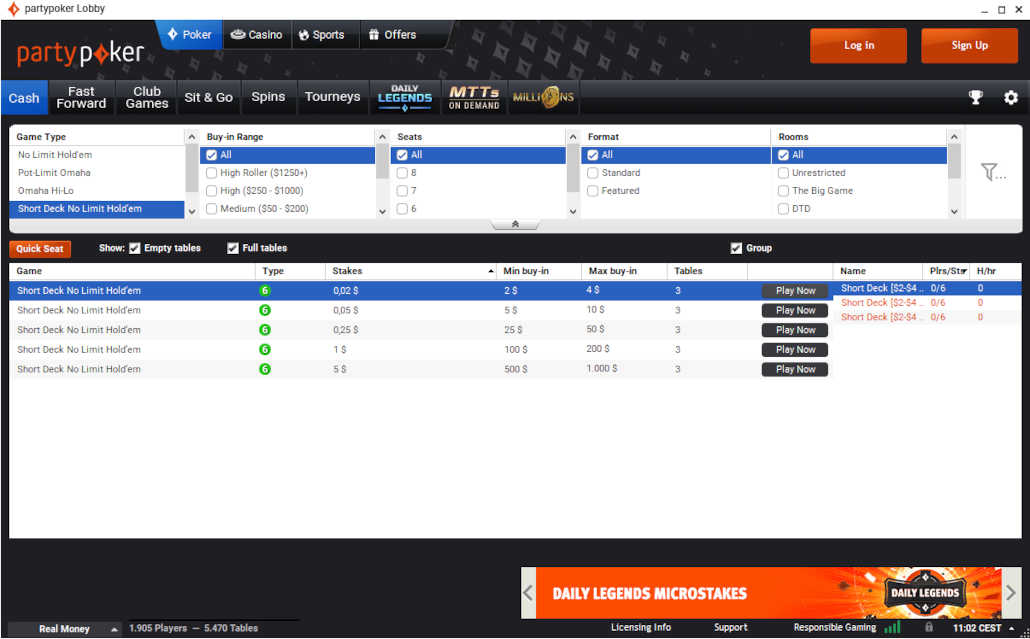 To get you started, we highly recommend playing the lower stakes games and getting fully acquainted with Short Deck. You should do this before moving to higher stakes, where you'll face more competent opponents.
There is an appropriate Short Deck game for new players running at any hour of day or night, so sign up with PartyPoker to get started learning Short Deck and mastering yet another type of poker.
Claim Your PartyPoker Welcome Bonus
If you have been tingling to try Short Deck for a while now, signing up with PartyPoker is the best decision you could make.
Not only does PartyPoker offer the best Short Deck games around, but you will also get $30 in free play and a $600 welcome deposit bonus when you sign up and make your first real money deposit.
You can jump straight into Short Deck games, play with extra funds in your account, and experience a brand new variation of poker with minimal risks.
Join PartyPoker now to claim your lucrative welcome bonus, participate in the weekly cashback rewards program, and play the juiciest Short Deck games you will find anywhere on the internet at any stakes you prefer.