Sunday Million Set to Celebrate 17th Anniversary in March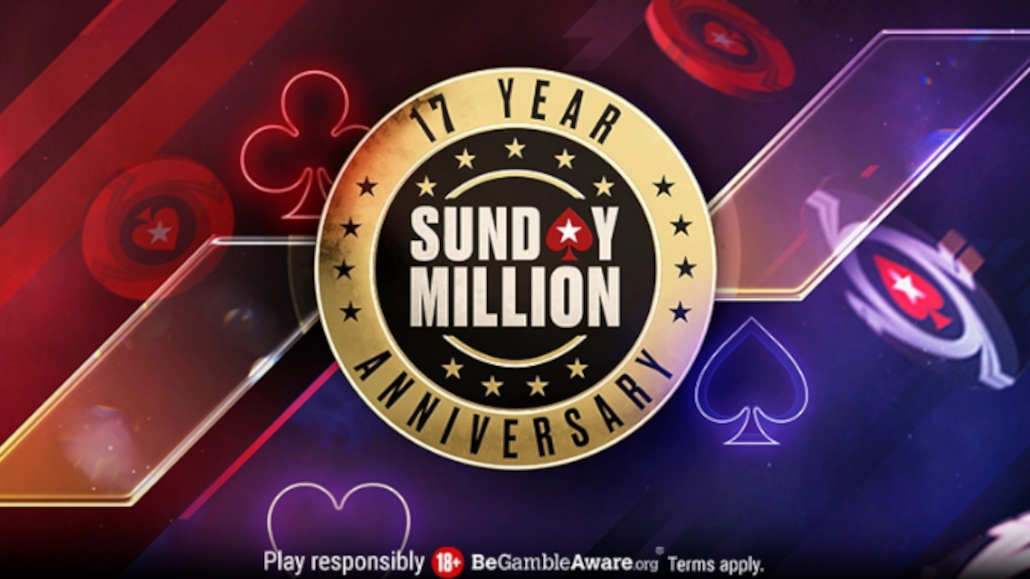 2 minutes
Last Updated: March 6, 2023
PokerStars has been one of the top online poker operators for many years now, and we have grown accustomed to them throwing some insane tournaments over the years.
There is no indication that the trend will stop, either, and one of the first truly big ones this year will be the 17th Anniversary Sunday Million, scheduled to start on March 26.
The tournament was recently announced by PokerStars and will feature a structure similar to previous years with a $215 buy-in and a massive $7,500,000 in guaranteed prizes.
The $7.5 million prize pool may sound insane for such a small buy-in, but it is actually likely that the Anniversary Sunday Million will get much bigger than that if history is anything to go by.
The two more recent Anniversary Sunday Millions both managed to get over $10,000,000 in prizes, with the record going to the 15th Anniversary when Vanessa Kade took home an incredible $1,514,920 for beating a field of more than 70,000 players.
With the event now looming, let's take a look at exactly what's at stake and how you can win your way into this epic online poker tournament.
17th Anniversary Sunday Million in Detail
As per the operator's announcement, the 17th Anniversary Sunday Million will kick off on Sunday, March 26, and will feature only one Day 1. This means you can expect a ton of traffic at PokerStars that day.
The usual Sunday Million structure will apply, with each level lasting a total of 20 minutes on Day 1, and everyone starting out with 20,000 in poker chips.
The event will allow up to 5 re-entries per player, which means everyone involved will have more than one chance to make it into Day 2. To do that, you will need to survive 18 levels of play on Sunday.
Players who do survive Day 1 will come back to fight the next day, with 32 levels of play scheduled and levels being cut down to 15 minutes. Day 2 will take you deep into the money and very close to the final table.
The final day of the Anniversary Sunday Million will play out on Tuesday, March 28, with all remaining players coming back to play until only one is left.
If previous editions of the tournament are anything to go by, you can expect to play some long hours each day, but the player who takes it all down will walk away a millionaire.
How to Win an Anniversary Sunday Million Entry
As is usually the case with massive tournaments like this one, PokerStars is giving away hundreds, if not thousands of seats into the tournament via satellites.
You can win your seat in daily freebuys which will run several times a day and allow for $0.27 rebuys, or simply play one of the many real money satellite tournaments to win a ticket the good old-fashioned way.
Satellite tournaments will run all the way until late March, so there is plenty of time to sign up for an account, jump into some satellite action, and win your way into one of the biggest online poker tournaments of 2023.