Favorite Retro Board Games of Every US State Revealed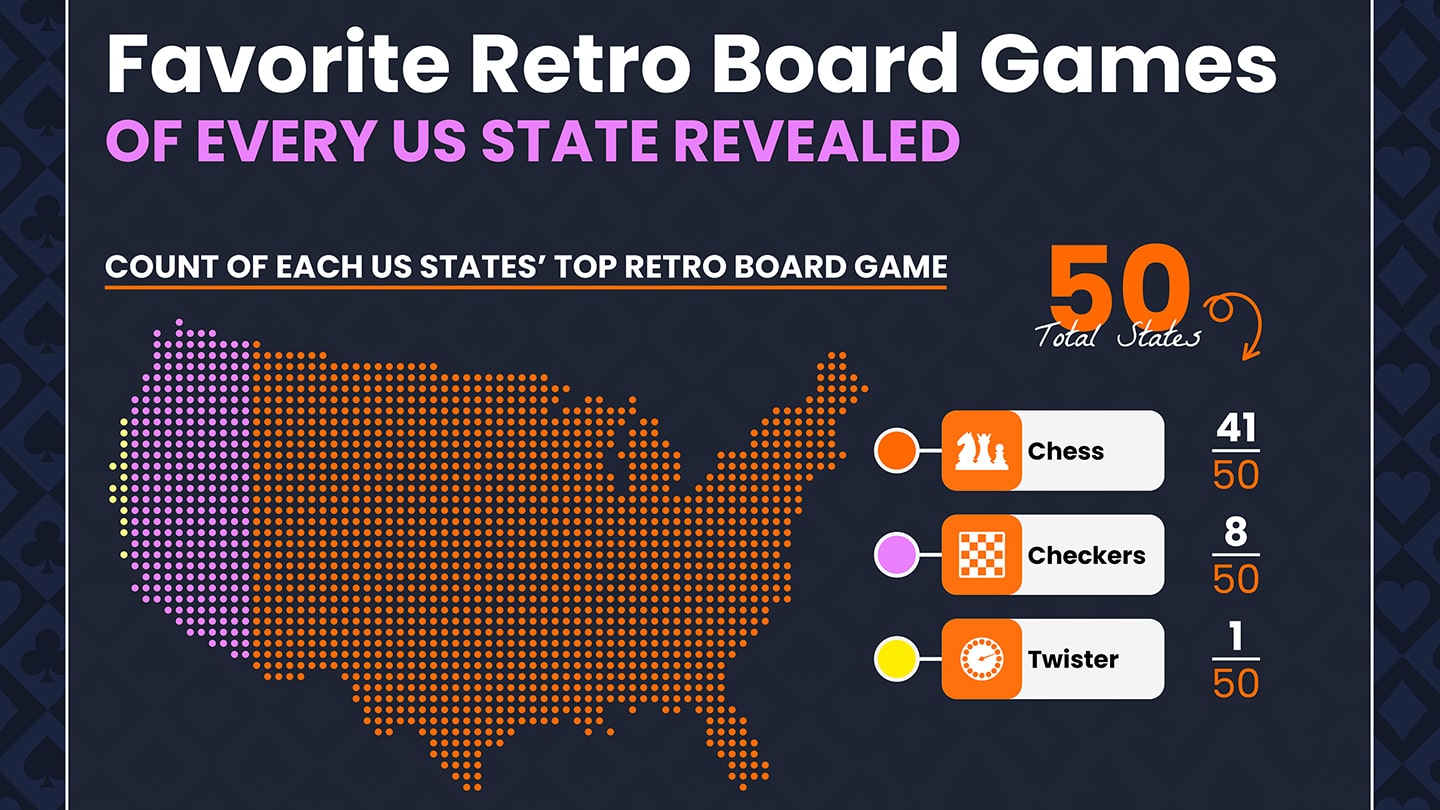 2 minutes
Last Updated: October 6, 2023
In a world where playing online or on a device is second nature to many, it's impossible to deny that something is charming and timeless about gathering around a table with friends and family to play retro board games.
But which is the favorite board game in every US state?
To help find out the answer, we have utilized Google searches per US state and have crunched the numbers to find the most popular board games of all time, as well as highlighting the least popular board games now, along with which State is searching for the most board games, showing that people are clearly interested in finding the best fun and crazy games to play.
Retro Board Games Making a Comeback: What Everyone Wants to Play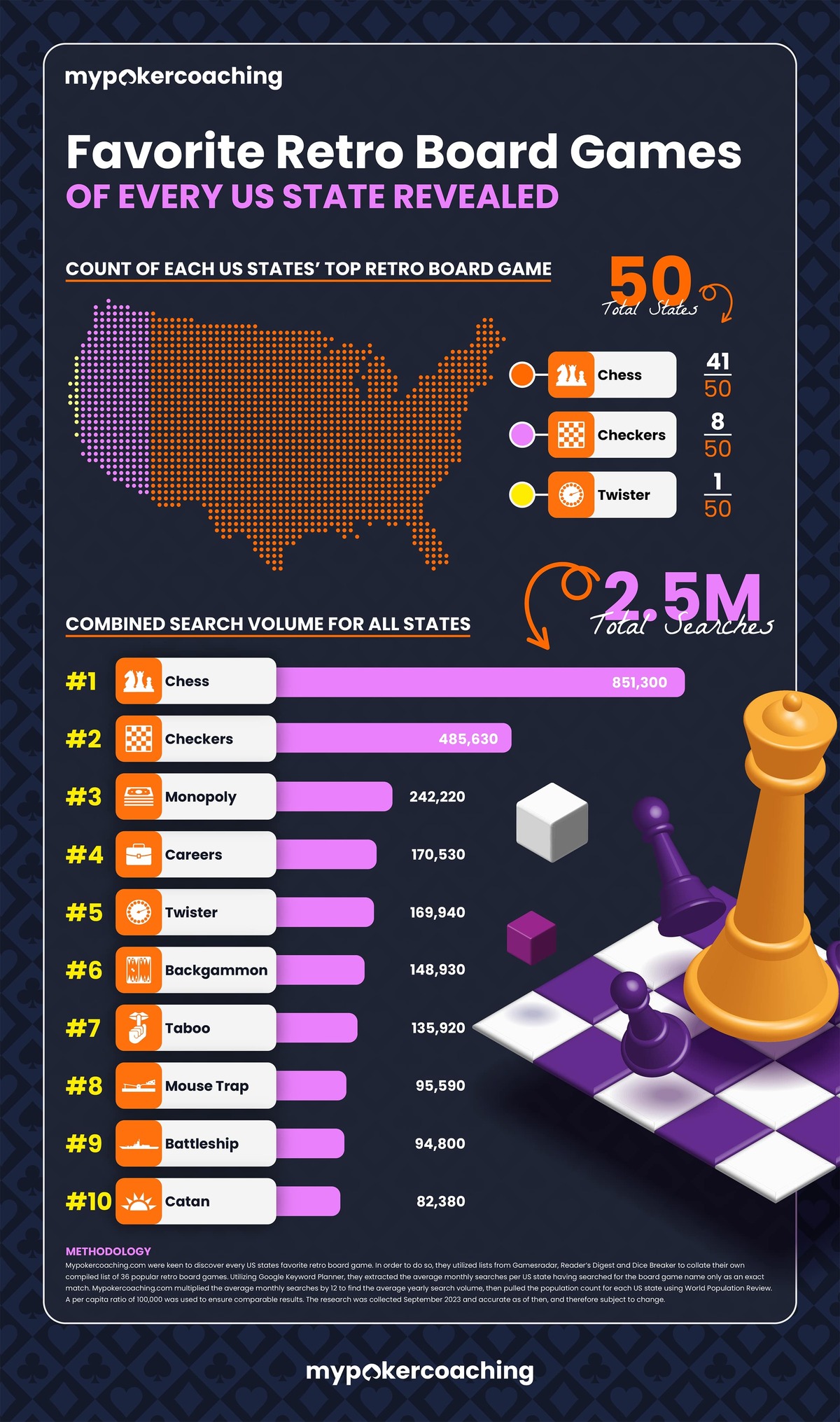 We can reveal that the most sought-after board game to play is Chess, with 41 US states showing that this was the most searched for of all retro board games. In second place came Checkers with 8 US states, and in third place was Twister, which was only featured in New Mexico as the top game to play.
The Three Board Games People Search for the Most
The most popular game to play, according to the most online searches, unsurprisingly is Chess, with a total of 851,300 combined searches across all 50 states.
This was then followed by Checkers with only 485,630, over 50% less for searches combined with the game of Chess. Monopoly comes in third place for the most searched board games, with a combined search volume of 242,220.
There is a clear winner between the best classic board games for families, with Chess taking the top spot with a huge increase in searches compared to the rest of the games that we looked into.
Perhaps this is down to the complexity and strategic depth that is needed to play, making it one of the most challenging classic board games for adults and families alike, that offers enduring intellectual challenges and has been a revered game for centuries.
The Three Board Games People Search for the Least
On the other side of things, the games that are the least searched for (and in effect the least popular), include HeroQuest with 6,690 combined searches, 221B Baker Street with 5,900 combined searches and lastly, Senet with only 4,700 combined searches. This is potentially due to the games' limited marketing and availability, niche appeal, and lack of modern adaptations.
From California to Wyoming: Mapping Board Game Searches Across the US
⭐ The Board Game Capital of America: Top Searching State Revealed
Our research shows that California has the most searches online for board games, with a total of 404,950 combined search volume of all 34 board games. With the highest searches being for Chess (with 110,000 searches) over all 50 states, followed by Monopoly.
⭐ Which State Searches for Board Games the Least?
According to the data, the state that is interested in board games the least is Wyoming, with just 3,700 combined searches for all the retro board games on our lists. This is a huge difference of 91% between California and Wyoming when it comes to online searches for classic board games.
Checkmate: Chess Takes the Crown as the Top Retro Board Game in the US
Our exploration underscores the enduring appeal of retro board games and that people don't need a pack of cards to have fun, with Chess standing out as the timeless favorite, uniting generations in strategic gameplay. Despite the digital age, these classic board games continue to captivate and unite friends and families around the table.