WSOP Bracelet in GGPoker Flip & Go Event Goes to DJ Alexander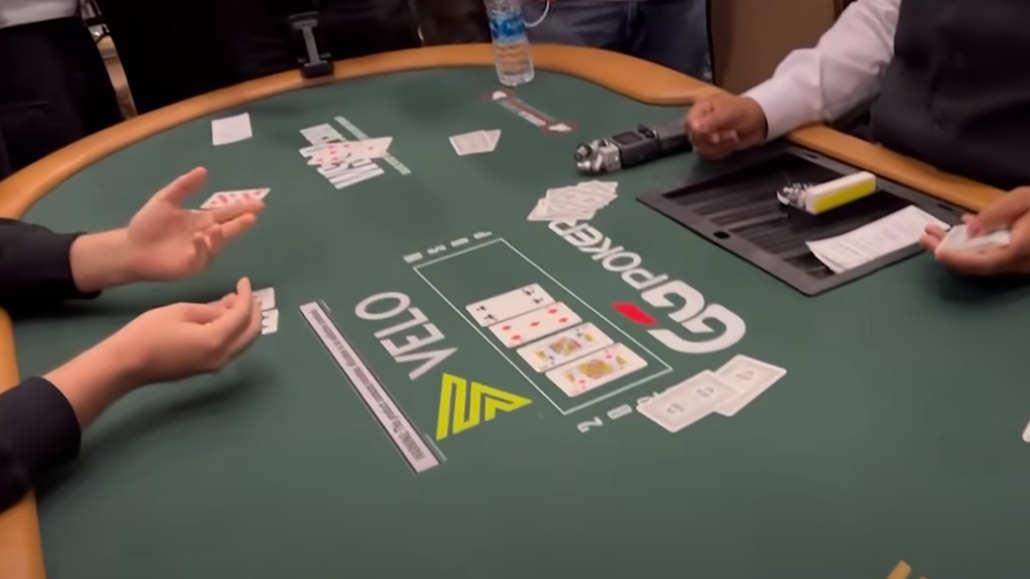 The game of poker has changed a lot over the years. While traditional tournament and cash game formats remain the most popular, the industry is on the constant lookout for some novelties to keep players on their toes.
One such novelty was introduced at this year's World Series of Poker in the form of a bracelet-awarding flip & go tournament.
In case you're not familiar with the format, flip & go tournaments are mostly luck-based, with very little skill involved.
While exact rules may vary slightly, the basic premise is that all players have to be all in every hand, and whoever wins the hand gets to keep playing. Other players from the table are eliminated and lucky winners get to repeat the same routine.
These tournaments are usually reserved for the online space and you won't find many of them at local poker rooms. But, for the 2021 WSOP, GGPoker figured it would be interesting to have try one of these and see how things pan out.
In the end, the tournament proved a big success, as there were 1,232 entries at $1,000 a pop. DJ Alexander was the eventual winner and he walked away with $180,655 in cash and his first WSOP gold.
Fast & Furious Action
When you have a poker tournament in which all players are all in every hand, chaos is pretty much guaranteed to ensue.
To kick things off, players were seated at eight-handed tables with no poker chips in front of them. Instead, they were dealt three cards each, and the dealer proceeded to deal the flop. At this point, the players needed to discard one card from their hand.
After discarding, the dealer dealt the turn and the river, and the hands went straight to the showdown. Whoever had the best poker hand proceeded to the next stage, while the rest of the field was eliminated.
But this kind of an event would be no fun if it was played as a freezeout. Instead, players were allowed unlimited reentries, and for some of them, this "small" tournament ended up being quite a pricey affair.
On my 19th entry, the final flight of the day for the Flip and Go. Kept T4dd and caught running 89 for the 3 way tie! 3 handed keep 56 on A64 vs KQ and 95. Turn K…River 6! On to the GO stage! #itsgonnabeagreatsummer

— David Williams (@dwpoker) October 10, 2021
Once the initial craziness was over, 155 players were left in the tournament and they came back to play down to the winner. For the second stage, those remaining players received some chips and could play some real poker.
That said, everyone started with just 80 big blinds, so it was clear the tournament wouldn't take particularly long to finish.
In total, it took about seven hours of play on Day 2 to find the winner of the first WSOP Flip & Go event, which is very short for World Series tournaments.
The win went to DJ Alexander who managed to beat Jason Beck in the heads-up skirmish that lasted only a few hands. Both players picked up an ace and with shallow stacks, there was only one way the chips could go – straight to the middle.
Alexander started with a better hand and he was able to hold by the river to claim his very first World Series of Poker bracelet after several close calls in the past.
The inaugural @GGPoker Flip & Go bracelet event attracted 1,240 entries. And now, a champion has been deemed! @_HERfavoriteDJ captures his first gold bracelet and $180,665.
📸 @hayleyocho https://t.co/7OOwRDJEaN pic.twitter.com/D8Z7a0zGnc

— WSOP (@WSOP) October 12, 2021
Flip & Go Bracelet Events: Good Idea or Not?
While there is no denying that it was a hugely entertaining tournament that saw players having fun like in no other WSOP event, some have questioned the idea of giving away bracelets in this format.
When players are forced all in every hand, the skill element is pretty much negated. There is some skill to choosing what two cards to hold, but it's fairly marginal.
That said, the second portion of the event played out as a normal, albeit a turbo tournament, so it wasn't all down to luck. Those who made it into Day 2 still had to play the game and bring their skills to the table to win.
As an experiment, this was an interesting one, and I don't see any negatives. It's important to keep poker fun and to let people blow off some steam and gamble it up. Without it, the game simply loses its appeal for recreational players.
It would be bad if a third of WSOP events featured some sort of a flip and go structure. But, if there are a couple of luck-based events thrown into the mix every now and again, and these help attract new players to the game, I'm all for it!