Patrik Antonius Wins the Biggest Pot in Televised Poker History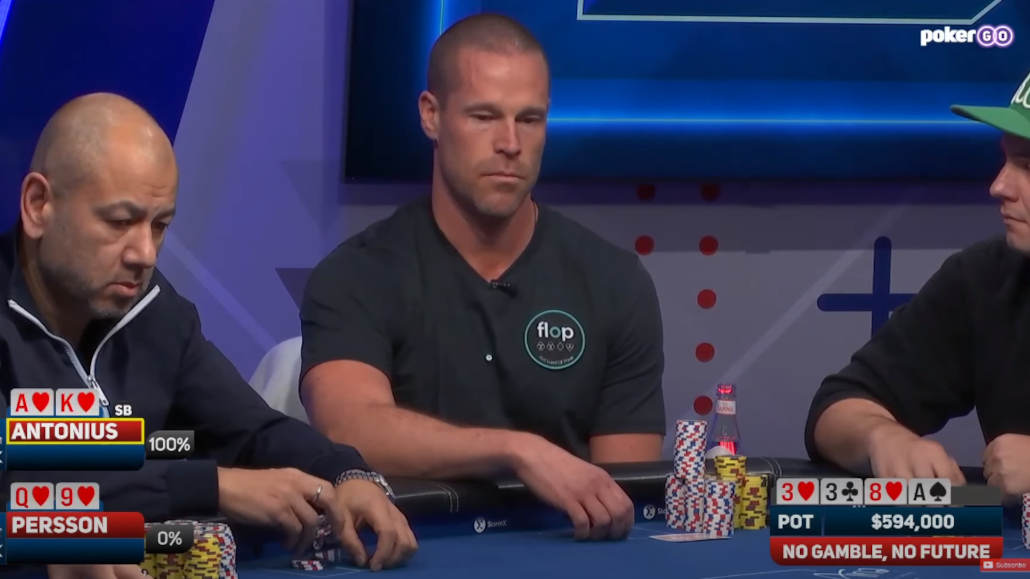 Over the last few days, PokerGO hosted a special edition of its No Gamble No Future show, featuring a special cash game format with big buy-ins and escalating blinds.
With all players buying in for $500,000, with an option to top up for another $500,000, there was a big possibility the game would produce the biggest pot ever seen in televised poker. And that's exactly what happened last night!
It was early on during the final day of the stream when Eric Persson and Patrik Antonius clashed in a pot of almost $2,000,000.
The Finn ended up dragging the massive pile of chips to add them to his stack, leaving Persson with under $100,000, and it was one of the most intense TV poker moments, even though the whole thing transpired rather quickly.
Drawing Dead in a Massive Pot
It was the final night of the Cash of the Titans game at PokerGO studios, and whoever ended up with the biggest profit would also get to pocket the additional $600,000 prize pool.
So, players had a lot of incentive to be aggressive and mix it up in big pots, which may have played a role in how the hand between Patrik and Eric went down.
Lets fucking go… pic.twitter.com/ZOYdIepCJc

— Eric Persson (@IAmMaverick888) February 19, 2023
The action started with Persson raising to $7,000 with Q♥9♥ – a fairly standard raise with blinds being $1,000/$2,000, with a $2,000 big blind ante.
Rob Yong called on the button with A♣2♣ before Patrik Antonius woke up with A♥K♥ in the small blind and increased the price of poker to $30,000.
Both players called, and they proceeded to see the flop of 8♥3♥3♣, giving both Patrik and Eric a flush draw.
With almost $100k in the middle, Antonius fired a continuation bet of $40,000, only to get snap-raised by Persson, who made it $140k. Rob got out of the way, and then Patrik, after a short deliberation, clicked it back to $250,000.
Eric called to see the turn of A♠, significantly improving Patrik's hand. With $600,000 in the middle and encouraged by the turn, the Finn continued the aggression, firing out $150,000.
And then it happened! Persson took a few seconds and then announced he was all in for the additional $540k Patrik had behind.
Antonius was confused for a brief moment, but with a strong hand and a big redraw, it didn't take him long to make the call, delivering the bad news to Eric. He was drawing dead going to the river as no card in the deck could help him.
Just like that, Patrik locked in the $1,978,000 pot as the inconsequential J♠ rolled on the river, leaving Eric with just $67,000 and no ability to add on, as he had already used his single $500k reload.
Andrew Robl, the Ultimate Winner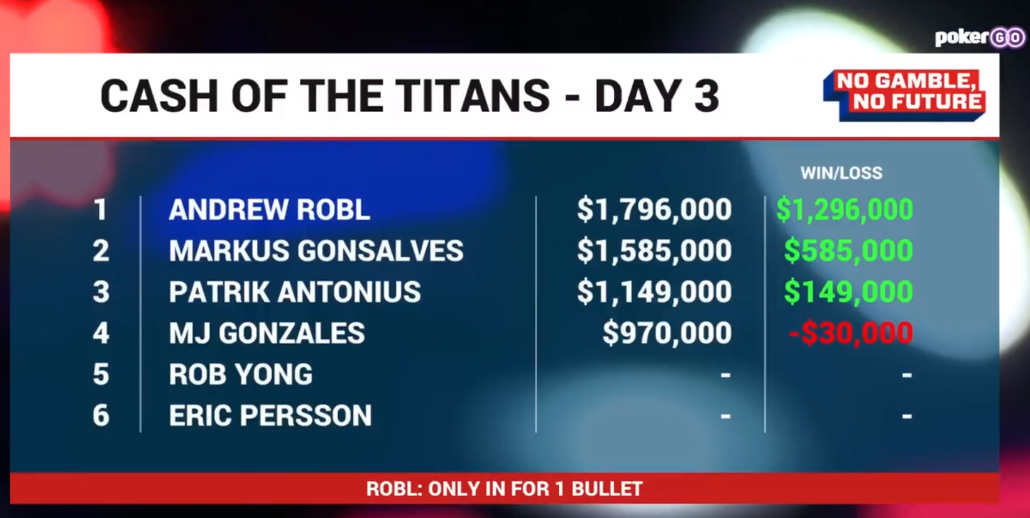 Despite winning the massive pot off of Persson, Antonius did not finish the biggest winner for the game. That accolade went to Andrew Robl, who finished with a profit of $1.3 million before the $600,000 he also picked up.
To make it even more impressive, Andrew never even used his second $500,000 bullet.
Markus Gonsalves was the second-biggest winner with a profit of $585,000, while Antonius was the only other player to finish in the green, albeit with a relatively modest profit of $149,000.
These were a few days of crazy action that every poker fan craves. You can watch two of the three days on YouTube for free, while the final day is available only at PokerGO – and it alone is probably worth the monthly subscription!