Nick Petrangelo Poker Journey: From Humble Beginnings to Tournament Poker Master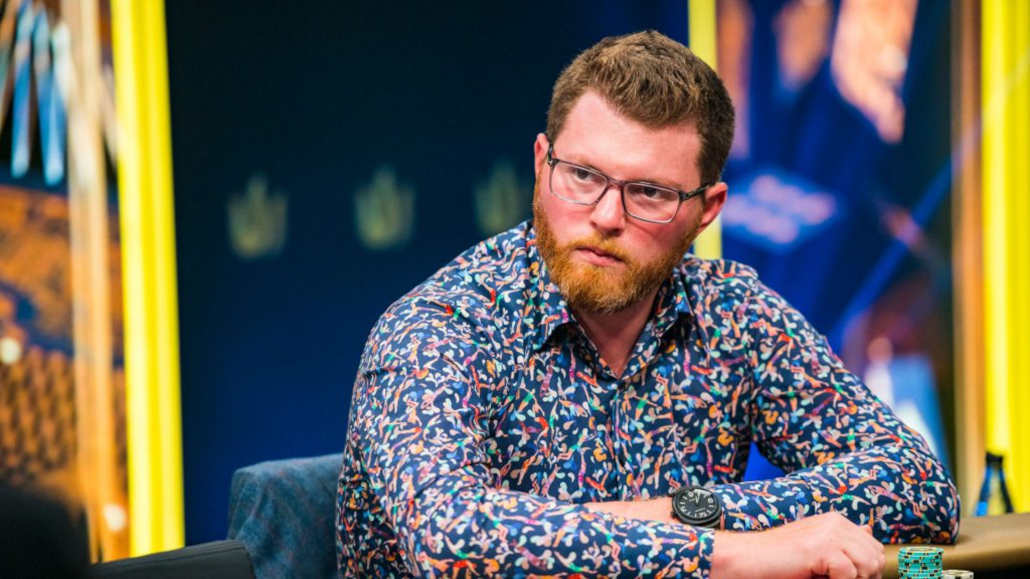 Image from paulphuapoker.com
There are few young poker players who dominate the felt as hard as Nick Petrangelo has been doing for years.
At just 35, he has won tournament after tournament and proven himself as one of the top tournament poker players in the world.
With his great skill, humble demeanor, and approachable personality, Petrangelo is one of the poker world's favorite players and has many fans who look up to him.
In recent years he has given back to the community by becoming a lead tournament coach on Upswing Poker, providing coaching and guidance for players who wish to follow in his footsteps.
Nick Petrangelo's Career Highlights
In 2008, at the age of 21, he finished 3rd in a $3 rebuy on PokerStars and won $1,700, sparking the start of his poker career.
In 2015. he won his first live cash for over $100k at the $5,300 No-Limit Hold'em – Turbo 8-handed event at the PokerStars Caribbean Adventure in the Bahamas, where he placed 1st and won $113,853.
Won his first million in December of 2015 at the WPT Five Diamond World Poker Classic in the $100,000 WPT Alpha8 – No-Limit Hold'em event for $1.015 million.
Secured his first WSOP bracelet in 2015 when he placed first at the $300 No-Limit Hold'em Shootout and won $201,812.
Won his biggest live cash to date and his second WSOP bracelet in 2018 at the $100,000 No-Limit Hold'em – High Roller event for a whopping $2,910,227.
Petrangelo joined Upswing Poker in 2018 and subsequently launched the Winning Poker Tournaments course, one of the best MTT training resources available today.
Nick Petrangelo's Early Life and Career
Nick Petrangelo was born on January 2, 1987, in Feeding Hills, Massachusetts. While he was growing up in his small town, he enjoyed playing golf and hockey.
He then went to study in New York at Skidmore College, where he graduated with a degree in Economics and Finance.
His interest in poker started in high school when he played for fun with his friends. The friendly games sparked his interest, and he began reading as much as he could about the game.
In college, he was consumed with sports and studies, but when he was sidelined and forced to retire from sports due to a concussion, Nick invested himself into poker, trying to fill the void.
He would scrape together whatever money he could at the time to put into PokerStars, starting at the lowest stakes cash games and moving up, all the way to $5/10 games.
Each time he would lose it all, and looking back now, he has stated how little he really knew at the time.
With no luck at PokerStars, it was obvious that Petrangelo needed some help if he wanted to make serious money through poker.
He met professional poker player Jonathan Jaffe during this period of his life, a player who came from the same small area of Massachusetts like Nick.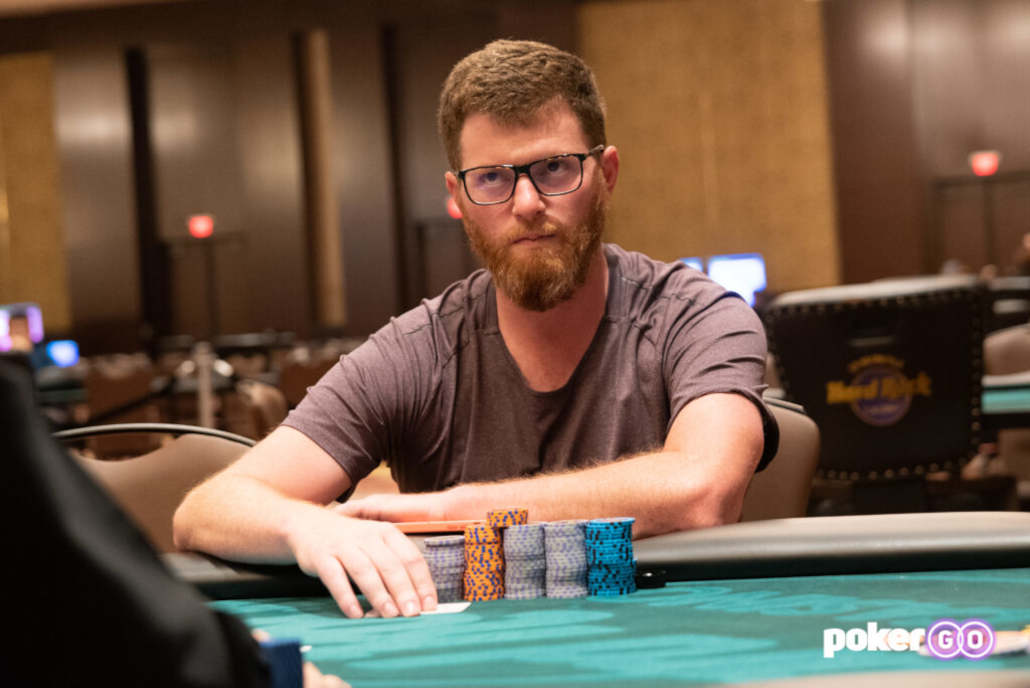 Image from PokerGO News
Jonathan let Nick shadow him and watch him play for years, coaching him and answering all the possible questions he had.
If it wasn't for this mentorship, Petrangelo certainly wouldn't have become the poker player he is today.
When Petrangelo turned 21, he finished 3rd in a $3 rebuy tournament on PokerStars and won $1,700. This inspired him to quit his job at a golf course and pursue a professional career in poker.
Nick Petrangelo's Professional Poker Career
Nick's poker career took off online under the screen name "caecilius" on PokerStars, a clever name that refers to a banker from the Ancient Roman Empire.
He also played quite a lot of poker on Full Tilt Poker under the name "canofcorn22".
On the online poker tournament database PocketFives, Petrangelos's online MTT scoresheet isn't available to the public anymore, making it harder to look back at his early days of online playing.
However, many of his first big online wins have been recorded elsewhere in poker media coverage.
In a PocketFives ranking that lists the most successful online tournament players, Nick collected the most points worldwide in 2012. In 2013 he was amongst the top 10 in the world on the same platform.
Only a few months after deciding to professionally take up poker as a career, Petrangelo entered into his first live tournament at just 22 years old.
His first recorded cash on his profile dates back to January 2009, where he placed 4th at the Winter Poker Meltdown in Verona, NY, at a $560 No-Limit Hold'em tourney, winning $3,958.
For the next few years, he honed his craft and played many live and online  poker tournaments, making a few thousand every few months to sustain himself and his new professional pursuit.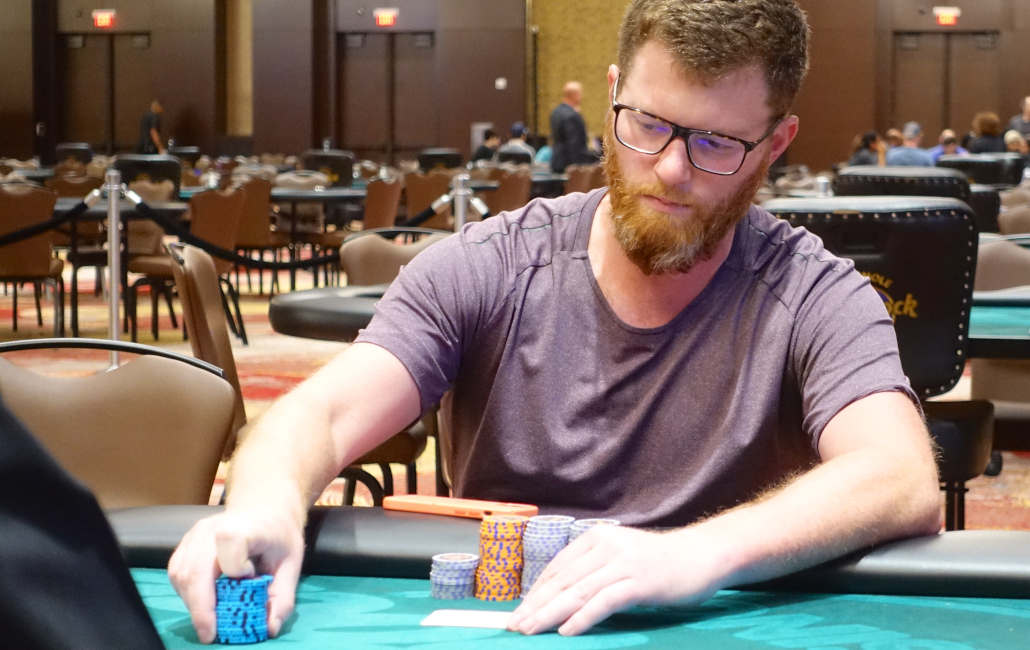 Image from seminolehardrockpokeropen.co
It wasn't until 2015 that Petrangelo won his first big cash for over $100k at the $5,300 No-Limit Hold'em – Turbo 8-handed event at the PokerStars Caribbean Adventure in the Bahamas, where he placed 1st and won $113,853.
At the same festival, he placed 6th at a $25,000 No-Limit Hold'em – High Roller 8 Handed event only 2 days later and won another $301,500.
2015 was truly the year that Nick started drawing attention to himself on the poker scene, winning two other major scores in August and December.
At the European Poker Tour in Barcelona during that summer, Petrangelo placed 3rd in the €10,300 No-Limit Hold'em – High Roller 8Max for €592,840.
He then won his first million in December at the WPT Five Diamond World Poker Classic in the $100,000 WPT Alpha8 – No-Limit Hold'em event for $1.015 million.
During that same year, Nick recorded his first big WSOP score in the $300 No-Limit Hold'em Shootout. He won the tournament with a massive field and netted $201,812, along with the first of his two bracelets.
His second gold bracelet came from his 2018 win at the $100,000 No-Limit Hold'em – High Roller event. There, he recorded his biggest live cash to date, a whopping $2,910,227, by beating his fellow American pro Elio Fox heads-up for the title.
Other memorable wins of Petrangelo's at the WSOP include his 3rd place finish for $720,103 at the 2018 $50,000 NLHE – High Roller event, his 7th place finish for $628,679 at the 2016 High Roller for One Drop – $111,111 NLHE event, and his 5th place spot worth $335,181 at the 2019 $50,000 NLHE 50th Annual High Roller event.
In total, Petrangelo has cashed in 26 World Series of Poker events during his career, racking up a total of $5.737 million in winnings combined.
Petrangelo's poker career started online, yet he truly excelled in live tournaments. He has, however, scored some big wins in online events, too.
Impressive Track Record
The most memorable was when he took down the 2017 World Championship of Online Poker High Roller event on PokerStars for $624,677. A year later, he also won a $2,100 Sunday High Roller on Stars for $40,489.
During the PokerStars Championship in the Bahamas in 2017, Nick participated in the $25,750 NLHE – PokerStars Championship High Roller event and placed 2nd winning $740,032.
Only 10 days later, at the 2017 Aussie Millions Poker Championship, Petrangelo placed 1st at the A$100,000 No-Limit Hold'em – $100,000 Challenge event winning $666,113.
At the 2018 Super High Roller Bowl, Nick placed 1st at the $300,000 No-Limit Hold'em event and took home $900,000. This was only days before his previously mentioned first-place win at the WSOP, where he took home $2.9 million.
Since the start of the pandemic, Petrangelo has been spotted playing more online games than he once used to.
In 2020, most of his wins came from playing Poker Masters Online, playing quite consistently throughout the year.
He made one of his big online scores when he topped a field of 999 players in the $3,200 WPT World Championship 6-Max Online event on partypoker. He took home an impressive $494,550 for that victory.
In October of 2021, during the PokerGO Tour – Aria High Roller Series, Petrangelo took the title at the $200,000 No-Limit Hold'em – Aria High Roller 26 Event for another huge win of $1,468,800.
His last win of the year was at the World Poker Tour during the $10,000 NLHE – PokerGO Tour High Roller event, where he ended the year with a bang and placed 1st winning $151,200.
Nick is simply a tournament beast, and his number one piece of advice for prospective players who wish to make poker their career is to not psych themselves out prior to an event.
He says that the increased selectivity, aka bum hunting, many pros have adopted in the era of super-high roller events sometimes makes them too cautious before taking a big plunge – and it's simply just a matter of keeping a cool mind and not putting yourself at a mental disadvantage.
Petrangelo is currently ranked 17th on the United States All Time Money List on The Hendon Mob database.
With stats like these, one can only imagine that the young player will continue to dominate the game for many years to come.
Petrangelo has lately been playing almost exclusively in the high-roller events and is likely to continue to do so and be a regular at every big buyin event in the coming years.
Nick Petrangelo in The Media
In December of 2020, Nick took part in the first season of PokerGO's revived version High Stakes Poker where he played a session of $400/$800 NLHE cash game against other poker stars such as Tom Dwan, Rick Solomon, and Bryn Kenney.
Petrangelo is an extremely private person and enjoys keeping his personal life hidden from the spotlight. He no longer has an active Twitter or Instagram account, leaving no room for his fans to snoop around and keep tabs on his relationships or whereabouts.
Those who want to know more about Nick can watch a few interviews he has done over his career or try to extrapolate the kind of person he is from his notable coaching materials.
Nick Petrangelo Net Worth
In the past 10 years, Petrangelo's success has resulted in millions of dollars in winnings and major respect amongst the poker world today. With such a career on the felt, many are curious how much Nick Petrangelo's net worth could be.
With poker being the main source of income for Petrangelo, net worth is always tricky to calculate because not all earnings go straight into his pocket.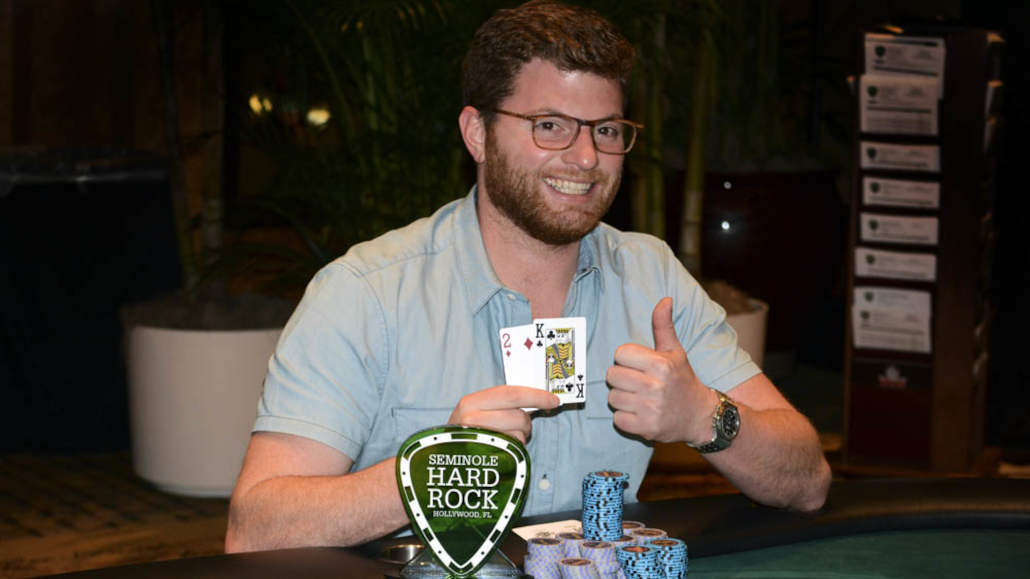 Image from seminolehardrockpokeropen.com
Buyins and costs of traveling to and attending tournaments must be taken into consideration.
However, Petrangelo's fame and credibility earn him money through other sources such as brand deals, entertainment opportunities, and his work on Upswing Poker as a lead tournament coach.
Petrangelo is a very private individual who isn't seen boasting about his money or spending extravagant amounts to show off.
With his total live earnings from poker amounting to $21,268,193 and his success as a coach on Upswing, it's safe to say that Nick Petrangelo's net worth is anywhere between $5 and $10 million at this time.
Where Is Nick Petrangelo Today?
Nick is quite a dominant figure in tournament poker today and doesn't see himself diverting from the felt anytime soon.
However, in recent years he has grown quite the passion for helping amateur poker players perfect their skills – and he now serves as the lead tournament coach at Upswing Poker.
Upswing Poker, Doug Polk's coaching site, which offers high-quality content for those who wish to improve their skills, has grown to be the number one destination for eager players.
The courses offered on the site are taught by some of the best players in the industry, including Polk himself, Petrangelo, Ryan Fee, Jake Abdalla, and many more.
Nick's course on crushing tournaments is one of the best poker training options, which is not hard to imagine, given the fact that he has cashed for nearly $23 million in his 10-year career.
In an episode of Deep Issues, a show exclusively released on PokerGO, Petrangelo explained that through all the money and fame that he has acquired, he still gets surprised when someone congratulates him.
He said, "I still think about it as if I'm just a poker player, and I'm super grateful to have had the success that I've had and the interest from people that value my opinion.
The fans of the game are awesome, and I always want to give them the time of day or give them the advice that they want to make sure they have a good time with the game."