2023 WCOOP Is Coming to PokerStars – Win Your Seats or Redeem Your Power Path Pass for WCOOP Tickets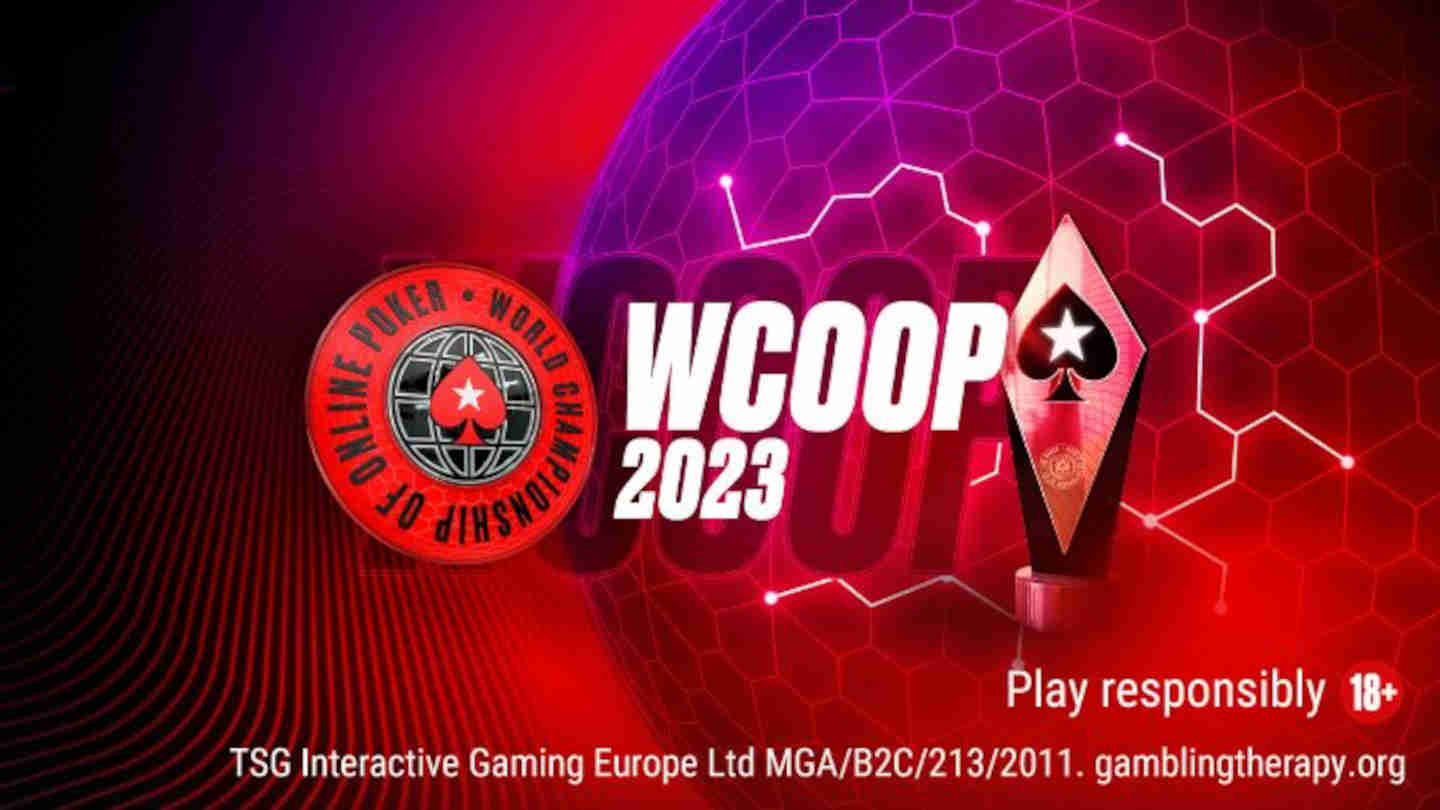 The biggest online poker series is back in town starting September 10, as World Championship of Online Poker (WCOOP) returns to PokerStars for its 22nd installment.
The massive poker festival, which is one of the most anticipated events of the year for online poker players, comes back with a massive $80,000,000 guaranteed prize pool across 110 numbered events, most of which are offered at three separate buy-in levels.
The 2023 WCOOP promises plenty of action for players at low, medium, and high stakes, with buy-ins ranging from as low as $5.50 to as high as $25,000, ensuring that every single PokerStars player has plenty of events to play during the three weeks of non-stop action.
All WCOOP events will carry significant prize pools, but the 12 World Championship events will offer some of the biggest and most exciting prizes. This includes the incredible $6 Million guaranteed Main Event, which will come at a price of $10,300, as is traditional for the Championship.
Keep reading to find out more about the WCOOP schedule for 2023, as well as other highlights of this year's series.
Alternatively, you can just head over to PokerStars right now and sign up for an account. Get involved in WCOOP action and start winning your seats through the numerous PokerStars satellite events.
Epic Range of Games, Formats, and Buy-ins
The 2023 version of PokerStars WCOOP will feature 110 unique numbered events. Most of them will play out at three different buy-in levels, as the WCOOP will traditionally feature three buy-in orbits, Low, Medium, and High.
This means you will get a chance to play WCOOP for very affordable buy-ins if you so choose, or pony up the big bucks and enter the High orbit events to play for millions of dollars.
As is typically the case, WCOOP will cover more different poker games than any other online poker tour, as WSOP remains the only tournament series that can parry WCOOP in game and format variety.
The waiting is over. The full WCOOP 2023 schedule is now here, with $80M Gtd.

COM https://t.co/4K63FI35hb
UK https://t.co/A5wQXPLazn

— PokerStars Blog (@PokerStarsBlog) August 17, 2023
Popular poker games like NLH and PLO, and formats like Progressive Knockout, will be in the focus, but PokerStars has a lot more in store.
Each day of the Championship, the operator will run a variety of mixed games events across all stakes.
This includes games like Badugi, NLO8, 2-7 Triple Draw, HORSE, 8-Game, 5-Card PLO, Stud Hi/Lo, Limit Hold'em, and many others, as PokerStars remains the number one when it comes to game variety offered on the platform.
For players looking for opportunities to play mixed games for affordable buy-ins, WCOOP will be like a dream come true. Mixed games events will come with massive guaranteed prize pools that can hardly be found anywhere else outside of this festival.
Keep an Eye Out for Epic Championship Events
While the schedule for the 2023 WCOOP is quite literally massive, a number of events steal the spotlight. These are the 12 Championship events that mimic the WSOP Championships in every way, making them some of the most prestigious online events of the year.
While we are used to the Main Events of various online series offering huge guarantees, WCOOP takes things to a new level.
The series offers Championship events not only for NLH, but also for players of other, less popular, forms of poker.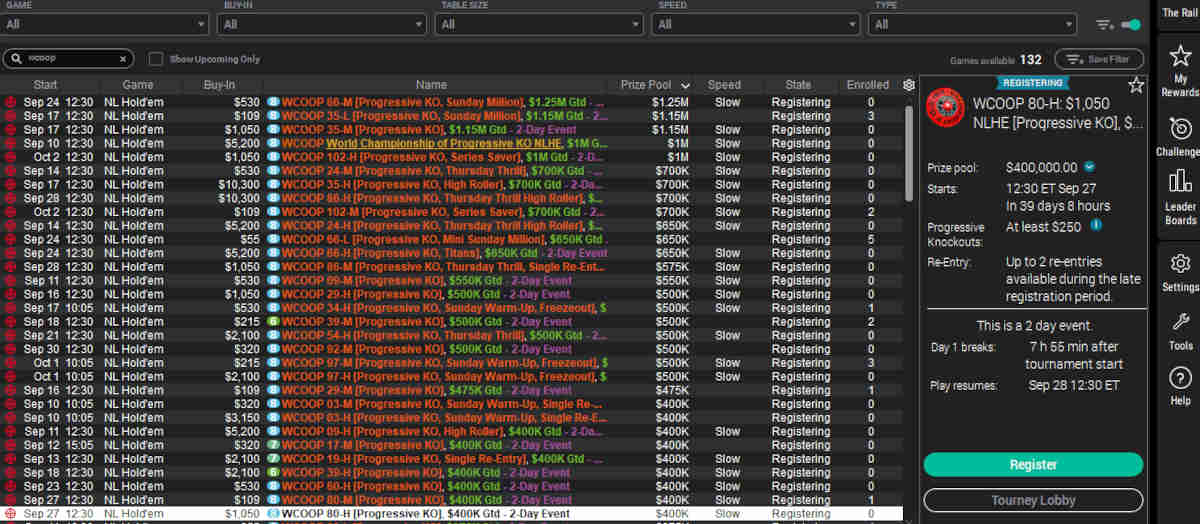 The WCOOP will include HORSE, 2-7 Triple Draw, PLO8, Razz, 8-Game, 2-7 Single Draw, and PLO Championships, along with NLH Championship events with 6-Max, PKO, and heads up formats.
The 12 Championship events will all come with significant buy-ins and plenty of opportunities to win your seats through satellite tournaments on the platform in the days leading up to the events.
Here is the full schedule of the most notable events you should look out for in this year's WCOOP:
$5,200 WCOOP PKO Championship ($1M Guaranteed) – September 10
$1,050 WCOOP HORSE Championship ($100k Guaranteed) – September 13
$1,050 WCOOP 2-7 Triple Draw Championship ($50k Guaranteed) – September 14
$5,200 WCOOP 6-Max NLH Championship ($700k Guaranteed) – September 17
$1,050 WCOOP PLO8 Championship ($165k Guaranteed) – September 18
$5,200 WCOOP Heads Up NLH Championship ($200k Guaranteed) – September 19
$1,050 WCOOP Razz Championship ($65k Guaranteed) – September 20
$2,100 WCOOP 8-Game Championship ($150k Guaranteed) – September 25
$1,050 WCOOP 2-7 Single Draw Championship ($60k Guaranteed) – September 28
$215 WCOOP Women's NLH Championship ($35k Guaranteed) – September 30
$10,300 WCOOP NLH Championship Main Event ($6M Guaranteed) – October 1
$10,300 WCOOP PLO Championship Main Event ($750k Guaranteed) – October 1
Win Your WCOOP Seats via Power Path
As is usually the case, PokerStars will be running a series of satellite tournaments for the upcoming WCOOP festival, with buy-ins ranging from $0.55 and up, and special WCOOP Spin & Goes also added to the mix.
However, for the first time ever, PokerStars players will also have a chance to win their seats in major WCOOP events via Power Path, a new promotion that's been running on the platform in recent weeks.
While Power Path's general idea is to help players win their seats at live PokerStars events, the operator will allow players to exchange their Power Path Passes for WCOOP Ticket Bundles for a limited time.
Win your way to our biggest live & online events for just $0.50.

Take your first step on the #PowerPath today:

ℹ️ https://t.co/Qkorde0b1e pic.twitter.com/Svqf7uK44Q

— PokerStars (@PokerStars) August 18, 2023
If you are lucky enough to win a Bronze Pass, you will be able to use it to play in any $109 WCOOP event directly, without any further steps needed.
On the other hand, if you happen to win a Silver or Gold Pass, you will be able to exchange those for WCOOP Tickets of equal value, with the following bundles available:
Silver Pass WCOOP Ticket Bundle #1:
$22 WCOOP Ticket x10
$55 WCOOP Ticket x8
$109 WCOOP Ticket x6
$215 WCOOP Ticket x3
$530 WCOOP Ticket x1
Silver Pass WCOOP Ticket Bundle #2:
$22 WCOOP Ticket x8
$109 WCOOP Ticket x2
$1,050 WCOOP Ticket x2
Gold Pass WCOOP Ticket Bundle:
$55 WCOOP Ticket x 6
$109 WCOOP Ticket x4
$1,050 WCOOP Ticket x4
$5,200 WCOOP Ticket x1
As you can see, Silver and Gold Pass winners will get to have quite some fun with this year's WCOOP, if they so choose, which makes Power Path a very reasonable way to try and get involved with the world's biggest online poker festival.
You can start grinding your way towards the Power Path Passes as early as today, so make sure to check the promotion out at PokerStars and give it at least a few fair shots before the Championship kicks off.
World's Best Online Poker Festival Is Starting
There is no better time to play online poker than during WCOOP. The Championship brings something for everyone, whether you are a low stakes rec or high stakes grinder, and whether you prefer big bet variations or mixed games.
This year's WCOOP is now just a few weeks away, but there is still plenty of time to win some seats via numerous PokerStars satellites, or win a Power Path Pass to give yourself a great chance by grinding out a significant schedule during the 2023 WCOOP.
Sign up with PokerStars today, if you haven't already, and check out the full tournament schedule for upcoming WCOOP in the operator's lobby in preparation for September 10 and the big kickoff of the world's biggest online poker Championship.