Doug Polk and Rampage Set to Battle Heads Up at the Lodge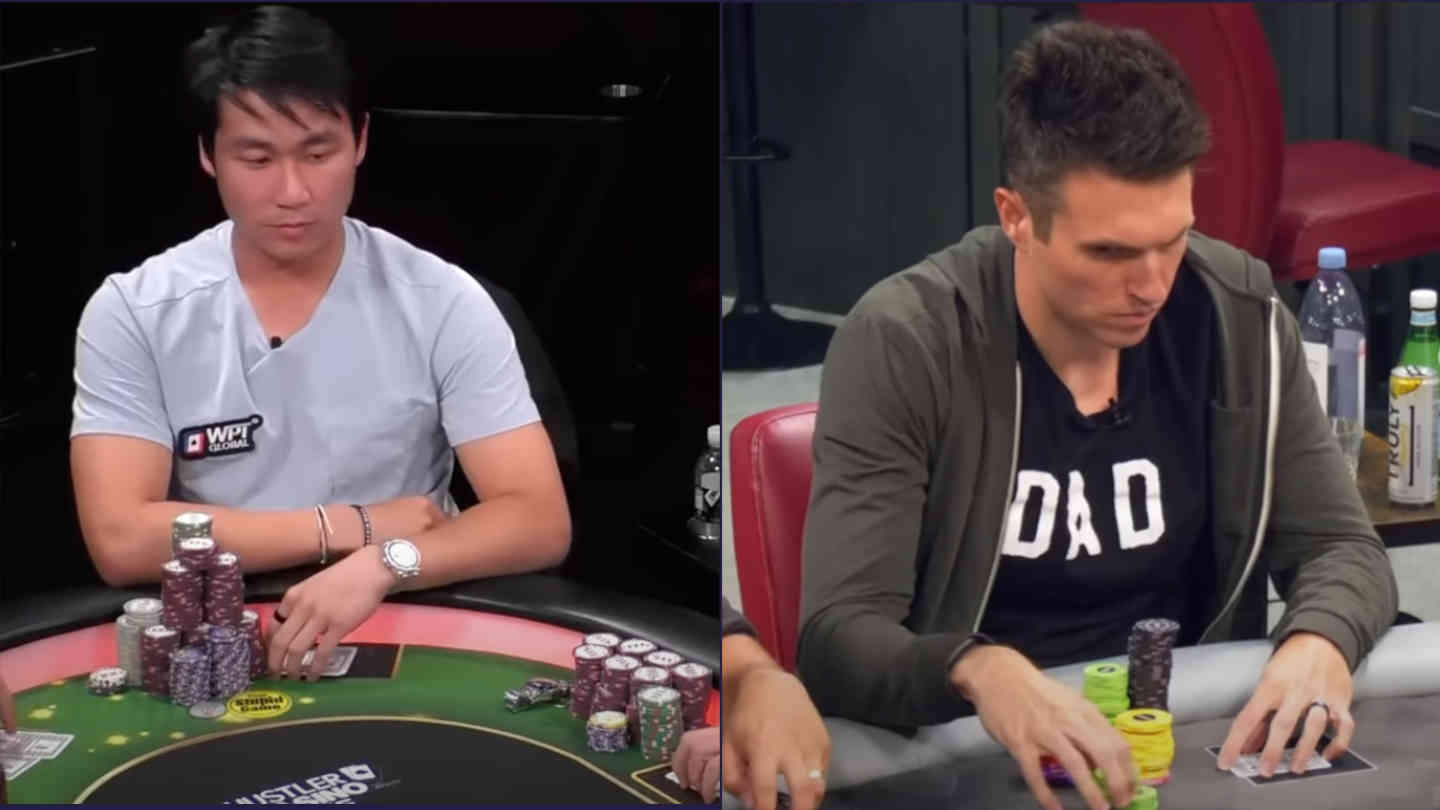 5 minutes
Last Updated: September 28, 2023
Back in March this year, one of the best HUNLH players and co-owner of The Lodge poker club in Austin, Texas, Doug Polk issued a $100k heads up challenge to the world.
The $100k Heads Up Challenge was both a way for Doug to promote his poker club, and a way to set up some nice heads up games for himself, both of which he has done with plenty of success thus far.
Now, the challenge was accepted by none other than Ethan "Rampage" Yau, an up and coming superstar of the poker world, and one of the most talked about poker players out there.
However, the blinds for this match will be set at $10/20, presumably with a $10k starting buy-in.
According to The Lodge Card Club Twitter account, the match is set to take place on October 12, and like all other matches from this series, it will be live streamed on their official YouTube channel.
EPIC HEADS UP MATCH!@DougPolkVids battles @rampagepoker Heads Up on October 12!

Stay tuned for more details. pic.twitter.com/ZoRhHIwvNY

— The Lodge Card Club (@LodgePokerClub) September 26, 2023
Two Poker Legends Taking It to the Heads Up Streets
Both Doug Polk and Rampage have been capturing quite a few headlines over the last couple of years, with both players displaying incredible talent and skills at the poker tables and playing in some of the biggest televised poker games out there.
Doug Polk has been a part of the poker community for well over a decade, and in that period has dominated the heads up games, while also showing reasonable success in the tournament circuit and in live ring games.
Doug has also built a name for himself as one of the leading content creators in the poker world, often creating controversial content that has gotten him in trouble more than once, although he was just speaking his mind most of the time.
As of recently, Polk also became a co-owner of the Texas card club The Lodge, where he partnered up with fellow content creators and poker players Andrew Nemee and Brad Owen to build a truly unique project.
Rampage, on the other hand, has only been around for a few years, but his impressive results in cash games were enough to put him on the map faster than you would even expect.
Rampage's cash game prowess is undeniable, and his incredible willingness to pull the trigger in the right spots and win pots without showdowns have made him a feared player.
Yet, his experience in heads up games is quite limited, so it will be very interesting to see how he adapts to the format and what angle he decides to approach the match against Polk from.
Only a day after the match was announced, Rampage took to Twitter and announced he would be gambling it up with Doug, and that he was selling some of his action to his fans via StakeKings.
All of this came just hours after Rampage won the Mini Main Event trophy at WPT Australia, which will certainly do plenty for his own confidence ahead of the match.
I'm gambling, have a package on @StakeKings available for this match if you want to gamble with me.

Time to confuse the shit out of Doug with my clicking skills https://t.co/Odieg2Cv0b

— Rampage (@rampagepoker) September 27, 2023
$100k Heads up Challenge Thus Far
Doug Polk issued his $100k Heads Up Challenge to the world back in March, and the offer has been active ever since.
Anyone who wants can come down to Texas and play Doug in a $100k heads up match, with blinds at $200/400, and the match live streamed in full at The Lodge YouTube channel.
So far, the idea of challenging the world to heads up poker has been a good one, as Doug has won nearly $400,000 playing seven matches, quite a few of which were against very respectable opponents.
It all started off with a match against poker enthusiast and businessman Bill Perkins, who ended up beating Doug for $29,800 in one of the most interesting heads up games we have ever had a chance to watch live.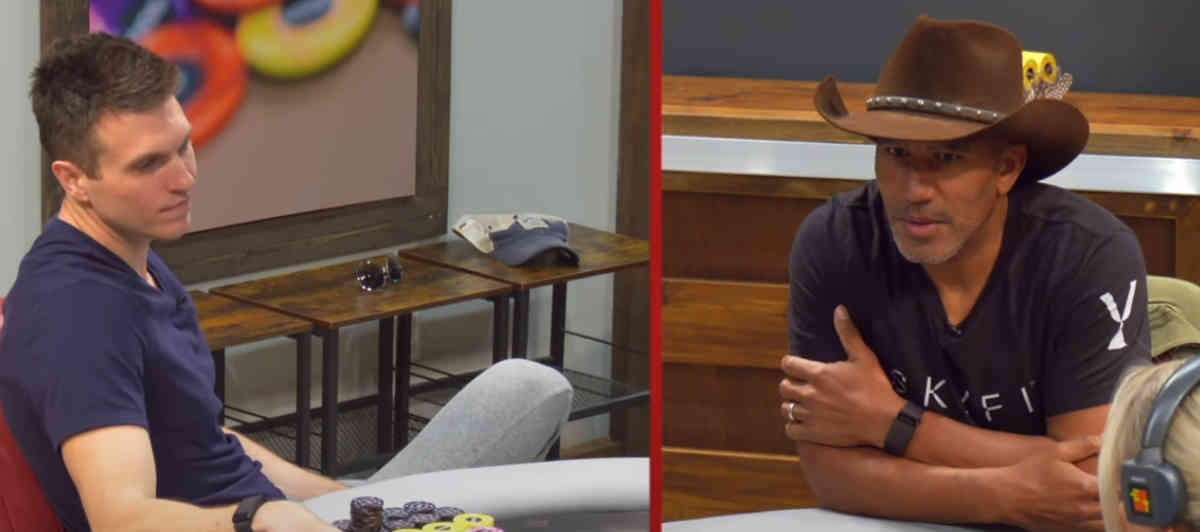 Scott Ball was the next to take Doug up on his challenge, and the two played two consecutive matches, with Polk winning $96,900 in the first and $168,900 in the second match.
The next opponent was a heads up specialist of sorts, Kevin Rabichow. He managed to win $83,300 off Doug in their first match, but Polk won it all back and then some, defeating Kevin for $255,300 in the rematch.
Finally, young online pro Owen Messere tried Doug at The Lodge, and actually managed to win $191,500 in their first encounter. Unfortunately for the 24 year-old, he lost most of it back when they met again, dropping $163,900 of his initial profit.
Now, $380,400 in the black, Doug Polk will meet Rampage on October 12, and fully expects to defeat the young cash game specialist at a game he has very little experience playing, although the stakes for this match will be significantly lower than what Polk is used to playing.
While Polk has spent a lifetime practicing his heads up skills, Ethan has hardly played the format in his lifetime, and will be going down to Texas in part to build up his profile and his brand, and in part to gamble it up with Doug and try to play some big pots.
Big pots are, in fact, something you can definitely count on, as we expect Rampage to put the pressure on and try to force Polk to make some tough decisions which could end up going either way.
Tune in for Polk vs. Rampage on October 12
Doug Polk and Ethan Yau have been two of the most interesting personalities in the world of poker in recent years, so watching them go head to head at The Lodge will be a dream for quite a few poker fans.
According to Rampage's posting on Stake Kings, the two will be playing blinds of $10/20, which is a bit of a disappointment to some, as we are used to seeing Doug play his opponents for $100k a pop.
However, make sure to tune into the live stream on October 12, and perhaps we will see the blinds go up and the action get heated as the match goes on and the stacks get deeper.