Triton Super High Roller Monte Carlo in Full Swing: Eibinger and Smith Capture Major Trophies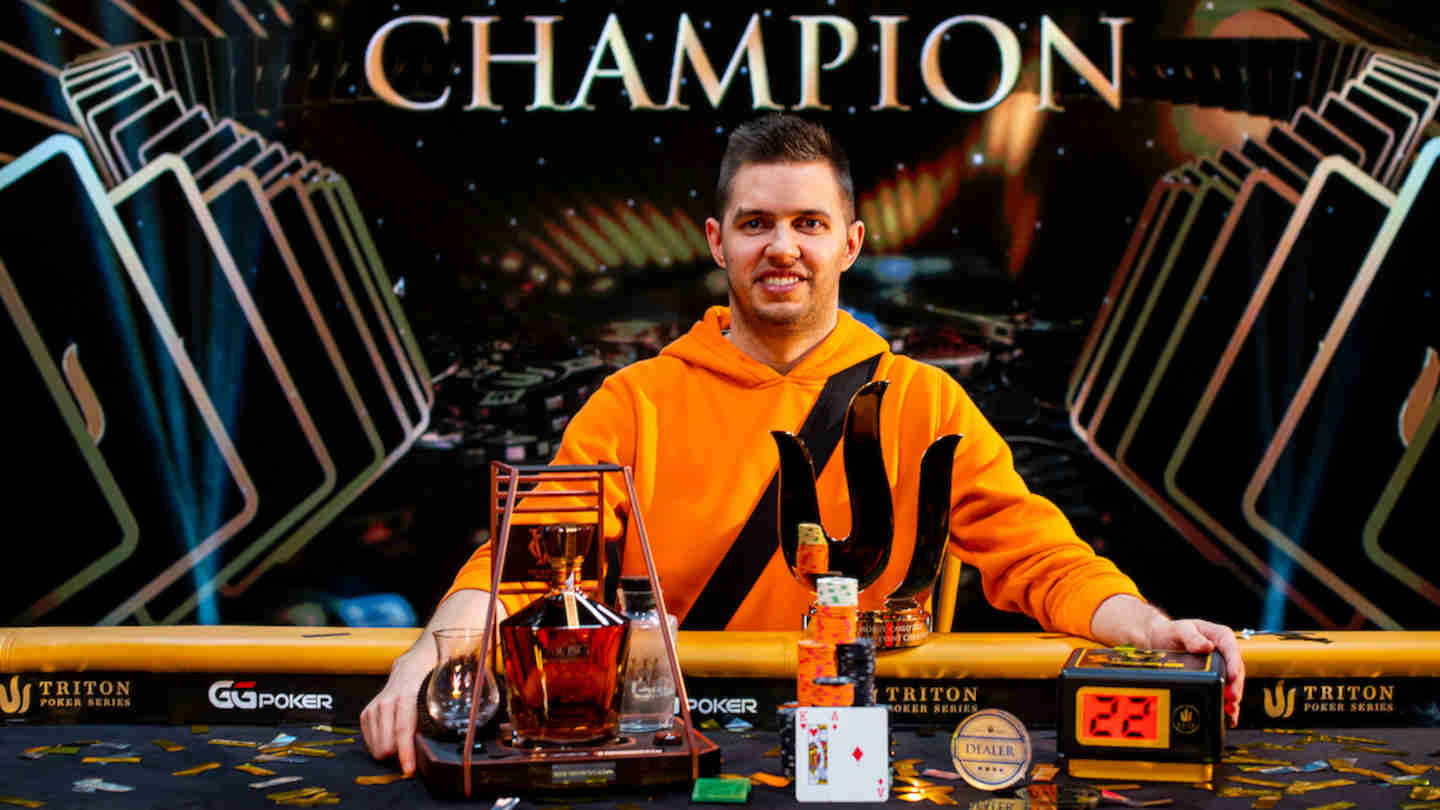 5 minutes
Last Updated: October 30, 2023
Triton Poker, one of the world's most prestigious poker tours, is currently making its debut in Monte Carlo, the unique principality that has long been Europe's gambling capital.
The prestige of the Triton Poker Series has appealed to many of the world's best poker players, with professional poker players and high stakes poker aficionados from other walks of life all flocking to Monaco for an epic week of nosebleed action.
The Triton Super High Roller Series kicked off on Tuesday, October 24, with Day 1 of the $200k Invitational event, which had successful businessmen and pros play at a ratio of 1/1, with each businessman getting to nominate one pro to join them in the tournament.
Immediately following the Invitational action, the Series kicked off the $125k Main Event, which saw an incredible turnout considering the mind boggling buy-in, with 135 entries made into the event.
The trophy eventually went into the hands of Austrian pro Matthias Eibinger, who defeated Spaniard Adrian Mateos in an exciting heads up battle.
With the Main Event now concluded, there are still seven more Triton tournaments to play out in this stop alone, but we take a look at the two most prestigious events that have already concluded and bring you a recap of all that happened.
Eibinger Topples Mateos for Main Event Trophy
It was an exciting day in the majestic Salle des Etoiles on Saturday, as the final nine players convened for Day 3 of the $125k Main Event with Spanish "Super-Pro" Adrian Mateos entering the final table as the overwhelming chip leader.
With 125 big blinds in his stack, Mateos had over a third of all the chips in play with nine players left, which set him in prime position to seal the deal and capture yet another Super High Roller title.
Mateos was joined on the final table by fellow pros like Chris Brewer, Justin Bonomo, and Nick Petrangelo, while the likes of Ken Tong and Indian businessman Santosh Suvarna also made the elite nine.
Trailing the chip leader is @Chris_D_Brewer who has been having a sensational Triton year. Fellow pros Nick Petrangelo, @Matthias_Eibi, @JustinBonomo, and Aleks Ponakovs are not far behind either, in the pack trailing and patiently waiting for their moment to chip up.

— Triton Poker (@tritonpoker) October 28, 2023
Despite the massive chip lead, Mateos approached the situation carefully and did not push too much in the early going.
It was Nick Petrangelo who would bust out first when his TT could not stand up in a coin flip against Ken Tong's AQ, before Bonomo's A5s ran into the AK of Mateos, who extended his chip lead even more by making Broadway.
Aleks Ponakovs was next to go when his QT shove ran into the AK of Chris Brewer, who continued his incredible 2023 with another deep run in a huge event.
Two of the Asian players at the table, Ken Tong and Quan Zhou, would bust out next, with Zhou being the first player to win over a million dollars in the event, taking home $1,165,000 for his 5th place finish.
This left Santosh Suvarna surrounded by professionals, but the high stakes poker regular would outlast at least one of them, as Chris Brewer made his way out in fourth place and won $1.45 million for his troubles.
The Final Stretch
After a while, Suvarna did become the next victim of Adrian Mateos, but in a very unfortunate way that would have sent many players off the rails.
On a board of A♥9♣8♠7♣, Suvarna and Mateos got it in, with Suvarna at risk. His A♣J♣ was well ahead of Mateos' 8♣6♣, although some outs were still working in Spaniard's favor.
With one card to come, Santosh looked in great shape to double up, but the 5♣ on the river brought Mateos a straight flush and sealed the deal for the Indian, who left the arena laughing, taking $1.77 million in cash back home.
3-Handed on the $125k Main Event Final Table, @Amadi_17 clutches the most important runout of his life! 🤯

Catch more thrilling highlights by following our socials. pic.twitter.com/ig3jfP2T5B

— Triton Poker (@tritonpoker) October 28, 2023
As Eibinger and Mateos entered the heads up battle, all the momentum was on Spaniard's side, but this changed quite a bit during the head-to-head battle.
A bit of cold deck saw Mateos relinquish the chip lead after the Austrian doubled up through him three times.
Mateos' chip stack dwindled, but he managed to find a double up with 5♥4♥ against K♠Q♠, and with stacks fairly even and no more than 40 big blinds on the table, the pair decided to strike a deal.
While a few hundred thousand and the trophy was still left to play for, both players were now guaranteed a payday of over $3 million, which meant the pressure was very much off.
Eibinger continued to run hot and eventually took the last of Mateos' chips when his AK improved against Spaniard's pocket Tens, putting the match to rest.
It's the recap you've been waiting for! 🎞️ Event #3 $125K NLH Main Event saw 135 players bring their A-game to the table, but alas, only one emerged victorious. Watch till the end to find out who took home the 🔱 Triton title along with a staggering $3,461,261 payout 💰 pic.twitter.com/HdAIwHU91d

— Triton Poker (@tritonpoker) October 29, 2023
Eibinger won the trophy and $3,461,261 for his victory, while Mateos also added $3,120,739 to his impressive resume.
It is safe to say that both players left the playing area quite content, with millions of dollars in their backpacks, a chunk of which will surely go towards more buy-ins for the upcoming Triton Poker events.
Dan Smith Beats Pros and Recs Alike
Just a couple of days before Eibinger sealed the deal in the Main Event, an even bigger household name added a trophy to his cabinet, as none other than Dan Smith took home the $200k Invitational title and $3.87 million in cash.
The Invitational event saw a total of 73 entries made, as professionals and businessmen took to the tables and battled it out side by side.
While two pros, Dan Smith and Mario Mosbock made it to heads up, the likes of Jean Noel Thorel, Alexander Shelukin, Murray Williams, and Triton Poker founder himself Paul Phua, also made the money.
Emotions were running high as the final table played down to the winner at Event #1 $200K NLH – Invitational. On a table with almost an even mix of invitees and pros, the poker played was truly world class. @DanSmithHolla made an awe-inspiring comeback and emerged victorious,… pic.twitter.com/xkgzkw08ju

— Triton Poker (@tritonpoker) October 27, 2023
Notable pros like Isaac Hexton and Fedor Holz were also among those contenting for the title, but the two fell short in 11th and 7th place respectively.
Smith's heads up opponent, Austrian Mario Mosbock took home $2.69 million for his second place finish, while high stakes cash games regular Elton Tsang represented the Asian contingent of players and won $1.78 million along the way.
Triton Super High Roller Series continues with the $100k 8-Handed event, while a number of other events with buy-ins between $30k and $50k also remain on the calendar for the rest of the week.