WPT Premier Meet-Up Game on December 1 – Join Ivey, Owen, and Neeme at Wynn Las Vegas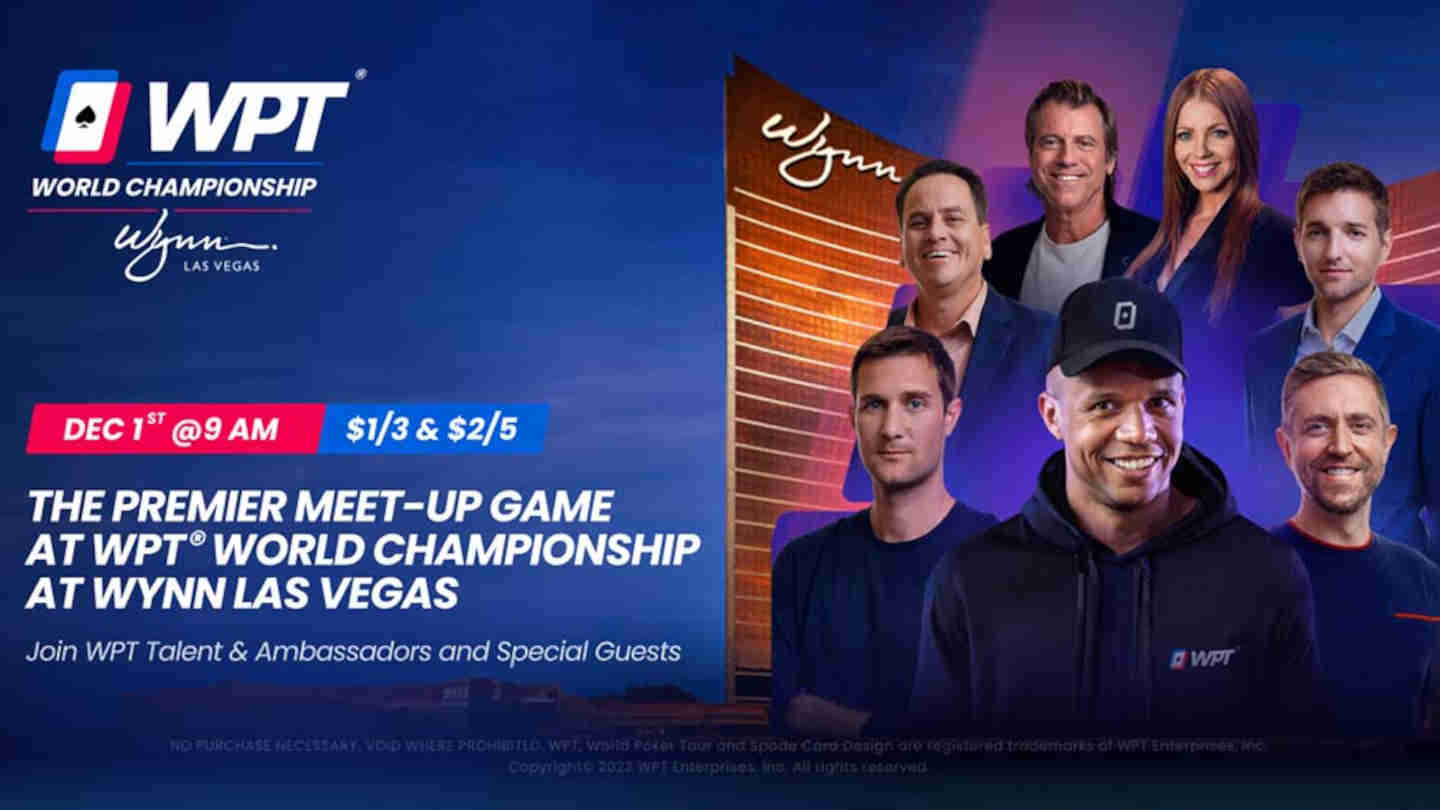 5 minutes
Last Updated: October 14, 2023
The WPT World Championship is edging ever closer, and to celebrate the opening of this epic tournament festival, Wynn Las Vegas will be offering a spectacular Premier Meet-Up Game in its poker room on December 1.
Hosted by popular poker streamers and WPT ambassadors Andrew Neeme and Brad Owen, and featuring special guests like Phil Ivey and Todd Brunson, the Meet Up Game is guaranteed to offer all visitors a once in a lifetime experience.
If you were already considering coming to Vegas for the WPT World Championship, the Meet-Up Game will be yet another great thing to add to your to-do list.
On the other hand, if tournament poker isn't quite your cup of tea, this will be the ideal time to hang out at the Wynn, as December 1 will be fully dedicated to cash game action only.
What to Expect from Premier Meet-Up Game
Scheduled as a whole day event on Friday, December 1, the Premier Meet-Up Game is a single day cash game festival dedicated to casual poker fans.
For the entire day, all 28 tables at the Wynn poker room will be reserved for the Meet-Up Game, with $1/3 and $2/5 NLH and PLO cash games being the only games on the list.
The two main faces of the Meet-Up Game will be two guys you all know and love from events just like these, Brad Owen and Andrew Neeme.
With a long history of playing live poker in casinos across America and beyond, and a massive fan-base, these two popular poker streamers are guaranteed to provide a lot of action, friendly table talk, and much more.
The games will start as early as 9am, and all seats will be assigned on a first-come, first-serve basis, which means that all you need to do is show up on time and there will be a place for you in one of the games.
Brad Owen described what the atmosphere of the game should look like when he said:
"The Premier MUG is the pinnacle of meet-up games, and highlights to the world what Andrew and I set out to accomplish from the beginning, which is to provide players with a fun, non-intimidating atmosphere and experience."
The games will run all day, and the hosts will alternate between tables, making sure that everyone gets a chance to play some hands with them.
On top of these two familiar faces, none other than WPT ambassador Phil Ivey has also pledged to show up at the event and play some low stakes poker with the masses.
If you have always dreamed of playing with Ivey, but never quite imagined playing the stakes he normally plays, this Meet-Up Game will be your ideal opportunity.
Promotions Galore Throughout the Day
Playing in the Premier Meet-Up Game will definitely be quite entertaining, but it could prove to be very profitable as well, with a little luck.
Throughout the day, WPT will be offering a variety of promotions and competitions, featuring valuable prizes to the winners.
Among other prizes, seats in the prestigious WPT World Championship tournament will be up for grabs, and there will be multiple venues to getting into the draw for these seats.
Keep in mind that these seats are worth in excess of $10,000, and WPT has promised more than one seat will be given away, making it amazing value for anyone taking part in these low stakes games.
While we don't yet have all the details, the folks at WPT have also promised to share more info about these and other promotions for the Premier Meet-Up game very soon, so make sure to stay tuned and keep up with all the updates.
Honoring the Godfather of Poker
Last year, the Premier Meet-Up Game was attended by the likes of DJ Steve Aoki, poker pro Patrik Antonius, and the godfather of poker himself, late Doyle Brunson.
And while the great Doyle Brunson may have left us in body, his soul remains a big part of the poker world, which is why WPT will be honoring him in a special way at this event as well.
Doyle's son Todd Brunson will also be among the special guests of this year's Premier Meet-Up Game, and a special ten-deuce themed promotion will run throughout the event in memory of Brunson.
This will give everyone involved in the game another opportunity to think back of one of the biggest legends of the game of poker, and perhaps pocket a few extra dollars with his favorite hand as well, just the way he would have liked it.
What Happened Last Year?
Last year's Premier Meet-Up Game was missing a few of the names on the list this year, but the likes of Tony Dunst, Vince Van Patten, and Lynn Gilmartin did a great job of making it a true spectacle.
With poker pros like Patrik Antonius and Doyle Brunson in attendance, the Meet-Up Game was naturally quite a success.
Both casual players who came out to play and WPT staff and representatives were equally as happy with the way the event ran, most people seen leaving the Wynn poker room with a smile.
This time around, we can expect the atmosphere to rise even more, with even bigger names in the room and even more valuable prizes up for grabs.
Join Us at the Wynn on December 1
December 1 marks the start of the big festivities at Wynn Las Vegas, with the Premier Meet-Up Game being the first part of it all.
If you have any chance of making it to Las Vegas as early as December 1, we highly recommend doing so, as the PMUG is an event you don't really want to miss.
Not only will there be ample opportunity to play poker with your poker idols, but massive added prizes will be given away by WPT, including WPT World Championship seats worth over $10,000.
Remember, the Meet-Up Game is first-come, first-serve, so your best chance to get in the games is to get there bright and early and take your chair as soon as the tables are open.
See you there!