How to Find the Best Cash Games on PartyPoker in 2023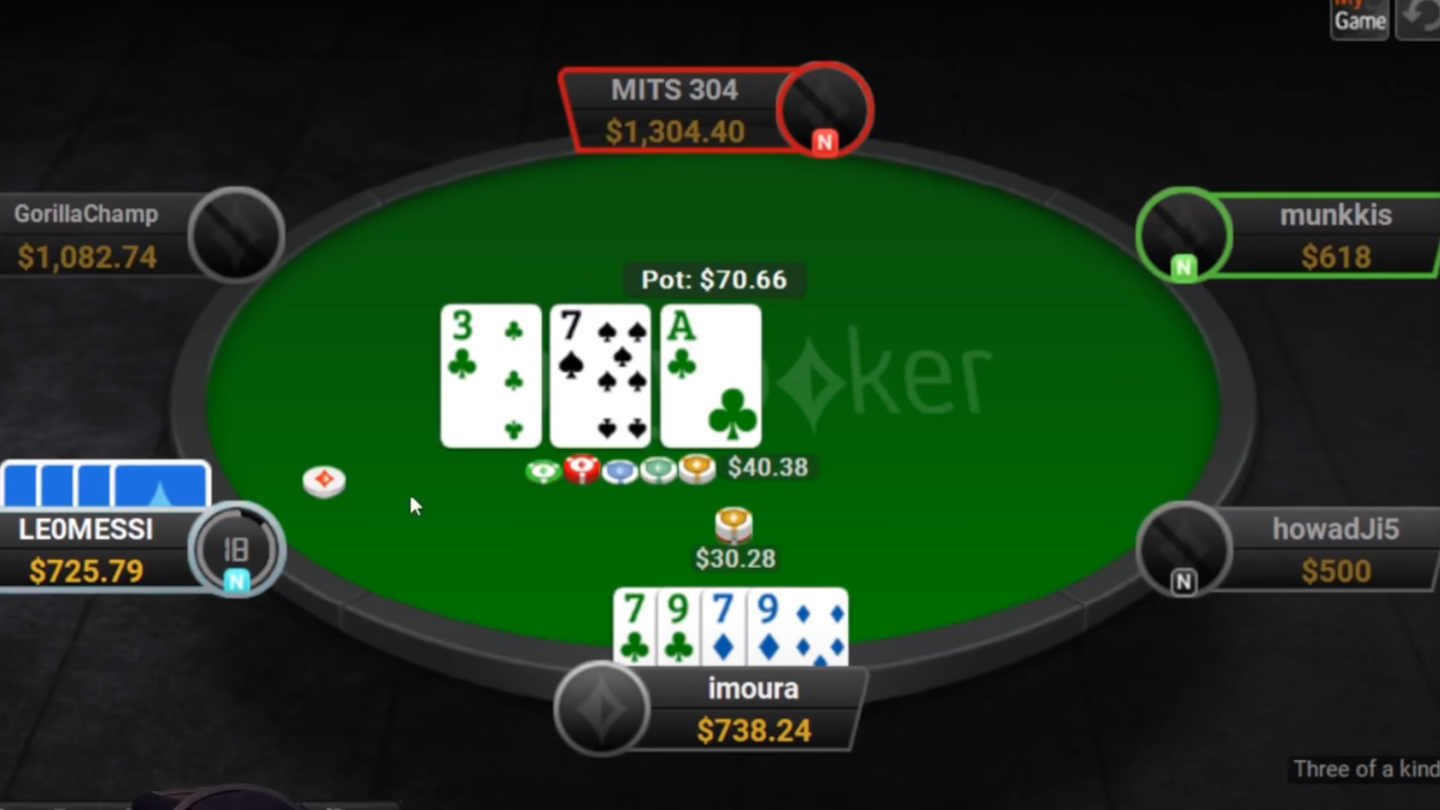 Cash games are the purest form of poker. Every chip in play represents the exact dollar value it stands for, and every player in the game plays for their own money anyway they see fit.
PartyPoker has been one of the top providers of online cash game poker for the longest time, as it remains one of the longest standing online poker operators in the world.
While the competition has never been stiffer in the online poker industry, PartyPoker remains one of the top options for players looking to get involved in online cash games.
In this article, we take a look at PartyPoker cash game options, teach you how to get the best out of them, and how to find the very best games on the platform.
If you are eager to get into action instead, head over to PartyPoker and sign up for a free player account, which will allow you to start playing cash game or tournament poker within minutes.
Mypokercoaching is also awarding all new players who sign up with PartyPoker with a completely free $109 Sunday Party ticket along with the valuable welcome bonus, making it the best deal for new players in online poker in 2023.
Cash Games at PartyPoker
PartyPoker remains one of the biggest online poker operators in 2023, with cash game action running around the clock on the platform.
You can play No Limit Hold'em, Pot Limit Omaha and Short Deck Hold'em games at PartyPoker today, with stakes ranging from just $0.01/0.02 to as high as $200/400.
High stakes games don't run too often at PartyPoker, but you will find tons of action at micro and low stakes tables anytime, along with a few tables of mid-stakes action.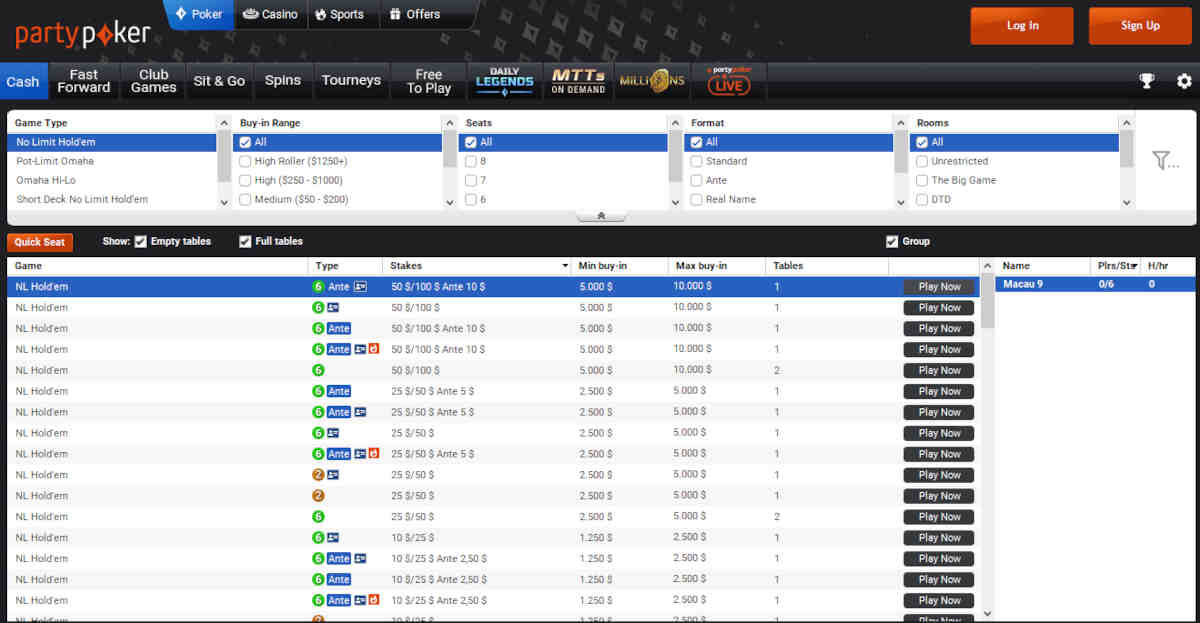 New players are best served by playing lower stakes tables, with games like NL5, NL10, and NL50 some of the best options for beginners in poker, depending on the bankroll at their disposal.
Games at PartyPoker are all played in a 6-handed format, which means up to six players can be seated at the table at any one time. That said, action will start as soon as two players have bought chips at the table.
With minimum buy-ins going as low as $0.60 at the NL2 tables, you could be in action right now with less than a dollar and learning how to play cash game poker with minimal investment.
What Makes a Good Cash Game?
Cash game poker can be a real gold mine, but online cash games have become notoriously tough in recent years, with more and more good players coming up in the game.
Even at the lowest of stakes these days, you will find plenty of good players at the tables, as the learning tools have become more available than ever before.
In order to win money in cash games, you will need to be playing at a table where at least a few of the players are less skilled than you, which makes table selection an integral part of the process.
When looking at the way a game is playing, you should be looking for players limping into pots, calling 3-bets very wide, and generally playing more poker hands than is recommended from different positions.
Disproportionally big raises before the flop are also a great indication of a soft game, as weak players tend to make 4x, 5x, or even bigger raises in unopened pots.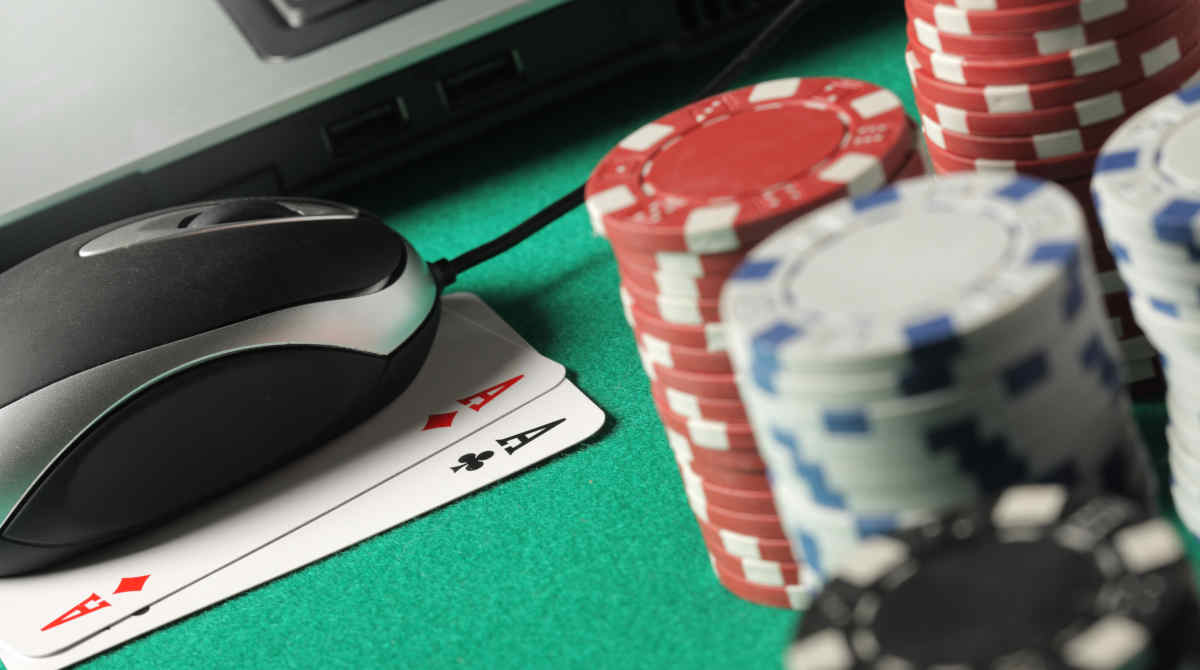 Finding players sitting with fewer than 100 big blinds at cash game tables is another good indication that you have found a good spot.
Most serious players tend to top up to 100 bb in online cash games at all times.
A table full of deep stacks is also good, as this means there is a lot of money in play for you to win and that the overall play should be a bit looser than it would be if the stacks were shallower.
A high overall table VPIP, a lot of raises and re-raises, and plenty of post flop action are all things you should be looking for in a cash game.
Are PartyPoker Cash Games Worth Your Time?
There is no denying that online cash games have become exceedingly difficult to beat more recently, with average poker player playing a stronger game than ever before.
However, PartyPoker remains one of the softest online poker sites around, with plenty of recreational players who are in there just looking to have some fun and enjoy themselves.
More recreational players means more action for you. This is definitely the case at PartyPoker, as the site offers a lot of reasons for recreational players to join up.
You will especially have luck finding soft cash games at the lower stakes. Many players there will not be playing very seriously and will not care if they win or lose a few buy-ins, making it a great opportunity for you to build up some poker bankroll.
Extra Value Through Cashback and Promos
Playing cash games at PartyPoker comes with extra incentives, as each hand you play earns you extra money through the operator's Cashback program.
Playing cash games and fastforward games at PartyPoker earns you 3 and 4 loyalty points per $1 paid in rake respectively, and these points all count towards your weekly Cashback.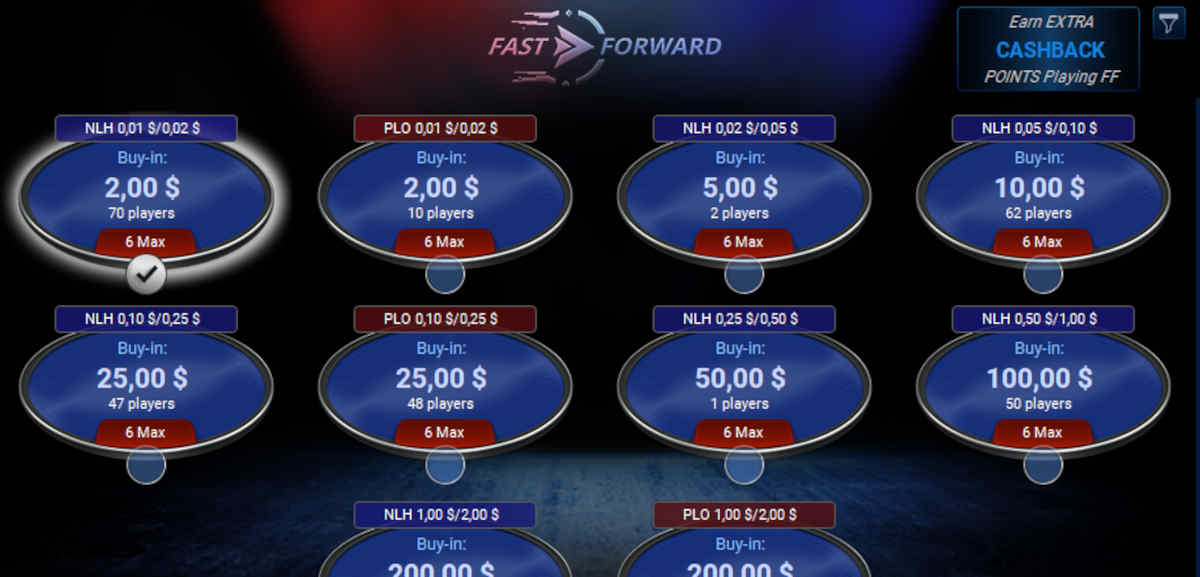 The more you play, the more you earn, with up to 55% of the rake you pay at cash game tables returned to your balance at the end of the week.
You can earn even more extra value when you play during special Boosted Hours, when extra points are awarded and more cashback can be earned.
This, in combination with other promotions PartyPoker has in store, makes this one of the best platforms to play cash games today.
Sign Up with PartyPoker for Best Cash Game Experience
PartyPoker offers some of the best and softest cash games in the world in 2023, all available on one of the finest online poker platforms around.
Games start as low as NL2, and you can build up your bankroll by going up the stakes and exploring the different levels and game types offered at PartyPoker.
Sign up with PartyPoker today to get right into the action, claim your welcome bonus, and get a free $109 tournament ticket from Maypokercoaching completely free.