Join the Action with "Kick-Off" PKO Games on PokerStars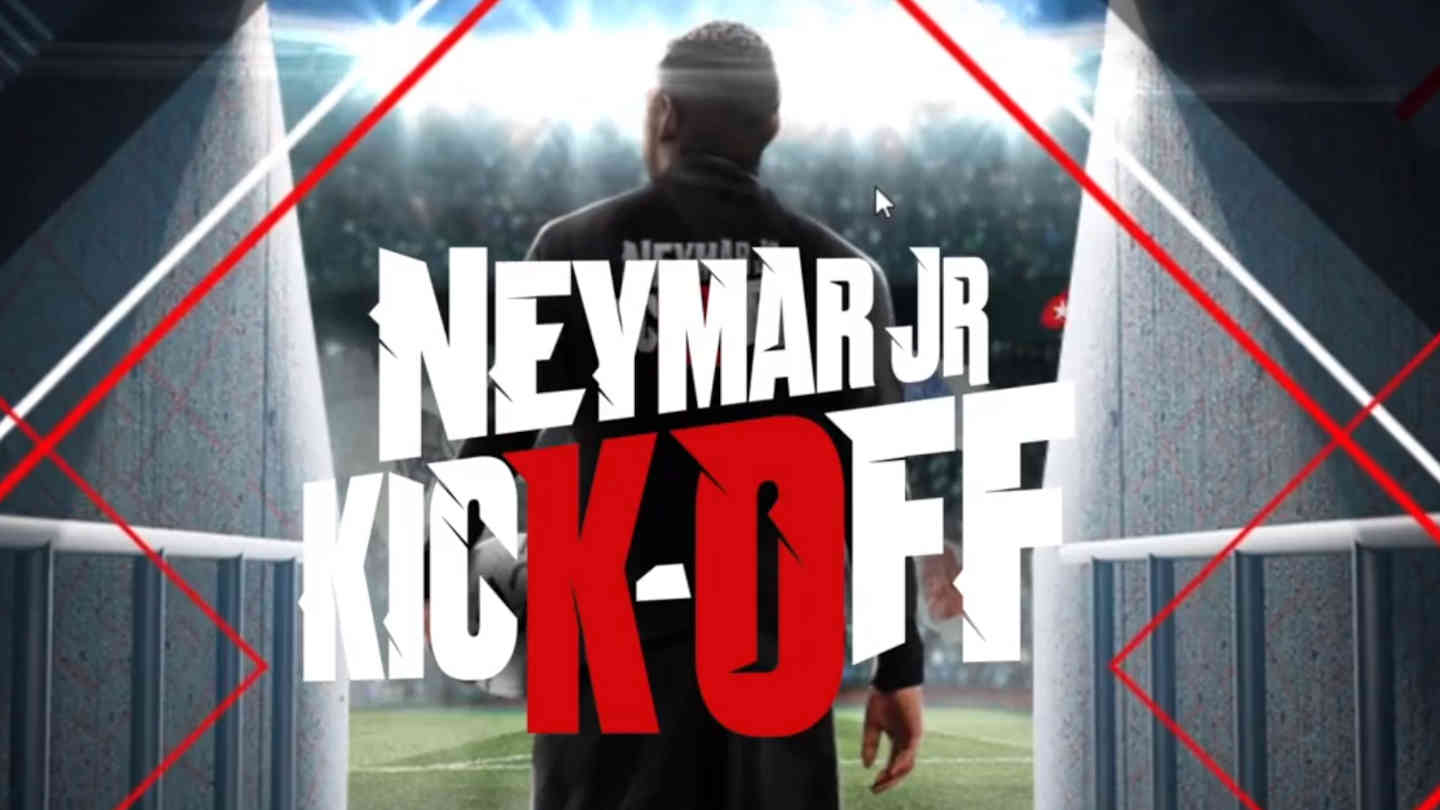 In the realm of thrilling poker variations, the "Kick-Off" Progressive Knockout games on PokerStars are among the most popular.
With a reworked Grand Tour format featuring the legendary Brazilian soccer player Neymar, these PKO games offer a unique experience.
Perfect for low-stakes recreational players, they provide a fun-filled environment with the potential for substantial bonuses that can transform a modest investment into an exhilarating payday.
Kick-Off PKO Games on PokerStars Explained
Kick-Off PKO Games on PokerStars are formatted as "matches." These single-table bounty tournaments are based on progression.
The objective is to win a low buy-in match and utilize the winnings to qualify for subsequent rounds with higher entry fees.
Ultimately, you will win a substantial payout if you triumph in all matches.
Each step of the journey entails a four-handed hyper turbo sit and go, infused with a progressive knockout bounty system.
With the PKO element, each player carries a bounty on their head right from the start. Fifty percent of the buy-in contributes to the bounty pot, creating enticing rewards for eliminating opponents.
Your ultimate goal is to accumulate a $50 bounty, allowing you to cash out and claim it along with the winnings from knocking out opponents.
Sprint you way to goal with @neymarjr Kick-Off.

A fast, fun KO-frenzy with escalating bounties and cash prizes! ⚽🥊

Learn to play 👉 https://t.co/qXu4dSkeBl pic.twitter.com/SXOaGXFS8y

— PokerStars (@PokerStars) November 19, 2021
The value of your bounty is displayed beneath your username, and by clicking on it, your opponents can uncover the reward for eliminating you.
Adding to the excitement, Kick-Off introduces random bonuses where bounties are multiplied multiple times, surpassing the initial stakes and creating lucrative opportunities.
It is important to mention that the rake, the fee charged by PokerStars, only applies to the entry-level you select.
You will enter the next level without paying rake if you win your entry-level game.
When you win a match, your progress in Kick-Off PKO Games is symbolized by moving the Neymar icon further up the pitch towards the goal.
Play at Your Own Pace
If you feel lucky, you can continue playing without delay. However, you can also take breaks and restart your tour from that point if you have limited playing time available.
The further you advance up the pitch, the more you will face an opponent with similar bounties. Although not exact, these bounties reflect the outcome of previous matches.
The relative real-money value is translated into the number of chips each player receives at the beginning of the subsequent match.
This ensures a level playing field while still accounting for the varying bounty values obtained by players in the earlier stages.
How to Find Kick-Off PKO Games on PokerStars
To find Kick-Off PKO Games on PokerStars, follow these simple steps. Firstly open the PokerStars client on your device. Look for the main list of games in the top ribbon, where you will find Kick-Off.
You must select the correct box in the top right corner since the game has real and play-money versions.
Once in the Kick-Off lobby, you will notice a soccer pitch-inspired layout with multiple checkpoints, each representing different buy-in levels, ranging from $1 to $25.
Choose the desired buy-in level, and you will be seated alongside three other players who have either started on or qualified for the same level.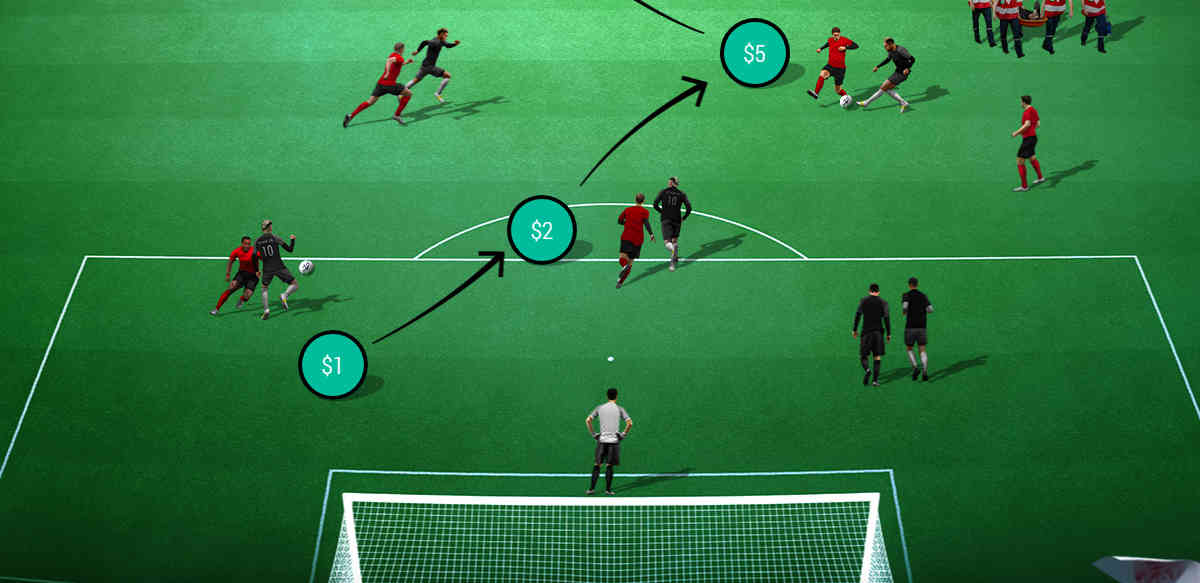 Kick-Off PKO Tips
Kick-Off PKO games are similar to hyper turbo Sit and Go, so you should approach these two formats similarly.
However, remember that Kick-Off PKO games are played 4-handed and with bounties.
Play Wider
As the number of players decreases, you should expand your range and try to steal as many pots as possible.
The optimal range will depend on factors such as buy-in level, opponent tendencies, and your comfort level and experience in this or similar formats.
Generally, at lower buy-in matches, you should play a broader range of hands since, at these levels, you will encounter fewer experienced players who need help understanding short-stack dynamics.
In various situations, most opponents tend to over-fold to aggression and under-bluff at these levels.
However, it is crucial to note that more than pure aggression is needed. It can even be detrimental once you reach higher levels and face more challenging competition.
Constantly Adjust
When playing Kick-Off PKO games, adapting to common player types is essential.
Gathering information during 4-handed and 3-handed play can provide insight into heads-up play.
Identify opponents with aggressive preflop strategies and consider adjusting your approach against them. On the other hand, if an opponent plays too tight, keep attacking their big blind.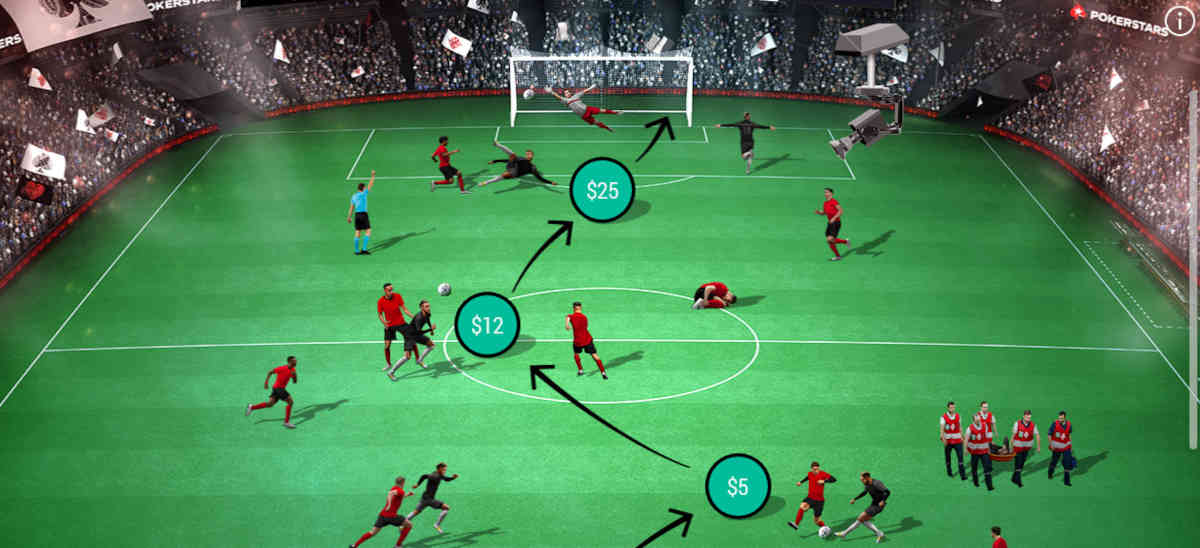 Although these games play extremely fast, paying attention can yield valuable insights. Stay alert and utilize every piece of information.
Gain an advantage over competitors by expanding preflop hand ranges, developing a comprehensive hand-selection strategy, and balancing ranges while learning optimal deviations.
Evaluate Bounties
When playing a Kick-Off PKO game, it is essential to evaluate the bounties of your opponents.
Consider the bounty value when making decisions, especially when contemplating a call.
The bounties are generally lower in the early levels, so it is advisable not to let them overly affect your range adjustments.
However, as the game progresses to later stages, the bounties can become substantial relative to the buy-in.
In these situations, making more significant adjustments to your ranges makes sense, particularly when deciding whether to go all-in or make an all-in call.
Carefully assessing the bounty dynamics can help optimize your decision-making process and increase your chances of success in Kick-Off PKO events.
Final Thoughts on "Kick-Off" PKO Games on PokerStars
"Kick-Off" Progressive Knockout (PKO) Games on PokerStars offer a thrilling and unique poker experience.
With its reworked Grand Tour format centered around Neymar, these games provide entertainment and the potential for significant payouts.
Ideal for low-stake recreational players, the PKO element adds an exciting bounty dynamic to each match.
As you progress, the increasing bounties become more influential, requiring strategic adjustments to ranges and decision-making.
By evaluating opponent bounties and employing the right approach, you can navigate to lucrative victories.
So, join the action, explore the world of "Kick-Off" Progressive Knockout (PKO) Games, and experience the adrenaline-filled excitement that awaits on PokerStars.